MERS-CoV and Its Impact in the Middle East/Arab World
Living reference work entry
Abstract
Middle East respiratory syndrome coronavirus (MERS-CoV) that causes a severe lower respiratory tract infection in humans is considered a pandemic threat to the Gulf region. In this chapter, the latest information on MERS-CoV biology, epidemiology, transmission dynamics, clinical features, diagnosis, treatment, and preventive strategy are summarized. The current epidemiology is characterized by slow and sustained transmission with occasional sparks in the Middle East. Although the transmission cycle of MERS-CoV is not fully understood yet, the dromedary camel is considered to be the intermediate host of the virus and believed to play an important role in the epidemiology of the virus. MERS-CoV is particularly severe in men with comorbidities and rare in children. Several vaccine approaches have shown efficacy in animal models and begun to enter clinical trials. Travellers to the Middle East may benefit from health education on avoidance of exposure to camels and ill persons and refraining from consuming raw camel products.
Keywords
Arab World 
Bat 
Dromedary camel 
Gulf region 
MERS-CoV 
Middle East 
SARS 
Introduction
Middle East respiratory syndrome coronavirus (MERS-CoV) was first isolated in 2012 from a 60-year old Saudi man who died of severe lower respiratory tract infection and renal failure (Zaki et al. 2012). MERS-CoV is now an epidemic threat to the Gulf region and elsewhere. In the beginning, it was variously known as novel coronavirus (nCoV), London1_novel CoV 2012, and Saudi SARS (Severe Acute Respiratory Syndrome), but was finally named MERS-CoV by consensus (De Groot et al. 2013).
After the first description, MERS-CoV has been reported in more than 27 countries, with the majority of cases in Saudi Arabia; a sizeable cluster has also been reported in South Korea (Su et al.
2015
) (Fig.
1
). Compared to other coronaviruses, such as SARS, MERS-CoV is more fatal (SARS 10% vs. MERS-CoV 37%), particularly in those with preexisting medical comorbidities (Banik et al.
2015
). To date, most individuals infected with MERS-CoV (>85%) either reside in or report a history of travel to the Middle East, which is in sharp contrast with SARS which is not known to affect the region (Fig.
2
).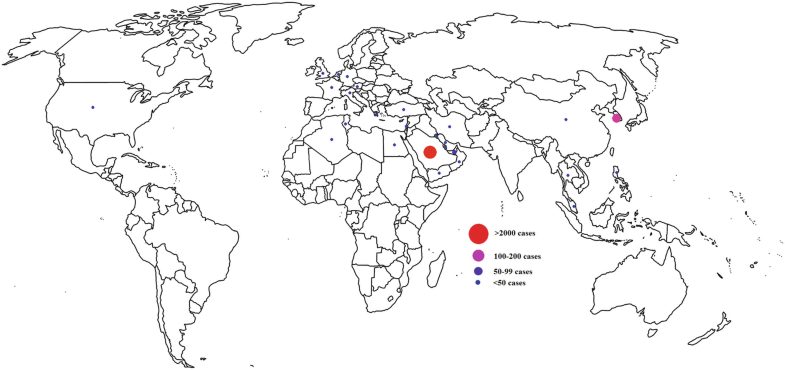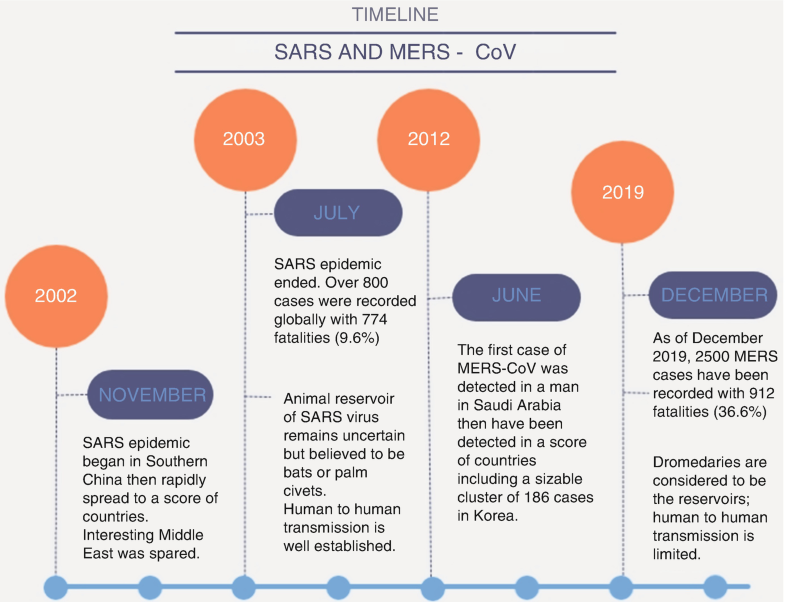 It remains unclear why MERS-CoV is primarily limited to the Middle East. It is thought to be related to the widespread distribution of dromedary camels (the blamed intermediate host of the disease) in the region, even though the precise role of camels in the transmission is yet to be established (Alagaili et al. 2014; Chan et al. 2013; Yusof et al. 2015; Zumla et al. 2015). Serological evidence suggests MERS-CoV has been circulating among dromedary camels for at least two to three decades (Muller et al. 2014); however, bats are considered the reservoirs of the beta-coronaviruses (β-CoVs) including MERS-CoV (Zumla and Hui 2014), whereas dromedary camels are thought to be intermediate hosts (Van Doremalen and Munster 2015; Memish 2014; Zumla et al. 2015; Zumla and Hui 2014).
MERS-CoV is believed to be transmitted via the respiratory (droplet and airborne) route and direct contact, but the dominant mode of transmission remains unknown. Currently, airborne transmission and contact precaution procedures (including hand hygiene, the use of P2 masks/respirators, gowns, gloves, and eye protection) are recommended for management of persons with suspected or confirmed MERS-CoV.
Epidemiology of MERS-CoV
Current Burden
About 2,500 cases of MERS-CoV with 912 deaths in 27 countries have been reported for the period June 2012 to December 2019 (ECDC 2019). During the same period, there 2105 cases of MERS-CoV in Saudi Arabia (FAO 2019), with 36% cases being reported from Riyadh (Al-Ahmadi et al. 2019). The incidence of MERS-CoV infections is highest in people aged ≥60 years; males are twice as likely to be infected than females (Shapiro et al. 2016). Although the seasonality of MERS-CoV infection is unclear, one report links it to the camel breeding season. As such, the peak season for MERS-CoV infections and transmission theoretically is summer; however, many MERS-CoV infections also occur in winter. Hot climates in the Arabian Peninsula and Sub-Saharan African regions are believed to contribute to the spread of MERS-CoV infections across those geographical regions (Ramadan and Shaib 2019).
Virology
MERS-CoV is a positive-sense, enveloped, single-stranded RNA virus belonging to the genus β-CoVs and a member of the subfamily Coronavirinae. Its genome is about 30-kb in size (Banik et al. 2015). A sequence comparison study showed about 90% sequence homology of MERS-CoV with bat coronaviruses HKU4 and HKU5 (lineage 2C) in contrast to SARS coronavirus (lineage 2B) (Song et al. 2014; De Groot et al. 2013). MERS-CoV is the first lineage 2c β-CoV to infect humans (De Groot et al. 2013; Cunha and Opal 2014; Song et al. 2015). It is also genetically related to other β-CoVs isolated from bats in China, Mexico, Hong Kong, and Europe (Yang et al. 2014; Wang et al. 2014; Cotten et al. 2013).
Phylogenetic analyses revealed that of 182 full-length genomes or genome fragments of MERS-CoV sequenced, 94 are from humans and the rest from dromedary camels (Chafekar and Fielding 2018). MERS-CoV genomes belong to two clades: A and B; majority of the viruses belong to clade B (Chafekar and Fielding 2018). The first 5′ two-thirds of the MERS-CoV genome consists of the replicase complex Open Reading Frame (ORF) 1a and ORF 1b. The 3′ encodes the remaining one-third of the genome consisting structural proteins: spike (S), envelope (E), membrane (M), and nucleocapsid (N). The genome also contains five accessory proteins (ORF3, ORF4a, ORF4b, ORF5, and ORF8b) that are not required for genome replication, but has role in pathogenesis (Chafekar and Fielding 2018). The flanking regions of the genome contain the 5′ and 3′ untranslated regions (UTR) (Lu et al. 2015). The full genome of MERS-CoV from dromedaries has 99.9% homology with human clade B MERS-CoV and 94% homology with bat coronaviruses (Arabi et al. 2014; Senga et al. 2017).
Electron microscopy reveals that the MERS-CoV virion contains club-like projections, representing viral spike peplomers, emanating from the viral membrane. Unlike SARS virus that enters the target cells via angiotensin converting enzyme 2 (ACE2), MERS-CoV binds to human dipeptidyl peptidase 4 (hDPP4; also known as CD26) via the receptor binding domain (RBD) on its spike glycoprotein (Wang et al. 2013). It is noteworthy that both ACE2 and hDPP44 are expressed in human kidneys. MERS-CoV utilizes host proteases to gain entry into lung cells (Banik et al. 2015). The spike protein on the viral envelope is activated by a protease, called furin, and mediates membrane fusion which eventually supports virus entry into host cells (Eckerle et al. 2013). The receptor and proteases transform the virus to a membrane fusion-active form. A major change in the conformation of the S protein, which is also a primary determinant of tissue tropism, host range, and pathogenesis, initiates this process. Consequently, protease inhibitors (e.g., camostat) are found to block MERS-CoV cell entry (Shirato et al. 2014). Of note, hDDP4 is expressed on cell surfaces and possesses ectopeptidase activity that has no essential enzymatic function for viral entry (Cotten et al. 2013) and the binding of the S1 domain with hDPP44 does not affect the enzymatic activity of the latter (Zhao et al. 2018). Pathogenesis studies have identified the interactions between S protein and hDPP4 (Qian et al. 2013).
Following its initial isolation, MERS-CoV was propagated in African green monkey, rhesus macaque kidney, and other cell lines including human derived cells like Calu-3, HFL, Caco-2, Huh-7, HEK, and His-1 (Shirato et al. 2014); it propagates well in human bronchial and lung tissues. MERS-CoV was more likely to replicate in cell lines derived from camels and goats compared to those from dogs, cats, mice, hamsters, ferrets, and equids indicating that the binding site of MERS-CoV varies by species (Zaki et al. 2012; Raj et al. 2014; Meyer et al. 2015; Eckerle et al. 2014; Van Den Brand et al. 2015).
Detailed pathogenesis of MERS-CoV infections in humans or other animals has not been established, but both dromedary and human strains of MERS-CoV have comparable replication (in Vero-E6 cells) and respiratory tropism, and both disrupt the interferon responses (Fehr and Perlman 2015; Scheuplein et al. 2015). In transgenic mouse models, MERS-CoV viral particles were observed in lung, brain, spleen, intestine, and cardiac tissues (Agrawal et al. 2015). The viral cytopathic effects clearly show prominent syncytium formation in humans and in nonhuman primates.
Studies in Animal Models
Recently, four transgenic mouse models for MERS-CoV infection have been developed as described below (Dawson et al. 2019).
In the first model, a modified adenovirus hDPP4 was introduced intranasally to mice, which resulted in the expression of hDPP4 in all cells of the lung, not just those that natively express hDPP4. In this model, mice show transient hDPP4 expression and mild lung disease.
In the second model, a transgenic mouse was produced that expressed hDPP4 systemically. In this model, MERS-CoV infection led to high levels of viral RNA and inflammation in the lungs, but significant inflammation and viral RNA were also detected in the brains of infected mice indicating a nonphysiological expression pattern.
In the third model, a novel transgenic humanized mouse model was generated by replacing the mouse DPP4 coding sequence with that encoding (human) hDPP4, ensuring correct physiological expression of hDPP4. Mice in this model showed lung pathology consistent with the radiographic findings of interstitial pneumonia and significant lung disease as seen in humans infected with MERS-CoV.
Finally, in 2016, Cockrell et al. generated a mouse model permissive for MERS-CoV infection, but with functional DPP4 immune function. Infecting this DPP4-chimeric mouse with a mouse-adapted strain of MERS-CoV mimics MERS-CoV-induced respiratory disease without bystander neurologic disease (Cockrell et al. 2016). Nonhuman primate models, including the rhesus macaque and common marmoset, have also been reported as suitable animal models of MERS-CoV infection. Rhesus macaques infected with MERS-CoV via intra-tracheal inoculation showed clinical signs of disease, viral replication, histological lesions, and neutralizing antibody production, indicating that this monkey model is suitable for studies of MERS-CoV infection.
Clinical Features of MERS-CoV
The median age of persons with laboratory-confirmed MERS-CoV infection is 49 years (range, <1–94); 65% are males. The median time from illness onset to hospitalization is approximately 4 days, with median length of stays of 41 days (Chafekar and Fielding 2018).
Men aged over 60 years, those with medical co-morbidities, and healthcare workers have the highest risk for acquiring MERS-CoV infection. The median incubation period for human-to-human transmission is approximately 5 days (range 2–15). In addition, most cases in Saudi Arabia have occurred among men, aged 45 years or older, and those living in areas of lower humidity and higher temperatures (Alghamdi et al. 2014). A review of 939 cases in Saudi Arabia found the case fatality rate (CFR) increases with age, ranging from 12.5% among those 19 years to 86.2% among those >80 years (Dawson et al. 2019).
MERS-CoV causes symptoms similar to that of SARS but with a distinct clinical course and a higher CFR of 35–50%. Most cases present with symptoms of influenza-like illness (ILI) such as fever, cough (predominantly dry), malaise, myalgia, sore throat, headache, rhinorrhea, nausea, vomiting, abdominal pain, or diarrhea. Dyspnea is a frequent complaint; some patients develop acute kidney injury and the majority develop pneumonia (70%) and ultimately require intensive care unit (ICU) support. Concomitant infections and hypoalbuminemia were identified as the predictors of severe infection in individuals aged >65 years. Other features such as circulatory collapse, liver function, and hematological derangements are common in critically ill patients. A second-trimester stillbirth has been reported in a pregnant woman with MERS-CoV (Payne et al. 2014). While MERS-CoV has typically involved adults; a small number of pediatric cases (Al-Tawfiq et al. 2016), including a fatality (Thabet et al. 2015), have been reported to date. Most of the pediatric cases are asymptomatic and found during the screening of close contacts of infected patients in the community or hospital. Children with underlying medical conditions are at higher risk of acquiring MERS-CoV infection. Mortality from MERS-CoV is higher in men and in those with preexisting illnesses (Banik et al. 2016).
MERS-CoV is linked with more severe disease in the elderly, immunocompromised, chronic diseases including cancer, chronic lung disease, and diabetes. The majority of patients who are hospitalized with MERS-CoV infection include the elderly, immunocompromised, or those with co-morbidities such as obesity, diabetes, hypertension, chronic cardiovascular, respiratory, and/or kidney disease (Hajjar et al. 2013).
Laboratory findings include lymphopenia, thrombocytopenia and elevated lactate dehydrogenase, consumptive coagulopathy and elevations in creatinine and liver enzymes in a substantial number of cases (Van Den Brand et al. 2015; Scheuplein et al. 2015; Qian et al. 2013).
Simultaneous infection of the respiratory tract with at least two viruses is common in patients hospitalized with MERS-CoV, but it is not clear whether co-infections result in more or less severe disease compared to MERS-CoV infection alone (Pinky and Dobrovolny 2016). As the clinical features in co-infections are nonspecific, accurate epidemiological studies of etiologic agents require laboratory confirmation of infection. Respiratory viruses that have been detected together with MERS-CoV previously include influenza A virus (Hajjar et al. 2013), respiratory syncytial virus, human parainfluenza-3 virus, and human metapneumovirus (Chafekar and Fielding 2018).
Bacterial co-infections in MERS-CoV infected patients requiring mechanical ventilation include Klebsiella pneumoniae, Staphylococcus aureus, Acinetobacter species, and Candida species within and outside of the respiratory tract (Mohammed et al. 2015). Preceding or concurrent viral respiratory tract infection can predispose the host to secondary co-infections from other pathogens throughout the airway. The mechanisms by which viruses promote these superinfections are diverse (Bakaletz 2017). As yet, not much is known as to how MERS-CoV damages the airway and dysregulate the lung barrier function, which, in turn, supports the adherence and invasion of other pathogens into normally sterile sites within the respiratory tract.
Laboratory Diagnosis
Suitable specimens for MERS-CoV testing include those from the upper and lower respiratory tract (such as nasopharyngeal swabs and aspirates, sputum, and bronchoalverolar lavages), serology, and/or stools. Lower respiratory tract samples typically contain the highest viral loads, so should be preferred where possible. Repeat testing (especially of lower respiratory tracts specimens) in clinically compatible cases should be performed if initial results are negative. Appropriate personal protective equipment should be used when collecting and also processing samples to prevent transmission of infection to healthcare and laboratory workers.
In the clinical laboratory, MERS-CoV infection is typically diagnosed using nucleic acid detection methods (Chafekar and Fielding 2018). Serology is useful in cases where nucleic acid is not detected in the individual case, and also to determine population immunity. Virus culture is not routinely performed due to the slower turnaround times, technical expertise, and laboratory containment facilities required (Al-Tawfiq et al. 2016).
Nucleic acid testing algorithms using reverse transcriptase polymerase chain reaction (RT-PCR) typically incorporate a screening, followed by a confirmatory test (Lu et al. 2014). Four targets are commonly used: upstream region of the E (upE) gene, ORF 1a and 1b and the N gene. The upE gene is generally used for screening purposes and the other three for confirmatory testing. Where available, the RdRp gene (for the broad detection of β-coronavirus clade C) and/or N gene sequencing may also be considered for confirmation of infection and also for phylogenetic analysis. As the primers for the RdRp sequencing assay are highly conserved, it is not recommended that this assay be used alone for MERS-CoV confirmation.
Sera samples should be collected during the acute phase of illness, stored and tested in parallel with convalescent sera collected three or more weeks later. If the acute sample was not collected, a single serum sample collected two or more weeks after symptom onset may be tested. For serological testing, both immunofluorescence and neutralization assays are used. Similar to nucleic acid testing, a two stage approach using a screening followed by a confirmatory test can be employed. For screening purposes, an enzyme linked immunosorbent assay (ELISA) against recombinant N protein can be used, followed by confirmatory testing using a whole virus indirect fluorescent antibody assay test or neutralization. There is considerable difference in the analytical performance of the commercial assays currently available for MERS-CoV testing, with cross-reactivity against other coronaviruses. Other assays that have been developed include the pseudoparticle virus neutralization test (ppNT) for seroepidemiology studies in humans and dromedary camels.
Management of MERS-CoV
To date, no approved antiviral therapy or vaccination is available for MERS-CoV infection due to the lack of controlled trials demonstrating efficacy (Mubarak et al. 2019). Various treatment options were previously attempted or suggested based on in vitro experiments or experience from SARS patients (Stockman et al. 2006). To date, experience with treating MERS-CoV is limited to individual case reports or small case series. Omrani et al. (2015) showed that in patients with severe MERS-CoV infection, ribavirin and interferon alfa-2a therapy are significantly associated with improved survival at 14, but not 28 days (Omrani et al. 2015). In vitro studies also suggest that the ribavirin and interferon alpha-2b combination therapy has significant antiviral effect (Carvalho et al. 2014).
Using distinct clones of anti-CD26 monoclonal antibodies, the domains of CD26 involved in the binding of MERS-CoV have been identified (Ohnuma et al. 2013). It has been suggested that 2F9, a clone of CD26, and YS110, a humanized monoclonal antibody against CD26, could be potential therapeutic agents for MERS-CoV (Ohnuma et al. 2013). One of the antibodies, m336, neutralizes the virus with exceptional potency and, therefore, has potential as a candidate drug and could be even useful in vaccine design (Graham 2013). Additionally, human microRNAs might be useful as antiviral therapy against MERS-CoV infection (Dyall et al. 2017). In hospitalized patients, the untested convalescent-phase plasma has been suggested as supportive therapy to minimize the severity of infection (Marano et al. 2016).
A few candidate vaccines have been tested in mice with some promising results (Schindewolf and Menachery 2019). Subunit vaccines based on MERS-CoV spike protein and its RBD could be useful in the development of MERS-CoV vaccine. Inhibiting papain-like or 3C-like proteases of MERS-CoV which regulate the polyproteins in MERS-CoV genomic RNA could be a useful concept in vaccine design (Mielech et al. 2014).
The control of MERS-CoV primarily relies on case-based surveillance, early diagnosis when infection is suspected, and the implementation and strict adherence of infection control measures. The role of respiratory protective equipment such as surgical masks and N95 respirators has been discussed but not yet proven (Smith et al. 2016). A large study is currently underway to examine the role of facemasks against respiratory viruses including MERS-CoV among Hajj pilgrims (Wang et al. 2015), although MERS-CoV transmission at the Hajj has never been reported to date (Alotaibi et al. 2017).
Although person to person transmission is limited, travellers to the Middle East may be at risk of exposure and infection with MERS-CoV. Raising awareness of MERS-CoV transmission is important in view of the fact that many travellers are not aware of MERS-CoV outbreaks (Alqahtani et al. 2016).
It is essential to intensify infection control measures in healthcare settings, particularly through health education and awareness. Healthcare workers also need to follow stringent precautions while treating suspected MERS-CoV patients including using eye shields and other personal protective equipment, particularly when performing aerosol-generating procedures. Immunocompromised individuals and those with preexisting medical conditions should avoid close contact with dromedary camels in areas of where the virus is circulating. Similarly, the consumption of raw camel milk and meat and exposure to camel urine should be avoided. Understanding the correlation between the causative factors and susceptibility to MERS-CoV infection is important.
Conclusion
In conclusion, MERS-CoV is a newly emerged virus mostly prevalent in the Middle East with sustained transmission of infection. As yet there is no specific therapy or vaccine to prevent infection. Travellers to the Arabian Peninsula and where MERS-CoV is circulating should remain vigilant against acquiring infection. They are advised to practice proper hand hygiene, protective behaviors, and cough etiquette. It is also recommended that they avoid exposure to camels and sick individuals and refrain from consuming raw camel products.
Copyright information
© Springer Nature Switzerland AG 2020
Section editors and affiliations