Gab2
Reference work entry
DOI:
https://doi.org/
10.1007/978-3-319-67199-4_601
Historical Background
Grb2-associated binder 2, Gab2, belongs to the Gab/DOS family of scaffolding adaptors that include mammalian  Gab1, Gab3, Drosophila Daughter of Sevenless (DOS), and Caenorhabditis elegans Suppressor of Clear 1 (SOC1) (Gu and Neel 2003; Wohrle et al. 2009). Gab1, the first identified member of this family of adaptors, was discovered in search of protein ligands for Grb2 SH3 domain (Holgado-Madruga et al. 1996). DOS was identified as a potential substrate for Corkscrew (Csw), the Drosophila ortholog of the SH2 domain containing protein tyrosine phosphatase 2 (Shp2) (Herbst et al. 1996). Gab2, the third member identified in this family, was initially cloned as a binding protein and substrate of Shp2 (Gu et al. 1998). Gab2 gene is located on human chromosome 11q14.1. Two other groups later cloned Gab2 by searching DNA database for protein with sequence homology to Gab1 (Nishida et al. 1999; Zhao et al. 1999). SOC1 was uncovered in a screen for suppressors of hyperactive signaling from Egl-15, an FGF receptor ortholog (Schutzman et al. 2001). Gab3 was identified by sequence similarity to Gab1 and Gab2 (Wolf et al. 2002). Gab1 and Gab2 are expressed ubiquitously. However, Gab2 is expressed at relatively higher level in myeloid cells and low in lymphoid tissues and fibroblasts (Gu et al. 1998). Gab3 also has a widespread expression pattern, although it is highly expressed in lymphoid tissue (Wolf et al. 2002). GenBank database also contains a human cDNA clone (Acession Number AB076978), termed Gab4. However, it is unclear how this "Gab4" cDNA sequence information was obtained. Although mRNAs for parts of the "Gab4" cDNA are found as ESTs in testis specifically, no report has shown that the full-length "Gab4" protein is expressed 10 years after the sequence was deposited into the GenBank. Thus, it is unclear whether this "Gab4" clone represents a bona fide Gab protein.
Gab2 Domain Structures
Gab2 and its family members have a similar topology although the overall amino acid sequence identity among the Gab/DOS family members is about 20–40%. Gab2 contains an N-terminal pleckstrin homology (PH) domain (~120 aa) and the C-terminal portion of the molecule (Fig.
1
). Gab2 PH domain has the highest sequence identity with the PH domains of the other Gab/DOS family members except the SOC1 PH domain, ranging from ~45% to 80% (Gu et al.
1998
; Wohrle et al.
2009
). The main function of the Gab2 PH domain is to preferentially bind phosphatidylinositol (
3,4,5
)-trisphosphate (PI3,4,5P3), the lipid product of
phosphoinositide
3-kinase
(PI3K) (Yu et al.
2006a
). Although the C-terminal portion of Gab2 does not have significant sequence homology to other Gab/DOS members, it contains multiple conserved tyrosine phosphorylation and serine/threonine phosphorylation sites, and proline-rich sequences. Tyrosyl phosphorylation in Gab2 results in the recruitment of various SH2 domain-containing signaling molecules including Shp2 and p85 (the regulatory subunit of PI3K) and activation of key cell signaling pathways (Figs.
1
and
2
). Serine/threonine phosphorylation negatively modulates Gab2 interactions with SH2 domain-containing signaling molecules (Gu and Neel
2003
; Wohrle et al.
2009
). Gab2 contains two proline-rich motifs that are required for binding to the Grb2 C-SH3 domain (Lock et al.
2000
). However, these two proline-rich motifs do not conform to the typical SH3 domain ligand (i.e., PXXP) that is mainly involved in hydrophobic interaction with the SH3 domain. Both of the Gab2 SH3-domain binding sites contain the atypical SH3 domain-binding motif, RXXK (Fig.
1
), which engages electrostatic interaction with the Grb2 C-SH3 domain (Harkiolaki et al.
2009
). All of these structural features play important roles in mediating Gab2 function in cell signaling.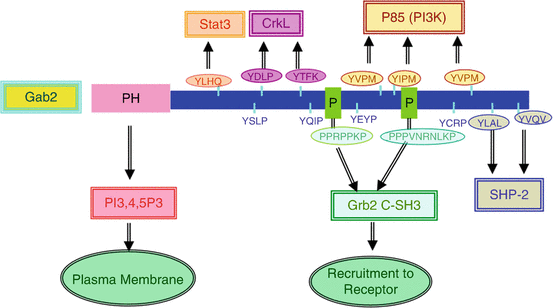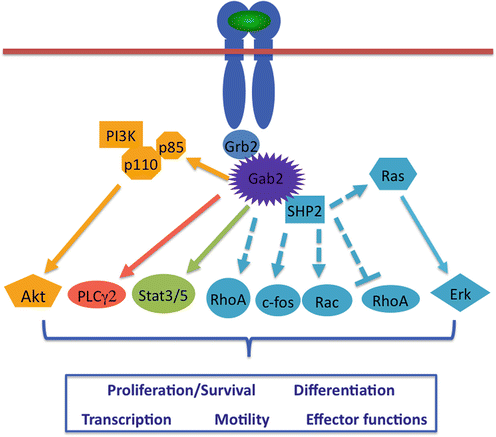 Gab2 in Cell Signaling
Gab2 functions to mediate the activation of critical cell signaling pathways by multiple cell surface receptors for growth factors, cytokines, antigens, and immunoglobulins (Fig. 2). The current model is that upon receptor activation, Gab2 is recruited to the activated receptor, becomes tyrosyl phosphorylated, binds SH2 domain-containing signaling molecules, and activates key downstream signaling pathways. Gab2-activated signaling events can be turned off at least by serine and threonine phosphorylation in Gab2 (Gu and Neel 2003; Wohrle et al. 2009).
Biological Functions
Gab2 mainly plays positive roles in regulating cell proliferation, survival, differentiation, and migration in a cell type-specific manner. While Gab2 activation of PI3K contributes to proliferation of hematopoietic cells (Gu et al. 2000), and hepatocytes (Kong et al. 2000), Gab2 via Shp-2 is required for the proliferation of mammary epithelial cells in three-dimensional culture (Bentires-Alj et al. 2006) and mast cells (Yu et al. 2006b). Likewise, while Gab2 activation of PI3K plays a critical role in differentiation and survival of neuronal cells (Mao and Lee 2005), Gab2 via association with Shp-2 and activation of Erk promotes differentiation of macrophages (Liu et al. 2001) and myeloid cells (Dorsey et al. 2002). In addition, Gab2 expression also contributes to cell migration in different cell types (Horst et al. 2009; Meng et al. 2005). Despite its major role as a positive signal transducer in regulating cell responses, some studies also suggest that Gab2 plays a negative role in cell signaling. Gab2 mediates the suppression of TCR-evoked IL2 gene expression in T lymphocytes (Pratt et al. 2000; Yamasaki et al. 2001).
Studies using mice with targeted disruption of the Gab2 gene (Gab2–/–) help elucidate the functions of Gab2 in vivo. Gab2 is not required for the normal development of mice since Gab2–/– mice are viable and healthy (Gu et al. 2001; Nishida et al. 2002). However, detailed analyses of the Gab2–/– mice reveal that Gab2 expression is required for the growth and functions of a variety of hematopoietic cells. Gab2–/– mast cells are defective in FcɛRI-evoked degranulation and cytokine gene expression (Gu et al. 2001), which contributes to the impaired allergy response of the Gab2–/– mice (Gu et al. 2001). In addition, mast cell development is comprised in Gab2–/– mice due to impaired c-Kit-evoked signaling of Gab2–/– mast cells (Nishida et al. 2002; Yu et al. 2006b). Although differentiation of the Gab2–/– macrophage seems to be normal, FcγR-induced phagocytosis is diminished in Gab2–/– macrophages (Gu et al. 2003). Eosinophil number in the peripheral blood from Gab2–/– mice is also significantly reduced (Gu and Neel 2003). Gab2–/– mice also display mild osteopetrosis and decreased bone resorption due to defective RANK-evoked signaling in Gab2–/– osteoclasts and osteoclast differentiation from Gab2–/– progenitor cells (Wada et al. 2005). Hematopoietic stem cells from Gab2–/– mice show reduced survival and self-renewal capability (Zhang et al. 2007). Further studies of mutant mice that lack the expression of both Gab1 and Gab2 in cardiomyocytes uncover a role of Gab2 in contributing to the normal cardiac function in adult mice through mediating neuregulin1/ErbB signaling (Nakaoka et al. 2007).
Gab2 in Cancer and Alzheimer's Disease
Gab2 has been implicated in different types of cancers including solid tumors and leukemia. Gab2 protein overexpression has been reported in breast cancer cells and breast tumors (Bentires-Alj et al. 2006; Daly et al. 2002) and melanoma (Horst et al. 2009). In breast tumors, Gab2 overexpression is associated with early stage of breast cancer (Fleuren et al. 2010). Gab2 gene amplification is at least one mechanism contributing to Gab2 protein overexpression in breast cancer (Bentires-Alj et al. 2006) and melanoma (Horst et al. 2009). Gab2 overexpression is associated with metastatic melanoma (Horst et al. 2009). Studies by manipulating the expression of Gab2 in cell lines and mice indicate that Gab2 expression alone or in combination with other oncogenes promote breast tumor cell growth (Bentires-Alj et al. 2006; Brummer et al. 2006), migration, invasion, and metastasis in vitro and in mice (Bentires-Alj et al. 2006; Ke et al. 2007). Gab2-regulated Shp2-Erk pathway contributes to the proliferation, invasion, and metastasis of breast cancer cells (Bentires-Alj et al. 2006; Ke et al. 2007). In contrast, Gab2-regulated PI3K pathway promotes migration, invasion, and metastasis of melanoma cells (Horst et al. 2009). Although Gab2 protein overexpression or gene amplification has been reported in gastric carcinomas (Lee et al. 2007), acute myeloid leukemia (Zatkova et al. 2006), and ovarian cancer (Brown et al. 2008), the functional roles of Gab2 in these cancers remain unexplored.
Besides Gab2 overexpression, endogenous level of Gab2 plays critical roles in leukemogenesis induced by BCR-ABL and juvenile myelomonocytic leukemia (JMML)-associated Shp2 mutants. BCR-ABL is the causative oncogene for chronic myelogenous leukemia (CML). Gab2 via Grb2 interacts with BCR-ABL through Y177 (a Grb2 SH2 domain binding site) and mediates BCR-ABL-evoked PI3K-Akt and Erk activation, and oncogenic transformation of myeloid progenitor cells (Sattler et al. 2002). Importantly, Gab2 is required for BCR-ABL-induced CML-like disease in mice (Gu and Neel 2003). Further supporting a role for Gab2 in CML, a recent study shows that Gab2 protein expression is significantly enhanced in bone marrow samples of CML patients with accelerated phase and blast crisis diseases (Aumann et al. 2011). About 35% of JMML has somatic Shp2 mutations. Transplantation of wild type, not Gab2–/–, bone marrow progenitor cells transduced with retroviruses expressing the JMML-associated Shp2 mutants induces JMML-like disease in mice, indicating that Gab2 is required for leukemogenesis induced by these Shp2 mutants (Mohi et al. 2005). Lastly, only Gab2, not Gab1, mediates oncogenic transformation of fibroblasts by the V-Sea oncogene (Ischenko et al. 2003) and induction of erytholeukemia by the Stk receptor tyrosine kinase in response to Friend virus infection (Teal et al. 2006).
A recent study using genome-wide association analysis reveals that several Gab2 polymorphic alleles can increase the risk of Alzheimer's disease (AD) onset in patients carrying the APOE epsilon4 allele (Reiman et al. 2007). Subsequent studies by more than ten different groups indicate that the association of Gab2 polymorphic alleles with increase AD onset depends on patient cohorts, with about half of those studies supporting Gab2 polymorphic allele as a risk factor for AD in APOE epsilon4 carriers whereas roughly the other half of the studies fail to demonstrate significant association of Gab2 polymorphic allele with increased risk of AD. It is not understood how the polymorphic alleles of Gab2 contribute to Alzheimer disease onset. These polymorphic alleles are located in the intron regions of Gab2 gene. They are more likely to change the expression of Gab2, not the protein structure of Gab2. Knockdown of Gab2 expression by siRNA increases  GSK-3 and Tau phosphorylation in neuronal cell culture, suggesting that polymorphic alleles of Gab2 may involve in Alzheimer disease onset by modulating Tau phosphorylation (Reiman et al. 2007). Future study by changing the expression level of Gab2 in the brain of mouse model of AD should help clarify the role of Gab2 in AD.
Summary
Since the discovery of Gab2 13 years ago, results from molecular, biochemical, cellular, and genetic studies have revealed Gab2 as a critical regulator of multiple important cell signaling pathways including PI3K-Akt and Shp2-Ras-Erk. One important question needs to be addressed is how Gab2 via Shp2 regulates the activation of the Ras-Erk pathway. In addition, it will also be important to understand the detailed mechanism of the negative regulation on Gab2 signaling by serine/threonine phosphorylation. Gab2 overexpression or expression is functionally implicated in various diseases including cancer, allergy, and Alzheimer's. Because Gab2 belongs to the so-called undruggable target, it will be a challenge to find agents or small molecule inhibitors that can decrease Gab2 expression or blocking Gab2 activation of downstream signaling pathways. However, with the new technological advances in the drug discovery field, drugging Gab2 should provide potential new therapeutics for treating human diseases with minimal side effects since mice lacking Gab2 expression are generally healthy.
Copyright information
© Springer International Publishing AG 2018