PKD
Reference work entry
DOI:
https://doi.org/
10.1007/978-3-319-67199-4_533
Historical Background
The serine/threonine protein kinase D (PKD) was first described in 1994. Due to some homology in its kinase domain, its ability to bind the lipid diacylglycerol (DAG), and its responsiveness to phorbol ester, PKD was originally classified as a member of the protein kinase C (PKC) family (Johannes et al. 1994). Later, it became evident that PKD represents an own group of kinases more closely related to the calcium/calmodulin-regulated (Cam) kinases (Manning et al. 2002). Initially, the PKD field focused on determining the functions of the structural elements and domains of PKD1 as well as the activation mechanisms for this kinase. With the identification of the PKD phosphorylation motif (Hutti et al. 2004) and the subsequent generation of a substrate-specific antibody (Döppler et al. 2005), optimal conditions were provided for the discovery of PKD substrates. This led to an increasing wealth of information on PKD downstream signaling, its role in various cellular processes, as well as its potential roles in health and disease. For example, it was shown that PKD has multiple functions within cells ranging from regulating Golgi organization and vesicle transport, cell proliferation, cell survival, to mitochondrial signaling to the nucleus (reviewed in Wang 2006). To date, three highly conserved isoenzymes, PKD1/PKCμ, PKD2, and PKD3/PKCν, have been described. Dependent on the cellular context, the three PKD family members may have redundant or unique functions. This is currently under intense investigation using shRNA strategies in cellular settings or in knockout and knockin animal models.
Structure of PKD Enzymes
PKD enzymes consist of a C-terminal kinase domain and an N-terminal regulatory region (Fig.
1
). The regulatory region comprises a binding motif for PKCδ, two cysteine-rich C1 domains (also named C1a and C1b or CRD domain), an acidic region (AR), and a pleckstrin homology (PH) domain. The deletion of either of these domains or regions leads to increased PKD activity, suggesting that the N-terminal region acts as negative-regulatory for the kinase domain (reviewed in Van Lint et al.
2002
). C1 domains are required for binding to the lipid diacylglycerol (DAG), which targets PKD to different intracellular membranes, including the plasma membrane, the Golgi, or mitochondria (Cowell et al.
2009
; Baron and Malhotra
2002
). Both C1 domains have distinct roles in targeting and maintaining PKD at the plasma membrane. C1a achieves fast maximal and reversible translocation, while C1b translocates the enzyme more persistently. Persistent localization also requires the binding of a G-protein Gα
q
subunit to the C1b domain. The C1b domain includes a nuclear targeting sequence. A role for the acidic region is not known. The PH domain does not bind any particular phosphoinositide with high specificity but serves as a protein–protein interface. For example, it recruits upstream kinases such as PKCη or binds the G-protein βγ subunit. The PH domain further is required for nuclear export (Rozengurt et al.
2005
). Additionally, several phosphorylation sites within this domain control PKD intracellular localization and activity. The C-terminal kinase domain includes an ATP-binding motif, an activation loop motif that requires phosphorylation at two serine residues, and an autophosphorylation site within a PDZ-binding motif (Van Lint et al.
2002
; Sanchez-Ruiloba et al.
2006
).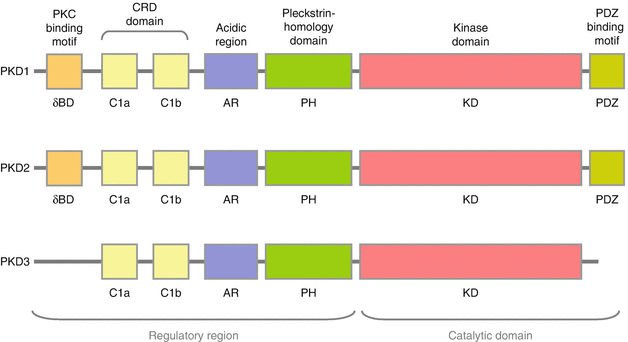 Regulation of PKD Activity
Regulation of PKD activity occurs through lipid binding and phosphorylation events (Fig.
2
). An initial step leading to PKD activation is its binding to diacylglycerol (DAG) which targets PKD to intracellular membranes. DAG is formed by phospholipases. For example, in response to growth factor receptor signaling, PKD1 is activated at the plasma membrane through DAG generated by PLCγ or PLCβ, and in response to mitochondrial oxidative stress, PKD1 is activated through binding to mitochondrial DAG that is indirectly (via phosphatidic acid) generated by PLD1 (Cowell et al.
2009
). Membrane targeting as an initial step of PKD activation is followed by phosphorylation events to gain full enzymatic activity (Rozengurt et al.
2005
). Dependent on the stimulus and the cellular localization of PKD, activating phosphorylations are mediated by members of the novel PKC (nPKC) group and tyrosine kinases such as Src and Abl.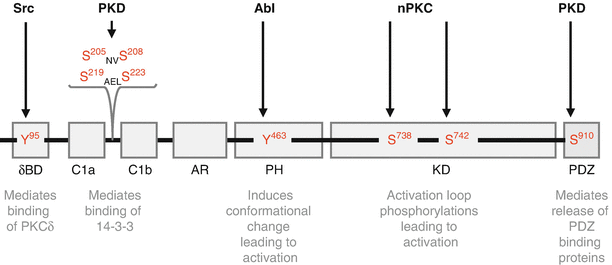 The canonical activation pathway for PKD is binding to DAG or phorbol ester, which leads to the release of the inhibition through the regulatory domain and subsequent phosphorylation of PKD by nPKC enzymes including PKCε, PKCδ, PKCη, and PKCθ. For example, in response to growth factor signaling, after translocation to the plasma membrane via binding to DAG, PKD is activated through nPKC. PKC enzymes phosphorylate PKD in the activation loop of the kinase domain at serine residues Ser738 and Ser742 (for human PKD1). These phosphorylation steps are required for PKD to gain full activity (Rozengurt et al. 2005). Active PKD can be released from the plasma membrane after this phosphorylation or can stay attached to intracellular membranes through binding to adapter proteins (i.e., Golgi localization through binding of G-protein βγ subunits to the PH domain).
Activation of PKD1 and PKD2 in response to oxidative stress requires additional phosphorylation events. For example, at the mitochondria, the activation of PKD1 by reactive oxygen species (ROS) also is initiated through binding to DAG. However, PKD1 activation then requires further phosphorylations at several tyrosine residues through the kinases Src and Abl. Abl phosphorylates PKD1 in its PH domain at tyrosine residue Y463 (for human PKD1) and this leads to a release of the inhibitory regulatory domain. Subsequently, Src phosphorylates PKD1 at tyrosine residue Y95, generating a binding motif for PKCδ, which then phosphorylates the two activation loop serines in the kinase domain (Döppler and Storz 2007).
Activation of PKD was also linked to autophosphorylation at serine residue S910 (in human PKD1) (Matthews et al. 1999). However, there is increasing evidence that this site gets phosphorylated independently or prior to PKD1 activation loop phosphorylation, suggesting that in vivo also other kinases may be involved in the phosphorylation of this residue. S910 is localized within a PDZ (postsynaptic density-95/discs large/zonula occludens-1-binding motif) motif and its phosphorylation leads to a release of a PDZ-binding protein. This process was functionally linked to the release of vesicles from the TGN (Sanchez-Ruiloba et al. 2006).
Additional in vivo phosphorylation sites in PKD include residues S203, S208, S219, and S223 (for human PKD1), whose phosphorylation regulates binding of PKD1 to 14-3-3, a mechanism that negatively regulates the activity of the kinase (Hausser et al. 1999). The phosphorylation of these sites is most likely mediated through auto- or transphosphorylation.
Cellular Localization and Functions
PKD in Human Disease
The in vivo functions of PKD enzymes are not well understood. So far, best studied are the roles in cardiac failure, immune cell function, and cancer, although the exact contributions of the three PKD isoforms are still ill-defined.
Role of PKD in Coronary Heart Disease
Coronary heart disease is associated with cardiac hypertrophy, which precedes cardiac failure. Cardiac hypertrophy can be mediated by altered expression of genes regulating myocyte contraction, cell metabolism, or calcium homeostasis. The transcription of such genes is regulated by histone acetylation processes. PKD1 was shown to negatively regulate the function of histone deacetylase (HDAC) enzymes resulting in increased transcriptional activity of genes that have been linked to mediating hypertrophy in mycocytes (Vega et al. 2004).
Role of PKD in Immune Cells
PKD is activated after immune cell receptor stimulation. This includes the activation of mast cell receptors and B-cell and T-cell receptors and suggests potential roles for PKD enzymes in mediating diverse immune responses. However, the roles of PKD isoforms in regulating immune functions in vivo are not well defined. Recently, the analysis of knockin and knockout animal models demonstrated that PKD2 has a major role in regulating antigen receptor-induced cytokine production and T-cell dependent antigen responses in vivo.
Role of PKD in Cancer
The functions of PKD enzymes in cancer range from tumor-initiating events, including increased DNA synthesis, proliferation, and survival signaling, to events regulating tumor cell progression, such as angiogenesis (Liou et al. 2015; Wang 2006). Moreover, PKD is activated by tumor-promoting phorbol esters and activating phosphorylations are mediated by PKCs, Src, and Abl, all kinases that previously have been implicated in various functions in cancer. Therefore, on first view PKD represents a bona fide oncogene. However, the role of PKD in processes regulating tumor cell migration and invasion are not well understood. Accumulating reports suggest that PKD1/2 activation suppresses and PKD3 increases directed cell migration and tumor cell invasion (Sanchez-Ruiloba et al. 2006; Eiseler et al. 2009). Moreover, converse results were obtained regarding the function of PKD1 in regulating cell migration in epithelial or endothelial cells, and it is possible that the effect of PKD1 on cell motility is cell type and cancer type dependent. Additionally, epigenetic silencing of PKD1 occurs in invasive breast or gastric cancers at the transcriptional levels through methylation of a CpG island in its promoter (Borges et al. 2013; Kim et al. 2008). This suggests that PKD1 expression may be needed for early tumorigenic events but is downregulated during metastatic progression.
Summary
Although intensively investigated since over 15 years, the in vivo roles of PKD enzymes are still unclear. Most of the knowledge on PKD signaling bases on cell culture experiments performed on PKD1. Because of their potential role in human cancer, PKD signaling molecules gained increasing interest as chemotherapeutic targets. However, it remains obscure if these strategies will be effective for invasive cancers since PKD enzymes in some cancers may inhibit the migration and invasion of cancer cells at multiple levels, in other cells may have a promoting function for these processes (Durand et al. 2015). In animals, adult tissues often show coexpression of the different PKD isoforms and functional redundancy between the family members has been described but is not always the case. PKD1 and PKD2 are the most closely related mammalian PKD isoforms with an approximately 86% overall identity at the amino-acid level. Within recent years, it became apparent that both share common regulatory mechanisms and have redundant functions to some stimuli and unique or even converse functions in response to others. In cancer, this becomes most apparent. For example, PKD1 contributes to early events leading to epithelial tumor cell proliferation and survival but is also a negative regulator of cell invasion. On the other hand, PKD3 seems to facilitate metastatic progression. In other diseases such as cardiac hypertrophy, where all the three PKD isoforms seem to have overlapping functions, the use of PKD-specific inhibitors may be more effective.
Copyright information
© Springer International Publishing AG 2018