PCAF Lysine Acetyltransferase
Reference work entry
DOI:
https://doi.org/
10.1007/978-3-319-67199-4_511
Historical Background: Identification of PCAF as a Histone Acetyltransferase
Human PCAF was identified in the mid-1990s based on an analogy between yeast and mammalian transcriptional control systems (Yang et al. 1996). In the budding yeast Saccharomyces cerevisiae, starvation for a single amino acid results in derepression of expression of enzymes for different biosynthetic pathways. This phenomenon suggests co-regulation of different pathways and is thus referred to as "general control of amino acid biosynthesis" (Hinnebusch and Fink 1983; Thireos et al. 1984). Genetic screens in the late 1970s and early 1980s uncovered various mutant strains with defects in the gene control response (Wolfner et al. 1975; Hinnebusch and Fink 1983; Penn et al. 1983). Responsible genes of two such mutant strains were named Gcn4 (general control non-derepressible 4, also referred to as amino acid analog-sensitive 3, Aas3, or Aas101) and Gcn5 (also called Aas104) (Hinnebusch 1984; Thireos et al. 1984). The former was cloned and found to encode a DNA-binding transcription factor (Hinnebusch 1984; Thireos et al. 1984; Hope and Struhl 1985), whereas analysis of the latter mutant strain suggested that Gcn5 encodes a transcriptional coactivator (Georgakopoulos and Thireos 1992). Consistent with this conclusion, subsequent cloning revealed that Gcn5 possesses a structural domain with sequence similarity to several other transcriptional regulators without obvious DNA-binding activity (Georgakopoulos and Thireos 1992). This structural domain was initially discovered in Drosophila Brahma and was thus named "bromodomain" (Haynes et al. 1992; Tamkun et al. 1992). Along with Ada2 (alteration/deficiency in activation 2) and Ada3, Gcn5 was also uncovered in yeast genetic screens, which were carried out in the early 1990s and aimed at identifying transcriptional adaptors (Berger et al. 1992; Marcus et al. 1994). Biochemical data indicated that the three proteins form a transcriptional coactivator complex (Marcus et al. 1994; Candau et al. 1996).
In mammalian cells, studies of cAMP-dependent transcriptional responses led to the identification of CBP (
C
REB-
b
inding
p
rotein) as a coactivator able to bind CREB (
c
AMP-
r
esponsive
e
lement
b
inding protein) that was specifically phosphorylated by the cAMP-dependent protein kinase PKA (
p
rotein
k
inase
A
) (Chrivia et al.
1993
). CBP was found to be homologous to p300, a 300 kDa cellular protein associated with adenoviral oncoprotein E1A (Arany et al.
1994
; Eckner et al.
1994
). Both were shown to coactivating c-Jun (Arany et al.
1995
; Lundblad et al.
1995
), a leucine zipper transcription factor with sequence and functional similarity to yeast Gcn4. Moreover, both p300 and CBP contain bromodomains homologous to yeast Gcn5 and display sequence similarity to a small domain of yeast Ada2 (Chrivia et al.
1993
; Arany et al.
1994
; Eckner et al.
1994
). Together with the conclusion that Gcn5 and Ada2 are components of a coactivator complex, these similarities suggested a potential role of mammalian homologs of yeast Gcn5 and Ada2 as transcriptional coactivators. With these considerations, PCAF was cloned in the mid-1990s as an 832-residue human protein with its C-terminal half homologous to yeast Gcn5 (Fig.
1
) (Yang et al.
1996
). A highly relevant development was that p55, a 55 kDa
Tetrahymena
protein with significant sequence homology to yeast Gcn5, was identified as a histone acetyltransferase (Brownell et al.
1996
), thereby leading to the demonstration of intrinsic histone acetyltransferase activity in PCAF (Yang et al.
1996
). This activity was also shown with human GCN5 (KAT2A) (Candau et al.
1996
; Yang et al.
1996
), which is paralogous to PCAF (Fig.
1
) (Smith et al.
1998
; Xu et al.
1998
). These studies established that from yeast to humans, Gcn5 and its homologs form an evolutionarily conserved family of histone acetyltransferases with important roles in transcriptional regulation. This notion has been subsequently validated in numerous studies with various transcription factors.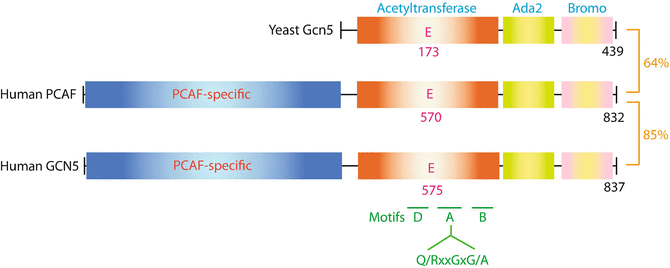 Domain Organization and 3D Structure of PCAF
Compared to yeast Gcn5, PCAF has a long N-terminal extension (Fig. 1). Similar to yeast Gcn5, the C-terminal half of PCAF contains three domains: an acetyltransferase core, an Ada2-interacting module, and a bromodomain (Fig. 1). PCAF is paralogous to human GCN5 because they share high sequence similarity in the entire sequence, i.e., both the N-terminal extension and the Gcn5-like C-terminal half. The N-terminal extension is conserved in Drosophila Gcn5 and mediates the association with p300 and CBP. One report indicated that the N-terminal extension of PCAF also contains an E3 ubiquitin ligase activity. Additional studies are needed for the N-terminal extension, but lots of knowledge have been gained about the C-terminal three domains.
The acetyltransferase core possesses three conserved motifs, A, B, and D (Fig. 1), which are shared by members of the GNAT (Gcn5-related N-acetyltransferase) family. The peptide QVKGYG within motif A of PCAF matches nicely to the Q/RxxGxG/A signature sequence present in members of the GNAT as well as MYST families of histone acetyltransferases. Crystal structure of the PCAF acetyltransferase core has been determined and is similar to that of yeast Gcn5, with motifs A and B forming the acetyl coenzyme A-binding pocket. A key catalytic residue is E-570, which is located at the N-terminal part of motif A and serves a base to extract a proton from the amino group of an acetylatable lysine residue during catalysis. Structural comparison with other Gcn5 family members suggests how this family of acetyltransferases can accommodate various substrates with divergent sequence. Two correlations have been reported: (1) the acetylatable lysine residue itself and its C-terminal region, especially residues at positions +2 and +4, play a particularly important role in substrate selectivity, and the backbone of the substrate in this region in positions +1 and +3 also contributes to substrate binding, and (2) the substrate region N-terminal to the lysine residue modulates substrate affinity. This flexibility of substrate recognition explains that PCAF has been shown to acetylate numerous proteins substrates.
At the C-terminal end of PCAF is a bromodomain (Fig. 1). This domain was initially discovered as a structural motif that Drosophila Brahma and yeast Snf2 share with other proteins. NMR structural determination and peptide interaction assays revealed an acetyl-lysine binding pocket within the bromodomain of PCAF (Dhalluin et al. 1999). This property has been demonstrated in other bromodomains and plays a role in acetylation-dependent chromatin remodeling (de la Cruz et al. 2005). The PCAF bromodomain prefers acetyl-K binding site a hydrophobic residue at position +2 and an aromatic or positively charged residue at position +3.
Between the acetyltransferase core and bromodomain of PCAF is a small ADA2-interaction module. As with yeast Gcn5, Ada2 interaction is required for activation of PCAF. Further studies are needed to map the details of the interaction, e.g., which residues are crucial. As detailed in the next section, there are two paralogous ADA2 proteins in humans and dependent on which one PCAF associates with, different multisubunit complexes are formed (see the next section).
Multisubunit PCAF Complexes
Yeast Gcn5 is part of high-molecular-weight multisubunit ADA and SAGA (Spt-Ada-Gcn5-acetytransferase) complexes (Grant et al. 1997). As yeast genetic screens suggested, both complexes contain Ada2 and Ada3. Compared to Gcn5 alone, these complexes are more active in acetylating nucleosomes (Baker and Grant 2007). A SAGA-like PCAF complex consists of more than 20 distinct polypeptides (reviewed in Lee and Workman 2007; Nagy and Tora 2007). Interestingly, the N-terminal extension is not required for the complex formation (Ogryzko et al. 1998). Among the subunits are several TBP-associated factors (TAFs) that form a histone-octamer subcomplex. Another prominent subunit is TRRAP (TRansactivation/tRansformation domain Associated Protein), a 400 kDa protein originally isolated from a Myc-associated transcription coactivator (McMahon et al. 1998). Electron microscopy revealed that the complex forms a slightly twisted L-shape structure consisting of five modular domains, with PCAF or GCN5 occupying domain III in the middle region (Nagy and Tora 2007). As in Drosophila, there are two Ada2-like proteins in mammals, Ada2a and Ada2b (Barlev et al. 2003; Pankotai et al. 2005). The SAGA-like complex contains Ada2b, whereas Ada2a is present in a different complex, known as ATAC (Ada two A containing), that also contains another acetyltransferase ATAC2 and additional subunits that are absent in the SAGA complexes (Guelman et al. 2006; Nagy and Tora 2007; Suganuma et al. 2008; Wang et al. 2008; Guelman et al. 2009). Some of these additional subunits are components of the JNK pathway and confer the ability of the ATAC complex to regulate JNK signaling (Suganuma et al. 2010). Therefore, different from the SAGA complex, the ATAC complex possesses two acetyltransferases. Both GCN5 and PCAF are present in the two types of complexes.
PCAF Function in Various Cellular Processes
Consistent with its acetyltransferase activity toward numerous substrates, PCAF and its orthologs regulate different cellular processes in diverse organisms from the fly to humans.
As a transcriptional coactivator – Many transcription activators and cell cycle regulatory proteins such as nuclear receptor, c-Myc, KLF, and E2F family contact directly and recruit PCAF-containing complexes to specific promoters (Martinez-Balbas et al. 2000; Marzio et al. 2000; Yanagisawa et al. 2002; Urvalek et al. 2010). The PCAF coactivators can be recruited to a target gene promoter by a transcription activator. At the gene promoter, the coactivators catalyze lysine acetylation on either histone tails, the transcription activator, and/or the basal transcription machinery components. These reactions help unmask the promoter DNA from the nucleosomes, stabilize the transcription factor, enhance its interaction with DNA or protein partners, and/or promote transcription initiation and elongation. As a result, the transcription of the target gene is activated.
For example, KLF8 is a Krüppel-like transcription factor (KLF) family member that plays a critical role in the regulation of important cellular processes including cell cycle progression, oncogenic transformation, epithelial-to-mesenchymal transition, migration, and invasion. Several KLF family members, including KLF1, KLF4, KLF5, KLF6, and KLF13, have been shown to require p300, CBP, and/or PCAF to activate target gene promoters. Urvalek et al. (2010) found that KLF8 recruits the p300 and PCAF coactivators to its amino terminal activation domain to activate target gene transcription and identified the KLF8 activation domain located between residues 101 and 260 where well-conserved Q118 and Q248 are essential for recruiting the coactivators using site-directed mutagenesis, cyclin D1 promoter reporter assays, co-immunoprecipitation analysis, chromatin immunoprecipitation, Western blotting, and BrdU incorporation assays.
Another example is nuclear receptor. PCAF has intrinsic histone acetylase activity and is a nuclear receptor coactivator (Blanco et al. 1998). It interacts with the DNA-binding domain of nuclear receptors. Moreover, PCAF interacts with steroid receptor coactivator (SRC) family coactivators (Chen et al. 1997; Spencer et al. 1997; Korzus et al. 1998). As in the case of thyroid hormone receptor (TR), when in the presence of T3, it recruits a coactivator complex including PCAF, followed by modification of nucleosomes by HAT activity to open chromatin structure, and leads to transcriptional activation (Zhang and Lazar 2000).
As a transcriptional corepressor – The mammalian forkhead box O (FOXO) family of transcription factors is associated with apoptosis, cell cycle checkpoint, DNA repair, energy metabolism, oxidative stress resistance, and longevity by regulation of various downstream target genes. Yoshimochi et al. (2010) demonstrated that PCAF binds and inhibits FOXO1-induced transcription in the nucleus, by trapping Ser-253 phosphorylated form of FOXO1 before exported to cytosol, while its acetylation of FOXO1 had no effect on inhibition of FOXO1-directed transcription. Since FOXO1 has been implicated in cell cycle arrest and apoptosis by inducing its target genes p27kip1 and Bim, respectively. Thus applying treatments or compounds that repress the PCAF activity of binding to phosphorylated FOXO1 may have the potential as an anticancer drug candidate by promoting FOXO1-dependent cell cycle arrest or apoptosis.
As a somatic oncogenesis regulator – Aberrations in posttranslational modifications of histones at specific promoters as well as change in global histone modifications are both associated with cancer and are predictive of clinical outcome. Gain-of-function and loss-of-function PCAF alleles are associated with some cancers, indicating in some cases it serves as oncogenes while in others as tumor suppressors. Deletion of 3p24 was frequently detected in esophageal squamous cell carcinoma and PCAF was identified within this region. Zhu et al. (2009) found that downregulation of PCAF was detected in primary esophageal squamous cell carcinoma and established cell lines, and PCAF was observed to associate with its role in cell cycle arrest at the G1/S checkpoint by downregulation of CDK2 and upregulation of cell cycle inhibitors.
The tumor suppressor p53 exerts antiproliferative effects by regulating a variety of genes that in turn induce G1 arrest, senescence, or apoptosis. Acetylation is an important control for the function of p53. Phosphorylation of the N-terminal region of p53 can recruit PCAF and p300/CBP to p53-responsive elements on the chromatin, and thus leads to acetylation of p53 (Gu and Roeder 1997). Moreover, PCAF, in addition to its acetyltransferase activity, also has an intrinsic ubiquitination activity for controlling Hdm2 expression levels which can regulate p53 activity after DNA damage (Linares et al. 2007). p53 mutations are an overwhelming trait of solid tumors, and a number of studies have focused on the design of novel anticancer drugs target p53 mutants (Selivanova 2010). PCAF is downregulated in several human tumors harboring p53 mutants, and reexpression of PCAF leads to p53 acetylation and restores its DNA-binding ability in vitro as well as restores its transcription ability such as in p53-R175H and p53-G245A (Perez et al. 2010). In this respect, PCAF has the potential to function as an antioncogene and inhibitor of proliferation. BRCA1 and BRCA2 are two well-established tumor suppressor genes involved in chromosomal damage repair. Mutation in them may lead to all kinds of cancers especially human breast cancer. One domain of BRCA2 was reported to interact with PCAF and the interaction seems to involve another coactivator, which recruits PCAF to the chromatin for BRCA2 interaction (Shin and Verma 2003).
The Myc family of oncoproteins (c-, L-, and N-Myc) play a role in the pathogenesis of many human neoplastic diseases (Nesbit et al. 1999). Recent studies have shown that c-Myc is present on the chromatin in association with PCAF and other HAT complexes (Liu et al. 2003). Myc regulate acetylation levels through recruiting HAT complexes to its numerous binding sites. Another example is the E2F family, which is critical for cell cycle regulation, and any deregulation of the E2F pathways can lead to cancerous changes. PCAF has been described as an AT acetylating E2F1, which leads to an increase in its DNA-binding activity, stability, and transactivation (Martinez-Balbas et al. 2000; Marzio et al. 2000).
Interaction with viral proteins – Many virus-associated diseases target cellular HATs, such as adenoviral E1A (Chakravarti et al. 1999), HTLV-1 virus-encoded Tax protein (Jiang et al. 1999), Epstein–Barr virus-encoded EBNA2 (Wang et al. 2000), HIV-encoded Tat (Kiernan et al. 1999), E7 oncogene in high-risk papilloma virus (HPV) infection (Avvakumov et al. 2003), and the mouse mammary tumor virus (MMTV) (Vicent et al. 2009). Adenoviral E1A causes perturbation in PCAF function resulting in lower level of p53 acetylation. The HTLV-1 virus-encoded Tax protein interacts with PCAF resulting in increased Tax transactivation, which might lead to acute T-cell leukemia. The Epstein–Barr virus encoded EBNA2 also binds to PCAF and activates several promoters, which leads to immortalization and oncogenic transformation of the cells. The HIV-encoded Tat was acetylated by PCAF, leading to transactivation of the integrated provirus. E7 is known to bind to tumor suppressors such as p53, and its oncogenic effect requires PCAF. The initial activation of the MMTV promoter requires activation of several kinases and PCAF leading to phosphoacetylation of histone H3 and recruitment of BAF with subsequent removal of histones H2A and H2B.
PCAF Function in Development
Human PCAF is ubiquitously expressed in adult tissues, but more abundant in heart and skeletal muscle. The expression of mouse Pcaf is low during embryonic development but increases in adult heart and skeletal muscle. By contrast, mouse Gcn5 expression is high during early development and decreases after birth, suggesting distinct roles of Pcaf and Gcn5 during mouse development. Indeed, gene disruption of mouse Pcaf did not yield any obvious phenotypes except some defects in short-term memory and stress responses (Maurice et al. 2008), whereas inactivation of Gcn5 is embryonic lethal at E8.5. Moreover, knock-in mouse embryos expressing an inactive acetyltransferase mutant (E568A/D609; mouse E568 is a key catalytic residue and is equivalent to E575 of human GCN5, Fig. 1) of Gcn5 exhibited sever cranial neural tube closure defects and exencephaly, indicating that the acetyltransferase activity is required for cranial neural tube closure. Thus, even though they are highly homologous at the amino acid sequence level and display similarity at the biochemical level, mouse Pcaf and Gcn5 have different roles in different tissues and developmental stages due to their different patterns of expression. On the other hand, although pcaf expression is low during early development, deletion of both Pcaf and Gcn5 led to a more sever phenotype, indicating that they also have overlapping functions during early development.
Summary
PCAF was initially identified in 1996 and contains an N-terminal extension and a C-terminal Gcn5-like half that comprises an acetyltransferase core, an Ada2-interaction module and a bromodomain. The three-dimensional structures of the acetyltransferase core and bromodomain have been solved and provide structural and mechanistic details as to how these two domains carry out lysine acetylation and recognize an acetyl-lysine peptide, respectively. Although it is absent in yeast Gcn5, the N-terminal extension of PCAF is conserved from orthologs from flies to humans. In mammals, GCN5 shares high sequence similarity with PCAF in the entire sequence. Like GCN5, PCAF exists at least two different multisubunit complexes, SAGA and ATAC. While the SAGA complex is conserved in yeast, the ATAC complex is metazoan specific. At the functional level, PCAF is well known as a transcriptional coactivator. Through acetylating histones and numerous nonhistone substrates, PCAF also regulates diverse cellular programs. While little difference has been reported for them at the biochemical level, roles of PCAF and GCN5 in mouse – and perhaps also human – development are quite different owing to rather distinct spatiotemporal expression patterns.
Notes
Acknowledgements
This research was supported by operating grants from Canadian Institutes of Health Research (CIHR) and Canadian Cancer Society (to X.J.Y.).
Copyright information
© Springer International Publishing AG 2018