Guanylyl Cyclase Receptors
Reference work entry
DOI:
https://doi.org/
10.1007/978-3-319-67199-4_434
Historical Background
In 1971 when Sutherland received the Nobel Prize for the discovery of the second messenger cAMP, the functions of cGMP were still a mystery, even though cGMP had been isolated from rat urine in 1963, and an enzyme that cleaved the phosphodiester bond was discovered the following year. The levels of cGMP are regulated by synthesis by guanylyl cyclases (GCs), extrusion from the cell, and/or degradation by phosphodiesterases (Kots et al. 2009).
GCs were discovered, 6 years after the cGMP was identified, by three separate groups (Hardman and Sutherland
1969
; Schultz et al.
1969
; White and Aurbach
1969
). Two classes of GCs, one that is cytosolic (soluble) and the other that is found associated with the particulate or membrane fraction of cells could be identified. The two forms of guanylyl cyclases are composed of polypeptides of different sizes, with different biochemical properties (Kimura and Murad
1974
) (Fig.
1
).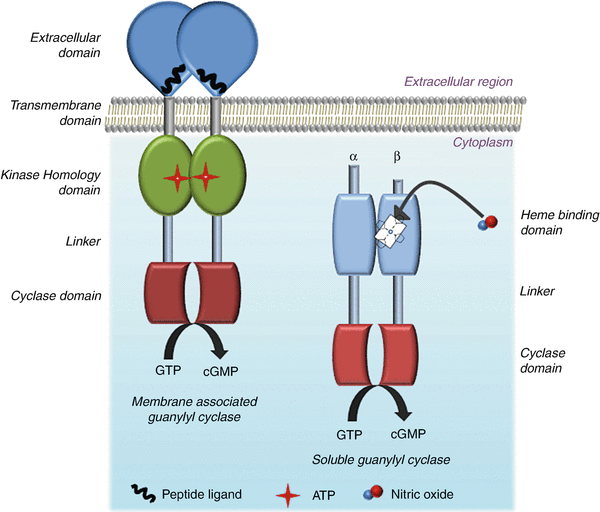 Soluble Guanylyl Cyclases
The soluble guanylyl cyclases (sGC) are heterodimers of two dissimilar subunits, alpha and beta. There are four types of alpha subunits, namely, α1, α2, α3, and α2 i, and three types of beta subunits, namely, β1, β2, and β3. The ubiquitously expressed α1/ß1 dimer is the predominant complex, with highest levels of mRNA in brain, lung, heart, kidney, spleen, and muscle (Russwurm and Koesling 2002; Mergia et al. 2009). All the heterodimers are active, albeit to varying extents, except those containing α2 i. The α2 i is a splice variant of α2 and provides a mechanism for regulating the activity of the α2/β1 form of sGC by acting as a dominant negative protein in cells. However, active homodimers in lower organisms have also been reported (Morton et al. 2005).
The crystal structure of the sGC from the green algae Chlamydomonas reinhardtii has been solved (Winger et al. 2008) and the structure of the catalytic domain of human sGC has been solved (Allerston et al. 2013). There is also a report on the crystal structure of Cya2, a prokaryotic guanylyl cyclase from cyanobacterium Synechocystis PCC6803 (Rauch et al. 2008).
The sGCs are ubiquitously expressed and are responsible for smooth muscle relaxation, neurotransmission, and inhibition of platelet migration (Kots et al. 2009) and can be stimulated by free radicals, nitrovasodilators, and similar molecules. Nitric oxide (NO), the major ligand for sGC, binds to the N-terminal heme-binding H-NOX domain. In the absence of NO, the iron atom of the heme moiety bonds with a histidine residue present in the protein, keeping the cyclase domain inactivate. NO binding to the heme moiety leads to the disruption of this interaction, altering the conformation of the enzyme, thereby resulting in its activation. NO binds to ferrous (Fe2+) heme iron in the H-NOX domain of the resting sGC to activate it (Stone and Marletta 1996; Zhao et al. 1999); however, oxidized ferric (Fe3+) heme iron strongly attenuates the enzymatic response to NO (Zhao et al. 2000; Schrammel et al. 1996). A number of conserved cysteine residues in the alpha and beta subunits have been identified, and covalent modification of three cysteine residues (two in the alpha subunit and one in beta subunit) by S-nitrosation or S-nitrosylation has also been shown to affect sGC desentisization to NO stimulation (Beuve et al. 2016). Protoporphyrin IX can bind to and activate sGCs independent of heme or NO (Lucas et al. 2000). Carbon monoxide also regulates sGCs in a manner similar to that of NO, although its affinity for the enzyme is much lower than that of NO. ATP allosterically inhibits the activity of the soluble guanylyl cyclase (Derbyshire et al. 2009).
The C-terminal cyclase domains in each subunit are connected to the N-terminus by a linker region which contributes to the dimerization of sGC. Since the α-subunits of sGCs lack the critical residues required for catalytic activity, they heterodimerize with the β-subunits to give rise to a functional active site (Lucas et al. 2000; Perkins 2006).
Membrane-Associated Guanylyl Cyclases
Seven classes of membrane-associated guanylyl cyclases have been characterized. They are GC-A, GC-B, GC-C, GC-D, and GC-G, and the retinal GCs, GC-E, and GC-F. All the receptor guanylyl cyclases share a common domain organization with a single-pass transmembrane region. They have an extra cellular domain (ECD), the amino acid sequence of which is poorly conserved across the different classes, thereby imparting ligand specificity. This domain is followed by a transmembrane domain and an intracellular domain (ICD). The ICD is comprised of a juxtamembrane domain followed by a regulatory kinase homology domain (KHD) which binds ATP. Following the KHD is a linker region which connects to the guanylyl cyclase domain. Ligand binding to the extracellular domains results in receptor activation and increased production of cGMP in the cell. Classical membrane-bound GCs are often devoid of kinase activity (Potter 2011a), perhaps because of the absence of a glutamate residue in the KHD domain that is important for the phosphotransfer reaction (Potter 2005). However, a novel class of membrane-associated GC-linked receptor kinases (currently four members), possessing both intrinsic kinase and GC activity, with the GC catalytic center being encapsulated within an active kinase domain, was unearthed using homology-guided bioinformatic data mining tools designed from annotated amino acid residues in the GC catalytic centers of lower eukaryotes. (Kwezi et al. 2007; Kwezi et al. 2011; Meier et al. 2010; Qi et al. 2010).
The Natriuretic Peptide Family Receptors
These comprise three receptors, namely, Natriuretic Peptide Receptors A, B, and C. The ligands for these receptors are natriuretic peptides – atrial natriuretic peptide (ANP), brain natriuretic peptide (BNP), and C-type natriuretic peptide (CNP).
Summary
Almost 50 years after the discovery of cGMP, its function in vision, olfaction, vasodilatation, and fluid ion homeostasis has been established. A number of guanylyl cyclases have been identified and characterized but questions still remain as to the ligands and exact functions of some of the receptors. The complex domain organization of these receptor guanylyl cyclases indicate that they may be regulated in multiple ways and be involved in crosstalk with other signaling pathways, and studies along these lines will be of interest in future.
Copyright information
© Springer International Publishing AG 2018