CLK
Reference work entry
DOI:
https://doi.org/
10.1007/978-3-319-67199-4_277
Historical Background
CLK1 (cdc2-like) kinase was initially described in mammalian systems (mouse and human cells), and was so-named because of amino-acid sequences similar to cdc2 kinase (now cdk1) in specific kinase catalytic subdomains (Stodjl and Bell 1999 and references therein). CLK1 was also referred to as STY, since it was the first kinase which autophosphorylated with dual-specificity, i.e., on Ser/Thr and Tyr (S/T and Y in the single-letter amino-acid code). Subsequent studies identified four CLK kinases in vertebrate genomes, CLK1-4. The cloning and characterization of the Drosophila orthologue, DOA, enabled the recognition of family members in many additional species, including Arabidopsis thaliana (AFC1-3), Nicotiana tabacum (PK12), Schizosaccharomyces pombe (Lkh1), and Saccharomyces cerevisiae (KNS1) (Yun et al. 1994; Savaldi-Goldstein et al. 2003; Kang et al. 2010 and references therein). These were collectively referred to as "LAMMER" protein kinases, due to a conserved amino-acid motif including this sequence in kinase catalytic domain X, specific to this sub-family. CLK/LAMMER kinases are found throughout eukaryotes and are considered to be among the 347 eukaryotic "signature" proteins (Hartman and Federov 2002). The amino-acid identities leading to the CLK nomenclature ("cdc2-like" kinase) have since been identified in numerous other related kinases, including the cdk and MAP kinases, placing them in the CMGC kinase family. No cyclin-dependence has been described for CLK/LAMMER kinases, and the name CLK has unfortunately been the cause of confusion, since the circadian rhythm genes of the nematode C. elegant are CLOCK genes, (clk), and and their human orthologues were named HCLK.
Structure of the LAMMER/CLK Kinases
The catalytic domains of LAMMER/CLK kinases define the C-terminal domain of the protein and comprise roughly two-third of the overall structure in most cases (Yun et al.
1994
). The catalytic domains of these kinases are remarkably similar to each other in overall structure and amino-acid sequence, with near 100% amino-acid identity in key residues and motifs throughout catalytic subdomains. Examples are found in kinase catalytic subdomains VIb and VIII where the motifs HTDLKPENIL and STRHYRAPEVIL are respectively either 100% identical or are nearly so in all family members. Both motifs are intimately involved in catalysis or substrate interaction. In particular, the former motif is exclusive to the LAMMER kinases, although the Thr residue, more frequently Arg or Cys in other kinases, is also found in the SRPK kinases. The SRPKs phosphorylate many of the same substrates as the LAMMER kinases, i.e., the SR proteins, albeit not on the same sites. Although the LAMMER motif (EHLAMMERIL) is itself conserved and easily recognizable in all family members, some amino-acid substitutions occurred during evolution, as for example, in
S. cerevisiae
KNS1p (EHMAMMQRIL) and mammalian CLK3 (EHLVMMEKIL, Table
1
). Indeed, in
S. cerevisiae
KNS1p an insert of 20 residues relative to other LAMMER kinases occured at the C-terminus of the motif between the terminal I and L residues. The LAMMER motif was hypothesized to lie on the surface of the lower lobe of the kinase domain based upon alignments with other CMGC kinases and thought to perhaps play a role in protein–protein interactions with interacting molecules. However, this idea was not upheld by in vitro studies introducing amino-acid substitutions in the tobacco orthologue PK12 (Savaldi-Goldstein et al.
2003
), nor was it validated by recent crystallographic studies performed on the catalytic domains of mammalian CLK1 and CLK3 (Bullock et al.
2009
). These latter studies revealed the existence of insertions relative to other kinases placing the LAMMER motif in the interior of the molecule.
CLK, Table 1
Alignment of arbitrarily selected LAMMER kinase catalytic subdomains VII–X, with the "EHLAMMERILG" motif underlined. This motif is limited to this kinase sub-family. DOA: Drosophila (Yun et al. 1994; Kpebe and Rabinow 2008); CLK1, 2, 3: human (Nayler et al. 1997); Afc1, 2: Arabidopsis (Bender and Fink, 1994); PK12: tobacco (Sessa et al. 1996); KNS1: S. cerevisiae (Padmanabha et al. 1991). Amino-acid numbering based upon residues in the 55 kD isoform of DOA kinase. Note the insertion in KNS1 that splits the LAMMER motif
| | | | | | | | |
| --- | --- | --- | --- | --- | --- | --- | --- |
| 481 |   |   |   |   |   | 540 |   |
|   | DOA | VKNTDVRLID | FGSATFDHEH | HSTIVSTRHY | RAPEVILELG | WSQPCDVWSI | GCILFELYLG |
|   | CLK1 | LINPDIKVVD | FGSATYDDEH | HSTLVSTRHY | RAPEVILALG | WSQPCDVWSI | GCILIEYYLG |
|   | CLK2 | VKSTAARVVD | FGSATFDHEH | HSTIVSTRHY | RAPEVILELG | WSQPCDVWSI | GCIIFEYYVG |
|   | CLK3 | VKNTSIRVAD | FGSATFDHEH | HTTIVATRHY | RPPEVILELG | WAQPCDVWSI | GCILFEYYRG |
|   | AFC1 | PKSSAIKLID | FGSTTFEHQD | HNYIVSTRHY | RAPEVILGVG | WNYPCDLWSI | GCILVELCSG |
|   | AFC2 | PKSSAIKVID | FGSTTYERQD | QTYIVSTRHY | RAPEVILGLG | WSYPCDVWSV | GCIIVELCTG |
|   | PK12 | PKSSAIKVID | FGSTAYERPD | HNYIVSTRHY | RAPEVILGLG | WSYPCDLWSV | GCILIELCSG |
|   | KNS1 | LKNPEIKIID | FGSAIFHYEY | HPPVISTRHY | RAPEIVLGLG | WSFPCDIWSI | ACVLVELVIG |
|   |   | 541 |   |   |   |   | 600 |
|   | DOA | ITLFQTHDNR | EHLAMMERI. | .......................... | .........................L | GQIPYRMARK | T.KT..K............ |
|   | CLK1 | FTVFPTHDSK | EHLAMMERI. | .......................... | .........................L | GPLPKHMIQK | TRKR..K.......... |
|   | CLK2 | FTLFQTHDNR | EHLAMMERI. | .......................... | .........................L | GPIPSRMIRK | TRKQ..K.......... |
|   | CLK3 | FTLFQTHENR | EHLVMMEKI. | .......................... | .........................L | GPIPSHMIHR | TRKQ..K.......... |
|   | AFC1 | EALFQTHENL | EHLAMMERV. | .......................... | .........................L | GPLPPHMVLR | ADRRSEK....... |
|   | AFC2 | EALFQTHENL | EHLAMMERV. | .......................... | .........................L | GPFPQQMLKK | VDRHSEK....... |
|   | PK12 | EALFQTHENL | EHLAMMERV. | .......................... | .........................L | GPLPSQMLKR | VDRHAEK...... |
|   | KNS1 | ESLYPIHENL | EHMAMMQRIN | GTPFPTDIID | KMFYKSKHKL | GNSPSDLNST | VIKHFDRKTL |
Several studies have demonstrated that LAMMER kinases, unlike their cousins in the SRPK family of kinases, do not possess specific docking sites for their substrates, perhaps explaining their broader substrate specificity. Interestingly, the crystal structures for the CLK1 and CLK3 catalytic domains show that they are constitutively active in their non-autophosphorylated state (Bullock et al. 2009). This data is supported by unpublished results showing that autophosphorylation of the DOA catalytic domain represses kinase activity (C. Du and L. Rabinow).
The non-catalytic N-termini of LAMMER kinases are highly diverged from each other and thus were not subjected to stringent constraints during evolution. However, the N-termini are all positively charged, possessing high pI values if considered independently of their catalytic domains (Rabinow unpublished). Most also contain short motifs of Ser-Arg residues in unique or double (but not triple) repeats, somewhat reminiscent of one class of their substrates, the SR proteins. It would nevertheless be erroneous to designate these as "RS" domains such as those found in the SR and SR-like proteins, which contain multiple and extensive Arg-Ser repeats.
LAMMER Kinase Autophosphorylation, Consensus Phosphorylation Sites, and Substrates
All LAMMER kinases tested autophosphorylate on Ser/Thr and Tyr residues, but none has been demonstrated to possess tyrosine kinase activity toward an exogenous substrate. Autophosphorylation of CLK2 affects its intranuclear distribution in cultured cells. The autophosphorylation site is conserved among all mammalian CLKs (Nayler et al. 1998) but not among non-vertebrate LAMMER kinases, although the A. thaliana LAMMER kinases AFC1-3 all possess potential autophosphorylation sites at similar locations (Rabinow unpublished). Interestingly, autophosphorylation on different sites of CLK1 differentially alters its substrate specificity (Prasad and Manley 2003).
A consensus phosphorylation sequence for three LAMMER kinases from humans (CLK2),
Drosophila
(DOA), and
N. tabacum
(PK12) revealed substantial substrate similarities among the three kinases (Nikolakaki et al.
2002
, Table
2
).
CLK, Table 2
Optimal phosphorylation sites for 3 LAMMER protein kinases. Data from Nikolakaki et al. (2002) obtained via phosphorylation of peptide libraries. Data from Bullock et al. (2009) supports and extends these data with the observation that Pro at the P + 1 position is highly selected by CLK1, and less so for CLK2 and CLK3. "0" marks the phosphorylation site, which was fixed as Ser in this approach. The Arg residue fixed at −3 was determined through selection among peptide libraries for those with highest phosphorylation levels by the LAMMER kinases
|   | −7 | −6 | −5 | −4 | −3 | −2 | −1 | 0 | +1 | +2 | +3 | +4 | +5 |
| --- | --- | --- | --- | --- | --- | --- | --- | --- | --- | --- | --- | --- | --- |
| CLK2 (human) | R | R | R | R | R | E | H | S | R | R | D | L | L |
| DOA | R | R | R | E | R | E | H | S | R | R | D | L | G/D |
| PK12 | H | R | E | E | R | R | R | S | R | R | D | D | D |
The consensus phosphorylation site was defined by in vitro phosphorylation of peptide libraries and contains an Arg residue fixed at −3 to the phosphorylation site. Curiously, both positively and negatively charged residues on both sides of the phosphorylation site are favored. To date only Ser residues on exogenous substrates have been found to be phosphorylated with the exception of Thr735 on c-Abl tyrosine kinase, which is phosphorylated by CLK1 and CLK4, creating a potential 14-3-3 protein binding site. The consensus site as defined in the above study did not reveal a preference for a Pro residue at the +1 position, although the familial relationship of LAMMER kinases with "proline-directed" kinases such as cdk's and MAPKs, all in the CMGC group, suggested that Pro should be a favored amino-acid at this position. This hypothesis was borne out by the examination of protein as opposed to peptide substrates, both in vitro and in vivo, as well as by a more recent peptide-based approach using different technology to examine substrate specificity of CLK1 and CLK3 (Bullock et al. 2009). This later study otherwise supports the features of the LAMMER kinase consensus phosphorylation sites for CLK2, DOA, and PK12.
All LAMMER kinase family members tested phosphorylate SR and SR-like proteins in vitro and in vivo (Nayler et al. 1997; Stodjl and Bell 1999; Nikolakaki et al. 2002). The SR proteins regulate multiple steps in mRNA maturation, and their phosphorylation is tightly regulated. Thus LAMMER kinases play important regulatory roles in the alternative and constitutive splicing of pre-mRNAs through phosphorylation of their substrates. However, the presence of the LAMMER orthologue KNS1 in the yeast S. cerevisiae suggests that the ancestral function of these kinases must involve a function other than the regulation of splicing, since the genome of this yeast does not encode any SR or SR-like proteins, nor is there alternative splicing per se; and even constitutive splicing is dispensable for vegetative growth of this yeast.
Several publications comparing the substrate specificities of LAMMER and the related SRPK kinases, which also phosphorylate SR proteins, showed that the former possess wider substrate specificity and can conceivably phosphorylate different substrates in addition to the SR proteins (Stodjl and Bell
1999
and references therein). This is in part due to the lack of a substrate-docking site in the LAMMER kinases, as opposed to SRPK kinases (Velazquez-Dones et al.
2005
). In vitro substrates used to assay LAMMER kinase activity have included myelin basic protein and histone H1, although the latter is not phosphorylated by all family members, specifically CLK2 and DOA. Aside from SR and SR-like proteins, LAMMER kinase substrates in mammalian cells include the chromatin and RNA-binding protein SAF-B, the protein tyrosine phosphatase PTP1B, prp4 kinase, c-Abl tyrosine kinase, and cyclophilin-RS (Table
3
). CK-I was also phosphorylated by CLK2 in vitro. In
Drosophila
several substrates in addition to SR and SR-like proteins have been identified, among which is eEF1βγ (formerly known as EF1γ), a putative translational elongation factor, but which was recently found to participate in the nuclear 3′ end pre-mRNA cleavage complex. In the yeast
S. pombe
, Lkh kinase phosphorylates RNA-binding protein Csx1 and the TUP11 and TUP12 transcriptional repressors. Global analysis of phosphorylation networks in
S. cerevisiae
has revealed a large number of potential substrates, including the kinases CDC15 and ATG1, although these have not been tested for biological effects.
CLK, Table 3
LAMMER protein kinase substrates other than SR proteins and their phosphorylation sites (where known)
Protein substrate

Kinase

Sequence

References

Myelin basic protein

DOA, CLK2, KNS1

GRDSRSGSPMAR

Lee et al. (1996)

Myelin basic protein

CLK1

QGKGRGLSLSRF

Menegay et al. (2000)

PKC-zetazide

CLK1

MPRKRQGSVRRR

Menegay et al. (2000)

PTP1B

CLK1, 2

RNRYRDVSPFDH

Moeslein et al. (1999)

P1 protamine

DOA, CLK2, PK12

YRCCRSQSRSRY

Nikolakaki et al. (2002)

EF1γ

DOA, CLK2, PK12

DDFKRVYSNEDE

Fan et al. (2010)

CLK2

CLK2

HRRKRTRSVEDD

Nayler et al. (1998)

c-Abl

CLK1, 4

DTEWRSVTLPRD

Nihira et al. (2008)

CK1δ

CLK2

MERERKVSMRLH

Giamas et al. (2007)

CLASP

CLK4

 

Katsu et al. (2002)

SAF-B

CLK2

 

Nayler et al. (1998)

PRP4

CLK1

 

Kojima et al. (2001)

Histone H1

CLK1

 

Colwill et al. (1996a)

Colwill et al. (1996b)

Tup11, Tup12, Csx1

Lkh1

 

Kang et al. (2010)

 
 
 

Kang et al. (2007)
In short, the substrate specificity of the LAMMER kinases demonstrates that SR and related proteins as well as other regulators of RNA maturation are targeted, although additional processes and substrates including signaling molecules are also clearly phosphorylated.
Genetic, Functional, and Expression Studies on LAMMER Kinases
Mammalian CLKs
CLK1–4 all phosphorylate SR proteins and alter splicing of reporter constructs when over-expressed in cultured cells (Nayler et al. 1997). Alternative splicing of adenovirus is also affected by CLK1. CLK1, 2, and 4 are widely, perhaps ubiquitously, expressed in mammalian tissues, while in contrast CLK3 expression is enriched in testes and spermatozoa (Menegay et al. 1999). It is released from sperm with the acrosome, resulting in the suggestion that it may play a role in fertilization. Mammalian CLK kinases are generally nuclearly localized, but cytoplasmic kinase has also been detected via immunocytochemistry and western blotting when fixation conditions were appropriate (see references Table 3), or on immunoblots when cell fractionations were performed (Prasad and Manley 2003). An antibody directed against the LAMMER motif reveals a large component of nuclear staining in fixed HeLa cells, but cytoplasmic staining as well (K. Lee and L. Rabinow unpublished). Moreover, cell fractionations of HeLa cells followed by immunoblot analysis using the same antibody also detect LAMMER kinases in the cytoplasmic, as well as nuclear fractions (ibid).
Consistent with a role in the phosphorylation of SR proteins, over-expression of CLK1 in cultured cells results in the dispersion of nuclear "speckles," which are thought to be storage sites of SR and other splicing-related proteins (Stodjl and Bell 1999 and references therein). Dispersion of the speckles necessitates transfection with an active form of CLK kinase, since transfections with a catalytically inactive construct of the kinase using a single amino-acid replacement have no effect on speckle number or distribution. All four mammalian CLKs are regulated at the level of splicing, where exclusion of exon 4 (in both mouse and human CLK1) results in use of an in-frame stop codon just upstream of the kinase catalytic domain, resulting in possible production of a truncated peptide. It has been suggested that the mRNA including the premature termination codon is subjected to nonsense-mediated decay (NMD) and thus accumulation of significant levels of truncated CLK peptides might not occur (Hillman et al. 2004). Regulation of CLK1 exon 4 inclusion occurs through autoregulation, but also at least in part through interaction of CLK4 with an SR-like protein, CLASP, the mammalian orthologue of Drosophila suppressor of white-apricot, su(wa) (see reference Table 3). CLASP phosphorylation by CLK4 induces exon 4 exclusion in CLK1 transcripts, thus down-regulating CLK1 levels.
Inclusion or exclusion of exon 4 in CLK1 is regulated in response to stress and also during erythroleukemic cell differentiation. In the first case it was found that cage-restraint and water-immersion of mice reduced accumulation of CLK1 transcripts in the brain, while the balance of the two alternatively spliced transcripts was altered toward the exclusion of exon 4, and hence the production of the non-coding RNA (Murata et al. 2005). Transcripts encoding both the full-length and truncated proteins of all four CLK kinases were up-regulated during HMBA-induced differentiation of MEL erythroleukemia cells (Garcia-Sacristan et al. 2005). In undifferentiated cells, CLK1 transcripts encoding the full-length protein predominated, whereas at later stages of differentiation the transcript including exon 4 became the major form, presumably down-regulating kinase levels and suggesting a role for the kinase in the differentiative process. CLK1 kinase also affects alternative splicing of additional target transcripts which include the choice between pro- and anti-angiogenic forms of VEGF and the splicing of tissue-factor (TF) required for thrombus formation in anucleate human platelets. In addition to its role in the phosphorylation of SR proteins, CLK1 kinase was also reported to negatively regulate expression of Super-Oxide Dismutase (SOD1), since reduction of CLK1 via RNA interference increased SOD1 activity, protein and mRNA in both HeLa and MCF-7 cell lines.
CLK2 was recently described as an insulin-regulated suppressor of gluconeogenesis in primary hepatocytes, repressing activity of the transcriptional co-activator PCG1a through direct phosphorylation of its RS-domain (Rodgers et al. 2010). Repression of PCG1a target genes was also observed in cell cultures when transfected with active CLK2, as well as in the livers of mice infected with an adenovirus-CLK2 transformation construct. Moreover, CLK2 protein levels were induced by feeding, under control of insulin and AKT signaling, while its mRNA levels were largely unaffected. Induction of CLK2 protein was due at least in part to stabilization of the protein and required CLK2 kinase activity and autophosphorylation. Furthermore, diabetic and obese db/db mice downregulated hepatic CLK2 levels, apparently due to lower protein levels. Reintroduction of active CLK2 restored normal glucose levels to near that of control animals. CLK1 kinase was also directly phosphorylated and activated by AKT kinase (Jiang et al. 2009, see below), leading to effects on alternative splicing of a transcript encoding a PKC isoform.
Interestingly, an earlier report demonstrated the interaction of CLK1, 2, and 4 with an ubiquitin-like molecule (UBL-5, or beacon), whose administration leads to obesity and weight-gain in Psammomys obesus (Israeli sand-rats). The beacon molecule was not phosphorylated by the CLKs and so the molecular basis or function of the interaction is not clear. However, these results taken together with those described above suggest that CLK2 is a crucial and newly characterized component of the insulin-signaling pathway. Moreover, these results reveal a specific role for the LAMMER kinases in the regulation of nuclear processes in addition to that of alternative splicing, and their regulation by a crucial evolutionarily conserved signaling pathway.
DOA Kinase of Drosophila
The single LAMMER kinase orthologue of
Drosophila
is encoded at the
Darkener of apricot
(
Doa
) locus, so-named because mutants partially suppress the
whiteapricot
allele. The locus is the best genetically characterized of all LAMMER kinase-encoding genes due to the facility of genetics in the fly. Mutations are almost invariably recessive lethal at early developmental stages. Homozygous mutant embryos hatch and die as early larvae; this late lethality is allowed by maternal contribution of both RNA and protein to the oocyte (Yun et al.
1994
). In contrast, somatic mosaic experiments revealed that null alleles are cell lethal. Clonal analyses also showed that the kinase is essential for early oocyte development. Although homozygous animals are generally inviable, specific allelic combinations (heteroallelic animals) permit recovery of adults, which reveal extensive pleiotropic phenotypes, including roughened eyes, ectopic wing-veins, duplicated bristles (external touch organs of the fly), sterility, transformation of somatic female tissues into male structures, and aberrant development of distal segments of the legs (Fig.
1
). Over-expression of specific kinase isoforms can also induce pleiotropic aberrations. Two alleles due to chromosomal rearrangements permit occasional survival of homozygotes which display striking degeneration of retinal photoreceptor cells in the rare surviving adults. Homozygous embryos obtained from heteroallelic mothers (to eliminate maternal contribution) show disrupted development of the central nervous system and cuticular structures. Finally, complete phenotypic suppression of
whiteapricot
in several classes of
Doa
heteroallelic mutants is accompanied by reduction in levels of transcripts prematurely truncating within the copia retrotransposon, whose insertion caused this allele. The amount of copia transcript levels in the fly is also doubled. Specific alleles of
Hw
and
Bx
also induced by insertion of copia elements are also phenotypically suppressed by
Doa
mutations. Interestingly, suppression is independent of the orientation of insertion of the element with respect to the affected gene, arguing against a strand-specific (i.e., RNA processing) effect.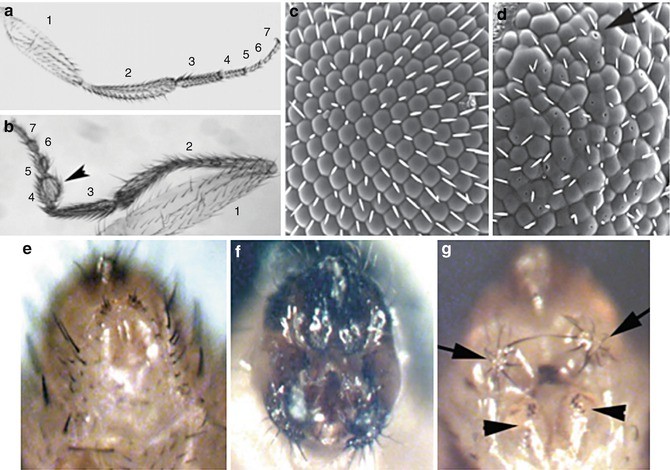 DOA is the only LAMMER kinase for which a role in alternative splicing has been documented in whole animals. Female-to-male sex transformations of varying degrees are observed in different classes of Doa mutants (Fig. 1), due to aberrant splicing of doublesex (dsx) transcripts (Du et al. 1998; Rabinow and Samson 2010). dsx encodes a transcription factor whose transcripts are alternatively spliced under the control of several SR and SR-like proteins to yield male or female-specific isoforms. As for other LAMMER kinases, DOA phosphorylates SR and SR-like proteins in vitro. Moreover, the SR and SR-like proteins TRA2 and RBP1 are hypophosphorylated and delocalized from chromatin in Doa mutant flies. Finally, genetic epistasis experiments showed that Doa's effects on sex-determination were at or parallel to the level of phenotypes induced by mutation of the gene encoding the SR-like protein TRA, which assembles directly onto the Exonic Splicing Enhancer complex responsible for activation of the female-specific dsx splice. It was therefore concluded that DOA directly phosphorylates SR and SR-like proteins responsible for splicing of the dsx transcript in vivo.
In contrast to the mammalian LAMMER kinases, no alternative splicing leading to insertion of an exon encoding a premature stop codon has been observed in Doa of Drosophila. However, the locus encodes six polypeptides of 55, 69, 91, 105, 138, and 227 kD generated by transcripts originating from alternative promoters. These proteins possess virtually identical catalytic domains, but aside from some partial overlaps, differing non-catalytic N-termini. These proteins perform at least three different functions as shown through genetic dissection using isoform-specific mutations, over-expressing alleles, and RNAi constructs. This idea is supported by the observation that the 55 kD protein is primarily nuclearly localized, while another of 105 kD is exclusively cytoplasmic, at least during pupal development. Additionally, the 105 kD protein is not predicted to alter splicing of the transcripts affecting the somatic sex-determination cascade, since over-expression, in vivo RNAi and isoform-specific mutations affecting this isoform do not induce sex transformations. Finally, the 227 kD isoform has recently been implicated in the control of cell trafficking (V. Gelfand, personal communication).
Doa
has also been identified in mutageneses, various genomic screens, and systematic RNAi in S2 cells (Table
4
). For example, analysis of genes differentially expressed during autophagy and death of the salivary glands during pupation demonstrates that
Doa
transcripts are one of the four most induced.
Doa
transcripts were significantly reduced in screens for hyperaggressive flies and in animals showing an altered "startle" response, while screens in S2 cells showed that
Doa
is required for cell cycle progression as well as for protein secretion.
CLK, Table 4
Identification of DOA kinase in various mutagenic and other screens
| Screen/effect | Cells/whole animals | References |
| --- | --- | --- |
| Suppression of mutagenic effects of copia transposable-element insertions | Whole animal | Rabinow and Birchler (1989) |
| Copia transcript levels elevated in mutants |   | Rabinow et al. (1993) |
| Oocyte development blocked | Whole animal | Morris et al. (2003) |
| RNAi blocks cell cycle progression, increased% G1 | S2 cells | |
| RNAi blocks protein secretion, DOA localized to ER | S2 cells | Bard et al. (2006) |
| RNAi to DOA inhibits specific splicing events | S2 cells | Park et al. (2004) |
| Doa mRNA induced to high levels during autophagy | Salivary glands (tissue) | |
| Reduced Doa mRNA associated with higher aggression | Whole animal | Edwards et al. (2006) |
| Reduced Doa mRNA correlates with reduced "startle" response | Whole animal | Yamamoto et al. (2008) |
| Female-to-male somatic sex transformations; aberrant splicing of dsx and exu transcripts; hypophosphorylation and aberrant localization of SR and SR-like proteins | Whole animal | Du et al. (1998) |
These observations, coupled with the molecular analysis of Doa expression and genetic dissection of isoform functions provide further support that LAMMER kinases target multiple processes in addition to alternative splicing through the phosphorylation of SR proteins.
The LAMMER Kinases of Yeast: Lkh1 of S. pombe and KNS1p of S. cerevisiae
The LAMMER kinase of Schizosaccharomyces pombe Lkh1/Kic1 has been well characterized (see references Table 3; Kang et al. 2010). It negatively regulates filamentous growth, and its mutation causes asexual flocculation of the yeast. Lkh mutants of S. pombe are sensitized to oxidative stress due to decreased levels of catalase and super-oxide dismutase. Decreased oxidative stress response is mediated by lower expression of the Atf1 transcription factor in lkh1 mutants. It was additionally found that the RNA-binding protein Csx1 was directly phosphorylated by Lkh1 in response to oxidative stress and that Csx1 protein binds and stabilizes atf1 mRNA. This last observation suggests a mechanism by which Lkh1 phosphorylation may reduce accumulation of Atf1 protein. Over-expression of Lkh1/Kic1 produced elongated cells, while others failed to undergo cytokinesis. Finally, it was recently reported that Lkh1 phosphorylates the Tup11 and 12 transcriptional repressors and that this phosphorylation is required for their activity (Table 3 and references therein).
In contrast to the detailed information available concerning the S. pombe LAMMER kinase, little is known about the orthologue of budding yeast, KNS1. Mutants undergo normal cell division, vegetative growth, and glucose utilization. Moreover, no authentic SR or SR-like proteins are encoded in the S. cervevisiae genome, and no alternative splicing is known for this yeast, strongly suggesting a role for the kinase other than that of splicing regulation. A synthetic lethal screen failed to recover any interacting loci rendering the locus vital (M. Horn, L. Neigeborn and L. Rabinow unpublished). Data from high-throughput proteomic screens revealed interactions between KNS1 and the ATG1 and CDC15 kinases. The former interaction supports the hypothesis of a role for LAMMER kinases in autophagy, as suggested by the observation of strong induction of Doa transcripts upon autophagy in the Drosophila salivary glands.
Plant LAMMER Kinases
The genome of Arabidopsis thaliana encodes three LAMMER kinase paralogues (Table 1 and references therein). AFC1 was identified in transgenic screens for loci capable of complementing mutations in S. cerevisiae FUS3 (a MAP kinase). The AFC2 and AFC3 paralogues were subsequently identified by PCR analysis, but no further work has been performed on them.
The best characterized of the plant LAMMER protein kinases is PK12 of tobacco, whose transcript and protein levels are both induced by the hormone ethylene (Savaldi-Goldstein et al. and references therein). As all other LAMMER kinases tested, PK12 phosphorylates SR proteins and affects alternative splicing in vivo. Analysis of amino-acid replacements in the LAMMER motif showed that this sequence affects subnuclear localization of the kinase, but did not affect substrate selection. Replacement of the motif with random amino-acids instead resulted in loss of catalytic activity. Analysis of transgenic Arabidopsis expressing a constitutively active PK12 revealed a subset of developmental effects typical of over-expression of ethylene-pathway response loci.
Regulation of LAMMER Kinases
Aside from the alternative splicing of exon 4 in mammalian CLK1-4 kinases described above, relatively little is published concerning the regulation of the LAMMER protein kinases. In
tobacco
, the PK12 kinase is activated both transcriptionally and catalytically by the hormone ethylene (Table
5
). In
Drosophila
two
Doa
isoforms are transcriptionally induced by the steroid hormone ecdysone during pupariation.
CLK, Table 5
Modifiers of LAMMER kinase expression/activity
| Activation | Modifier | Kinase/Species | References |
| --- | --- | --- | --- |
| Transcriptional/Catalytic activity | Ethylene | PK12/N. tabacum | Sessa et al. (1996) |
| Transcriptional | 20-0H ecdysone | DOA/D. melanogaster | Kpebe and Rabinow (2008) |
| Phosphorylation, protein stabilization | Insulin/AKT | CLK 2/M. musculus | Rodgers et al. (2010) |
| Phosphorylation, ionizing radiation | Insulin/AKT | CLK 2/H. sapiens | Nam et al. (2010) |
| Phosphorylation | AKT | CLK1/M. musculus | Jiang et al. (2009) |
Phosphorylation and activation of CLK1 by AKT occurs in response to insulin signaling, consistent with CLK2 activation and stabilization described above in conjunction with its role as a suppressor of gluconeogenesis. One recent study demonstrated increased cell survival following phosphorylation of CLK2 by AKT in response to ionizing radiation.
LAMMER Kinases on Drugs
Several inhibitors of LAMMER/CLK kinases have been developed which have altering degrees of specificity for the individual family members (Table
6
and references therein). The first of these, TG003, is a benzothiazole that inhibits CLK1 kinase in tests of its ability to alter splicing in vitro and in mammalian cells, as well as in phosphorylation of ASF/SF2. TG003 also blocked CLK1-induced dissociation of nuclear speckles, as well as defects induced due to presumed excess CLK activity in
Xenopus
embryos that had been injected with mRNA for one of the
Xenopus CLK
kinases. No toxic effects on growth or cell-cycles of COS-7 cells were observed. TG003 has high specificity for both murine CLK1 (IC
50
: 20 ηM) and CLK4 (IC
50
: 15 ηM), whereas CLK2 and CLK3 were less affected (IC
50
200 ηM and >10 μM, respectively).
Chlorhexidine was identified as a second CLK inhibitor in a high-throughput screen for modulators of alternative splicing in mammalian cells using a luciferase splicing-reporter construct. Chlorhexidine inhibited splicing of the reporter and also a specific subset of a panel of alternatively spliced exons on DNA chips. CLK4 and CLK3 were most sensitive (IC50: 10 and 50 μM, respectively), while CLK2 and CLK1 were less inhibited (IC50: 25 and 50 μM). Inhibition of CLKs by chlorhexidine in mammalian cells resulted in specific reduction in phosphorylation of SRp75, SRp55, and SRp30, while the phosphorylation of SRp20, SF2/ASF, and SRm160 was not noticeably affected. Other SR protein kinases, such as SRPK, were not inhibited by chlorhexidine.
Finally, substituted 6-arylquinazolin-4-amines were identified as potent inhibitors of CLK4, with varying degrees of effects on the other family members, apparently via competitive inhibition of ATP binding. These compounds bind the kinases at the "hinge" region separating the two lobes of the catalytic domain. Interestingly, one of these compound specifically poisoned Doa mutant flies in comparison with wild type in preliminary tests, although no mutant phenotypes were observed (L. Rabinow and D. Auld unpublished).
Summary
Additional analysis of the mammalian LAMMER kinases, CLK1-4, may reveal multiple isoforms, as suggested by their occurrence in Drosophila. These alternative isoforms represent differentiable functions in flies, as evidenced by their genetic dissection. While it is clear that one of the major functions of the LAMMER protein kinases is the regulation of alternative splicing through the phosphorylation of SR and SR-like proteins, it also is equally apparent that additional classes of substrates exist, including other protein kinases and phosphatases, chromatin, and other proteins. Given the recently demonstrated involvement of the insulin pathway in the regulation of CLK1 and CLK2 activity, the LAMMER kinases would appear to lie at the intersection of one or more signaling cascades. Finally, despite their well-documented roles in the regulation of splicing, the ancestral function of the LAMMER kinases remains to be determined given the existence of a family member in the yeast S. cerevisiae.
Notes
Acknowledgments
I apologize to the colleagues working on the LAMMER protein kinases whose excellent work could not be completely described or cited due to severe limitations on space and the number of references allowed. Wherever possible I have cited the most recent reference from each group to allow readers to identify prior citations of interest. Work in the laboratory of LR is supported by the University of Paris Sud and the CNRS.
Copyright information
© Springer International Publishing AG 2018