Ric-8
Reference work entry
DOI:
https://doi.org/
10.1007/978-3-319-67199-4_171
Historical Background
Discovery of Ric-8 proteins: The Caenorhabditis elegans RIC-8 gene and a homologous mouse gene that was later termed Ric-8A (or a synembryn) were discovered by Miller and Rand using a genetic screen to obtain C. elegans mutants that were resistant to the inhibitor of cholinesterase, aldicarb (Miller et al. 1996). Aldicarb treatment of wild-type worms leads to neurotoxic accumulation of postsynaptic acetylcholine and subsequent death. Ric mutants lived in the presence of aldicarb because they contained gene defects that restored normal acetylcholine levels, primarily by decreasing neurotransmitter secretion or release. Through epistasis analyses, the gene complementing the ric-8 mutant allele was predicted to elicit action upstream of or parallel to the gene encoding G protein α q in a diacylglycerol-dependent synaptic-vesicle-priming pathway (Miller et al. 2000). Miller and Rand also first showed that centrosome (spindle pole) movements in the dividing C. elegans zygote were perturbed in ric-8 mutants, a phenotype shared by G protein αo(i) mutants (Miller and Rand 2000).
Ric-8 was later shown to be epistatic to Gαs through genetic suppression experiments. Gain of function mutants in Gαs,  adenylyl cyclase, or protein kinase A individually suppressed the ric-8 paralysis defect (Reynolds et al. 2005; Schade et al. 2005). This showed that C. elegans RIC-8 gene action intersected with a second G protein, Gαs, to provide a cAMP second messenger input into the neurotransmitter release process. Collectively the C. elegans RIC-8 gene acts upstream of at least Gαq and Gαs and may maintain both G protein signaling pathways in activated states. It is not understood precisely how RIC-8 acted upon these divergent G proteins. The proposed role was gathered from the observation that mammalian Ric-8A acted as a Gαq GEF and directly activated these G proteins in a manner apart from the action of G protein–coupled receptors (GPCRs).
Ric-8 and G protein αi control of (asymmetric) cell division: Asymmetric cell division (ACD) is a process by which stem cells or progenitor cells divide such that the two daughter cells adopt unique characteristics and cell fate determinants during division (intrinsic ACD), or acquire these characteristics after division by influence of the surrounding tissue/niche (extrinsic ACD). ACD allows one daughter cell to retain stem/progenitor potential and the other to adopt a committed fate. Ric-8 and members of the G protein αi class of G proteins have an essential role in directing intrinsic asymmetric-, and perhaps normal-cell division. Gαi regulation in this context is thought to be GPCR-independent, as Gαi-family members reside not only on the plasma membrane, but on intracellular mitotic structures including spindle poles (centrosomes), spindle microtubules, and the cytokinesis midbody (Blumer et al. 2006).
The majority of the genetic and cell biological work delineating the influence of this nontraditional G protein pathway on mitotic spindle dynamics has been learned from ACD model systems including the C. elegans zygote, Drosophila neuroblast, and sensory organ precursor cell. It is clear that the network also operates in mammals to direct both symmetric and ACD because homologous and orthologous components of the pathway influence keratinocyte (skin) progenitor cell ACD (LGN, NuMA), neural precursor development (LGN, AGS3, G protein subunits) (for review of primary literature see Siller and Doe (2009)), and division of COS and HeLa cells (Gαi, AGS3) (Blumer et al. 2006; Cho and Kehrl 2007). Recently, Ric-8A and Gαi were shown to recruit LGN, NuMA, and the dynein microtubule motor to the plasma membrane of mitotic HeLa cells. Perturbation of Ric-8A expression, or its interaction with Gαi resulted in defective orientation of the HeLa mitotic spindle to the substratum and aberrant cell division (Woodard et al. 2010).
Ric-8B and Gαolf regulation of olfaction: The second mammalian Ric-8 homologue was named Ric-8B after it was discovered in yeast two-hybrid screens intended to uncover Gαs-interacting proteins (Tall et al. 2003; Klattenhoff et al. 2003). Mammalian Ric-8/synembryn was renamed Ric-8A at this time. Ric-8A and Ric-8B share ∼40% overall amino acid identity. The amino-terminal ∼400 amino acids are more divergent (34% identity) and have been predicted to be highly α-helical in content and consist of weakly scoring Armadillo repeats (Wilkie and Kinch 2005). Ric-8A and Ric-8B share greater amino acid identity between the carboxyl-terminal 130–160 amino acids (∼56% identity). No obvious protein sub-domains are present in the predicted α-helical Ric-8 carboxyl-termini, but the region in Ric-8B is alternatively spliced.
Ric-8B binds all G protein alpha classes in vitro with the exception of the Gαi-class, and unlike Ric-8A, uniquely binds members of the Gαs-family (Tall et al. 2003; Klattenhoff et al. 2003). Evidence supports a role for Ric-8B in the regulation of Gαolf during olfaction (Von Dannecker et al. 2006). Gαolf is the olfactory/brain-specific Gαs homologue that activates adenylyl cyclase to stimulate olfactory nerve firing. Malnic and colleagues portrayed functional differences between two expressed Ric-8B splice variants (full length, FL and deleted exon 9, Δ9). Overexpression of Ric-8BFL, but not Ric-8BΔ9 enhanced Gαolf-dependent adenylyl cyclase activation (Von Dannecker et al. 2006). When Gαolf, Gβ, Gγ, odorant receptors, receptor co-factors, and Ric-8BFL, but not Ric-8BΔ9, were co-transfected into a heterologous system (HEK cells), functional odorant receptor coupling was achieved. Application of odorants activated Gαolf-dependent signaling (Von Dannecker et al. 2006; Zhuang and Matsunami 2007). The unresolved question raised from these studies is: Does Ric-8B promote odorant receptor signaling because it activates Gαolf/Gαs as a guanine nucleotide exchange factor, or because it facilitates functional Golf membrane expression in the heterologous system, thereby enhancing Golf coupling to odorant receptors? Overexpression of Ric-8BFL did increase the amount of overexpressed Golf in a crude membrane fraction (Kerr et al. 2008). It was later reported that the single copy of RIC-8 in Xenopus appeared to stimulate mammalian Gαs GTPγS binding, although the intrinsic rate of Gαs GTPγS binding reported in this study was negligible (Romo et al. 2008). A positive demonstration of mammalian Ric-8B protein function as a Gαs-class GEF has not been made as of yet (Nagai et al. 2010). Ric-8B is hypothesized to be a Gαs and Gαq-class GEF since it interacts with these subunits in vitro, and by analogy (and homology) to the described activities of Ric-8A. Ric-8A is a GEF for all Gα subunits that it can bind.
Summary
The hypothesis that Ric-8 proteins are required for efficient G protein membrane expression provides a potential explanation, in part, for the findings that Ric-8 proteins seem to exert affects upstream of divergent G protein signaling pathways (i.e., Gαq, synaptic transmission, Gαi, cell division, Gαolf olfaction, etc.). The one observation that cannot be explained intuitively by the idea that Ric-8 proteins are simply factors required for G protein expression is that Ric-8(A) is a mitotic spindle (pole) binding protein (Fig.
6
and Woodard et al.
2010
; Hess et al.
2004
). This result suggests that Ric-8A might participate as a non-receptor GEF to activate intracellular Gαi-class G proteins that are localized on mitotic structures, including the mitotic spindle.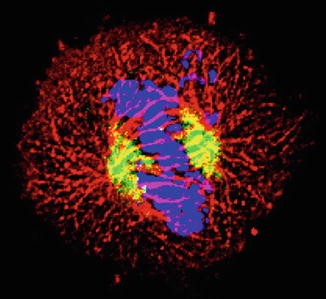 There are multiple regulatory points where Ric-8 proteins could act to promote or stabilize G protein membrane expression. Ric-8 proteins might act during G protein biosynthesis in positive fashion to promote stable membrane expression, or they could exert a protective role upon mature membrane–bound G proteins as these G proteins cycle between the plasma membrane and endo-membranes. Biosynthetic (forward) trafficking of G proteins to the plasma membrane requires two basic events: (1) G protein heterotrimer assembly on the endoplasmic reticulum (ER) and/or Golgi and (2) covalent attachment of lipid moieties to Gα and Gγ subunits (Marrari et al. 2007). Chaperone proteins including phosducin-like protein-1 (PhLP) and DRIP78 bind nascent Gβ and Gγ proteins, respectively, prior to Gβγ dimer formation (Dupre et al. 2007; Lukov et al. 2005). No component is known that binds nascent Gα after its synthesis, and aids its assembly into G protein trimers. Ric-8 proteins could fulfill such a role. In the absence of Ric-8 expression, Gα subunits not assembled into trimers would not reach the plasma membrane and would be more susceptible to degradation.
Ric-8 proteins could also potentially function in a capacity to counteract G protein downregulation by promoting G protein subunit recycling to the membrane. Debate exists whether G protein subunits become "solubilized" from membranes or clustered into membrane micro-domains upon activation by hormone receptors. Ric-8A and Ric-8B reside predominantly in the cytosol. Perhaps Ric-8 proteins function to "scavenge" cytosolic Gα subunits to restore membrane association. Upon experimental perturbation of Ric-8 protein expression, Gα subunits might slowly "leach off" the membrane over time due to tonic GPCR stimulation. If the pace of Gα biosynthesis does not keep up, this would be realized as a reduction in steady-state G protein expression. G proteins also cycle between the plasma membrane and Golgi membranes, perhaps as a means to receive reversible palmitoylation at the Golgi. Heterotrimeric G protein retrograde movement to the Golgi occurs at a rate faster than that predicted of a vesicular-transport-mediated event (t1/2 < 1 min) (Chisari et al. 2007; Tsutsumi et al. 2009). As such, G proteins were predicted to transit diffusively through the cytosol to the Golgi. It is not entirely clear whether G proteins transit as heterotrimers, or as free Gα or Gβγ species. If the latter, one could easily envision that an escort factor would be required to transit Gα (and Gβγ) to the proper intracellular membranes lest it signal inappropriately during transport. Small G proteins including Ras and Rab homologues share this type of membrane cycling principle. Rab GTPases utilize a combination of soluble GDI, GEF, and "escort" factors to shuttle unlipidated Rabs throughout the cell, present Rabs to the lipidation machinery, and target the lipidated Rabs to the correct cellular membrane compartment (Ali and Seabra 2005).
Given the known in vitro biochemical function of Ric-8 proteins as soluble G protein α subunit GEFs, it is a challenge, although conceivable, to envision a role for Ric-8 protein involvement in any one of these G protein subunit trafficking or biosynthetic processes. In this context, Ric-8 "GEF activity" could serve simply as a mechanism to regulate Gα:Ric-8 binding/dissociation. In this highly prospective role, Ric-8 would bind Gα subunits (either nascent chains, or mature membrane Gα) and traffic/escort the Ric-8:Gα nucleotide-free complex to the proper destination (the Golgi, or Gβγ on the ER or plasma membrane). At the destination, Ric-8 would be invoked to stimulate GTP binding to Gα and release an activated-Gα species. Gα would hydrolyze its bound GTP, return to the inactive state, and reassociate with Gβγ or GoLoco.
Copyright information
© Springer International Publishing AG 2018