Rab25
Reference work entry
DOI:
https://doi.org/
10.1007/978-3-319-67199-4_101804
Historical Background
Rab proteins including Rab25 are small GTPases belonging to Ras oncoprotein superfamily. Specifically, Rab25 is a member of the Rab11 subfamily consisting of Rab11a, Rab11b, and Rab25, which control the recycling of internalized membrane-associated moieties to the plasma membrane (Zerial and Stenmark 1993; Olkkonen and Stenmark 1997).
The human Rab25 gene is located at 1q22 encompassing 9.37 KB, from 156030940 to 156040304 (NCBI 37, August 2010), on the direct strand (HGNC: 18238; Entrez Gene: 57111; Ensembl: ENSG00000132698; OMIM: 612942; UniProtKB: P57735).
According to RefSeq, of the two reported RNA variants, only one codes for a protein (mRNA Transcript 1 which is 1138 bp linear mRNA (Accession: NM_020387.3 GI: 951232994). The other is a noncoding 942 bp linear transcribed-RNA (Accession: NR_133653.1 GI: 951235674). Predicted transcription factor binding sites in the RAB25 gene promoter include NANOG, MYC, DPF2, MIF-1, Tal-1beta, ITF-2, HEN1, Sox9, GATA-1, RelA, NF-kappaB1, NF-kappaB, and Pax-5; however, there is no experimental evidence demonstrating that they regulate Rab25 transcription. In terms of Rab25 regulation, ZEB-1 has emerged as the dominant epigenetic negative regulator of Rab25 (Roche et al. 2013). Moreover, experimental evidence shows that GATA3 (Aue et al. 2015) and Grainheadlike-2 (Ghrl2) (Senga et al. 2012) can also regulate Rab25 mRNA levels.
The Rab25 gene contains 6 distinct gt-ag introns resulting in 6 alternatively spliced mRNAs. There are 2 probable alternative promoters, 3 nonoverlapping alternative last exons, and 4 validated alternative polyadenylation sites. The mRNA variation results primarily from truncation of the 5′ end or the 3′ end, presence or absence of 2 cassette exons, overlapping exons with different boundaries (NCBI, August 2010).
The gene product of Rab25 is a 23 KD protein commonly localized in the perinuclear region of epithelial cells. First cloned in rabbit gastric parietal cells in 1993 by Goldenring et al., Rab25 shares 63% homology with Rab11a (Goldenring et al. 1993). Importantly, the GTP binding domain of Rab25 features a naturally occurring but novel WDTAGLE sequence, which is a glutamine (Q) to leucine (L) substitution at position 70 from the consensus WDTAGQE sequence found in many Ras family members. While this substitution maintains intact GTPase activity (Goldenring et al. 1993), the biological implication or how this alteration changes Rab25 function in comparison to Rab11a remains unknown (Goldenring et al. 1993). Importantly, this sequence change encompasses a predominant site that is frequently mutated in Ras family members (Q61L) and is known to contribute to its oncogenic function (Prior et al. 2012). Further, both the 1q22 region and Rab25 are genomically amplified as a part of frequent chromosomal arm amplification across multiple tumor lineages.
Rab25 Structure and Mode of Action
Structurally, Rab25 protein comprises a 6-strand mixed β-sheet flanked by 5 α-helices. Like most Ras superfamily proteins, a Walker-motif is present in the nucleotide 5′ phosphate arm. Importantly, downstream effectors are recruited based on: (a) conformational changes in adjacent switch 1 and switch 2 regions in response to GDP vs. GTP and (b) by presence of an invariable tryptophan residue in the variable inter-switch region that provides a hydrophobic surface for effector binding (Lall et al. 2015). Rab25 effectors include both class I and II conserved FIP protein family (Rab11-family interacting proteins) including RAB11FIP1, RAB11FIP2, RAB11FIP3, and RAB11FIP5. Notably, Rab25 associates with the C-terminus of RAB11FIP2 forming a heterotetrameric Rab25-RAB11FIP2-Rab25 complex thereby recruiting RAB11FIP2 to the endomembrane (Lall et al. 2015). GTP-Rab25 is also known to bind to integrins such as α5, β1, as well as to Smad 4 and TGFβR1. Other putative protein interactions described include ACVR1, AP2S1, BMPR1B, ELAC1, KPTN, MED31, MYO5B, ACAA2, PKIG, and SMURF2. However, the functional aspects of these interactions remain to be fully elucidated.
De novo synthesized Rab25 is GDP-bound and inactive, with a very low affinity for Rab GGTs (geranyl geranyl transferase). Association with a Rab escort protein (REP) greatly increases the affinity for geranyl geranyl transferase II (Rab GGT) whereby two geranyl groups are transferred to two cysteine sequences in the C terminus of cytosolic GDP-Rab25 (CCQNI). Once prenylated, Rab25 is inserted at relevant membrane sites. Membrane bound Rab25 is activated by a GDP-GTP switch and functions through recruitment of specific downstream effectors (Goldenring et al. 2001).
Expression and Subcellular Localization
The Rab25 gene is expressed at a high level (2.4 times higher than average gene levels) in some tissues and is also increased in various cancer tissues including colon, head and neck, ovary, stomach, prostate, breast, lung, and as well as multiple other tissues (NCBI 37, 2010) (Table
1
). While Rab25 protein is primarily epithelial in distribution with robust expression in gastrointestinal mucosa, lung, and kidney, cardiac myocytes also express Rab25. Even within cells in the same tissue, Rab25 expression is variable with parietal cells in gastric tissue having higher expression than chief cells suggesting cellular lineage to be a determinant of Rab25 expression and function (Goldenring et al.
1993
).
Rab25, Table 1
Rab25 protein expression in various human tissues
Tissue

Cells

Rab25 protein

Thyroid gland

Glandular cells

High

Appendix

Glandular cells

High

Lymphoid tissue

Not detected

Nasopharynx and bronchus

Respiratory epithelial cells

High

Lung

Macrophages

Not detected

Pneumocytes

High

Gall bladder

Glandular cells

High

Pancreas

Exocrine glandular cells

High

Islets of Langerhans

High

Stomach, duodenum, and small intestine

Glandular cells

High

Salivary glands

Glandular cells

High

Esophagus

Squamous epithelial cells

High

Rectum

Glandular cells

High

Colon

Glandular cells

High

Endothelial cells and peripheral nerve ganglion

Not detected

Kidney

Cells in glomeruli

Not detected

Cells in tubes

High

Epididymis, seminal vesicles, and prostate

Glandular cells

High

Fallopian tube

Glandular cells

High

Cervix, uterine

Glandular cells

High

Squamous epithelial cells

Medium

Breast

Glandular cells

High

Adipocytes

Not detected

Myoepithelial cells

Not detected

Endometrium

Cells in endometrial stroma

Not detected

Glandular cells

High

Placenta

Decidual cells

Not detected

Trophoblastic cells

High

Parathyroid gland

Glandular cells

Medium

Tonsil

Germinal center cells

Not detected

Non-germinal center cells

Not detected

Squamous epithelial cells

Medium

Oral mucosa

Squamous epithelial cells

Medium

Urinary bladder

Urothelial cells

Medium

Vagina

Squamous epithelial cells

Medium

Adrenal gland

Glandular cells

Low

Liver

Bile duct cells

Low

Hepatic cells

Low
Rab25 localizes and navigates through various compartments of the cytoplasm, including plasma membrane, pseudopodium, cytoplasmic membrane-bounded vesicles, and pseudopodium membrane. In polarized cells, Rab25 is detected in membrane associated apical recycling vesicles, often co-localizing with apical tubule-vesicular markers like VAMP-2, secretory carrier protein (SCAMPS), and H+/K + ATPase (Goldenring et al. 2001). Further, Rab25 co-localizes with subapical Rab11a (Casanova et al. 1999) as well as with late endosomal vesicles that are distinct from Rab7 decorated vesicles (Dozynkiewicz et al. 2012).
Cellular Functions of Rab25
Amplification of the Rab25 gene is associated with various cancers (adenocarcinoma; Barrett's esophagus; breast neoplasms; colorectal neoplasms; ovarian neoplasms; lung neoplasms). This suggests that Rab25 may play a role in tumor pathophysiology. Rab25 regulates trafficking of mitogenic cargo that drive cellular processes including proliferation, migration, energy metabolism, pseudopodium organization, protein transport, protein secretion, and small GTPase mediated signal transduction (Fig.
1
). A few examples of Rab25 driven cellular processes include:
Recycling, Transcytosis, and Sorting of Cargo
Rab25 mediates context dependent trafficking decisions that enable cell-specific cargo presentation at the cell surface. Mechanistically, Rab25 coated vesicles work primarily in the small scale fast recycling loop at the apical region of cells close to the plasma membrane but can also mediate recycling of cargo such as integrins (Casanova et al. 1999; Caswell et al. 2007, 2008) from late endosomal compartments. The late endosomal-recycling role of Rab25 is contingent upon the presence of CLIC3, whereby Rab25 reroutes integrin and possibly receptor tyrosine kinases back to the plasma membrane thus preventing lysosomal degradation (Dozynkiewicz et al. 2012; Macpherson et al. 2014). In polarized epithelial cells, Rab25 is a negative regulator of basolateral-to-apical transcytosis (Casanova et al. 1999) and promoter of apical to basolateral transcytosis (Tzaban et al. 2009), thus regulating the cell surface protein profile of such polarized cells.
Rab25 when in a complex with myosin regulates critical sorting steps during transcytosis. Rab25 also permits the sorting of ligand-occupied, active-conformation α5β1 integrin to late endosomes/lysosomes (Dozynkiewicz et al. 2012; Macpherson et al. 2014).
Further, Rab25-mediated trafficking in renal collecting ducts can increase water permeability by translocating endosomal aquaporin (AQP2) associated vesicles back to the plasma membrane (Barile et al. 2005). Similarly, in a nonepithelial system, the arterial myocytes, Rab25 is localized in close spatial proximity to calcium (CaV1.2) channels whereby it facilitates the plasma membrane transport of CaV1.2 channels (Bannister et al. 2016). Once transported to the cell surface, the calcium channels regulate vasoconstriction during pressure changes and depolarization (Bannister et al. 2016).
A secretory function of Rab25 is observed in ovarian cancer where Rab25 was implicated in secretion of glycoproteins such as osteoprotegerin (OPG). OPG binds to the tumor necrosis factor-related apoptosis-inducing ligand (TRAIL). In ovarian and breast cancer models, Rab25 driven expression and secretion of OPG contributes to evasion of TNF receptor-dependent apoptosis (Cheng et al. 2013).
Regulating Cellular Bioenergetics, Metabolism, and Autophagy
Rab25 enhances cell survival in various cancer models by regulating spatiotemporal availability as well as intracellular levels (by rerouting lysosomal targeted proteins) of growth factors and nutrient receptors. Under nutrient stress Rab25 driven recycling prevents cell death by apoptosis and autophagy in breast and ovarian cancer cells. When cancer cells undergo bioenergetics stress due to limiting resources, Rab25-mediated recycling stabilizes higher cellular ATP levels by activating AKT, which in turn increases glucose uptake and glycogen storage. Such resource management by Rab25 protects the cell from stress-induced apoptosis and autophagy (Cheng et al. 2012).
However, the inhibitory effect of Rab25 on autophagy appears context dependent. During liver fibrosis, hepatic stellate cells (HSC) are activated and lipid droplets (LD) are degraded. Rab25 expression was found to increase with HSC activation. The generation of ROS during fibrosis favors a Rab25/PI3KIII complex formation that allows recognition and subsequent degradation of the LD by the autophagy machinery (Zhang et al. 2016).
Regulating Cell Polarity and Differentiation
Vesicular trafficking machinery, especially the apical recycling endosomes, plays a critical role in apico-basal polarity. Studies show that Rab25-mediated trafficking is essential for maintenance of polarity and differentiation states in a wide variety of cell types (Zerial and Stenmark 1993; Zerial and McBride 2001; Zhen and Stenmark 2015). In intestinal cells, by regulating expression and assembly of brush border microvilli components, Rab25 regulates polarity (Krishnan et al. 2013). In this model, Rab25 was associated with gene expression of ETV4, Claudin 1, and selected integrins (Krishnan et al. 2013). Correct localization of tight junction (TJ) proteins represents a fundamental step in the establishment of epithelial cell polarity. During epithelial morphogenesis, Rab25 traffics Claudin 4 to TJ thus establishing a key step in the apico-basal polarity axis (Senga et al. 2012). Besides determining spatial orientation, Rab25 regulates Claudin 3 and 4 transcript and/or protein levels in some cellular systems where transcriptional factors such as grainyhead-like2 (Grhl2) predominantly drive morphogenesis (Senga et al. 2012).
In nonepithelial systems such as nerve cells, Rab25 negatively regulates neuronal differentiation and cortical outgrowth downstream of connective tissue growth factor 3 (CCN3), a protein essential for normal cortical neuronal connectivity (Park et al. 2015). The GTPase switch function of Rab25 provides an on-off mechanism for the tight regulation of CCN3 necessary during cellular differentiation.
Driving Cell Migration
During migration, the plasma membrane at the leading edge of the migrating cell undergoes dynamic changes, forming focal adhesions, establishing interactions with substratum, extending pseudopodia, and lamellipodia formation. This is also the region where rapid interaction with soluble proteins and mitogenic ligands that provide migratory cues occur. Presence of Rab25 decorated vesicles enables fast transport of appropriate cargo proximal to the plasma membrane (as opposed to deeper cytoplasmic areas) at the leading tip of the cell (Kessler et al. 2012). This small-scale fast acting-recycling route facilitates a more invasive mode of migration that is characterized by extended pseudopods.
During the formation of pseudopodia, Rab25 directly recruits β1intergin via its cytoplasmic tail. The β1intergin complexes with α5 integrin and both are delivered to the pseudopodia membrane tips (Caswell et al. 2007) in Rab25 decorated vesicles. Integrins interact with fibronectin propelling the cells to invade through extracellular matrix. Further, Rab25 decorated vesicles also retain a critical reservoir pool of α5β1intergin at the cell front behind the leading edge (Kessler et al. 2012).
Rab25 in Diseases Progression
Rab25 resides in the 1q22 amplicon, which is frequently amplified in
epithelial cancers
(Fig.
2
). The Rab25 gene is not frequently mutated; however, in some cancers the promoter of the gene is hyper-methylated. Depending on the cellular context, Rab25 can promote tumor progression and/or suppress oncogenic processes in epithelial cancers (Cheng et al.
2005a
; Agarwal et al.
2009
).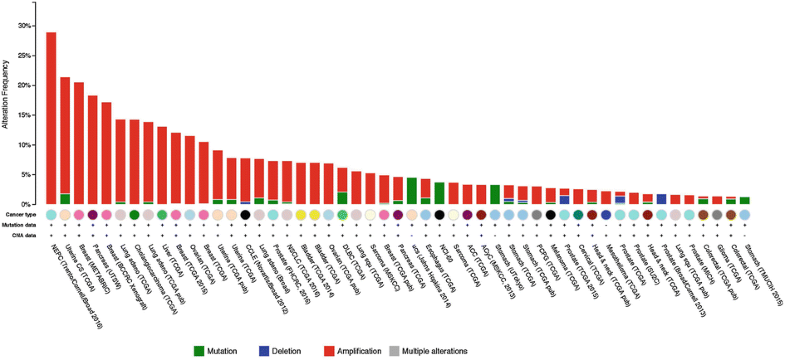 It is also important to recognize that Rab25 lies in the 140 kb linkage disequilibrium segment that harbors several candidate genes for Parkinson's disease including lysosomal enzyme beta-glucocerebrosidase (GBA) and synaptotagmin XI (SYT11), both of which are close to the Rab25 locus (Sesar et al. 2016) on chromosome 1q22. SNPs from the GBA-SYT11-RAB25 region are significantly associated with PD risk as shown from meta-analyses studies in PD patients (Lill et al. 2012).
Protumorigenic Rab25
Rab25 is upregulated and drives oncogenesis in multiple cancer types that is summarized in Table
2
. Rab25 expression is upregulated in the majority of ovarian cancers compared to normal ovarian epithelium, and this increase correlates with advanced stage. Increased Rab25 expression decreased apoptosis and anoikis and increased the metastatic phenotype in ovarian cancer models predominantly by upregulating PI3K/AKT pathways (Cheng et al.
2004
,
2005b
; Fan et al.
2006
,
2015
). Rab25 utilizes ERBB2/ERK and p70S6K/mTOR pathways to increases transcription and protein synthesis of HIF1α even under normoxic condition further contributing to aggressiveness of ovarian cancers (Gomez-Roman et al.
2016
). However, Rab25 expression levels did not correlate with metastatic spread in the peritoneal cavity in ovarian cancer patients (Zhao et al.
2012
).
Rab25, Table 2
Oncogenic Rab25
| Cancer | Rab25 expression | Methylation | Pathway | Overall survival (with high Rab25 level) |
| --- | --- | --- | --- | --- |
| Ovarian cancer | Upregulated | X | PI3K/AKT; HIF1a; ERBB2/ERK, p70S6K/mTOR; osteoprotegerin, integrin; FAK | Very poor |
| HCC | Stage and LN metastasis specific | X | Upregulation of pAKT, WNT, cyclin D1, cMyc, MMP7 | Poor |
| RNCC ccRNCC | Stage specific | X | Downregulation of miRLet7d | Poor |
| Lung cancer and NSCLC | Subset specific | X | EGFR recycling | Poor |
| Bladder cancer | Upregulated and associated with LN metastasis | X | Akt/GSK-3β/Snail | Poor (disease free survival) |
| HR + ve breast cancer | Upregulated in luminal B, correlates with LN metastasis in invasive ductal breast cancer | X | RCP, integrin, pAKT, pERK, osteoprotegerin, VEGF | Poor in luminal B; predictor of distant metastasis in HR + ve invasive BC |
High levels of Rab25 expression significantly correlated with poor prognosis in hepatocellular (HCC) (Geng et al. 2016) and renal cell carcinoma (RCC) (Liu and Ding 2014; Li et al. 2015), both in terms of lymph node metastasis and pathological stage. Rab25 upregulation in RCC correlated with diminished levels of miR let7d (Li et al. 2015). In HCC, Rab25 contributed to tumorigenesis by increasing AKT phosphorylation and WNT signaling. Elevated levels of Rab25 mRNA and protein are independent predictors of poor prognosis in bladder cancer (Zhang et al. 2013). In bladder cancer, Rab25 promotes tumorigenesis by activation of AKT/GSK3B/Snail signaling pathways leading to epithelial mesenchymal transition (EMT) (Zhang et al. 2013). Similarly, in gastric cancers, high expression of Rab25 is associated with a more invasive and metastatic phenotype (Cao et al. 2013).
Hormone receptor positive luminal B breast cancers have higher levels of Rab25 (than any other subtype of breast cancer) that correlates with worsened outcome. In such diseases, Rab25 and its effector RCP appear to be coordinately upregulated (Mitra et al. 2016). In triple negative breast cancer, especially claudin low tumors, Rab25 is completely lost and functions as an antioncogenic protein (Mitra et al. 2016). This dichotomy exists despite the presence of the 1q amplicon that hosts Rab25 across breast cancer subtypes and is likely due to differential methylation of the Rab25 promoter (Mitra et al. 2016). Even within ER/PR+ invasive ductal cancers, the mRNA levels of Rab25 are significantly increased in tumors with lymphatic metastasis than those without. In these patients, Rab25 expression correlates with VEGF levels in an ER/PR independent manner (Yin et al. 2012) supporting its role as a major biomarker of disease state.
Rab25 as a Tumor Suppressor
Tissue and cell specific regulators of cell polarity, adhesion, and signaling influence Rab25's antitumorigenic role. Moreover epigenetic regulation, including methylation, contributes to the dichotomous role of Rab25. Lastly, some reports suggest that Rab25 function is dependent on presence or absence of CLIC3 (Dozynkiewicz et al. 2012; Tringali et al. 2012).
Rab25 functions as a tumor suppressor in triple negative breast cancer (Cheng et al.
2010
), colon cancer (Goldenring and Nam
2011
), intestinal neoplasia (Nam et al.
2010
), and head and neck cancers (Amornphimoltham et al.
2013
; Tellez-Gabriel et al.
2013
). Rab25 shows antiangiogenic and anti-invasive activities in esophageal squamous cell carcinoma where reduced Rab25 expression significantly correlated with worst overall survival (Tong et al.
2012
). A summary of the cancers where Rab25 is lost and thus is regarded as a tumor suppressor is listed in Table
3
. Even in cancers where Rab25 acts as a tumor suppressor, it mostly modulates the same pathways as those where it promotes cancerous phenotype. Downstream of integrins, Rab25 can function as a tumor suppressor by reducing activation of FAK and cRAF, with a concomitant decrease in downstream phosphorylation of MEK1/2 and ERK. For example, Rab25mRNA expression is decreased in head and neck squamous cell carcinoma (HNSCC), resulting in increased activation of AKT1 (Seven et al.
2015
). Patients with Rab25 negative HNSCC tumors had lower survival, poor prognosis, poor local recurrence free, and progression free survival (Tellez-Gabriel et al.
2013
). In addition to proliferation, Rab25 affects organization of F-actin at the cell surface in metastatic HNSCC patients (Amornphimoltham et al.
2013
). In a mouse model of colon cancer, loss of Rab25 (in a Smad3+/− background) resulted in development of large invasive tumors possibly due to defects in cell polarity (Nam et al.
2010
). In esophageal squamous cell carcinoma (ESCC), Rab25 correlated with integrin expression, and its anti-invasive and antiangiogenic abilities were mediated by deregulated MAPK signaling (Tong et al.
2012
). At the molecular level, tight junction protein Claudin 7 (Cldn 7) and Rab25 are inversely related in colorectal cancer patients and silencing Rab25 opposed the effects of Cldn7 expression. In this study, loss of Rab25 resulted in increased proliferation and invasion via activation of SRC and MAPK pathways (Bhat et al.
2015
). Considering that the Rab25 gene is seldom mutated in the cancers and gene product is absent in some cancers despite amplification of the 1q region where Rab25 inhabits, epigenetic regulation of the gene seems most likely. The Cancer Genome Atlas (TCGA) data shows increased methylation of Rab25 in basal breast cancers compared to luminal B breast cancers supporting promoter methylation as a cause for the downregulation of RAB25 transcript (Cancer Genome Atlas
2012
). Additionally, in oral and oropharyngeal squamous cell carcinoma (OOSCC), RAB25 mRNA levels negatively correlated with RAB25 methylation levels (Clausen et al.
2016
).
Rab25, Table 3
Tumor suppressor Rab25
| Cancer | Rab25 expression | Methylation | Pathway | Overall survival (with low Rab25) |
| --- | --- | --- | --- | --- |
| Intestinal neoplasia and colon cancer | Lower with increased disease progression | Not reported | Mislocalization of B1 integrin | Decrease |
| Head and neck squamous cell carcinoma | Low | Not reported | Upregulation of pAKT1 | Decrease |
| Esophageal squamous cell carcinoma | Lost | Promoter hypermethylated | Upregulation of FAK-Raf-MEK1/2-ERK | Decrease |
| Oral and oropharyngeal carcinoma | Low | Hypermethylated in lymph node metastasis +ve tumors | Unknown | Decrease |
| TripleNeg/Cldn-Low breast cancer | Low or lost | Hypermethylated in Cldn low | Zeb1/Snail1/Slug, VEGFR-1, VEGF-A | Tends to decrease |
Utility of Rab25 in Cancer Therapeutics
Rab25 has emerged as a robust clinical biomarker of the epithelial status of cancer cells (Davidson et al. 2015). Rab25 is closely associated with both tight and adherent junction proteins that are lost during epithelial mesenchymal transition (EMT). Arguably, Rab25 is an excellent biomarker and classifier for a variety of heterogeneous cancers with varying degree of epithelial features. Moreover, in breast cancer Rab25 can be used to predict recurrence/disease free survival since Rab25 mRNA and protein exhibit subtype specific patterns of expression with high levels in hormone receptor positive and Her2 positive tumors (Boulay et al. 2016), intermediate in basal tumors, and low or absent in metaplastic cancers (Mitra et al. 2016). In fact, absence of Rab25mRNA and protein is an independent identifier of claudin low subtype in breast cancer.
Rab25 levels can be used to stratify ovarian cancer into 5 distinct clinically relevant groups (Cheng et al. 2004). Further, Rab25 levels predict lymph node metastasis and poor prognosis in bladder carcinoma patients (Zhang et al. 2013).
Importantly, Rab25 is a predictor of therapeutic response in some cancers. In advanced non-small cell lung cancer (NSCLC), patients with positive Rab25 expression had a significantly lower chemotherapy response rate and Rab25 expression itself was an independent prognostic marker for overall survival (Ma et al. 2015). Rab25 expression is also a marker for tyrosine kinase inhibitor (TKI) gefitinib sensitivity in lung (Jo et al. 2014) cancer and various other cancer cell lines (Penzvalto et al. 2013). Mechanistically, Rab25-mediated trafficking increases endocytosis of wild type epidermal growth factor receptor (EGFR) rendering lung cancer cells insensitive to anti-EGFR therapy. More recently, in mouse models of tobacco carcinogen-induced lung cancer, Rab25 was identified to be the critical driver of oncogenesis (Gankhuyag et al. 2016). An aerosol-based delivery of shRab25 in these animals resulted in remarkable regression of the tumor (Gankhuyag et al. 2016), suggesting that Rab25 inhibition can itself be a therapeutic strategy, in addition to its role as a biomarker.
In a series of breast cancer cell lines, Rab25 was identified as a predictor of antitumorigenic activity of phenyl butyrate (PB), a histone deacetylase antagonist. Rab25 confers PB sensitivity by inhibiting interferon gamma inducible protein 16 (IFI16) and polymerase I and transcript release factor (PTRF) expressions in sensitive breast cancer cell lines (Kikuchi et al. 2016). In ovarian cancers, Rab25 expression was causally associated with cisplatin resistance (Fan et al. 2015). As in other models, modulation of PI3K/Akt pathway by Rab25 was found to be the driver of platinum resistance (Fan et al. 2015).
Summary
Rab25 is a trafficking protein that promotes apical recycling in cells, which in turn influences the fate of a variety of critical mitogenic cargo in normal and cancer cells. Being a GTPase, this protein is easily turned on and off, like a switch. We are only beginning to understand that intracellular signaling does not occur merely at the cell surface upon ligand binding to their cognate receptors. In fact, there is a well-orchestrated regulatory system inside the cell, namely the vesicular trafficking machinery, that provides a unique spatiotemporal platform for multiple elements of a signalosome to come together. Rab25 being a key regulator of apical recycling machinery is in the front line of this cargo delivery system that regulates signal transduction. While there is still much to learn about the full spectrum of Rab25 specific cargo, we do know this GTPases traffics integrins, growth factors, calcium channels, and nutrients in various cellular systems influencing cell viability, cell migration, as well as cell differentiation (EMT vs. MET). Rab25 is possibly the most frequently aberrant Rab GTPase in cancer, influencing almost all of the major hallmarks of the disease. Future studies on how Rab25 is regulated and how Rab25 cargo is selected will be critical in incorporating this unique molecule into therapeutic regimens.
Finally, the Rab25 locus lies close to genes associated with Parkinson's disease, and SNPs in this region of 1q22 has gained prominence in stratifying the risks of PD although the exact function of Rab25 is PD progression in not clear.
Overall, strategies to study Rab25 dependent protein–protein interactions, which could arise from altered vesicular trafficking, will be key to developing therapeutic strategies involving such a potent molecule.
Copyright information
© Springer International Publishing AG 2018