GRK2 (G Protein-Coupled Receptor Kinase 2)
Reference work entry
DOI:
https://doi.org/
10.1007/978-3-319-67199-4_101765
Historical Background
G-protein coupled receptor kinase 2 (GRK2) was first discovered in 1989 by Benovic et al. as a 79.7 kDa protein that can specifically phosphorylate the agonist-occupied form of the β2-adrenergic receptor, hence the name β-adrenergic receptor kinase 1. Based on sequence homology and structural similarity, GRK2 is grouped with six other GRKs into a family of serine/threonine protein kinases that phosphorylate and regulate activated G-protein-coupled receptors (GPCRs). GRK2 has well-established roles in the cardiovascular system, nervous system, liver, and immune cells. Altered GRK2 expression has been reported in several disorders including heart failure, opioid addiction, multiple sclerosis, rheumatoid arthritis, major depression, schizophrenia, bipolar disorder, and Parkinson's disease.
Structure, Expression, and Function
Full-length GRK2 (689 amino acids) is encoded by 21 exons located on human chromosome 11q13.1. GRK2 shares structural similarity with other nonvisual GRKs, with a relatively conserved central kinase domain (aa 184–513) (Fig.
1
). The N-terminal region of GRK2 contains a regulator of G protein signaling homology (RH; aa 30–185) domain comprised of nine α-helices (α1–α9) as well as a Gβγ-binding site. The C-terminal domain contains an RH domain (aa 513–547) with two α-helices (α10 and α11) and the pleckstrin homology domain (PH; aa 553–661). GRK2 is ubiquitously expressed, with highest expression found in the brain, heart, endothelium, vascular smooth muscle, liver, adrenal gland, and hematopoietic tissue (Benovic et al.
1989
). The
grk2
promoter is considered to be typical of "housekeeping" genes, but the mechanisms that underlie changes in
grk2
mRNA expression in different tissues during embryonic and postnatal development, and in different pathological and physiological situations, remain elusive.

The canonical function of GRK2 is to initiate the process of GPCR desensitization and internalization (Fig.
2
). GPCR-activated Gβγ subunits, along with PIP
2
, facilitate the translocation of cytosolic GRK2 to the plasma membrane, allowing GRK2 to bind to and phosphorylate the intracellular domains of these receptors. β-arrestin proteins are subsequently recruited, resulting in the attenuation of G protein-dependent signaling and activation of β-arrestin-mediated signaling (Ren et al.
2005
; Kim et al.
2005
). GRK2 can also modulate cellular responses in a phosphorylation-independent manner due to its ability to interact with a variety of intracellular proteins involved in essential biological signaling pathways (Fig.
2
). These proteins include G proteins, non-GPCR receptors, core clock proteins, transcription factors, cytoskeletal proteins, and ribosomal proteins (Gurevich et al.
2012
; Mehta et al.
2015
) (Fig.
2
).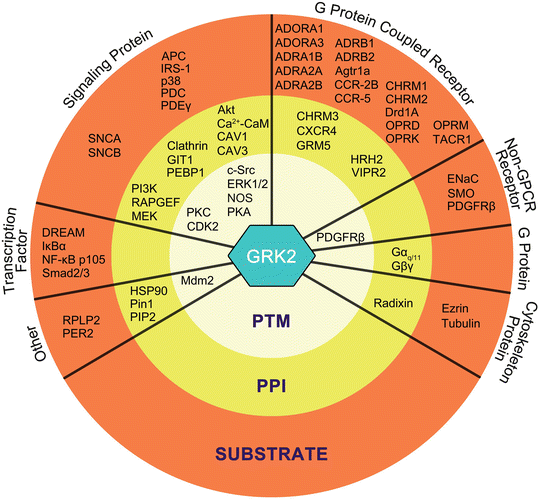 Regulation of GRK2
The catalytic activity of GRK2 can be regulated by intramolecular interactions between the RH domain and both the kinase and PH domains. The α10 helix contacts the β2–β3 and αC–β4 loops of the kinase domain, while the α4–α5 loop contacts the αJ helix of the kinase domain, effectively maintaining the kinase in a constrained, inactive basal state (Lodowski et al. 2003). Additionally, α1 and α9 can interface with the β1 strand and C-terminal α helix (αCT) of the PH domain, suggesting potential allosteric regulation between the RH and PH domains (Lodowski et al. 2003). A change in the conformation of the RH or PH domain, induced by the binding of Gα·GTP, Gβγ, and phospholipids, can lead to changes in catalytic activity via their interaction with the kinase domain (Lodowski et al. 2003).
The N- and C-terminal domains of GRK2 contribute significantly to its membrane recruitment. The PH domain contains binding sites for the membrane phospholipid PIP2 and free Gβγ subunits, which aid in the recruitment of cytosolic GRK2 to the plasma membrane following receptor activation (Palczewski 1997). The N-terminal Gβγ-binding site and RH domain also assist in GRK2 membrane anchoring and recruitment by binding to Gβγ and Gαq/11·GTP, respectively (Gainetdinov et al. 2004).
Phosphorylation of GRK2 plays an important role in its regulation. GRK2 phosphorylation by protein kinase C (PKC) potentiates its interaction with the plasma membrane, resulting in increased activity towards GPCRs (Winstel et al. 1996). cAMP-dependent protein kinase (PKA) phosphorylates GRK2 at Ser685 and promotes its kinase activity and interaction with Gβγ (Cong et al. 2001). Following GPCR activation, GRK2 phosphorylation by the tyrosine kinase c-Src enhances the catalytic activity of GRK2 towards receptor and nonreceptor substrates (Sarnago et al. 1999), as well as enhances the ability of GRK2 to interact with Gαq (Mariggiò et al. 2006). Conversely, a positive feedback loop involving agonist-induced GRK2 phosphorylation by extracellular signal-regulated kinases 1 and 2 (ERK1/2) serves to enhance G protein-mediated signaling by suppressing Gβγ-mediated activation of GRK2 (Pitcher et al. 1999). The receptor tyrosine kinase, platelet-derived growth factor receptor beta (PDGFRβ), phosphorylates and activates GRK2, which feeds back to inhibit the receptor (Wu et al. 2005). Lastly, GRK2 is phosphorylated at Ser670 by cyclin-dependent kinase 2 (CDK2) at the G2/M transition of the cell cycle (Penela et al. 2010).
Proteasomal degradation of GRK2 depends on specific phosphorylation events in addition to interactions with β-arrestin and the E3 ubiquitin ligase, mouse double minute 2 homolog (Mdm2). Following GPCR activation, β-arrestin acts as a scaffold to recruit c-Src, ERK1/2, and Mdm2 to the activated receptor complex and promotes the phosphorylation, ubiquitination, and eventual degradation of GRK2 (Penela et al. 2001; Elorza et al. 2003; Salcedo et al. 2006; Nogués et al. 2011). Mdm2-mediated GRK2 ubiquitination is facilitated by ERK1/2-mediated phosphorylation of GRK2 at Ser670, an event that is primed by prior phosphorylation by c-Src (Sarnago et al. 1999; Nogués et al. 2011). In the absence of GPCR activity, c-Src-mediated phosphorylation of GRK2 can induce its degradation in an Mdm2-independent manner (Nogués et al. 2011). Basal turnover of GRK2 is negatively influenced by arrestins, which compete with GRK2 for Mdm2 binding (Nogués et al. 2011). CDK2-induced GRK2 degradation is not dependent on arrestin function (Penela et al. 2010).
GRK2 is also regulated by S-nitrosylation and protein-protein interactions. S-nitrosylation of GRK2 at Cys340 inhibits its kinase activity towards βAR (Whalen et al. 2007). Caveolin, Raf kinase inhibitory protein (RKIP/PEBP1), calmodulin, phosphatidylinositol-4,5-bisphosphate 3-kinase (PI3K), and clathrin have also been shown to affect GRK2 activity via direct binding (Chuang et al. 1996; Carman et al. 1999; Shiina et al. 2001; Naga Prasad et al. 2002; Lorenz et al. 2003).
GRK2 in Cardiac and Vascular Pathophysiology
Genetic deletion of GRK2 in mice results in embryonic lethality before E15.5, owing to hypoplasia of the ventricular myocardium (Jaber et al. 1996). However, embryonic lethality is not due to loss of GRK2 expression in cardiomyocytes, as cardiac-specific grk2 conditional knockout (cKO) mice are viable and develop to adulthood (Matkovich et al. 2006). Cardiac-specific grk2 cKO mice exhibit enhanced contractile responsiveness to acute infusion of the β-adrenergic agonist isoproterenol (ISO) and are more prone to developing cardiomyopathy when treated chronically with ISO (Matkovich et al. 2006). Both effects highlight the physiological role of GRK2 in βAR desensitization. Earlier correlational studies found that marked desensitization of βAR in the failing heart is accompanied by upregulated GRK2 expression at the protein and mRNA level (Ungerer et al. 1994). A similar correlation was found in vascular tissues of hypertensive humans and animal models (Gros et al. 2000; Cohn et al. 2009). Consistent with these observations, pharmacological inhibition of GRK2 using paroxetine has been shown to improve cardiac function and structure after a myocardial infarction (Schumacher et al. 2015).
GRK2 also modulates the function of the sympathetic nervous system via another major GPCR, α2-adrenergic receptors (α2AR). α2AR is pivotal in the negative regulation of the sympathetic nervous system by acting as a presynaptic inhibitory autoreceptor that suppresses further release of catecholamines (Brede et al. 2003). In animal models of heart failure, the dysregulation of adrenal α2AR is accompanied by increased GRK2 expression and activity; adrenal gland-specific inhibition of GRK2 activity with βARKct restores α2AR-mediated inhibition of catecholamine secretion and ameliorates sympathetic nervous system hyperactivity (Lymperopoulos et al. 2007). Further studies have shown that the beneficial effects of exercise training in heart failure might stem from the reduction in adrenal GRK2 expression (Rengo et al. 2010).
GRK2 in Insulin Resistance
Insulin is an important peptide hormone that exerts a multitude of effects on lipid and protein metabolism, ion and amino acid transport, cell cycle and proliferation, cell differentiation, and nitric oxide synthesis. Exaggerated sympathetic nervous system activity is involved in the pathogenesis of insulin resistance, and can account for the impairment of insulin signaling in both adipocytes and cardiac myocytes (for extensive review see Morisco et al. 2006). Increased βAR signaling in cultured cells results in GRK2 accumulation and accompanying deficits in insulin-induced glucose uptake (Cipolletta et al. 2009). Conversely, inhibition of GRK2 leads to increased insulin sensitivity in both cultured cells and spontaneously hypertensive rats, an animal model of insulin resistance (Cipolletta et al. 2009). Data obtained from GRK2 heterozygous mice, as well as cultured myoblasts and adipocytes in which GRK2 levels are either elevated or reduced, indicate that lower GRK2 levels enhance insulin sensitivity, promote a lean phenotype, and protect against tumor necrosis factor-α (TNFα)-, high-fat diet-induced insulin resistance, or aging-induced insulin resistance (Garcia-Guerra et al. 2010). Importantly, GRK2 can directly inhibit the function of insulin-responsive glucose transporter 4 (GLUT4) by sequestering Gq/11 via its RGS domain, thereby inhibiting Gq/11-mediated signaling (Usui et al. 2004). GRK2 can also contribute to insulin resistance by inhibiting insulin signaling via phosphorylation of insulin receptor substrate 1 (IRS-1) in response to stimulation of GPCRs such as endothelin-A receptor (Usui et al. 2005).
GRK2 in Immunity
Many immune processes are regulated by GPCR ligands such as chemokines, leukotrienes, and neurotransmitters. Not surprisingly, cells of the immune system have particularly high levels of GRK2 and GRK6, and their expression has been shown to be perturbed in patients and animal models with immune diseases. For example, GRK2 levels are reduced in peripheral blood mononuclear cells of patients with active relapsing-remitting multiple sclerosis (MS) or with secondary progressive MS (Vroon et al. 2005). Similarly, splenocytes from rats with experimental autoimmune encephalomyelitis (EAE), an animal model of MS, have lower expression of GRK2 (Vroon et al. 2003). Levels of GRK2 are also decreased in lymphocytes of patients with rheumatoid arthritis (Lombardi et al. 1999) and in immune cells in the adjuvant animal model of arthritis (Lombardi et al. 2001). GRK2 expression is elevated in neutrophils from patients with sepsis, which might account for the insensitivity of septic neutrophils to chemoattractants (Arraes et al. 2006). Cerebral hypoxia-ischemia (HI) in neonatal rats decreases the expression of GRK2 in the damaged hippocampus (Lombardi et al. 2004). Interestingly, selective deletion of GRK2 in microglia and macrophages accelerates the onset of HI-induced brain damage, potentially due to premature microglial activation (Nijboer et al. 2010).
GRK2 is known to regulate various subtypes of G protein-coupled C-C chemokine receptors (CCRs) (Aragay et al. 1998; Vroon et al. 2004). Moreover, GRK2 may affect chemokine signaling via direct interaction with signaling molecules such as MEK (Jiménez-Sainz et al. 2006). Conversely, inflammatory mediators have been shown to regulate the expression of GRKs in immune and other cells via a variety of mechanisms, such as signaling (Fan and Malik 2003), transcription (Ramos-Ruiz et al. 2000; Fan and Malik 2003), or degradation (Lombardi et al. 2002), all of which might contribute to alterations in GRK2 expression in diseases. One of the major inflammatory pathways that GRK2 modulates is the NF-κB pathway. The NF-κB family of transcription factors regulates the expression of a wide array of genes involved in inflammation, innate and adapted immune responses, cell proliferation, cell adhesion, apoptosis, and cellular stress response. GRK2 positively regulates TNFα-induced phosphorylation and degradation of the NF-κB inhibitor, IκBα, allowing NF-κB to translocate into the nucleus and initiate gene transcription (Patial et al. 2009). Knockdown of GRK2 in macrophages significantly inhibits TNFα-induced IκB degradation and NF-κB pathway activation (Patial et al. 2009).
GRK2 in Brain and Nervous System
Alterations in GRK2 expression in the brain have been described in several disorders and/or following pharmacological treatments. GRK2 expression in the prefrontal cortex is upregulated in patients suffering from major depression and is downregulated following long-term antidepressant treatment (Grange-Midroit et al. 2003). The caudal caudate and internal globus pallidus of monkeys with experimental Parkinson's disease (PD) also show an upregulation of GRK2, suggesting a potential role of GRK2 in PD through regulation of dopamine signaling (Bezard et al. 2005). In cell culture studies and animal models of Alzheimer's disease (AD), beta-amyloid accumulation reduces the levels of membrane-localized GRK2 during prodromal and early stages of AD (Suo et al. 2004). Interestingly, the α and β isoforms of synucleins, which are highly expressed in the brain and linked to the development of PD and AD, can be phosphorylated by GRK2 (Pronin et al. 2000).
Several studies have implicated GRK2 in inflammatory and neuropathic pain. Paw inflammation induced by intraplantar injections of interleukin-1β, carrageenan, or prostaglandin E2 elicits chronic hyperalgesia and a coincident reduction in GRK2 expression in sensory neurons of dorsal root ganglia as well as spinal microglia and macrophages (Eijkelkamp et al. 2010b; Willemen et al. 2010). GRK2 expression is also reduced in microglia and macrophages in the ipsilateral spinal cord following spinal nerve transection (Eijkelkamp et al. 2010a). Data have shown that selective or germline ablation of GRK2 can enhance pain, possibly via reduced receptor desensitization (leading to prolonged or heightened responses to inflammatory mediators), as well as via deficits in GRK2-dependent signaling pathways (Eijkelkamp et al. 2010a, b; Ferrari et al. 2012).
Morphine and related μ-opioid receptor (MOR) agonists remain among the most effective drugs known for acute relief of severe pain. Several lines of evidence suggest a role for GRK2 in MOR regulation. First, GRK2 levels are increased in the locus coeruleus (LC) and cortex of rats chronically treated with morphine; membrane-associated GRK2 levels are also increased in the cortex of human opioid addicts (Ozaita et al. 1998). Second, MOR desensitization induced by [d-Ala2, N-MePhe4, Gly-ol5]-enkephalin (DAMGO), a high-efficacy MOR agonist, is inhibited by intracellular perfusion of a GRK2-inhibitory peptide (Li and Wang 2001). Third, overexpression of a dominant-negative GRK2 mutant in rat LC neurons reduces DAMGO-induced MOR desensitization (Bailey et al. 2009). However, other studies have found no involvement of GRKs in MOR desensitization, thus challenging the functional significance of GRK2 in opioid signaling (for extensive review see Williams et al. 2013).
Summary
Thirty years since its discovery, GRK2 – first identified as a kinase that can phosphorylate activated β-adrenergic receptors – has emerged as a crucial modulator for numerous signaling pathways, and its interactome has expanded far beyond GPCRs. The best known function of GRK2 is the desensitization of active GPCRs via phosphorylation. Insufficient or excessive GRK2 activity has been implicated in the development and progression of myriad diseases including heart failure and Parkinson's disease. More recent studies have revealed that GRK2 also interacts with, and in many cases phosphorylates, non-GPCR substrates such as G proteins, non-GPCR receptors, core clock proteins, transcription factors, cytoskeletal proteins, and ribosomal proteins. This fascinating feature indicates that GRK2 can function as a major regulator in various GPCR-independent pathways and in vital cellular functions.
Copyright information
© Springer International Publishing AG 2018