Mucins (MUCs)
Reference work entry
DOI:
https://doi.org/
10.1007/978-3-319-67199-4_101739
Historical Background
The word "mucin" originated from the Greek word "slimy" and denotes the glycoproteins of the mucosal lining of epithelial cells. By the 1980s, mucins were found to be an important molecule present in the mucosal epithelial lining of the respiratory, gastrointestinal, and genitourinary tract. Due to the large size and complex structure with extensive glycosylation, sequencing and functional studies were restricted until 1990. At that time, a revolution happened in understanding mucin structure, when four independent groups found an identical protein core named MUC1, which was encoded from isolated cDNA clones from mammary and pancreatic mucins (Apostolopoulos et al. 2015). Cloning and nomenclature of other mucins followed MUC1, with full-length MUC1 cDNA clones obtained from the mammary gland or milk mucin. MUC1 N- and C-terminus are hypothesized to evolve from repeated region of secretory mucin MUC5B (Kufe 2009). In 1991, MUC4 was cloned from the human tracheobronchial cDNA library and a human pancreatic tumor cell line (Chaturvedi et al. 2008). In 1999, the complete genomic sequence of MUC4 was established (Moniaux et al. 1999). MUC16/CA125, a well-known serum biomarker for ovarian cancer, was first identified by an antibody (OC-125) developed by Bast and colleagues. This antibody was reactive against ovarian cancer cell OVCA 433, derived from a patient with serous ovarian carcinoma (Bast et al. 1981). Later on, after almost two decades, from an independent study of two researchers, Yin and O'Brien showed that CA125 corresponds to one of the epitopes of one of the largest mucins, named MUC16 (Das and Batra 2015). Van Klinken first identified MUC17 in the form of chimera in five tandem repeats, each composed of 59 amino acids (aa) located upstream of 17 aa tandem repeats of MUC3. In 2002, Gum et al. identified the origin of 59 aa as new membrane-bound mucin MUC17 from partial cDNA fragment. This TM mucin has five tandem repeats (TR), two epidermal growth factor (EGF)-like domains, one sea urchin sperm protein, the enterokinase, and agrin (SEA) domain, transmembrane domain (TM), and 80 aa long cytoplasmic tails (CT). In 2006, the full coding sequence of MUC17 was characterized, and two splice variants of MUC17 (membrane bound and secreted, MUC17/SEC) were reported (Moniaux et al. 2006).
Structure and Isoforms
To date, 21 different mucins have been identified (MUC1-MUC21), grouped into transmembrane, gel forming, and secreted family member. Due to the differential expression in multiple organs and various benign and malignant pathologies, among all transmembrane mucins, MUC1, MUC4, MUC16, and MUC17 have been the focus for research, with extensive efforts made to understand the structure, evolution, cell signaling, and role in disease progression. Thus, in this chapter, we will primarily discuss these four widely but not exclusively studied TM mucin molecules. Transmembrane mucins are characterized by the presence of a variable number of TR (VNTR) domains, along with a membrane-spanning transmembrane, and a relatively small cytoplasmic tail (CT). The presence of TM domain tethers mucin to cell membranes, and the domain is absent in secretory and gel-forming mucins. Tandem repeat (TR) domain, a hallmark of the mucin family, is rich in serine, threonine, and proline residues and is heavily O-glycosylated. TR sequence, number, and length are variable among members of the mucin family in orthologues. Their CT often contains a phosphorylation site to interact with the cytoplasmic cell signaling mediator (Hanson and Hollingsworth
2016
). Furthermore, transmembrane mucins MUC1, MUC4, MUC16, and MUC17 are characterized by the presence of unique domains and structural features which are discussed below and summarized in Table
1
.
Mucins (MUCs), Table 1
Characteristic features of well-studied transmembrane mucins
| Gene | Chromosomal location | Predicted M.W. with glycosylation | No of exons | Unique domain | No of AA in tandem repeat | Ectodomain tandem repeat sequence | Number of tandem repeat |
| --- | --- | --- | --- | --- | --- | --- | --- |
| MUC1 | 1q21 | ~250–500 kDa | 8 | Variable number of tandem repeat region, SEA, TM, cytoplasmic domain | 20 | PDPRPATGSTAPPAHGVTSA | 25–125 |
| MUC4 | 3q29 | ~550 to 930 kDa | 26 | Variable number of tandem repeat region, NIDO, AMOP, VWD, EGF, TM, and cytoplasmic domain | 16 | TSSASTGHATPLPVTD | 145–500 |
| MUC16 | 19p13.2 | ~3–5 million Da | 84 | Tandem repeat, SEA, TM, cytoplasmic domain | 156 | FNPWSSVPTTSTPGTSTPGTST VHLATSGTPSSLPGHTAPVPLL IPFTLNFTITNLHYEENMQHP GSRKFNTTERVLQGLLKPLF KSTSVGPLYSGCRLTLLRPEK HGAATGVDAICTLRLDPTGP GLDRERLYWELSQLTNSVTE LGPYTLDRDSLYVNG | >60 |
| MUC17 | 7q22 | ~450 kDa | 13 | Tandem repeat domain, two EGF-like domains, a SEA domain, transmembrane domain, and cytoplasmic tail domain. | 59 | LSTTPVASSEASTLSTSPVDT STPVTNSSPT  NSSPTTAEVTSMPTSTAGEG STPLTNMP | 63 |
MUC1
MUC1 is a transmembrane glycoprotein (molecular weight 300 to 600 kDA) located on human chromosome 1q21. MUC1 undergoes auto-cleavage at the N-terminal to the serine residue in the GSVVV motif found in the extracellular SEA domain. Its self-cleavage results in two subunits: MUC1-N terminal (MUC1-N or MUC1α) and MUC1-carboxy terminal (MUC1-C or MUC1β). The MUC1-N subunit possesses a membrane localization signal sequence and a variable number of TR (VNTR) (20 aa) that are extensively O-glycosylated on serine and threonine residues. MUC1-C contains 58 aa extracellular domain (MUC1-ED), 28 aa transmembrane domain (MUC1-TM), and 72 aa cytoplasmic domain (MUC1-CT) (Pillai et al.
2015
). The MUC1 gene covers seven exons on chromosome 1q21, where MUC1α is transcribed from exon1–4, and MUC1β is transcribed from exons 4 to 7. The largest exon, exon 2, consists of 25–125 units of TR (Zhang et al.
2013
) (Table
1
). To date, 78 MUC1 isoforms have been identified that are generated from alternative splicing mechanisms. Among them, the well-known MUC1 isoforms are the full-length form encoded by all seven exons with the intact VNTR region (MUC1/TR or MUC1/REP); variant of (MUC1/TR, MUC1/A, MUC1/B, MUC1/C, MUC1/D, and MUC1/SEC (MUC1 secreted isoform)), and the isoforms lacking VNTR, such as MUC1/X, MUC1/Y, MUC1/Z, and MUC1/ZD (Obermair et al.
2002
). Studies have shown that variants A, D, X, Y, and Z were more frequently expressed in malignant than in benign tumors (Apostolopoulos et al.
2015
). The schematic for MUC1 structure is shown in Fig.
1
.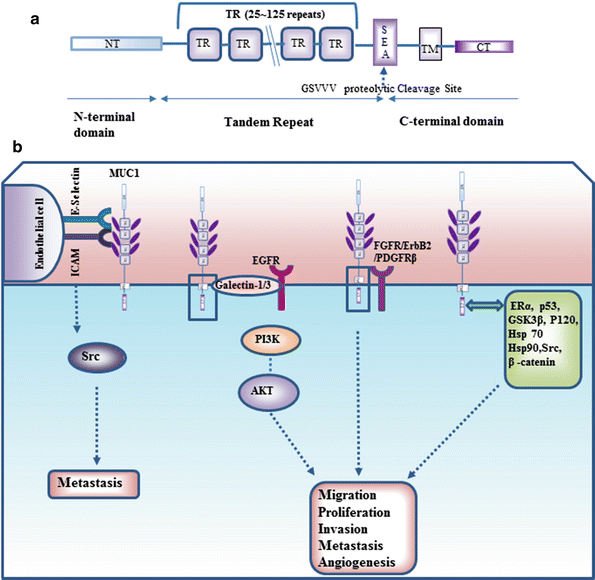 MUC4
MUC4 is characterized by transmembrane mucin domain, with some additional unique domains such as the nidogen-like (NIDO), the adhesion-associated domain in mucin MUC4 and other proteins (AMOP), the von Willebrand factor (vWD), TR domain with the VNTR, three EGF domains, a TM, and a CT domain. The MUC4 gene comprises of 26 exons (E1–E26) and resides at chromosome 3q29. E2, the largest exon, codes for the central domain (Table
1
). As the rat MUC4 (rMUC4) is observed to undergo cleavage at the GDPH site and rMuc4 and human MUC4 share the conserved putative GDPH proteolytic cleavage site, human MUC4 is also hypothesized to be proteolytically cleaved at GDPH, generating two subunits: MUC4α (3000–7300 aa) and MUC4β (1156 aa). MUC4α is a heavily glycosylated, mucin-like subunit containing TR, NIDO, and AMOP domains, whereas MUC4β is a growth factor-like subunit containing vWD, EGF-like domains, TM, and a CT domain. With several alternative splicing mechanisms, 23 splice forms have been identified and grouped into secretory, membrane bound with TR, and membrane bound lacking TR (
MUC4
/X and
MUC4
/Y) (Chaturvedi et al.
2008
). The schematic of the MUC4 structure with its unique domain is illustrated in Fig.
2
.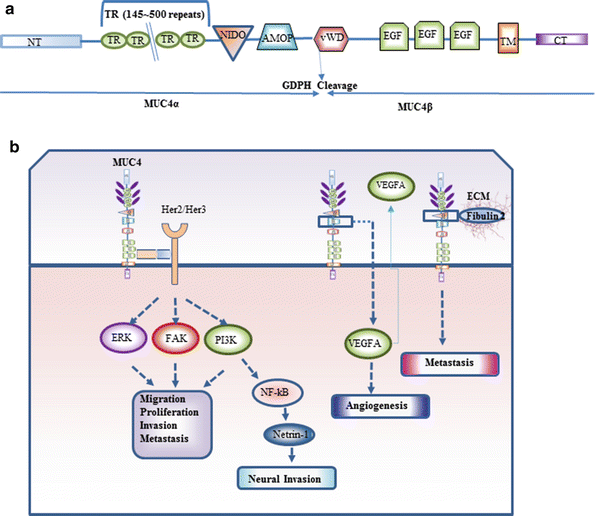 MUC16
MUC16, the largest transmembrane mucin with a molecular weight of approximately 2.5 MDa (22152 aa), was mapped to chromosome 19p13.2. MUC16 is composed of three different domains: the N-terminal domain, a central TR region interspersed with SEA domains, and a carboxy-terminal domain. The N-terminal domain (12,000 aa) consists of the heavily O-glycosylated region, followed by a central region having 60 TRs of 156 aa, each of which is to date the largest repeat sequence among various transmembrane mucin (Table 1). The carboxy-terminal domain is the smallest (284 aa) and consists of the extracellular region, TM, and a CT domain. Fifty-six SEA (sea urchin, enterokinase, and agrin) domains are present in MUC16, some of which are interspersed near tandem repeats of MUC16. The presence of multiple SEA domains make MUC16 unique in structure from other transmembrane mucins, including MUC1, MUC12, MUC13, and MUC17, given that they possess only a single SEA domain. The CT of MUC16 (32 aa) contains tyrosine and threonine and also has an RRRKK motif that is hypothesized to bind to the ezrin/radixin/moesin family, suggesting there may be an association with MUC16 and actin cytoskeleton (Haridas et al. 2014). It was speculated earlier that MUC16 undergoes proteolytic cleavage at another site, probably 50 aa upstream of the transmembrane domain, but our group studies using a recombinant construct indicate that cleavage might take place in the juxtamembrane region of MUC16 in the acidic pH of Golgi/post-Golgi compartments. This cleavage is predicted to be primarily structure dependent and not primarily amino acid sequence dependent (Das and Batra 2015). To date, isoform/splice variants of MUC16 have not been identified, and this can be a potential area of study to understand the biology of MUC16. The unique features of MUC16 structure are summarized in Table 1.
MUC17
MUC17 resides on chromosome 7q22 in proximity with three other transmembrane mucin genes: MUC3A, MUC3B, and MUC12 (Gum et al. 2002). Full-length MUC17 contains a 25 aa membrane targeting signal, a central domain of 63 TR consisting of 59 aa, two EGF-like domains, a SEA domain, a TM domain, and a CT (80 aa). Alternative splicing excludes exon 7 to generate a secreted form of the protein, MUC17/SEC, missing the second EGF domain, TM, and carboxy-terminal CT. MUC17 comprises 13 exons, where the largest exon, E3, encodes the tandem repeat domain (Moniaux et al. 2006). The unique features of MUC17 structure are summarized in Table 1.
Evolution of Transmembrane Mucin
Assessment of the transmembrane mucin sequence across species suggests the development of domains of transmembrane mucin from various sequences. The aa sequence of the MUC-N terminus upstream of the SEA domain and MUC1-CT appears to be evolved from MUC5B, whereas the SEA domain of MUC1 evolved from heparin sulfate proteoglycan 2 (HSGP2) (Kufe 2009). On the other hand, the MUC16 SEA domain emerged from agrin, but MUC4 does not have any SEA domain. A homology analysis of MUC4 domains revealed positional conservation for crucial amino acids in various domains of MUC4, with a high degree of sequence similarity among multiple orthologues. This suggests the development of individual domains from common ancestral domains. The NIDO- and EGF-like domains appear to have evolved from a common ancestor to the nidogen protein, while AMOP and vWD domains appears to be evolved from Susd2 protein (Chaturvedi et al. 2008).
Physiological Function and Tissue Expression
Mucins are multifaceted molecules that function differently under normal and pathological conditions. Their function under pathological conditions varies owing to structural alteration, cell, and tissue-specific differential expression levels, as well as differential posttranslational modification during pathological development. Typical functions of various members of the mucin family include lubrication, protection from proteases, and defense against pathogens. MUC1 and MUC4 are strongly expressed in the lungs, where they serve as a structural barrier to foreign antigens and constitute first-line innate immunity, helping to expel mucus from airways in conjunction with secretory mucins MUC5AC and MUC5B. In the human uterine epithelium, MUC16 undergoes shedding to facilitate blastocyst adherence. The physiological function of the relevantly newly discovered mucin MUC17 is not well studied. However, it is hypothesized to serve as a physical barrier against microorganisms, like other transmembrane mucins, and a high expression of MUC17 is observed in intestinal villi. Interestingly, administration of a recombinant protein containing both the EGF-like domains of Muc3, the murine homolog of MUC17, significantly reduced mucosal ulceration by promoting cell migration and inhibition of apoptosis (Ho et al.
2006
). Further, treatment with the recombinant C-terminal region of MUC17 i.e. MUC17-CRD1-L-CRD2 following induction of colitis with DSS significantly reduced the crypt damage scores and severity, and grade III ulceration compared to control animals (Luu et al.
2010
). Tissue expression of mucin in normal and disease conditions has been summarized in Table
2
.
Mucins (MUCs), Table 2
Expression of transmembrane mucin in healthy tissue as well as in disease state
| Name | Normal tissue expression | Dysregulated expression in cancer and other diseases |
| --- | --- | --- |
| MUC1 | Glandular or luminal epithelial cells of the mammary gland, esophagus, stomach, duodenum, pancreas, uterus, spermatocytes, ocular surface epithelium, kidney, testis, prostate, and lungs, and to a lesser extent, in hematopoietic cells (non-epithelial cells). It is absent in the skin epithelium and mesenchymal cells | Cancer (breast, pancreas, colon, lung and endometrial ), hairy cell leukemia, follicular lymphoma, acute myelogenous leukemia, acute lymphoblastic leukemia, Sjogren's syndrome, chronic otitis, etc |
| MUC4 | Epithelial surfaces of the eye, oral cavity, middle ear, lachrymal glands, salivary glands, mammary gland, prostate gland, stomach, colon, lung, trachea, and female reproductive tract | Cancer (pancreas, breast, colon, lung, ovarian, prostate), Crohn's disease, etc |
| MUC16 | Epithelial lining upper respiratory tract, cornea, conjunctiva, female reproductive organ, pleura, peritoneum, pericardium, abdominal cavity and cervical mucus | Cancer (ovarian, lung, pancreas, uterine cervix) inflammatory bowel disease, Crohn's disease, liver cirrhosis, pulmonary tuberculosis, and Sjogren's dry eye |
| MUC17 | Conjunctival epithelium, gastrointestinal tract with the highest expression in the duodenum, transverse colon, and terminal ileum | Pancreatic cancer, inflammatory bowel disease, and colon cancer |
Transmembrane Mucin-Mediated Cellular Signaling in Cancer
Transmembrane Mucin Mouse Models
Joshi et al. have elegantly reviewed the Muc1- and Muc16-knockout (KO)-mouse model (Joshi et al.
2015
). The phenotype observed for both mucin knockouts are detailed in Table
4
. Of interest, human
MUC1
and murine
Muc1
have similarities in tissue expression patterns as well as sequence, highlighting the high clinical significance of KO animal models for delineating the molecular mechanism and role of transmembrane mucins in disease and in normal physiology. Although 87% sequence homology lies in non-tandem repeat domains, specially higher in the TM and cytoplasmic domains, deletion studies on the exon 2 of MUC1 (VNTR region) in mice have provided valuable insights into understanding the role of MUC1 in disease progression. Both mouse and human
MUC4
have high degree of conservation in the various domains, such as NIDO, AMOP, vWD, and TM. Not surprisingly, the highest variability found in tandem repeats both in a number of aa and sequences of aa (145–500 times of repeat of 16 AA in human TR, while mouse Muc4 has TR of 24–126 aa with 20–21 repeat). Muc4 KO mice did not show any abnormality in development, but assessment in a colorectal cancer model delineated its impact on delayed cancer progression (Das et al.
2016
). Exons 1 and 3 of human
MUC16
have sequence resemblance with two large exons of mouse Muc16 at the N-terminal region. The number of SEA domains varies in both murine and human Muc16 SEA domain in their extracellular (EC) region. Similar to MUC4 KO animals, Muc16 KO mice did not have any defect in normal development and reproduction of mice.
MUC17
is considered as an ortholog of Muc3 because there is more similarity of human MUC17 with murine Muc3. 59.6, 52, and 63.5% similarity has been found in the carboxyl terminal, first EGF, and second EGF domains of MUC17 with Muc3, respectively. To date, no KO mice have been developed for MUC17 to study its role and molecular signaling in different disease.
Mucins (MUCs), Table 4
Summary of phenotypic observation of mucin knockout mouse models
Human mucin gene

Mouse homologue

Chromosomal location in mice

Deleted region to construct knockout mouse model

Phenotypic observation

MUC1a

Muc1

3F1

exon 2

1. Healthy appearance, no alterations in survival rate and fertility

2. Decreased cholesterol absorption in small intestine

3. Reduced intestinal mucus accumulation suggesting reduced intestinal obstruction

4. Demonstrated higher survival, reduced high-grade PanIN lesions, and reduced metastasis as compared to control mice when Muc1−/− mice were crossed with mice expressing constitutively active Kras in the pancreas

5. Elevated susceptibility to Helicobacter pylori infection

MUC4b

Muc4

16B3

exons 2–6

1. Increased resistance to DSS-induced colitis

2. No histologic abnormality on colon

3. Delayed colorectal tumorigenesis progression after AOM/DSS treatment

4. Reduced infiltration of histiocytes and T lymphocytes and expression of inflammatory cytokines in the colon following DSS treatment

MUC16a

Muc16

9A3

Major part of exon 3 and a portion of intron 3

1. No significant change in normal development and reproduction

2. Exhibited high reproductive ability in male Muc16−/− mice

MUC17

Muc3a

5G2

Not established yet

Not applicable
Mucin(s) as Therapeutic Target
MUC1 has been central focus as a potential therapeutic target because of its aberrant overexpression in cancer and its role in cancer progression, metastasis, poor response to therapy, and survival. Several therapeutic interventions have been developed to evaluate the role of MUC1 in therapeutics, mainly targeting MUC1-C, MUC1-N, and the junction of MUC1-C and MUC1-N subunits. C595, a murine MAb that recognizes a tetrapeptide motif (RPAP) of the MUC1 core protein, has shown the inhibitory effect on tumor growth and ascites production in the OVCAR-3 mouse xenograft model. Moreover, a combination of MAb C595 and docetaxel has been shown to inhibit intraperitoneal tumor growth while prolonging survival in vivo, suggesting the effectiveness of this combination as a potent therapeutic (Wang et al. 2011). Another anti-MUC1 antibody GP1.4 that recognizes four aa ( DTRP) motifs present in variable numbers of tandem repeats (VNTR) of the MUC1 extracellular region activated the internalization of EGFR and suppressed proliferation and migration of pancreatic cancer cells in a MUC1-dependent manner (Hisatsune et al. 2011). Another cell surface-specific MUC1 antibody, DMC209, which exclusively recognizes the cleaved junction between MUC1α and MUC1β and is present on tumor cells but not on circulatory MUC1α, showed a tumor suppressive role in mice (Rubinstein et al. 2009). Considering the role of MUC1-C in metastatic progression, several peptide-based therapeutics have been developed to disrupt MUC1-C dimerization and its interaction with other protein-like β-catenin, Src, and EGFR. The PTD-4 MUC1 inhibitory peptide (PIMP) decreased metastatic progression in a mouse model by blocking interaction between MUC1-CT and β-catenin. On the other hand, treatment with GO-201 peptide that targets CQC motif of MUC1-C inhibited oligomerization resulted in tumor regression in cancer, suggesting that targeting MUC1 CD could represent a potential cancer therapy (Pillai et al. 2015). Nano-capsulated GO-203 peptide, which also inhibits MUC1-C subunit homodimerization, has completed the phase 1 trial (Hasegawa et al. 2015). Antibodies that interrupt MUC16 and interaction with its binding partner can be a likely therapeutic target to control tumor progression. A human immunoadhesin, HN125, has been developed by Xiang and colleagues that competitively inhibits the interaction of MUC16 and mesothelin by binding with MUC16, and it has been shown to mediate antibody-dependent cancer cell death. Oregovomab and Abagovomab are two anti-MUC16 antibodies developed for ovarian cancer immunotherapy, but in clinical trials, these have shown disappointing results in cancer immunotherapy (Felder et al. 2014). Though the potential of MUC4 and MUC17 as a targeted therapy has been shown in vitro, however, to date they have not reached clinics.
Summary
This chapter reviews the structure, molecular evolution, and mechanism of action for transmembrane mucins under healthy and pathological conditions. MUCs are high molecular weight, heavily O-glycosylated glycoproteins, which are expressed in all epithelial tissues and protect against infection by forming a mucus barrier. While functioning as allies under normal physiological conditions, they act as adversaries in different disease states, especially in tumor progression. Although MUC1 is extensively studied regarding its structure and function, other TM mucins, such as MUC4, MUC16, and MUC17, are still in their infancy in terms of understanding of their characteristics including posttranslational modification, differential glycosylation, and interacting protein partners, etc. A systemic effort is required to identify the promoter region and splice variants of TM mucins to properly understand the mechanisms behind disease progression. The role of splice variants identified in MUC4 and MUC17 still requires exploration. Conditional Muc16, Muc4, and Muc3(MUC17) KO mice could be helpful in validating and defining the role of these mucins in oncogenesis in the background of p53 or constitutively active Kras in future. MUCs have gained immense attention over the past decades regarding their role in cancer progression, and many promising in vitro and preclinical works are ongoing. However, more research and attention is needed regarding the biology and therapeutic aspects of MUCs, and these aspects must be addressed to fully understand the proper function of these complex, giant molecules.
Copyright information
© Springer International Publishing AG 2018