IQGAP
Reference work entry
DOI:
https://doi.org/
10.1007/978-3-319-67199-4_101675
Historical Background
In 1994, IQGAP1 was identified from a liver cDNA library, and it was named based both on the presence of IQ motifs and a region with sequence similarity to the catalytic domain of Ras GTPase-activating proteins (GAPs) (Weissbach et al. 1994). Early studies revealed that IQGAP1 did not promote GTPase activity but instead stabilizes the GTP bound forms of Cdc42 and Rac1 (Hart et al. 1996). Subsequent investigation has identified an extensive array of proteins, including components of the cytoskeleton, cell surface receptors, and signaling components, that interact with IQGAP1 (Hedman et al. 2015).
Definition
The IQGAP family of proteins is found in eukaryotes, including fungi, protists, and vertebrates (Hedman et al.
2015
). Mammals express three similar proteins, termed IQGAP1, IQGAP2, and IQGAP3 (Fig.
1a
). IQGAP1 is the best characterized and functions as a multidomain scaffold in numerous signaling pathways. These functions include regulation of small GTPases (Hart et al.
1996
), modulation of the cytoskeleton (Fukata et al.
1997
), and participation in signaling pathways such as calcium-calmodulin (Joyal et al.
1997
; Li et al.
1999
), mitogen-activated protein kinase (MAPK) (Roy et al.
2004
,
2005
; Ren et al.
2007
), and phosphatidylinositol 3 kinase (PI3K)/Akt signaling (Sbroggio et al.
2011
; Choi et al.
2016
). The functions of IQGAP2 and IQGAP3 are less well characterized. Some studies that IQGAP2 and IQGAP3 have redundant functions with IQGAP1, such as regulation of small GTPases, while others demonstrate unique or opposing roles (discussed in Smith et al. (
2015
)).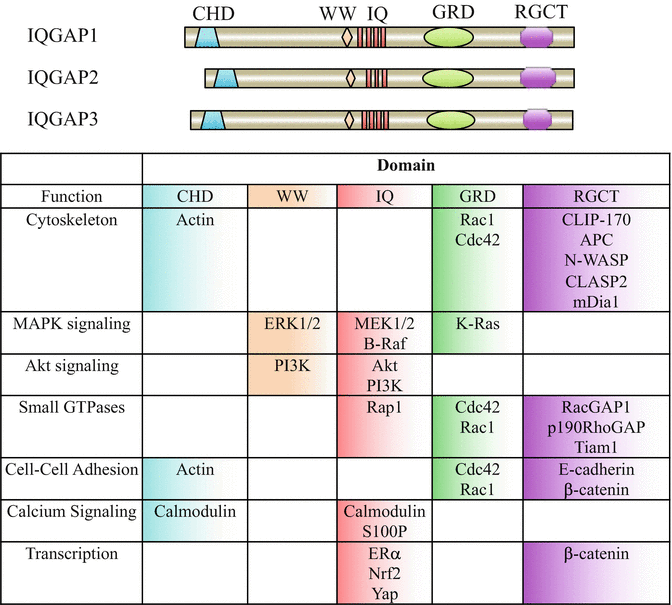 Characteristics
IQGAP1, IQGAP2, and IQGAP3 each contains five defined domains that form protein-protein interactions (Fig. 1a). These are (i) a calponin homology domain (CHD), (ii) a tryptophan-containing WW domain, (iii) an IQ domain containing four IQ motifs, and (iv) a GAP-related domain (GRD) that has sequence similarity to Ras GTPase-activating proteins (GAPs), and (v) a RasGAP_C-terminal domain (RGCT), which is unique to the IQGAPs (Fig. 1) (Smith et al. 2015). The GRD lacks GAP activity, as it is missing a key arginine residue (LeCour et al. 2016). Instead, the GRD associates with several GTPases and maintains them in the active GTP-bound form (Hart et al. 1996). Examples of proteins that bind to specific domains of IQGAP1 are shown in Fig. 1b.
IQGAP1 and Signaling
Interactions of distinct proteins with IQGAP1 domains allows for the scaffolding of multiple proteins into complexes, linking their activities. These enable IQGAP1 to integrate components of a single signaling pathway (e.g., MAPK or PI3K (Roy et al. 2005; Ren et al. 2007; Choi et al. 2016)) or facilitate communication between signaling molecules from different pathways.
Role in Physiology
In vitro studies implicate IQGAP1 in numerous processes, but initial reports detected only gastric hyperplasia in IQGAP1 knockout mice (Li et al. 2000). However, subsequent studies of these animals have identified disruption of several signaling processes modulated by IQGAP1. For example, increased aortic pressure leads to cardiac remodeling and hypertrophy, which is mediated by MAPK and Akt signaling. Loss of IQGAP1 reduces activation of these pathways leading to unfavorable cardiac remodeling (Sbroggio et al. 2011). Insulin activates MAPK and Akt, and IQGAP1-null cells display impaired insulin-stimulated activation of these pathways. Akt is a critical regulator of glucose uptake, and insulin-treated IQGAP1-null mice have reduced Akt activation in tissues and impaired glucose homeostasis (Chawla et al. 2017). These results demonstrate that IQGAP1 regulates the same signaling pathways in multiple tissues, yet the stimuli and functional outcomes may differ. In blood vessels, IQGAP1 associates with VEGFR2, β3 integrin, small GTPases, and the cytoskeleton to maintain functional vascular barriers. These structures are impaired in IQGAP1-null mice (Yamaoka-Tojo et al. 2004). In smooth muscle tissue, IQGAP1 regulates RhoA activity by recruitment of RhoGAP-p190A that regulates muscle contraction (Bhattacharya et al. 2014). Loss of IQGAP1 enhances RhoA function and smooth muscle contractility leading to excessive airway muscle contraction. These examples illustrate some IQGAP1 functions in tissues, where it can form signaling complexes that regulate tissue homeostasis in response to diverse stimuli.
IQGAP1 in Cancer
IQGAP1 is overexpressed in several cancers and appears to function as an oncogene (reviewed in White et al. (2009)). In malignant cells, IQGAP1 promotes MAPK (Jadeski et al. 2008), Akt (Chen et al. 2010), and PI3K (Choi et al. 2016) signaling that may favor tumor growth, proliferation, survival, and invasion. In addition, IQGAP1 may promote metastasis by destabilizing cell-cell contacts and enhancing activity of small GTPases (Mataraza et al. 2003; Jadeski et al. 2008).
IQGAP1 in Microbial Pathogenesis
An accumulating body of evidence implicates IQGAP1 in microbial pathogenesis. Certain microbes manipulate selected host cell signaling pathways to facilitate infection. IQGAP1 associates with several molecules that contribute to microbial pathogenesis. This concept was initially described for Salmonella typhimurium, which usurps IQGAP1 both to enter host cells (Brown et al. 2007) and to impair immune response, thereby establishing chronic infection (McLaughlin et al. 2009). Subsequent evidence revealed that other bacteria and viruses target IQGAP1 for pathogenesis. Bacteria manipulate IQGAP1 to alter several cellular pathways, including actin, Cdc42, Rac1, and MAPK (reviewed in Kim et al. 2011) function during infection.
Summary
IQGAP1 serves as a signaling platform through the formation of multiple protein-protein interactions. By associating with >130 proteins, IQGAP1 integrates diverse signaling pathways and is integral to numerous fundamental cellular processes, ranging from angiogenesis and renal glomerular filtration to neurite outgrowth and insulin secretion. Disruption of normal IQGAP1 homeostasis and function may contribute to pathology, e.g., cancer, diabetes, cardiac disease, and infections. Collectively, these observations suggest that IQGAP1 may be a target for the development of new therapeutic modalities for these conditions.
Notes
Acknowledgments
Work in the authors' laboratory is funded by the Intramural Research Program of the National Institutes of Health.
Copyright information
© Springer International Publishing AG 2018