MAVS-Mitochondrial Antiviral Signaling Protein
Reference work entry
DOI:
https://doi.org/
10.1007/978-3-319-67199-4_101513
Historical Background
Adaptor proteins are crucial members of signaling cascades that bind to multiple pattern recognition receptors to streamline the inflammatory response. One such adaptor molecule is MAVS (also known as IPS1, VISA, or CARDIF), which is present downstream of RIG-I and MDA-5, cytosolic sensors of viral genomic material (Seth et al. 2005). In the year 2005, several groups independently identified an adaptor protein that controls activation of IKK and TBK1/IKKε downstream of RIG-I. This adaptor molecule was named MAVS (Seth et al. 2005), IPS-1 (Kawai et al. 2005), VISA (Xu et al. 2005), or CARDIF (Meylan et al. 2005). However, MAVS is now the standard nomenclature accepted in the scientific community. Upon activation, MAVS initiates downstream signaling cascades leading to the production of inflammatory cytokines, antimicrobial peptides, and activation of several transcription factors (Li et al. 2011). Its importance is now recognized not only in viral infection but also in sterile inflammation (McDonald et al. 2010) and autoimmune diseases (Su et al. 2014).
Structure of MAVS
MAVS is a 62 kDa protein composed of 540 amino acids. It has three functional domains: an N-terminal caspase activation and recruitment (CARD) domain that associates with the CARD regions of the receptors RIG-I and MDA5, a proline-rich region which interacts with TRAF (TNF receptor-associated factor) family molecules, and a C-terminal transmembrane region of MAVS which controls its localization to the outer membrane of mitochondria (Fig.
1
) (Seth et al.
2005
). Human IPS-1 or MAVS crystal structure is reported by Potter et al.
2008
and showed that it has six helix bundles. Like other known CARD-containing molecules, it also contains large polar surfaces on the opposite side of the molecules, which allows their stable interaction with the CARD domains of RIG-I or MDA5 (Potter et al.
2008
).

MAVS Expression in Hematopoietic and Nonhematopoietic Cells
The distribution of MAVS in the cells of both hematopoietic and nonhematopoietic origin is reported using various RNA-based analyses. It has been found that cells of both hematopoietic and nonhematopoietic origin have variable expression of MAVS. Among myeloid cell populations, resident macrophages express very high levels of MAVS in the spleen, lung, and liver. However, medium to low expression of MAVS was reported in brain microglia, intestinal macrophages, or monocytes. Similar to macrophages, dendritic cells also showed variable expression with plasmacytoid DCs (pDCs) reported to express very high levels of MAVS compared to other myeloid DC populations [Immunological genome consortium, ImmGen]. Expression of MAVS in pDCs is independent of tissue distribution. Among cells of lymphoid origin, both B and T cells express MAVS. Nonhematopoietic cells like stromal endothelial or epithelial cells also express MAVS. Analogous to mouse, gene expression of MAVS is reported in various immune cell types of humans (Table
1
) [ImmGen]. Further, Table
2
illustrates MAVS protein expression in several tissues and cells of humans [various immune cell types of both mouse and humans [Gene Cards (Human Gene Data base), Weizmann Institute of Science]].
MAVS-Mitochondrial Antiviral Signaling Protein, Table 1
Comparative gene expression of MAVS in various tissues of human and mice (ImmGen)
| Cells | Human | Mice |
| --- | --- | --- |
| Monocytes | ++++ | ++++ |
| HSCs | ++++ | ++++ |
| Plasmacytoid DCs | +++ | ++++ |
| T and B cells | ++++ | ++++ |
| NK | ++++ | ++++ |
| Granulocytes | ++++ | ++ |
MAVS-Mitochondrial Antiviral Signaling Protein, Table 2
Protein expression profile of MAVS in human tissues and cells based on the information available on GeneCards (Human data base)
| Tissues or cells | Human |
| --- | --- |
| Heart | ++++ |
| Blood | +/− |
| Liver | +++ |
| Lungs | ++ |
| Stomach | ++++ |
| Kidney | ++ |
| Brain | +/− |
| Lymph nodes | +++ |
| Bone | +++++ |
| Pancreas | ++++ |
| Skin | +++ |
| Monocytes | ++++ |
| Alveolar macrophages | +++++ |
| Plasmacytoid DCs | +++++ |
| T and B cells | ++++ |
MAVS Signaling
It is intriguing that there are trillions of microbes but only a few receptors to protect the host from severe outcomes. To make this possible, nature has decorated the cell surface, as well as the cytosolic and endosomal compartments, with pattern recognition receptors. These pattern recognition receptors recognize conserved structures of microbes along with self-molecules that could pose danger and alerts the immune system by initiating signaling cascades. However, this process of recognition and signaling requires a variety of other molecules, which can act as adaptors to the PRRs. So far, few adaptor molecules are known to be directly involved with PRRs, among them are myeloid differentiation primary response factor (MyD88) and TIR-domain-containing adaptor protein inducing IFNb (TRIF), which are present downstream of TLR (Toll-like receptors). Spleen tyrosine kinase (syk) is an adaptor molecule involved in CLR (C-type lectin receptor)-mediated signaling. Similarly, MAVS is an adaptor molecule present downstream of the RIG-I-like receptors (RIG-I and MDA5) (Seth et al. 2005).
During viral infection of a cell, intracellular receptors play a vital role in controlling the infection by recognizing viral genomic material and recruiting adapter molecules (Seth et al. 2005), which lead to the cascade of signaling events involved in interferon regulatory factors activation and cytokine production. So far, there are three known viral RNA sensors in the cytosol: RIG-I, MDA5, and LGP2, which recognize viral RNA molecules via their N-terminal domain that allows the interaction of the C terminal of RIG-I to interact with the CARD domain of MAVS (Takeuchi and Akira 2008; Satoh et al. 2010). The N-terminal CARD-like domain of MAVS upon interaction with RIG-I or MDA5 CARD domains recruits several adaptors to assemble a MAVS "signalosome" (Cao et al. 2016). These recruited molecules include TNF receptor-associated factors TRAF2, TRAF3, and TRAF6 and TRAF family member-associated NF-κB activator (TANK). TRAF molecules bind to the proline-rich region of MAVS containing TRAF-binding motifs to initiate a signaling cascade leading to the activation of various transcription factors. Notably, both TRAF3 and TRAF5 bind to dimerized CARDs, suggesting that it is the CARD domain and not the proline region that is involved in the interaction of these TRAFs with MAVS (Tang and Wang 2009, 2010).
MAVS also interacts with another adaptor protein molecule known as TRADD (TNFR1-associated death domain protein) leading to the recruitment of TRAF molecules and activating kinases (IκB kinase ε) and TANK-binding kinase TBK1 as shown in Fig.
2
. This association finally results in the activation of interferon regulatory elements, IRF3 and IRF7 (Guo and Cheng
2007
; Fitzgerald et al.
2003
; Michallet et al.
2008
). Further, MAVS-TRADD signaling regulates NFκB signaling by recruiting FADD (Fas-associated death domain) and RIPK1 (receptor-interacting protein 1).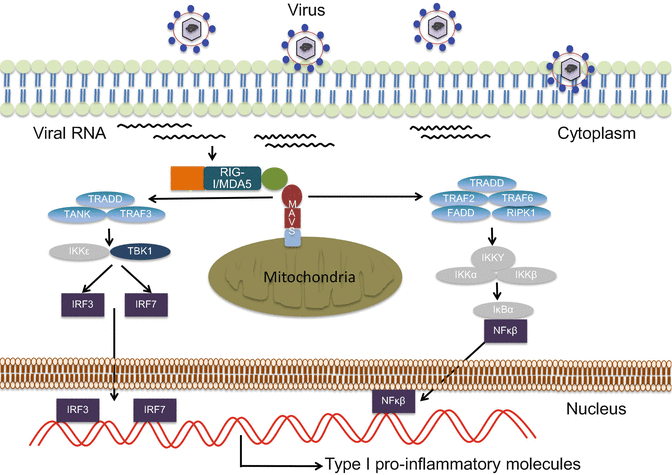 An important and newly recognized feature of MAVS signaling is the ability of MAVS to undergo a prion-like aggregation. This clustering of MAVS molecules has been shown to be crucial in the propagation of the signaling cascade upon MAVS activation (Hou et al. 2011).
Role of Cofactors in MAVS Signaling
Several mitochondrial membrane proteins and chaperones are shown to be involved in controlling MAVS signaling either through direct or indirect interaction with it (West et al. 2011). A member of translocase assembly of proteins, TOM70, interacts directly with MAVS via transmembrane domains. Heat shock protein 90 (hsp 90) promotes interaction of TOM70 with TBK1-IRF3 complex leading to the release of proinflammatory cytokines in response to viral infection or synthetic ligand poly I:C (Liu et al. 2010). However, since poly I:C is also a ligand for TLR3, it is not clear how TLR3 signaling is connected to MAVS.
Another adaptor molecule is MPYS or STING (stimulator of interferon genes), localized on the outer membrane of mitochondria or endoplasmic reticulum. Like TOM70, STING also regulates type I interferon production by activating NF-κβ and IRF3. However, poly I:C recognized by MDA5 doesn't require STING, which suggest that STING is downstream of RIG-I and it can directly interact with RIG-I, MAVS, and TBK1 to initiate downstream signaling cascade (Zhong et al. 2008). STING-dependent antiviral responses are also dependent on translocons, TRAP (endoplasmic reticulum translocons-associated protein) complex, and SEC61 (heterotrimeric complex).
Negative Regulators of MAVS Signaling
There are many negative regulators of MAVS signaling (West et al. 2011), which are either used as an evasion mechanism by the pathogen or are required to prevent persistent MAVS signaling involved in generation of proinflammatory response. Two well-known negative regulators of MAVS are PSMA7 (20S proteasomal subunit) and PCBP2 (Poly (C)-binding protein 2). The proteasomal PSMA7 (alpha4) is an important regulatory control of MAVS signaling. Both in-vitro and in-vivo studies demonstrated that inhibition of PSMA7 leads to enhanced production of interferons, which lead to efficient clearance of viruses. This increased clearance of pathogen is attributed to an increase in MAVS expression rather than enhanced signaling (Jia et al. 2009). PCBP2 interacts with MAVS following viral infection and promotes its proteasomal degradation, thereby limiting the inflammatory response (You et al. 2009). Similar to PCBP2, PCBP1 also regulates MAVS signaling but mediating its degradation to limit antiviral response (Zhou et al. 2012). More recently, Smurf2 was also shown to target MAVS for ubiquitination leading to its degradation (Pan et al. 2014).
Yet another negative regulator of MAVS is the globular head domain of complement component 1q receptor (gC1qR). This molecule can regulate MAVS signaling by interacting with its cytosolic domain, thus preventing its interaction with RIG-I. Exogenous expression of C1qR prevents RIG-I or MDA5 signaling during Sendai virus infection (Xu et al. 2009). Another potential regulator in MAVS signaling is NLRX1 (NOD9). It is a member of NLR family that is highly expressed in the mitochondria and was shown to interact with the CARD domain of MAVS via its nucleotide-oligomerization domain. However, subsequent studies on NLRX1 refuted the possibility of this interaction because of its localization in the mitochondria.
Functions Associated with MAVS
Mitochondrial antiviral signaling molecules play an important role during viral infections and other diseases by inducing type I interferon production as well as activation of transcription factors, specifically the NF-κβ pathway. Type I interferons along with other cytokines modulate adaptive immune response, which act as an effector arm of cellular immunity and is required for eliminating infected cells. MAVS has also been shown to play an important role in apoptosis, where its absence leads to decrease activation of caspase-3 and apoptosis. The role of MAVS as proapoptotic factor might hold true during acute infection (Guan et al. 2013).
Aside from its antiviral properties, MAVS has also been shown in mice to regulate NK cell maturation (Haynes et al. 2015), an important innate immune cell. This pathway may also be important in recognizing and monitoring RNA species from the gut microbiome, as it was shown to be protective in a murine colitis model (Li et al. 2011). The RIG-I/MAVS pathway may be involved in immune homeostasis, as it was shown to limit inflammation in a model of sterile CNS inflammation (Dann et al. 2011). Levels of MAVS aggregation in cells from lupus patients also correlate with type-1 interferon levels potentially contributing to autoimmunity (Li et al. 2011). Given the location of MAVS on the mitochondria, there may be other important functions that have not been elucidated at this time.
MAVS in Antiviral Immunity
Viruses represent a major pathogen that can lead to significant morbidity and mortality of the host. The presence of innate immune receptors prevents the dissemination of viruses by coordinating among several receptors and adaptor molecules, which then leads to the production of proinflammatory molecules and a coordinated effector response. Here, we are going to discuss the role of MAVS during different viral infections.
Influenza virus is a single-stranded RNA virus that can cause severe respiratory illness. The recognition of influenza virus RNA induces a robust inflammatory response that protects the host from succumbing to infection. In the host, the molecules that sense influenza viruses are pattern recognition receptors present in the cytosol (RIG-I and MDA5) and in endosomes (TLR3 and TLR7). How these molecules involving different adaptor molecules crosstalk with each other is not entirely clear. Studies performed on MyD88 (adaptor molecule for TLR7) and MAVS deficient mice showed that the individual deficiency does not differ in viral loads compared to WT mice. However, double knockouts (MAVS × MyD88) showed increased viral titers, which means that there is an existence of a compensatory mechanism among these receptors or adaptor molecules.
Respiratory syncytial virus is another single-stranded RNA virus that affects the respiratory system. It is of particular importance in pediatric populations where it causes significant morbidity. MAVS signaling is crucial to the antiviral response to RSV. In particular, alveolar macrophages require MAVS to produce type 1 interferons and chemokines in response to RSV, which leads to recruitment of antiviral monocytes (Goritzka et al. 2015). The presence of MAVS in hematopoietic cells is also shown to play an important role during West Nile virus infection, as its absence results in increased mortality and delayed clearance of the virus from the brain (Zhao et al. 2016).
Some viruses have developed mechanisms to evade MAVS-mediated signaling. Dengue virus nonstructural protein NS4A interacts with the N-terminal CARD domain and C-terminal transmembrane domain of MAVS, which blocks the interaction of MAVS with CARD domain of RIG-I. Prevention of MAVS and RIG-I interaction abrogates the induction of NF-κβ and interferon signaling (He et al. 2016). Another RNA virus, hepatitis C virus, encodes the protein NS3-4A, a serine protease, that cleaves MAVS from outer mitochondrial membrane, thereby inhibiting RIG-I signaling and interferon production (Li et al. 2005). Similar to hepatitis C virus, hepatitis A virus also encodes a serine protease that disrupts the mitochondrial targeting of MAVS.
Conclusion
The adaptor molecule MAVS regulates signaling pathways downstream of RIG-I and MDA-5 following recognition of pathogenic viral RNA. The importance of MAVS during viral infections is well documented, as its absence results in enhanced viral burden and increased morbidity and mortality in multiple virus disease models. Signaling through MAVS results in both type 1 interferon response as well as an NF-κβ-mediated signaling response. Aside from its role in viral recognition and signaling, MAVS has been shown to be involved in other processes including apoptosis and inflammasomes activation, as well as immune cell development and immune system homeostasis. Future studies on understanding the functional regulation of MAVS in controlling various immunological pathways may help in defining new therapeutic targets.
Copyright information
© Springer International Publishing AG 2018