Automated Process Discovery
Living reference work entry
DOI:
https://doi.org/
10.1007/978-3-319-63962-8_88-1
Definitions
An event log contains a historical record of the steps taken in a business process. An event log consists of traces, one for each case, customer, order, etc. in the process. A trace contains events, which represent the steps (activities) that were taken for a particular case, customer, order, etc.
An example of an event log derived from an insurance claim handling process is [〈receive claim, check difficulty, decide claim, notify customer〉10, 〈receive claim, check difficulty, check fraud, decide claim, notify customer〉5]. This event log consists of 15 traces, corresponding to 15 claims made in the process. In 10 of these traces, the claim was received, its difficulty assessed, the claim was decided and the customer was notified.
A process model describes the behaviour that can happen in a process. Typically, it is represented as a Petri net (Reisig 1992) or a BPMN model (OMG 2011).
A Petri net consists of places, which denote the states the system can be in, and transitions, which denote the state changes of the system. For instance, Fig.
1
shows an example of a Petri net. This net starts with a
token
in place
p
1
.
Firing
transition
a
removes the token from
p
1
and puts tokens in
p
2
and
p
3
. This denotes the execution of the activity
a
in the process. Then, transitions
b
and
c
can fire independently, each consuming the token of
p
2
or
p
3
and producing a token in
p
4
or
p
5
. Next, the silent transition
t
fires and puts a token in
p
6
. As
t
is a silent transition, no corresponding activity is executed in the process. Finally, either
e
or
f
can be fired, putting a token in
p
7
and ending the process.

A workflow net is a Petri net with an initial place (without incoming arcs), a final place (without outgoing arcs) and every place and transition lying on a path between these places. The behaviour of a workflow net is clear: a token is put in the initial place, and every sequence of transitions firings that leads to a token in the final place and nowhere else, is a trace of the behaviour of the net.
A workflow net is sound if the net is free of deadlocks, unexecutable transitions and other anomalies (van der Aalst 2016). A workflow net is relaxed sound if there is a sequence of transition firings that lead to a token in the final place and nowhere else.
Overview
Automated process discovery aims to extract information from recorded historical information about business processes by means of automatic methods. In this chapter, we discuss challenges and algorithms for process discovery.
Automated Process Discovery
Organisations nowadays store considerable amounts of data: in many business processes such as for booking a flight, lodging an insurance claim or hiring a new employee, every step is supported and recorded by an information system. From these information systems, event logs can be extracted, which contain the steps that were taken for a particular customer, booking, claim, etc. Process mining aims to derive information and insights from these event logs.
Many process mining techniques depend on the availability of a process model. Process models can be elicited by hand, however this can be a tedious and error-prone task. Instead, if event logs are available, these can be used to discover a process model automatically.
In this chapter, the research field of algorithms that automatically discover process models from event logs is described. First, quality criteria for models are discussed, and how algorithms might have to tradeoff between them. Second, process discovery algorithms are discussed briefly.
Quality Criteria & Tradeoffs
The quality of a discovered model can be assessed using several concepts: whether it possesses clear semantics, whether it is simple, how well it represents the event log and how well it represents the process.
Semantics & Soundness
As a first quality criterion, the behaviour described by the model should be clear. That is, it should be clear which traces the model can produce. If the returned model is a Petri net or a BPMN model, this model should be free of deadlocks, unexecutable transitions and other anomalies (it should be sound (van der Aalst 2016)). While unsound nets can be useful for manual analysis, they should be used with care in automated analyses as, for instance, conformance checking techniques might give unreliable answers or simply not work on unsound nets. At a bare minimum, conformance checking techniques such as alignments (Adriansyah 2014) require relaxed sound models.
Simplicity
Second, given two models, all other things equal, the simplest model is usually the best of the two (a principle known as Occam's razor). That is, a model should be as understandable as possible, for instance sma.
Log Quality
Third, one can consider the quality of a discovered model with respect to the event log from which it was discovered, to assess whether the model represents the available information correctly. Typically, besides simplicity, three quality dimensions are considered: fitness, precision and generalisation. Fitness expresses the part of the event log that is captured in the behaviour of the process model. Precision expresses the part of the behaviour of the model that is seen in the event log. Generalisation expresses what part of future behaviour will be likely present in the model.
The models shown for L illustrate that process discovery algorithms might have to tradeoff and strike a balance between quality criteria. For some event logs, a model scoring high on all log-quality measures and simplicity might not exist (Buijs et al. 2012b). The necessary balance might depend on the use case at hand. For instance, manual analysis where the "main flow" of a process is sought might require the omittance of the last trace of L from the model, yielding a simple and precise model. However, for auditing purposes, one might opt for a perfectly fitting model by including this last trace of L in the behaviour of the model.
Process Quality
A downside of measuring the quality of a model with respect to the event log is that an event log contains only examples of behaviour of an (unknown) business process rather than the full behaviour, and that the log might contain traces that do not correspond to the business process (noisy traces). Therefore, one can also consider how it compares to the process from which the event log was recorded. In the ideal case, the behaviour of the process is rediscovered by a discovery algorithm. That is, the behaviour (language) of the model is the same as the behaviour of the process.
As the business process is assumed to be unknown, whether an algorithm can find a model that is behaviourally equivalent to the process (rediscoverability) is a formal property of the algorithm. Without rediscoverability, an algorithm is unable to find a model equivalent to the process, which makes the algorithm rather unsuitable to study this process.
Rediscoverability is typically proven using assumptions on the process and the event log, for instance that it is representible as a model in the formalism of the algorithm (Petri nets, BPMN), and for instance that the event log contains enough information and does not contain too much noise, as well as assumptions on the process.
Process Discovery Algorithms
In this section, a selection of process discovery algorithms is discussed. For each algorithm, the algorithmic idea is described briefly, as well as some general advantages and disadvantages, and where it can be downloaded.
For benchmarks and a more exhaustive overview, please refer to Augusto et al. (2017b) (algorithms after 2012) and Weerdt et al. (2012) (algorithms before 2012). Not all algorithms can be benchmarked reliably; the selection here contains all benchmarked algorithms of Augusto et al. (2017b).
Several of these algorithms are available in the ProM framework (van Dongen et al. 2005), which is available for download from http://www.promtools.org, or in the Apromore suite (Rosa et al. 2011), which can be accessed via http://apromore.org.
The algorithms are discussed in three stages: firstly, algorithms that do not support concurrency, secondly algorithms that guarantee soundness and thirdly the remaining algorithms.
Directly Follows-Based Techniques
As a first set, techniques based on the directly follows relations are discussed. The section starts with an explanation of directly follows graphs, after which some tools that use this concept are listed and the limitations of such techniques are discussed.
In a directly follows graph, the nodes represent the activities of the event log, and the edges represent that an activity is directly followed by another activity in the event log. Numbers on the edges indicate how often this happened. Additionally, a start and an end node denote the events with which traces in the event log start or end. For instance, Fig.
6
shows the directly follows graph for our event log
L
.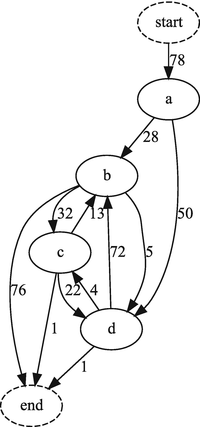 For more complicated processes, a directly follows graph might get uncomprehensibly complicated. Therefore, discovery techniques typically filter the directly follows graph, for instance by removing little-occurring edges. Commercial techniques that filter and show directly follows graphs include Fluxicon Disco (Fluxicon 2017), Celonis Process Mining (Celonis 2017) and ProcessGold Enterprise Platform (ProcessGold 2017). Another strategy to reduce complexity, applied by the Fuzzy Miner (Günther and van der Aalst 2007), is to cluster similar activities into groups, thereby providing capabilities to zoom in on details of the process (by clustering less), or to abstract to the main flow of the process by clustering more.
While these graphs are intuitive, it can be challenging to distinguish repetitive and concurrent behaviour, as both manifest as edges forth- and back between activities. For instance, in Fig. 6, it seems that b, c and d can be executed repeatedly, while in the log L this never happened for d. In contrast, it also seems that b, c and d are concurrent, while in L, b and c are always executed repeatedly. Due to this, directly follows graphs tend to have a low precision and high generalisation: in our example, almost any sequence of b, c and d is included.
Nevertheless, directly follows-based techniques are often used to get a first idea of the process behind an event log.
Soundness-Guaranteeing Algorithms
Soundness is a prerequisite for further automated or machine-assisted analysis of business process models. In this section, soundness or relaxed soundness guaranteeing algorithms are discussed.
Other Algorithms
Unsound models are unsuitable for futher automated processing, however might be useful for manual analysis. In the remainder of this section, several algorithms are discussed that do not guarantee soundness.
α-Algorithms
The first process discovery algorithm described was the α-algorithm (van der Aalst et al. 2004). The α algorithm considers the directly follows graph and identifies three types of relations between sets of activities from the graph: sequence, concurrency and mutual exclusivity. From these relations, a Petri net is constructed by searching for certain maximal patterns.
The α algorithm is provably (Badouel 2012) able to rediscover some processes, assuming that the log contains enough information and with restrictions on the process. In later versions, several restrictions have been addressed, such as: (a) no short loops (activities can follow one another directly; addressed in α+ (de Medeiros et al. 2004)), (b) no long-distance dependencies (choices later in the process depend on choices made earlier; addressed in Wen et al. (2006)), (c) no non-free-choice constructs (transitions that share input places have the same input places; addressed in α++ (Wen et al. 2007a)), and (d) no silent transitions (addressed in α # (Wen et al. 2007b, 2010) and in α $ (Guo et al. 2015)). Furthermore, a variant has been proposed, called the Tsinghua-α (Wen et al. 2009), that deals with non-atomic event logs. That is, event logs in which executions of activities take time.
However, these algorithms guarantee neither soundness nor perfect fitness nor perfect precision, the algorithms cannot handle noise and cannot handle incompleteness. Furthermore, the α algorithms might be less fast on complex event logs, as typically they are exponential. Therefore, the α-algorithms are not very suitable to be applied to real-life logs.
Little Thumb (Weijters and van der Aalst 2003) extends the α algorithms with noise-handling capabilities: instead of considering binary activity relations, these relations are derived probabilistically and then filtered according to a user-set threshold.
Causal-Net Miners
The Flexible Heuristics Miner (FHM) (Weijters and Ribeiro 2011) uses the probabilistic activity relations of Little Thumb and focuses on soundness. To solve the issue of soundness, FHM returns causal nets, a model formalism in which it is defined that non-sound parts of the model are not part of the behaviour of the net.
The Fodina algorithm (vanden Broucke and Weerdt 2017) extends FHM with long-distance dependency support and, in some cases, duplicate activities. The Proximity miner (Yahya et al. 2016) extends FHM by incorporating domain knowledge. For more algorithms using causal nets, please refer to Weerdt et al. (2012) and Augusto et al. (2017b).
Even though causal nets are sound by definition, they place the burden of soundness checking on the interpreter/user of the net, and this still does not guarantee, for instance, that every activity in the model can be executed. Therefore, translating a causal net to a Petri net or BPMN model for further processing does not guarantee soundness of the translated model.
FHM, Fodina (http://www.processmining.be/fodina) and Proximity Miner (https://sourceforge.net/projects/proxi-miner/) are all available as ProM plug-ins and/or Apromore plug-ins.
Split Miner
To strike a different balance in log-quality criteria compared to IM that favours fitness, while improving in speed over ETM, Split Miner (SPM) (Augusto et al. 2017a) preprocesses the directly follows graph before constructing a BPMN model. In the preprocessing of directly follows graphs, first, loops and concurrency are identified and filtered out. Second, the graph is filtered in an optimisation step: each node must be on a path from start to end, the total number of edges is minimised, while the sum of edge frequencies is maximised. Then, splits and joins (BPMN gateways) are inserted to construct a BPMN model.
SPM aims to improve over the precision of IM and the speed of ETM for real-life event logs. The balance between precision and fitness can be adjusted in the directly follows-optimisation step, which allows users to adjust the amount of noise filtering. However, the returned models are not guaranteed to be sound (proper completion is not guaranteed), and several OR-joins might be inserted, which increases complexity.
SPM is available as a plug-in of Apromore and as a stand-alone tool via https://doi.org/10.6084/m9.figshare.5379190.v1.
Conclusion
Many process mining techniques require a process model as a prerequisite. From an event log, process discovery algorithms aim to discover a process model, this model preferably having clear semantics, being sound, striking a user-adjustable balance between fitness, precision, generalisation and simplicity, and having confidence that the model represents the business process from which the event log was recorded. Three types of process discovery algorithms were discussed: directly follows-based techniques, soundness-guaranteeing algorithms and other algorithms, all targetting a subset of these quality criteria.
In explorative process mining projects, choosing a discovery algorithm and its parameters is a matter of repeatedly trying soundness-guaranteeing algorithms, evaluating their results using conformance checking and adjusting algorithm, parameters and event log as new questions pop up (van Eck et al. 2015).
Copyright information
© Springer International Publishing AG 2018
Section editors and affiliations