Prefrontal Cortex
Reference work entry
DOI:
https://doi.org/
10.1007/978-3-319-57111-9_1904
Structure
The
frontal lobes
are the portion of the cerebrum anterior to the Rolandic fissure and superior to the Sylvian fissure. The functional subdivisions of the frontal lobes include the primary motor area, premotor area, frontal eye fields, dorsolateral area, orbital area, anterior cingulate gyrus/supplementary motor areas, and basal forebrain (see Fig.
1
). The primary motor area subserves pyramidal motor functions, the premotor area is involved in sensorimotor integration and praxis, and the frontal eye fields control volitional eye movement and visual search. Damage to these zones generally results in relatively simple disorders of motor functioning (e.g.,
hemiparesis
, volitional gaze disturbance,
apraxia
).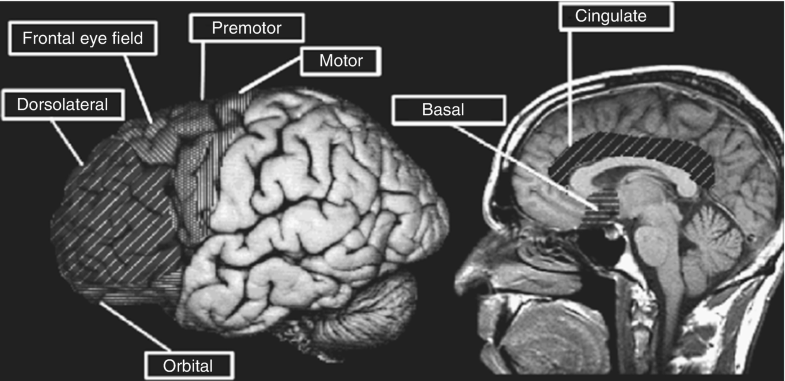 Copyright information
© Springer International Publishing AG, part of Springer Nature 2018