Abstract
Cereals constitute a staple food for large groups of population worldwide. However, the protein fraction of cereals continues receiving increasing attention from the clinical community because of its close involvement in both the development of immunological processes and intestinal disorders. Thus, together with constant technological innovations to the increasing demands of the consumer, makes necessary to optimize food formulations promoting health outcomes. In this context, beneficial health implications are being reported based on the advantageous nutritional profile of gluten-free cereals, but mostly pseudocereals. The latter represent a good source of proteins (albumins/globulins) reducing the intake of prolamins. Additionally, pseudocereals provide an optimal lipid profile (ratio of saturated versus unsaturated fatty acids) and bioactive compounds with a potential significant impact on the consumer's health. Currently, the underlying mechanisms by which these beneficial health effects occur still remain unsolved. Moreover, some recent data point to metabolic effects beyond their nutritional value. These could have an important impact on immunological processes, although studies on these aspects result inferential. Future research should approach epidemiologic studies and toward consolidating the mechanisms of action, especially in the human body.
Keywords
Cereals 
Gluten-free 
Health benefits 
Metainflammation 
Nutrition 
Pseudocereals 
1

Introduction

At present, continuous social development and commercial globalization are motivating the increase in food production, where constant technological innovations are needed to respond to the increasing demands of the consumer of high quality food, which is the closest thing to a fresh product with a processed minimum, healthy and nutritious. The important socioeconomic changes in most countries have led to a substantial change in dietary habits favoring an increase in the consumption of animal fats and proteins. This tendency is reflected in an increase in the incidence of diseases, directly or indirectly, associated with alterations of the hepatic homeostasis that give rise to a wide spectrum of pathologies related to the metabolic syndrome, obesity, and type 2 diabetes (T2D).

For the past two decades, the interest of researchers, the food industry, and consumers has focused on those foods that, in addition to containing essential nutrients, have bioactive components that promote health and/or prevent chronic diseases. Here, we can find cereals that have been cultivated worldwide from ancient times [1, 2]. In the case of cereals, in addition to playing an important nutritional function, they are responsible for multiple beneficial effects for health [3]. This has led to propose health claims for the consumption of whole grains in USA (1999) and, as of 2002, in England and Sweden [4]. The rich composition of whole grains or their fractions, along with their high dietary fiber content, have motivated many nutritional interventions that have focused on highlighting their potential for healthier, more nutritious foods [5, 6]. Thus, recent studies support the relationship between regular intakes of whole grains and the lower risk of diseases such as T2D, obesity, cardiovascular disorders, metabolic syndrome, and cancer [7, 8, 9].

The protein fraction of cereals has received much attention from the clinical community because of its close involvement in both the development of immunological processes and intestinal disorders. With the increasing development of immune function measuring systems and better understanding of the potential role of cereals in immunometabolic (i.e., obesity, T2D, nonalcoholic fatty liver disease) [10, 11, 12] diseases, people became aware and more selective about food supply. Here, gluten-free cereals and pseudocereals emerged as advantageous alternatives to wheat in innovative healthier and nutritive goods [6, 13, 14, 15].

A healthy diet helps protect us from malnutrition as well as immune-metabolic disorders. Cereals are recognized as an essential food within a healthy diet and are recommended for frequent consumption. However, despite the recognized health benefits of cereal consumption, cereals are often considered as grains that provide a great deal of nutrients, forgetting to mention specific health benefits.

This chapter summarizes recent research on pseudocereals providing comprehensive information to better estimate their potential contribution to human health. Beyond its economic, nutritional, and environmental importance, cereals have played a key role in the history of mankind. Animal and human trials support the beneficial effects derived from whole grains consumption, mostly referring to wheat and its derivatives, rice, and maize. Otherwise, pseudocereals belong to a group of nongrasses, which can be consumed as seeds or flours; even kernels can be used to produce diverse food products. The consumption of these grains has experienced a significant increase in recent years worldwide. Thus, general features of those gluten-free cereals and their specific characteristics in comparison to most common cereals are presented .
2

Gluten-Free Cereals and Pseudocereals

According to recent statistics, world cereal trade in 2017–18 has been lifted by 8 million tons to a record 403 million tons, implying an 8.7 million ton (2.2%) expansion from 2016–17 [16]. The world's most important cereals in the diet are corn, wheat, and rice. Barley, oats, and rye are cereals whose consumption is not so widespread [17]. Other cereals such as sorghum and millet are mainly used for animal consumption, intended for human consumption in some regions [18]. Notably, pseudocereals (amaranth, quinoa, and buckwheat) receive increasing attention and are consumed with great acceptance due to their advantageous nutritional profile [3].
2.1

Food Uses

Good nutrition is our source of energy to live and be active, as well as the first defense against disease. Here, vegetal kingdom satisfies a considerable part of the nutritional needs for the human being; in this context, cereals have been part of the diet of most cultures and civilizations for millennia. Cereals constitute an agronomically important crop from the environmental point of view and an economic source of protein, both in human and animal feed. Pseudocereals show out to substitute wheat in different respects, but mainly due to their high protein concentration, minerals, vitamins, and fatty acids [3]. These grains have been part of human food for centuries, although as they have been neglected by food industries and nutrition, current knowledge is still limited. The advantageous nutritional features of these grains make them good candidates as part of strategies, both conventional and modern breeding approaches, in order to provide a public health benefit with the ultimate goal of overcoming deficiencies worldwide [6, 19]. Currently, it is assumed the high nutritional value of pseudocereals; however, the study to what extent these grains impact nutritional status resulted inferential.

Gluten-free cereals are incorporated into wheat-based products up to a certain proportion to improve the nutritional value of the resulting product [6, 20]; however, it still constitutes a great technological challenge. Traditional processing methods for these cereals include hand-operated wooden or stone pestle and mortar, which still are used today in certain regions. Today, processing occurs mainly based on applying the dry- and wet-milling processes. The latter are decided according to the objective to obtain flours at a high extent or fractions where there can be found other defined components. Gluten-free cereals can represent a good source of other ingredients of technofunctional importance (i.e., kernels, saponins, oils). There are numerous scientific publications that define the physicochemical and functional properties of the major components of pseudocereals [21, 22, 23] .

Gluten-free cereals are being used in a wide variety of foods, devoted to human, pets, and animal feed. Commonly, they are used in several ways, either as seeds, whole or plain grain, and flour (Table

1

). The transformations that occur in the distinct components of the flours derived from these cereals during the processing and cooking of foods improve their nutritional value, favor the reduction of "antinutritive" components, and, in some cases, the formation of bioactive compounds that can contribute significantly to the reduction of metainflammatory diseases [

15

,

25

,

26

,

27

,

28

].
Gluten-free cereal

Amaranth

Quinoa

Buckwheat

 

Grain

Flour

Whole

Flour

Grain

Flour

Kernels

Product

Toasted, popped, extruded, milk

Bread, rolls, cakes, muffins, pancakes, cookies, noodles

Broths, soups, stews, rice-like products

Porridge, coarse bread, pasta, cookies

Unpeeled, semolina, omelets

Biscuits, cookies, bread, cakes

Tea
2.2

General Features of Most Commonly Consumed Pseudocereals
2.2.1

Quinoa

Chenopodium quinoa is a highly nutritious grain that has been cultivated from ancient years in South America. The origin of quinoa appears to be in the Andean mountains. During recent times, there has been an increased interest worldwide for this grain in the United States, Europe, and Asia. Quinoa has been selected by the Food and Agriculture Organization of the United Nations (FAO) as one of the crops destined to significantly contribute to food security in the next century.

Quinoa seeds contain a higher percentage of bran than common cereals that makes feasible the carriage of higher levels of protein and fats in these [29]. One of the aspects that could limit the widespread utilization of quinoa is the relatively high amount of saponins that appear in the outer layer of the seeds and are considered as "antinutritional" factors. These are also rich in carbohydrates representing the most part of total fraction of nutrients. There can be found monosaccharides such as xylose, arabinose, fructose, and glucose, and disaccharides such as maltose and mainly sucrose [30]. Starch also represents an important source of carbohydrates in the grain. Dietary fiber in quinoa exhibits a composition where it composed mainly of cellulose, hemicellulose, beta-glucans, and lignin. Notably, quinoa carries a significant higher protein fraction compared to other cereals. Here, there can be found protease inhibitors affecting gastrointestinal proteolytic enzymes [25]. The genetic background is identified as a major cause for the variations in content and quality of these proteins. Additionally, environmental conditions and cultivation methods also contribute significantly to these variations [31, 32]. Lipid content in quinoa is composed mainly of unsaturated fatty acids (85%), particularly linoleic (~52%), oleic acid (~25%), as well as saturated palmitic acid (~10%) [33, 34]. In a global perspective, quinoa presents a favorable profile of polar lipids (phospholipids) (25.2 g/100 g total lipids) with potential benefits on inflammatory processes, cancer, cardiovascular diseases, neurological disorders, liver diseases, and antioxidant carrier [35]. This phospholipid profile is particularly important since quinoa constitutes a good source of bioactive compounds such as phytosterols, flavonoids, and tocopherols [36, 37] .
2.2.2

Amaranth

There can be found up to 26

Amaranthus

species, but the three grain species known as amaranths include

Amaranthus hypochondriacus

L.,

Amaranthus cruentus

L., and

Amaranthus caudatus

L. These were domesticated in Central America (Tehuacan, Mexico) over 4000 years BC.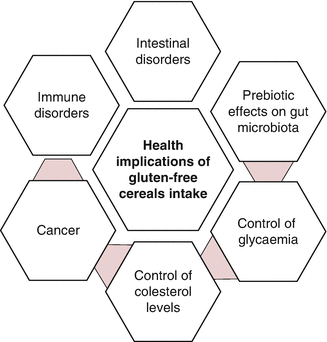 Amaranth seeds are of high nutritional value, the carbohydrates representing the major part of the total nutrient fraction in the seed. Starch is the most abundant component in the seeds accounting for up to 65% to 75%, while dietary fiber accounts for only 5% [
38
]. One of the most interesting advantages of amaranth starch is the production of very small granules (0.75–3 μm) that exhibit extremely high water-absorption capacity [
39
] providing unique functional properties to food. Numerous studies have shown that amaranth starch exerts important physiological functional properties due to its high digestibility [
40
]. The nutritional value of amaranth is closely connected to its high protein content and amino acid profile. They display a characteristic protein distribution of about 40% albumins, 20% globulins, 25–30% glutelins, and 2–3% prolamins [
41
,
42
]. Amaranth is considered an essential candidate in special diets for patient with coeliac disease; however, the recently identified participation of defined globulins in immunological processes [
10
] warrants further investigation. It has been reported that cooking and popping of seeds decreases the fraction of albumins and globulins [
43
]. But the immunomodulatory potential of the resulting peptides and other structures has not yet been clarified. For amaranth, the lipid fraction is mainly localized in the germ and seed coat. The oil content of amaranth is commonly estimated between 5% and 9% [
44
,
45
], although a study reported values up to 19.3% [
46
]. These discrepancies could be caused by differences in the extraction and purification methods employed as well as by environmental factors such as temperature and latitude that influence the composition of the oil of amaranth seed [
44
]. Amaranth constitutes a good source of linoleic (C18:2), oleic (C18:1), palmitic (C16:0), and stearic (C18:0) acids (Table
2
).
Table 2
Fatty acid profile in gluten-free cereal and pseudocereals
Fatty acids (g/100 g)

Gluten-free cereal and pseudocerealsa

Amaranth

Barley

Buckwheat

Quinoa

Rice bran

Wheat

Palmitic (16:0)

18.5–23.8

18.5–21.0

18.2–19.5

9.7–11.4

18.6

15.4

Stearic (18:0)

3.2–4

–

2.18

0.6–0.79

1.75

–

Oleic (18:1)

22–33.3

15.2–15.6

36.4–37.1

24.8–25.6

42.4

22.3

Linoleic (18:2)

38.2–44.8

24.0–52.4

34.8–35.5

52.3–52.8

34.8

54.2

Linolenic (18:3)

0.2–1.0

2.6–5.5

1.93

3.9–7.0

1.1

3.5

Other

7.08–11.3

5.4–6.8

3.8–10.6

2.44–6.8

1.23

4.6
Amaranths are also of high nutraceutical value as they are important sources of phytochemicals and antioxidants [47, 48, 49]. Origin, accession, and location constitute key aspects determining the content of, for example, tocopherols [47, 48]. Otherwise, after different abiotic stresses, the expression of amaranthin-like genes results enhanced. Amaranthin is a homodimeric lectin that was first discovered in the seeds of Amaranthus caudatus and serves as a model for the family of amaranthin-like lectins. Molecular modeling studies have unraveled the structure of amaranthin-like proteins and their carbohydrate-binding sites. Their particular structure allows to interact with the proliferative region of normal human colonic epithelium and neoplastic lesions of the colon. However, a causal association of these lectins to physiological proliferation processes still results inferential .
2.2.3

Buckwheat

Despite the name, buckwheat (Fagopyrum esculentum Moench) is not related to wheat, but to sorrel, knotweed, and rhubarb. Native to the steppes of Central Asia and Siberia, it was spread to West being introduced to Turkey and Poland and later expanded to Central and South Europe. Today, the expansion of buckwheat reached Great Britain, Canada, and EE.UU.

Considerable pharmacological evidences both in vitro and in vivo support positive effects of Fagopyrum buckwheats such as antitumor, antioxidant, anti-inflammatory, hepatoprotective, and antidiabetic [50]. These activities are mostly associated to their particular nutrient composition. Carbohydrates represent (~70%) the major proportion of buckwheat's endosperm, among these the main component is starch that comprises 55% of the total fraction [51, 52]. The starch present in buckwheat seeds has a different composition to the rest of cereals, with a higher concentration of amylose and lower of amylopectin and also a significant fraction resistant (35%) to digestion considered as a dietary fiber [53]. The buckwheat's starch capacity to retain water has been established as higher than that of wheat and corn starch [54]. Factors associated to low digestibility of buckwheat starch are small granule size, amylose content, starch-protein interactions, and lipid complexes. Buckwheat proteins exhibit an amino acid profile more nutritionally favorable than wheat. Notably, a more balanced concentration of amino acids is found, except for glutamine and proline [55]. The established higher composition of individual protein fractions such as albumins and globulins in buckwheat in comparison to wheat [55] supposes a significant difference in their potential immunomodulatory features. Meanwhile, globulins from wheat exert a clear inflammatory effect; the beneficial pharmacological effects described for buckwheat suggest different bioactive effects derived from buckwheat's globulins. Nowadays, the very low concentration of glutelins and prolamins in buckwheat makes it a good crop to be part of gluten-free diets [42]. In relation to other gluten-free cereals and pseudocereals, buckwheat provides lower oil content (~2–3 g/100 g) [44]. Otherwise, buckwheat shares with quinoa and amaranth a lipid profile rich in ϖ-3 (linoleic) and ϖ-6 (linolenic) acids as well as oleic acid. Notably, fatty acid content in buckwheat is influenced by seeding time in addition to environmental factors and variety [56]. For buckwheat, neutral lipids represent 85% of the total content, while polar lipids are found in proportions up to 15%. Similarly to other grains, buckwheat seeds are a good source of antioxidants such as tocopherols, phenols, and flavonoids, specially quercetin and rutin. This characteristic favored the interest and use of buckwheat hull by food industries. In addition, groats have also been used for porridges. Other bioactive compounds identified in buckwheat seeds are D-chiro-inositol, myo-inositol, and fagopyritols, which play an essential role in insulin sensitivity lowering glucose blood levels and blood pressure.
2.3

Health Implications

The nutrient content and profile alone does not describe the quality or physiological and health implications sufficiently (Fig. 1). Digestibility, available lysine, net nutrient utilization, and efficiency ratio are some other parameters that help to better estimate the nutritional value of the gluten-free cereals and pseudocereals. In general, the protein quality of pseudocereals is close to that of casein. Significant differences in starch digestibility for pseudocereals are found [25]. Rice and maize are low in protein, fiber, and folate that contrast those concentrations in pseudocereals [3, 57].
3

Conclusion and Future Perspectives

Cereals have been associated to human diet from ancient times. Domestication of cereals was facilitated by polyploidization events that led to genetic determinants, which excluded potentially adaptive alleles. At present, an intense and continuous social development, as well as commercial globalization, motivates the increase in food production, where constant technological innovations are needed to respond to the increasing demands of the consumer of high quality food. Thus, important socioeconomic changes in most countries leading to a substantial change in dietary habits favor the appearance of metainflammatory diseases (i.e., NAFLD, T2D, obesity). Here, the strong social demand of gluten-free products increased worldwide and even gluten-free foods started being consumed by many other groups of population than those with immunological imbalances such as celiac patients. Several distinct reasons are considered for this switch on "food choice" and consumer's behavior; nutritional quality and health benefits beyond this nutrition are mostly considered. Pseudocereals represent a good option both from a nutritional and technological point of view to improve the nutritional profile of food, while reducing the intake of defined food ingredients associated to intestinal and immunological disorders. Three distinct grains are majorly known as pseudocereals; quinoa (Chenopodium quinoa), amaranth (Amaranthus cruentus), and buckwheat (Fagopyrum esculentum and Fagopyrum tartaricum). These grains offer good technofunctional options to use them as substitutes of wheat flour, thus producing gluten-free foods. Moreover, ascription to the gluten-free diet is commonly associated to nutritional deficiencies. Here, the inclusion of pseudocereals improve the nutritional profile and reduces the risk of deleterious effects on the nutritional status.

Pseudocereals consumption has been associated to a wide spectrum of beneficial effects beyond its mere nutritional value in relation to immune regulation including prevention of intestinal imbalances in gut microbiota composition and inflammatory disorders. Many of these effects could derive from their potential to stimulate innate branch of the immune system because of their particular composition on globulins, but also to its prebiotic effect and potential capacity of other naturally occurring biologically active compounds. Although the scarce data existing encourage the use of pseudocereals as adjuvant in nutritional intervention strategies, a complete description of the underlying molecular mechanisms and processes implied is still unknown . This manuscript has been limited to those existing studies where key aspects such as bioavailability of the different compounds as well as concentrations used could result close to the effective physiological ones. The retrieval from literature revision highlights the need to clarify these aspects in order to pave the way for a full translational and transferable usage of pseudocereals into the clinical practice and society to improve self-management strategies of diseases.
Notes
Acknowledgments
JML thanks Spanish MINECO for his "Ramón y Cajal" contract. BF thanks KNOW Consortium "Healthy Animal – Safe Food," MS&HE Decision No. 05-1/KNOW2/2015.
Copyright information
© Springer International Publishing AG 2018