East and Southern African Neolithic: Geography and Overview
Living reference work entry
DOI:
https://doi.org/
10.1007/978-3-319-51726-1_1888-2
State of Knowledge and Current Debates
The Neolithic period of eastern and southern Africa was a form of niche fulfillment when viewed within the context of its origins and distribution. In Africa, Neolithic cultures include those groups who herd domesticated animals, use stone tools and ceramics as part of their subsistence package. Climatic and demographic pressures after 6000 BP pushed Neolithic pastoralists living in the Nile River Valley southward, and the savanna habitats of eastern and southern Africa that these migrants encountered were attractive ecosystems rife for herding. The early Neolithic pastoralists in eastern Africa tended to be less mobile and had a broad-based subsistence compared to later pastoral groups, who colonized southern Africa after 2000 BP. When placed within the larger paleoenvironmental and cultural context, pastoralists adapted their subsistence to specific ecosystems based on the potential of the land to provide adequate sustenance for themselves and their livestock, but there are constant demographic pressures facing pastoralists who have low productive yields per unit of land compared to sedentary farmers.
In this entry, the Neolithic period in eastern and southern Africa will be reviewed from the perspective of how animal herders occupy distinct niches on a landscape. The current state of archaeological evidence for early pastoral cultures in the subcontinent will be examined to evaluate how prehistoric people may have opportunistically exploited specific ecological niches in the landscape. The present-day mosaic of genetic and linguistic groups across the subcontinent is used to fill in the gaps of knowledge where archaeological data is insufficient to chronicle the demographic and subsistence shifts throughout the late Holocene. The arrival of Iron Age agropastoralists in southern Africa will also be explored in order to attempt a clarification what the Neolithic entailed in this specific context. African Neolithic contexts are not a uniform culture or subsistence adaptation, and people have remained flexible in the ways they procure food, water, and shelter from the land into the modern era.
The Neolithic in Eastern and Southern Africa
It is easier to define the beginnings of the Neolithic period of eastern and southern Africa than the end. Traditionally, archaeologists ascribe the term "Neolithic" to the time period when food production techniques begin in an area where hunting and gathering had been exclusively practiced in the past. Archaeobotanical research now suggests that domesticated plants and animals were introduced simultaneously in northern Africa (Out et al.
2016
), but domesticated animals, not plant cultivation, are the hallmark of the Neolithic in eastern and southern Africa (Marshall and Hildebrand
2002
). The origins of domesticated animals in Africa lie in the north and the demic routes of introgression into eastern and southern Africa extend from these homelands (Fig.
1
). The near simultaneous arrival of Iron Age and Neolithic pastoralists into southern Africa and their side-by-side survival with foragers and farmers into modern times are the basis for shifting settlement and subsistence practices through the Late Holocene. In order to understand the roots of the eastern and southern African Neolithic, the evidence for the origins of pastoralism in northern Africa will be briefly reviewed.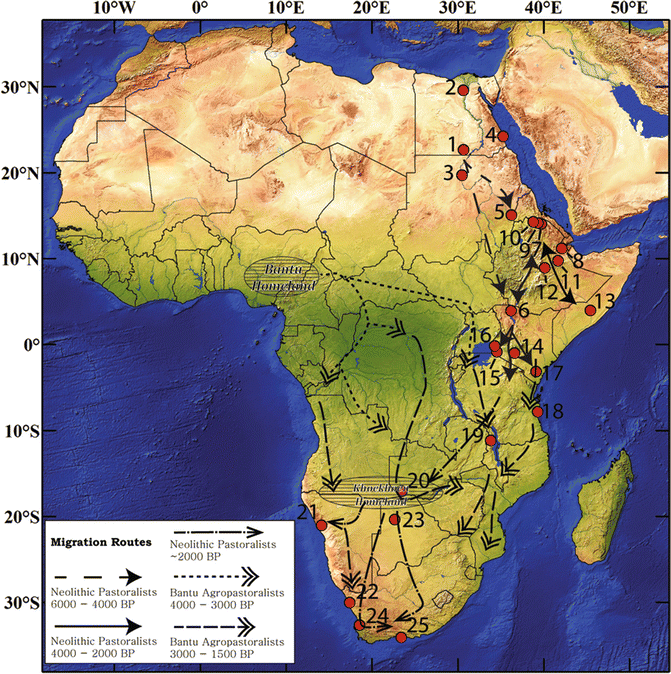 Discussion of the Evidence
Neolithic pastoralists entering East Africa entered into new niches at the same time ecological conditions in their homelands were desiccating. It is likely that pastoralists entered the Ethiopian Highlands for the same reasons at approximately the same time, but they are less archaeologically visible than in Lake Turkana. Pastoralism took shallow roots south of Lake Turkana as a seemingly minor compliment to indigenous foraging systems. Marshall (2000) has suggested that raiding of herds may have been the mechanism in which livestock appear in new niches. In any event, the evidence is relatively clear that early pastoralism had little effect on indigenous settlement and subsistence practices. Livestock were incorporated as just one more resource within a broad-base subsistence regime.
Given the evidence for antiphasing climates between eastern and southern Africa in the late Holocene, livestock husbandry in southern Africa may have arisen from small populations of environmental refugees leaving East Africa around 2000 years ago and settling in the greener pastures of southern Africa (Scott et al. 2012). The low archaeological visibility of these migrants is typical of itinerant pastoralists, who tend to leave few traces on the landscape due to the fact that having copious amounts of material culture is antithetical to a mobile lifestyle (Shahack-Gross et al. 2003). As in the pioneer phases of livestock introgression in eastern Africa, some southern African foragers recognized the newcomers as bringing an innovation that could be useful if resources became scarce.
Changing environments and cultural practices in eastern and southern Africa during the late Holocene incubated livestock husbandry until it began to assume an ever-more important role in dictating settlement and subsistence practices. In the savanna plains and Rift Valley, there is strong evidence for the development of a "cattle-first" economy after 3000 BP. However, there remained many foraging-first communities across eastern and southern Africa interacting with their agricultural and pastoral neighbors into modern times. From a cultural ecology perspective, the degree to which people relied on domesticated and wild resources will vary by geography and time, depending on the ability of different communities to feed themselves from the land or subsist through trade with their neighbors.
In East Africa, late Holocene economies of the Highlands and Coastal Plains continue to practice the broad-based subsistence regimes inherited from middle Holocene foraging-herders. Elmenteitan communities in the Highlands were vertically transhumant, but had a broad subsistence base. In the Coastal Plains and Lake Victoria region, pastoralists were tethered to resource-rich riparian areas, but little is known of how they lived in the immediate coastal hinterlands. Evidence from Galana River in southeastern Kenya and the Lower Rufiji River in Tanzania show that there are cultural connections to livestock-dependent pastoralists living in the interior, but the indigenous subsistence economy and lithic traditions remain constant throughout the Later Stone Age Neolithic period. A similar pattern is followed among Kansyore sites in the Lake Victoria region, albeit with varying degrees of integration of PN subsistence and tool production techniques (Prendergast 2010a). In these lacustrine and fluvial settings, domesticated animals were integrated into riparian foraging strategies, which included hunting, fishing, and collecting edible plants and invertebrates that grew in aggrading floodplains.
Immigration of Bantu-speaking populations who raised yams and millet and introduced iron production represented a new subsistence niche, which may have clashed with transhumant pastoralism. Until recently, most scholars believed that approximately at 2000 years BP, a unified Bantu cultural complex immigrated to the northern Lake Victoria region from western Africa bringing Urewe tradition ceramics, iron working and sedentary farming with them (Vansina 1995). However, well-dated archaeological data sets from Lake Victoria (Lane et al. 2007), archaeogenetics (Pickrell et al. 2014; Skoglund et al. 2017) and revised linguistic analyses (Ehret 1998) indicate that the introduction of these cultural features were asynchronous. Regardless, the overall effect of these new cultural features realigned subsistence practices in the region with some pastoral groups eschewing cultivation altogether, while others (particularly in the Lake Victoria Basin, Highlands and Coastal Plains of the Indian Ocean) adopted plant cultivation as yet another resource that could be utilized as needed.
The impact of agricultural/grazing practices and iron production significantly altered the distribution of woody and grassy taxa across eastern Africa after 5000 years BP. Burning and tree coppicing were intentional landscape management tools undertaken during the Neolithic across the African continent (Boivin et al. 2016). After 2000 years BP, significant shifts in the distribution of grasslands at the expense of primary-growth forests found in lakes all across the western Rift Valley are evidence of increasing proprietorship of land. Intensive management of patches of land would result in circumscription of territories that was not necessarily beneficial to unrestricted movement of transhumant pastoralists. In this case, the indigenous populations were forced to adopt aspects of the new economy, move to a new area, or attempt to maintain a transhumant pastoral lifestyle in an increasingly territorially-circumscribed landscape.
Some groups clearly remained rooted in the Neolithic pattern practicing transhumant pastoralism as evidenced by sites dating to after 3000 years BP on the Mara Plains and Laikipia Plateau of the Central Rift Valley and in the East African Highlands. It is likely that these pastoralists traded animal products and byproducts with their farmer/forager neighbors, but there were also likely clashes over access to land in which different cultural groups competed for resources. Such clashes were commonly documented in the ethnographic record beginning in the nineteenth century. Maa-speaking pastoralists frequently fought with Kikuyu and Luo groups in an attempt to gain pasture in the fertile Central Highlands and Lake Victoria Basin, respectively (Galaty 1993). During the nineteenth century, the highly fatal cattle disease rinderpest had devastated Maasai herds and severely stressed intergroup relations in the form of rampant livestock raiding (Sobania 1993). A further climatic stress is also possible occurring during the end of the Little Ice Age (AD 1300–1850) in which wetter precipitation regimes gave way to much more arid conditions than had been witnessed in several 100 years (Verschuren 2001). A cultural antipathy developed amongst the Maa for their neighbors, and vice versa in which neither group viewed the others as humans (Berntsen 1979). Such a cultural proclivity is common amongst groups who compete for a common resource pool. For the purposes of the present discussion, it is significant to the extent that niche fulfillment under mutually symbiotic conditions can quickly be thrown off-balance when resource bases become strained.
The move of pastoralism across the Zambian and Zimbabwe plateaus into southeastern Africa was rapid and features of the Bantu expansion can be interpreted as a having immigrated as a "package." When viewed through the lens of John Alexander's (1980) and Paul Lane's (2004) analyses of Neolithic frontiers, the colonization of this broad area occurred so rapidly that the "settling in" phase of frontier expansion had little time to occur. In this sense, the moving frontiers of incipient East African pastoralism (ca. 4000–3000 years BP), eastern equatorial Africa (3000–2000 years BP) and southern African pastoralism (2000–1500 years BP) shared some common aspects (Sadr 2003). The initial spread of domesticated animals into eastern equatorial Africa between 4000 and 3000 years BP have many of the characteristics of Sadr's (2003) "foragers who herd." There is no evidence for radical changes in indigenous tool technologies, and hunting and gathering seems to persist in much the same way that it did before livestock were introduced (Dusseldorp 2016). After a period of incubation in the Turkana Basin, pastoral occupation of eastern equatorial Africa after 3000 years BP diversifies into a range of niche fulfillment specialists, which adapted further after the arrival of Bantu agro-pastoralists after 2000 years BP. Likewise, after incubating in eastern equatorial Africa from 3000 to 2000 years BP, the spread of pastoralism into southern Africa was initially limited, but diversified over time as niches filled and complex exchange networks evolved.
New demographic pressures faced after sedentary farmers circumscribed access to pasture lands encouraged some of these pastoral communities to look for new pastures elsewhere. The expansion southward represented the only possible route for expansion given the dense stands of rainforest located to the west, established and entrenched pastoral communities to the north and ocean to the east. By 1600 years BP, pastoralism had reached the southern tips of Africa, but the migrations left little obvious archaeological footprint on the landscape that would separate them from the indigenous economies. In this regard, despite genetic and linguistic evidence for a demic expansion of Khoekhoen at the same approximate time that small domestic stock begin appearing at a few sites in southern Africa, the overall subsistence economy remained weighted toward hunting and gathering for several 100 years until the arrival of the Bantu speaking agro-pastoralists. As in the East African case, the abundance of wild resources in the wetter-than-present southern Africa at around 2000 years BP provided many subsistence options, and keeping and culling numerous quantities of domesticated animals does not appear to have been culturally preferred.
Within 200 years of the initial appearance of livestock in southern Africa, farming communities expanded into the region. This migration further filled the ecological niches on the African subcontinent, so new relationships between pastoral, farming and foraging communities were forged. As Andrew Smith (1992) states, there were three choices left for indigenous hunter-gatherers who were in southern Africa as pastoralists filled their niches: (1) adopt a pastoral lifestyle themselves, (2) enter into a subservient patronage relationship with food producers, or (3) move into marginal environments and exploit lower-ranked resources. Based on the present-day archaeological evidence, it seems that there was a combination of all three factors amongst the populations of eastern and southern Africa between 2000 and 1600 years BP.
In many other regions of the world, the Neolithic was a transformative event in which agriculture permanently so radically changed the landscape that foraging was no longer possible. However, this was not the scenario in eastern and southern Africa. The subsistence practices of individual communities were and remain fluid to this day. Many! Kung of the Central Namib Desert have shifted between foraging-and pastoral-dependent economic strategies for hundreds of years (Kinahan 1991). Domesticated animals in eastern and southern Africa represented just one more subsistence choice in a quiver holding many arrows.
Conclusion
The eastern and southern African Neolithic is diverse and has evolved throughout the Holocene to incorporate many different subsistence and settlement practices. Early pastoral communities in eastern Africa from 5000 to 3000 BP had broad-based subsistence strategies and remained tethered to localized resource bases. After 3000 BP, pastoralists on the grassland plateaus and Rift Valley were seasonally mobile and appear to have restricted their diets to meat, animal byproducts and probably other foods, which do not leave traces in the archaeological record. Pastoralists living in the East African Highlands and Coastal Plains of the Indian Ocean continued to subsist on a wide array of wild products, and continued to use domesticated animals as a secondary food source.
Experimentation with small-scale horticulture is possible prior to the emergence of intensive yam and millet cultivation after 2000 BP. It is likely that demographic pressures placed restricted access on transhumance after sedentary farming took hold in the fertile regions of East Africa. Mobile pastoralists chose to migrate south into the Zimbabwe Plateau, Miombo Woodlands, Mozambiquan Coastal Plains and southern African Highveld, filling most of the viable pastoral niches within 400 years subsequent to leaving East Africa. The archaeological invisibility of the Neolithic (Khoekhoen) herders suggests that the pastoralists who entered southern Africa were highly mobile—carrying only the bare essentials, which would have left a small footprint on the landscape. The southern African Neolithic manifested in the form of foragers who kept some domesticated animals, and, as Bantu Iron Age agropastoralists entered the region, limited plant cultivation was practiced as well.
The beginning of the Iron Age in southern Africa after 2000 years BP reconfigured niche fulfillments and subsistence choices, but the ethnic legacies of these migrations endure genetically and linguistically into the present day. The persistence of foraging and herding subsistence strategies across eastern and southern Africa into modern times as well as the continued use of stone tools despite the presence of metal technologies attests to the success of these adaptations in these settings. To this extent, the end of the Neolithic is diffuse and cannot be ascribed on the basis of the beginning of the Iron Age. Iron Age and Neolithic lifeways were operating in tandem throughout the late Holocene with people shifting subsistence strategies regularly, entering into new exchange relationships or fighting for land with other communities based on what they needed to do to survive that particular year. This legacy persists to the present day as flexible modes of subsistence remain critical aspects of modern farming systems in Africa.
Copyright information
© Springer International Publishing AG 2018
Section editors and affiliations