Otto Scharmer and the Field of the Future: Integrating Science, Spirituality, and Profound Social Change
Living reference work entry
Abstract
Claus Otto Scharmer has dedicated his life work to helping individuals and institutions collaboratively shape the emerging future for the healing of the whole – a process that unfolds through collective inquiry, holistic knowing, and co-creativity. Beginning with the question "why do our systems produce results that no one is happy with?," Scharmer has integrated systems thinking, action research, phenomenology, and inner awareness into a multidimensional matrix of processes and practices called Theory U. As a social technology, Theory U facilitates a shift in individual and collective awareness of the systems and social fields in which we are embedded. The resulting collective shift in awareness fosters collaborative action for systems change motivated by a shared sense of higher purpose.
Otto Scharmer has applied Theory U not only to systems change in teams, organizations, and institutions but also to addressing the major economic, ecological, and cultural schisms threatening the future of our planet today. Scharmer's work will likely be remembered for its guidance in the transition to a new epoch of spiritual openness, organizational fluidity, and social transformation. Theory U is more than an intervention tool – it is a way of being and doing in organizational life. Today this way of being and doing is an imperative, not only to address intensifying fundamentalism but to build the foundation of the next epoch that is already emerging.
Dr. Scharmer is a Senior Lecturer at MIT, a Thousand Talents Program Professor at Tsinghua University, Beijing, and a cofounder of the Presencing Institute.
Keywords
Otto Scharmer 
Theory U 
Presencing 
Systems change 
Co-sensing 
Action research 
Phenomenology 
Spiritual development 
Inner awareness 
Leadership 
Organizational change 
Social transformation 
Consciousness 
Introduction
Otto Scharmer introduced Theory U in 2004 in a coauthored volume with Peter Senge , Joseph Jaworski , and Betty Sue Flowers entitled
Presence: Human Purpose and the Field of the Future
, published by the Society for Organizational Learning. The following excerpt from a review of
Presence
that I wrote in 2005 captures the essence of Theory U:
Have you experienced that special moment in a group when the bickering and dissension stop and the impasse is broken? Suddenly there is a felt shift in the room, a new shared understanding of what needs to happen; someone articulates the sense of the whole, and everyone is on board. Presence aims to find an intentional and sustainable path to those moments.

Beneath the conversational text lies a logical structure of a model of collective knowing, called the U model . Prying open the black box of participation, the U model addresses how wisdom emerges in a group and how a group can discern, learn, and create the emerging future together. The model is informed by extensive interviews with selected scientists, business leaders, and spiritual masters about how they create and invent, and how they discern their sense of larger purpose. The common denominator is a shift in the sense of self, from the isolated individual struggling to accomplish, to that of a lightning rod for grounding the energy and wisdom of a larger whole.
Theory U provides guideposts to link the intimately personal and experiential to large scale, even global, systems change. The key is "presencing": individually and collectively accessing the source of knowing that arises from awareness of a larger whole. See Fig.
1
.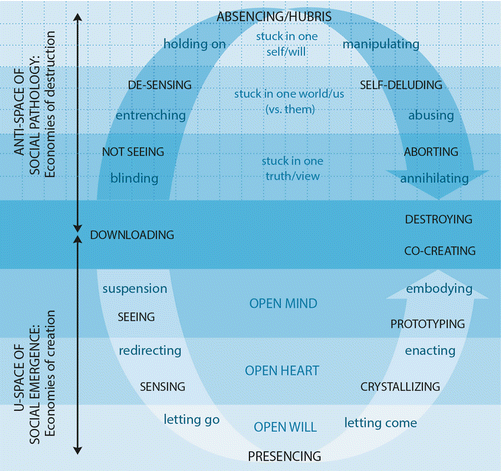 Otto Scharmer has spent the last 25 years developing, testing, prototyping, and cultivating Theory U as a means to transform leadership and inquiry in organizations around the world. His 1990 diploma thesis on Aesthetics and Strategic Leadership and his 1994 doctoral dissertation on Reflexive Modernization of Capitalism as Revolution from Within at Witten/Herdecke University in Germany sowed the seeds for the conceptual basis and structure of Theory U.
Over the next decade, based at the MIT Sloan School of Management, Otto observed and participated in multiple organizational change processes, developed practical tools and methods, and wrote his signature book Theory U: Leading from the Future as It Emerges , first published in 2007. Over the following decade Otto put Theory U to work prototyping action projects with global corporations, governmental agencies, international development organizations, and local nonprofits. He and his wife, Dr. Katrin Kaufer, harvested the lessons from these action projects in their coauthored book on institutional systems change at the societal level, Leading from the Emerging Future: From Ego-System to Eco-System Economies (2013).
Looking ahead, Otto aims to create a platform for activating large scale cross-sector change in institutional leadership . In 2015 he and his colleagues at MIT and the Presencing Institute launched this new phase with a massive open online course (MOOC) called u.lab. In its first year u.lab reached 75,000 registered users from 185 countries and spawned at least 600 face-to-face hubs. Yet this is just the beginning, Otto asserts, of a "multi-local, global eco-system of societal renewal that operates from an awareness of the whole."
Otto Scharmer and Katrin Kaufer live near Cambridge, Massachusetts, with their teenaged daughter and son. Otto gives classes in the fall, including his global MOOCs, and chairs the MIT IDEAS program, a 9-month action learning lab with change-makers in Indonesia and China. He also engages with other action learning projects in Asia, Europe, Brazil, and the USA. Katrin is a Senior Research Fellow at MIT's Community Innovators Lab (CoLab) and executive director of the Presencing Institute, which she and Otto cofounded with other action research colleagues. Both received their doctorates in management from Witten/Herdecke University near Dortmund, Germany.
In this chapter I take you through the high points of Otto's learning journey – the pivotal moments of discovery and the formative influences. These intellectual, spiritual, and social encounters shaped not only Theory U but Otto's sense of self and purpose. I describe the five key contributions he has made to the field of organizational development and beyond. I offer a personal account of how insights from his work have influenced my own awareness as an action researcher in the civic arena. Finally, I describe the next phase of Otto's trajectory going forward and conclude with a high level appreciation of how his work fits into the historic imperative for institutional transformation that we face today.
For this chapter, Otto and I conducted four recorded conversations of one- to two-hours each from October to December of 2016. I have put verbatim quotes from these conversations in italics or quotation marks. Otto reviewed the manuscript for accuracy.
Influences and Motivations: Otto's Learning Journey
Spirit and purpose
Born in 1961 near Hamburg, Germany, Otto grew up in a family guided by a clear sense of purpose with values that honored the interconnectedness and mystery of life. His parents were pioneers in biodynamic farming, an approach to organic agriculture developed by Rudolf Steiner , the founder of the anthroposophical movement for social and spiritual renewal. Otto would transfer his father's love of cultivating the field to the social and organizational terrain, along with the same sensitivity and commitment:
I grew up in a context where a spiritual mindset was something very normal – basically a certain wonderment and appreciation that nature is not just a dead body of material waiting to be used, but has its own being and sacredness. … I was blessed that my parents sent me to a Waldorf school. While Waldorf School is really not about spiritual education, it is a holistic education – a holistic orientation in terms of head, heart, and hand. (It) means you know how creative processes work. You know that when you run into roadblocks…, then the real process is starting, not ending. It gives you more confidence … to stay with it.
Sensing the field
Otto's first conscious experience of a social field came in the late 1970s at age 16 as a participant in the massive antinuclear student movement. More than 100,000 protestors had gathered to fight the construction of a nuclear power plant at a site not far from the family farm. When the police blocked them a violent confrontation ensued. The protesters ultimately retreated as one body in stunned silence, Otto recounts. As shadows lengthened, the officers attacked once again "cutting through our collective body like a knife through butter." The protestors, in unspoken agreement, offered no violent resistance to the aggressors. While Otto was not hurt physically himself, he felt the pain of the onslaught as intimately real, as his own pain, because in that moment he was one with the collective body that was being violated.
Otto came away from that experience a different person. A new sense of purpose had awakened. He had felt part of a larger whole, in this case a global generational movement inspired by a shared sense of future possibility. Moreover, he had seen "the enemy" – the old system of exclusion that needed to transform. Otto came away from that day with a deepened sense of purpose and self. He had felt the power of connection to the collective field and through that doorway had found what was his to do for the rest of his life.
Letting go
Later that same year (1977) came another turning point, the day he arrived home from school and witnessed the walls of his life-long home going up in flame. As three generations of his family watched their home burn down, the collective field of grief, loss, and mourning was palpable. But Otto felt something different: "an enormous inner void as though your whole self is gone except for one tiny little aspect, the self who is taking all of this in, not turning away from it, but being present and open to its unfolding."
The moment he came to that place of profound presence, he knew that life is not something to cling to and that identity (self) is not bound up in the experiences of the past nor the material context of the present. He realized that life is something far greater, that the universe is benign and will carry us, despite unimaginable apparent loss, if we simply step across the threshold to future possibility. The future was calling Otto. He let go of the attachments to his past and present identities to pass through the eye of the needle. Buoyed by that realization, while feeling almost ashamed that he was not fully sharing the field of grief, he looked forward – not back.
The power of intention
Otto moved to Berlin in the early 1980s to join the Green Party and the East-West peace movement. He attended the Free University in West Berlin, a mecca for student activists. By 1984, Otto was convinced that the levers to systems change in our age lay in the economy. Otto felt a strong calling to join a new experimental university near Dortmund, called Witten-Herdecke , where he majored in economics and management, and, after organizing a year-long global Peace University, returned for doctoral studies in the same field. The first privately funded university in Germany, it emphasized student-initiated learning, action research, social responsibility, and cross-disciplinary studies.
Otto invited Norwegian peace researcher Johan Galtung , whom he had met in Berlin, to a student-organized conference at Witten-Herdecke. The students were galvanized by Galtung's vision for his next step: to create a mobile peace university for students to witness first-hand the global system as a living whole and from multiple cultural and systems perspectives. Otto and four peers set their intention to create such a global learning journey. "I knew this was what I was meant to do." (Scharmer
2016
, p. 194). With the go-ahead from the dean, the five students pulled it all together in a few months: a consortium of twelve universities, 290 lecturers, thirty-five students from ten countries, and a half-million dollars in private sponsorships (pp. 194–195). The creative power of intention manifested in the synchronicity and flow the student team experienced in organizing the journey:
Our joint commitment to this project empowered us in a way that none of us had ever experienced before. We felt part of a larger field, a formative field of intentional creation. When we were operating in that field, we knew that nothing would prevent us from succeeding. … Each time we encountered a setback, we knew… some kind of door would open up or helping hand would show up and lead us onward." (ibid, p. 195)
The subsequent global study trip, led by Galtung in 1989–1990, introduced Otto to Gandhian nonviolent conflict transformation, Buddhist practices for inner peace, and Daoist and Confucian philosophies on being and change. The resulting integration of Western analysis and Eastern holism would influence his Theory U.
European intellectual roots of Theory U
Otto has always been an avid reader of philosophy, from classical to modern. He and his young peers formed study circles to read and discuss original texts, from pre-Socratic, Plato, and Aristotle to Nietzsche and the German phenomenologists, which included those in the tradition of Johann Wolfgang von Goethe and Rudolf Steiner . Otto cites Goethe and Steiner as the taproots of Theory U:
Among the philosophical sources, perhaps most influential was the work of the educator and social innovator Rudolf Steiner, whose synthesis of science, consciousness, and social innovation continues to inspire my work and whose methodological grounding in Goethe's phenomenological view of science has left the most significant imprint on Theory U. The simplest way of locating Theory U in the landscape of intellectual traditions is to identify it as applied phenomenology – a mindful phenomenological practice for investigating the social field. …To paraphrase Steiner, we have to investigate …our own thought process – but then follow that train of observation all the way back to its source, exactly as Husserl and Varela advocated in their work on the phenomenological method. (Scharmer 2016, pp. 30–31)
In Philosophy of Freedom , Steiner had focused his phenomenology on individual knowing. Otto applied it to both individual and collective patterns of knowing and change, in teams, organizations, and society. Through Husserl (drawing on Goethe's holistic conception of seeing), Heidegger, Hösle, and Habermas, Otto explored the terrain of intra- and intersubjective experience. He traced the influence of awareness on perception, specifically how the structures of individual and collective attention (i.e., the source from which we operate) influence our ways of knowing and interacting.
Otto drew on Heidegger's concept of technology as applied art and aletheia as the opening to presence, Buber's work on dialogue (I-Thou), Bortoft's conception of presencing the whole, Joseph Beuys's concept of social sculpture, Nietzsche's work on aesthetics (viewing science through the lens of the artist and art through the lens of life), and Kitaro Nishida's formulation of place as presence. These influential writers helped Otto articulate the letting go and letting come at the deepest moment in the U curve – that pivotal moment when a group lets go of limiting beliefs and opens to the call of a higher emergent possibility.
The ground-breaking work of twentieth century German-born social psychologist Kurt Lewin linking Gestalt theory, practice, and change to social fields had a major influence on Otto. At MIT in the 1940s Lewin developed the study of group dynamics and the practice of action research as a participatory approach to change management. Otto was particularly captivated by Lewin's conceptualization of field theory, which posited the existence of a social field that was created by, but different from, the individuals in it, and at the same time exerted its own influence on the members.
The work of Bernard Lievegoed , Friedrich Glasl , and others at the Dutch NPI Institute for Organizational Development during the 1960s and 1970s served as another source of inspiration for Otto, as they were among the first to apply the evolutionary thinking and processes of Goethe and Rudolf Steiner to organizational development (Lievegoed 1973, 1996; Glasl and de la Houssaye 1975; Glasl 1997).
Otto received his diploma in management (with distinction) from Witte/Herdecke in 1990 and his Ph.D. (summa cum laude) in 1994. His undergraduate thesis and doctoral dissertation were both published in Germany as books in 1991 and 1996. Together they carried the seeds of the future Theory U. By the time Otto left Germany for MIT in 1994, he referred to himself as an action researcher.
Intellectual influences in the USA
Upon completing his doctorate in management, Otto sought a way to ground his thinking in action – how could his ideas actually add value to real change makers in the world of business? He was attracted by the joint work of action researchers at the MIT Center for Organizational Learning, including Peter Senge , the founding director, Ed Schein, Chris Argyris , and William Isaacs at the Sloan School and Donald Schön in Urban Studies. So one day in 1994 he showed up to apply for a postdoc position. They invited him to come as a visiting researcher if he could bring his own research funding.
What seemed like a problem turned out to be an opportunity. Otto received a grant from the research arm of McKinsey, Europe, to interview 30 global business leaders and create a website making the results available to all. Those interviews were the chance to observe whether the moments of the U curve could be seen in action. His new colleagues at the MIT Sloan School of Management opened multiple doors to corporations where he could observe and participate in concrete change efforts. The McKinsey grant led to another three rounds of funded change-maker interviews, one of which was sponsored by Joseph Jaworski's Generon International, a business consulting group, to interview 150 corporate leaders and hold a thought leaders salon. Otto was now a senior lecturer and cofounder of the Presencing Institute at MIT.
Social psychologist Ed Schein was pivotal for Otto in learning how to add value to a business. First he reframed the question: how can you create a helping relationship with the leaders of a company? Schein helped Otto become an empathetic and other-directed practitioner. "I have never met anyone who lives his own principles to the degree that Ed Schein does," Otto said. "He talks about building helping relationships and that's what he is doing." Otto considers Ed Schein's approach to process consultation as "the mother of Theory U." Schein offered Otto a way of transforming his intellectual learning into a helping relationship with individuals, companies, and organizations through process consultation aimed at making better decisions and learning from action.
Peter Senge , Otto's other mentor at MIT, opened the doors to systems thinking and personal mastery. Drawing on the reflective practices of Argyris and Schön, Senge also addressed the link between leadership, collective inquiry, and the co-creative process, a central theme in Otto's work.
William Isaacs , Otto's colleague at the MIT Learning Center in the late 1990s, was applying Bohmian dialogue and field theory to the creative cycle through practices of deep listening, empathic connection, and collective inquiry. Isaacs's work informed Otto's use of generative dialogue in the U curve and vice versa: Otto's four quadrant model of dialogue, from polite conversation and downloading to reflective and generative dialogue, directly informed Isaac's 1999 book on dialogue.
Through his interview projects at MIT, Otto encountered other influential thinkers. When I asked him which he considered the most impactful, he began with cognitive scientist Francisco Varela and cognitive psychologist Eleanor Rosch. With their colleague, Humberto Maturana, Varela and Rosch developed the neurophenomenology of individual consciousness on a subjective, experiential, embodied level. Varela spoke to Otto of the blind spot of cognition – the inability to become aware of our awareness. Varela then described a process of introspection and contemplative practices that could illuminate the blind spot. He described the experience as one of increasing depth and interiority, a slowing down of time toward stillness, moving from head to heart to emptiness. So there it was – a neuroscientific explanation for presencing, the same phenomenon that Otto had identified from his philosophical inquiry and practical change experiences. Rosch added an even more subtle distinction: From that place (of presencing), she said, you are not looking out at the interconnected whole around you. You are seeing it from the inside as you experience it. In other words, you become the social field. That is the place of real knowing, the heart of the heart, the source of wisdom.
Ikujiro Nonaka , the Japanese organizational theorist, introduced Otto to his blend of Eastern (tacit) and Western (explicit) approaches to knowledge creation. From working with Nonaka and integrating Donald Schön's concept of reflection-in-action, Otto published his 2001 article on self-transcending knowledge that distinguished two types of tacit knowing: embodied and not-yet-embodied (i.e., aesthetic).
Otto cites Brian Arthur of the Santa Fe Institute for articulating a dynamic process of discovery in three stages: "observe, observe, observe," "allow inner knowing to emerge," and "act in an instant." Otto would reframe them into the three movements of the U curve: co-sensing, presencing, and co-creating.
Starting in the late 1990s, Otto and Katrin co-hosted for several years a circle called S3 group that focused on reinventing the twenty-first century university by integrating science, spirituality, and social change. The small informal group included Peter Senge, Arthur Zajonc, physicist at Amherst College, Diana Chapman Walsh, then President of Wellesley College, and Dayna Cunningham, director of the MIT CoLab, and occasionally Jon Kabat-Zinn, among others. The group met alternating between Walsh's home in Wellesley and Katrin and Otto's in Cambridge. Many ideas discussed in this group became foundational for Theory U's deeper intention of bending the beam of scientific observation back onto the observing self – both individually and collectively.
Key Contributions: Theory and Practice
Otto has noted that various experienced practitioners responded to his workshops on Theory U saying that they were deeply moved yet the content was not entirely new to them: "I just didn't know that I know." Otto takes this as the highest compliment for an action researcher, when accomplished practitioners can see themselves and their own best experiences in the mirror of the Theory U framework:
I'm actually just giving some lenses that allow people to make sense of something that they already have within them and among them – the living experience of some of the most significant moments of their lives, as a community, as an individual, or as a team.. What I really try to do is illuminate something that's already there – already embodied in our own best practice, where we step into some higher possibilities and begin to actualize what wasn't accessible and now it is.
Belying Otto's modesty are five powerful contributions that Theory U makes to the field of organizational change, leadership, and action research:
The paradigm-changer
Theory U is a consciousness-based framework for systems change. It brings together inquiry, spiritual development , and systems change. It views systems thinking, leadership, and change from the perspective of an evolving human awareness. By bringing these domains together Theory U offers a path-breaking insight: the pivotal importance of field awareness, i.e., a social field knowing itself. This knowing does not result from simply "getting the whole system in the room." It results from deepening the interior place from which the members (or stakeholders) in a system perceive each other and the whole. The resulting collective shift in awareness is the fertile ground that enables systems change to emerge. Theory U distills these insights into a social technology reflected in Otto's trademark U curve (see Fig. 1).
A new mode of cognition and learning
The widely used Kolb reflective learning cycle is based on learning from the past – applying patterns from the past to future action choices. Theory U offers an emergent learning cycle, involving accurate observation, empathic connection with the field, stillness, emptying, and allowing inner knowing to emerge, then ideating and acting immediately on that inner knowing, learning while doing. This mode of knowing integrates spiritual development – i.e., deepening the inner place from which we attend – with observation, action, and reflection.
Integration of European phenomenology
Theory U integrates the analytical rigor and deep insights of the twentieth century European philosophical discourse and phenomenological practice to illuminate the process of knowledge creation as it relates to shifts in spiritual awareness, linking deeper levels of consciousness to greater holistic perception. Specifically, Theory U contributes a vertical spectrum for understanding consciousness characterized by four different levels, or evolutionary states, of spiritual awarenes s that Otto has identified: (1) I-in-me, (2) I-in-it, (3) I-in-you, and (4) I-in-we/I-in-now. For me, reading Theory U with soft eyes and open mind is a spiritual journey of self-discovery guided by the insights of these philosophers.
Integration across systems
Theory U extends the phenomenological focus on individual consciousness to groups, organizations, and larger living systems. Theory U was the first to link the micro, meso, macro, and mundo (i.e., global) scales, as he calls them. In their 2013 book, Otto and Katrin extend the analysis to the current ecological, social, and spiritual-cultural systems we have created and identify the levels of awareness that perpetuate the disconnects in each. The Matrix of Social Evolution they provide may prove to be a watershed contribution, as it allows the reader to grasp the whole system we are enacting at once (See Fig.
2
.).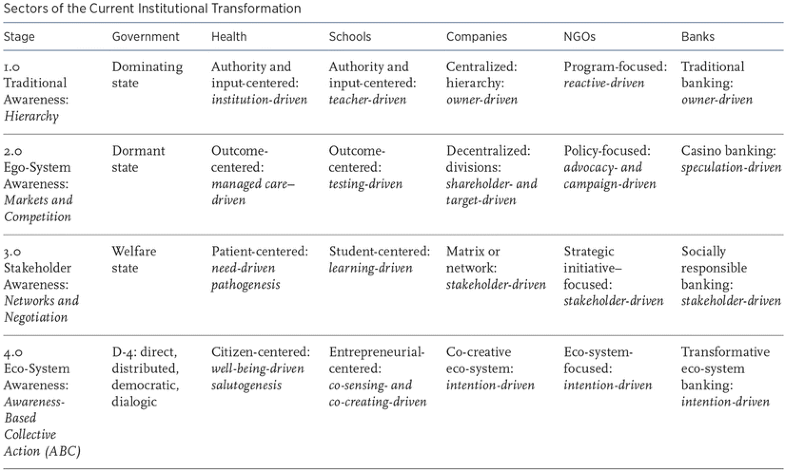 Tools and practices for transformation
Theory U provides a unique practical social technology with a well-organized toolbox of experiential and reflective practices. The methods correspond to each of the moments on the U curve and include both group practices for creating a generative field and individual practices for spiritual deepening. Various of the tools are inspired by Goethean-based practices used in anthroposophy and Waldorf education. Some are familiar to group process facilitators; others are familiar to spiritual practitioners. They are methods to deepen individual and group consciousness, open the mind and heart, connect with one's larger purpose and sense of Self, and build an empathic field capable of transforming itself.
An example that Otto highlights is Social Presencing Theater, created by Otto and his colleague Arawana Hayashi at the Presencing Institute. This practice blends mindfulness, movement, and participatory social science theater in a way that surfaces the invisible dynamics of a social field, revealing both its current state and emerging future possibilities. As I have witnessed it, a group roleplays the stakeholders in their system and, after a silent freeze frame, reenacts the system to collectively build the desired future they have presenced.
As Otto says about the practical application of Theory U tools and methods such as Social Presencing Theater:
They help change-makers take larger systems on a journey of making the system sense and see itself and thereby shift the state of consciousness. The focus is on … looking at a situation through the eyes of another person or stakeholder in the system, something that turns your heart into an organ of perception that allows you to move outside of your own bubble.
New Insights from Theory U: From Presencing to Absencing
Two major insights about consciousness define Theory U: presencing and absencing. Presencing refers to letting go at the deepest moment of the U curve (see Fig. 1), i.e., releasing the ego structures that block the possibilities for creativity, flow, wholeness, and love. The cycle of presencing entails deepening the place from which we listen to others, engage in dialogue, appreciate and know the larger living social field, recognize the whole in each part, and connect with our greater purpose. Presencing itself is the state of emptiness, openness, stillness, and connection to Source and Purpose, in which we can sense the highest future that is wanting to emerge through us. Presencing requires an open mind, an open heart, and the will to disregard our inner voices of judgment, cynicism, and fear, so that we can let go and let come. Presencing is not only an individual journey but a collective one of deepening connections to each other and the larger systems in which we are embedded.
Absencing (see Fig. 1) is the cycle of fundamentalism: entrenchment around one truth, denying or demonizing other, and closing the mind and heart. Social reality at the level of families, communities, organizations, institutions, and society emerges from the interplay of the two different social fields of absencing and presencing. Otto and Katrin (2013) apply these concepts to map how our economic and societal institutions could evolve toward presencing in order to address the economic, social, spiritual, and ecological disconnects facing the planet (see Fig. 2).
I first learned of Otto's work in 2003 when my colleague at UT, Betty Sue Flowers, handed me the prepublication proofs for the Presence book. Theory U seemed to integrate everything I was passionate about: dialogue, group process, field awareness, social change, and spiritual development. I attended Otto's 5-day workshop at the Shambhala Institute of Authentic Leadership that summer and was able to take in deeply for the first time the profound distinction between observing a system from without and sensing it from within.
It was that experience of holistic knowing and heart-connection that Otto led us toward, beyond mechanistic cause and effect to the deeper integrative mind that saw interconnected wholes, and beyond that to a felt sense of being that whole, experiencing oneness as a coparticipant in a vital living field. Emergence became not just a concept but an experience, as we witnessed it first in ourselves, in our own lives and trajectories, then in pairs, and finally in the whole group. I saw the power of conscious connection to Purpose, the energy of a charged and aligned social field, and the collective wisdom that was possible. I saw how a group with an open mind and heart and a sense of safety and trust could generate such a field.
Perhaps the most significant insight from Theory U is the idea of "playing the macro violin " (Scharmer 2016, p. 216). A famous violinist, given his first chance to play at the Chartres Cathedral, focused on playing his violin well. His performance flopped. He learned that the secret is not to play the violin but to play the surrounding whole – in this case, the cathedral. He called it "playing the macro violin" – moving your listening and performing to beyond yourself. That is what I see Otto Scharmer doing. When I do that myself I feel a shift in my attention, an alignment with purpose, and an opening of my heart.
Legacies and Unfinished Business: Activating a Global Platform for Healing the Whole
When Otto speaks of his objectives going forward, I feel the power of his alignment with higher purpose. Otto is committed to using Theory U as a catalyst for the institutional transformation he sees as necessary to heal the ecological, social, and spiritual-cultural divides threatening the planet. Since the publication of the first edition of Theory U in 2007 to the publication of the updated edition in 2016, Otto focused on taking the theory to practice. Through the Presencing Institute, he, Katrin, and their core group of collaborators organized workshops and learning journeys with government, industry, and civil society leaders, as well as young change makers. These efforts, such as the Global Wellbeing Lab and the MIT IDEAS program, spawned multiple pilot projects around the world: e.g., a four year project on institutional innovation with Namibian government leaders, an ongoing project on economic democracy in the Bronx, a program to regenerate local food production in Sao Paulo, a sustainable seafood industry initiative in Indonesia, and a collaboration with government and civil society leaders in China.
Otto could see that Theory U was having a practical impact in the world and developing a cadre of leaders imbued with the message and methods of Theory U. But for Otto that was not enough.
The question now, Otto said, is this:
Can you create something that is actually a healing force for the whole? The world is full of prototypes, but more often than not they are incapable of transforming the larger systems. What is it we can do that would allow these prototypes to transform the whole? That's the question of scale and sustainability for the transformation of a larger system: a world-wide ecosystem of innovation where all the pieces, even though they are autonomous in their own element, begin to work together in a global context based on a shared intention. A shared global ecosystem where everyone, all the elements, are supporting each other. Making what we have been learning and developing relevant to our current moment of disruption globally, a moment where the forces of absencing and presencing are stronger than ever before – that's what this next phase is about.
It is our generational imperative, he says, to be that healing force for the whole, to bring about the necessary transformational change. Toward that end Otto, Katrin, and their colleagues at the Presencing Institute launched a global enabling platform in 2015: the u.lab MOOC, a massive online course through MITx and edX.org. About 25,000 people participated in the first u.lab in early 2015 and another 50,000 newcomers in the second u.lab that fall. At least 600 local face-to-face hubs were created. Impact Hubs, a global network of hubs for social entrepreneurs, sponsored dozens of local u.labs. A few major hubs are now in the process of consolidation in Brazil, Scotland, Indonesia, and China.
In the following exchange we witness Otto's thinking in the moment about the emergent future:
O.S.

What's emerging from this [2 year initial effort] is an enabling platform and a global community. Now we are consolidating the learning from last year and this year and creating the foundation for the next evolutionary jump.

P.W.

What does that next level look like? How would the cooperation among these different self-organizing nodes or hubs show up in the world? What's the connectivity there that multiplies the leverage to a mundo level?

O.S.

That's exactly what we need to find out! I think we have in u.lab something that works for individuals – grassroots change-makers and social entrepreneurs – and it's wonderful. But I'm not sure that we really have found the right way of bringing in the big institutions. … What's missing in the social change world is a platform that links social entrepreneurs outside of the large institutions with the change-makers inside the large institutions. They need each other in order to change how the larger system operates.

When you go into large boring institutions and work with the younger leaders there, what do you find? It's the same type of people [as the grassroots change-makers and social entrepreneurs who have a sense of purpose and want to make a difference]. It's just that they made slightly different choices and ended up inside a boring institution. But in their soul, when you listen, they have the same deeper aspirations.

So we must create those connections, but then also provide the learning journeys, the environments, the methods and tools that allow people to move from ego- to eco-awareness, from a siloed to a more holistic view of the system. We really need new infrastructure for that. We have done it occasionally, but we don't have an enabling infrastructure that could take that to scale. But in principle we have the elements, the components. We just haven't put them together. That's what makes me confident that we could, moving into this third stage now, actually make quite significant progress there.

In my view the forces of presencing are at least as strong and present in the current moment as are the forces of absencing. [We just don't see them.] The public conversation in mass media and social media is all about absencing. We do not see the other side at all. That's where our role is because we need a new bottom-up platform, with [local] community and [a global] ecosystem that allows this other awareness to have a genuine holding space. In a word, what's the thing that's missing in the third stage? It's a holding space for this deeper awareness-based systems change.

P.W.

The fact you are already connecting change-makers electronically around the globe is a step in that direction, allowing people to step out of isolation and connect with others. That is big right there. Is it not helping to create that holding space?

O.S.

Frankly, what we have had in the MIT MOOC is not even that first step. It's just a tenth of that first step. That's why we are currently working on creating something that hopefully is much better and will be launched in April 2017 to create a more adequate and appropriate online holding space that allows this kind of collective awareness to land and manifest in the way it wants. The potential is there, but we have not had the right landing spots as yet. … Also the electronic connection is not sufficient because we need the offline elements [local face-to-face communities] as much as we need the online elements. Real place-based, in-person community experiences are the real holding space and landing strips for this kind of movement. [We will want to] leave a lot of initiative and autonomy on a local level, yet connect people to something much larger than themselves.

P.W.

Tell me more about the nature of the holding spaces that are so key to transformation.

O.S.

The larger holding space from which collective knowing and collective innovation can take place is the container for co-sensing across boundaries. Most institutional change processes fail because they miss that starting point: co-sensing across boundaries. Because they don't, organized interest groups go out and maximize their special interests against the whole, instead of engaging the whole system in co-sensing together. Most people, when they take learning journeys and benchmarking tours, just keep projecting their own views. Or we do sense-making in our own siloes. We don't have the co-sensing mechanisms where we as a distributed community in a city or in a larger system, begin to see reality together and then unearth the deeper mechanisms generating that reality.

P.W.

What do we need to activate the holding spaces?

O.S.

You need data to use as a mirror by which a system can see itself; you need dialogue; and you need heart intelligence. … Dialogue really is the capacity of a system to see itself. But it's not just seeing, it's also sensing – the feeling aspect [the deep dive into the phenomenon, seeing from within it]. And then the collective reflection and so on. Not easy to do, because you need experiential foundations, data foundations, a process, and the right kind of people. That's often where the quality is missing. With new technologies and with the new public challenges that we face in many communities, I think we have a wonderful opportunity to really create innovations there.
In sum, Otto is focused on the long game, powered by connection to a higher purpose: large scale systems change for healing the whole, starting with the individual and collective capacity to perceive, know, and care about the dynamic, evolving whole of which we are a part. To that end, he is developing and testing platforms to create the necessary social infrastructure using the Theory U framework and technology of awareness-based action research on a global scale (Scharmer and Kaufer 2015).
He and his team at the Presencing Institute are themselves following the creative cycle of Theory U: building the feedback loops to see and sense the results of their rapid innovations. Thus, we can expect to see more attention to rigorously documenting the outcomes and impacts of the social technology of presencing, both individual and institutional, under different conditions, by sociodemographics, and longitudinally. We may also see more of the feminine qualities of soulfulness, playfulness, love, and nurturing brought forth in Theory U. And we may begin to see how to address the conundrum between connection to Purpose and work/life balance – i.e., how to practice what we want to create.
Conclusion: Fulfilling Our Generational and Spiritual Imperatives
To conclude I wish to put Otto Scharmer's work in the large sweep of history, looking back at its roots and looking forward to discern its potential role in history, and then bring the pendulum to rest in the present moment:
"Form follows consciousness." "As within so without." These two insightful propositions undergirding Theory U, often repeated in Otto's workshops and writing, echo the Hermetic teachings of the ancient wisdom traditions, passed down through the ages to the modern mystery schools that informed Goethe and Steiner and inspired phenomenological philosophy. Valuing spiritual knowing (gnosis), the phenomenological philosophers applied these insights to different domains of science and society, providing a humanizing and contemplative counterweight to the predominant Newtonian world view.
In the twentieth century, existential phenomenology gave rise to Gestalt psychology, from which arose Kurt Lewin's articulation in the 1940s of group dynamics, field theory, and action research – the foundations of organizational development. A spiritual dimension of OD with phenomenological roots started to appear in the 1950s with Lievegoed, followed by Glasl in the 1960s, Torbert in the 1970s, Cooperrider in the 1980s, and Peter Senge and Allan Kaplan in the 1990s. The introduction of complexity science and emergence, along with escalating interest in Eastern spiritual traditions, ushered in further development of spirituality and organizational development in the 1990s (e.g., Capra, Wheatley). The spiritual thread intensified in the first decade of the twenty-first century with Positive Organizational Scholarship and a panoply of popular books on holistic thinking, consciousness, chaos, and collaboration in the workplace along with practices for quieting the mind and fostering group resonance. Into this milieu came Otto Scharmer's Theory U in 2007, grafting OD back onto its strong ontological and epistemological roots in early phenomenology.
Looking back a century from now, people may see the first half of the 2000s as the birth canal of a new era of spiritual openness and organizational fluidity and feel grateful that our generation fulfilled its purpose to realize the future that was wanting to emerge through us, as Otto would say. Our mission was twofold: spiritual and generational. First, we had to deepen our own inner capacity to let go of our sense of a separate self and recognize our indivisible interconnectedness. This was our spiritual imperative . Only then could we learn to "co-sense" – i.e., together the needs of the whole and our future wholeness that was calling. Those needs were the three deep divides of today that threaten our future: the concentration of wealth, the ecological survival of the most vulnerable parts of the planet, and the cultural/political schisms that divide us. Addressing those needs could not be postponed. This was our generational imperative : to activate the collective field to address the deep divides.
The field is fertile for Theory U and other approaches that recognize our spiritual and generational imperatives to take root. With unwavering intention, Otto Scharmer has provided theoretical precision, practical rigor, and a nuanced language for spiritual and organizational transformation that, while complex, is entering the global discourse of transformation through a platform for electronic and face-to-face hubs across multiple systems and cultures.
Otto Scharmer's Theory U, like Cooperrider's Appreciative Inquiry, is more than an intervention tool – it is a way of being and doing in organizational life. Today this way is an imperative, not only to address the absencing and fundamentalism intensifying today but to build the foundation of the next epoch that is already emergent.
Otto Scharmer reminds us that the real change starts with paying attention to our attention: "Experience is not what happens to us but what we do with what happens to us." This doing can be performed from a mind and heart that is closing (absencing) or from a mind and heart that is opening (presencing). The call of our time is about waking up to this source level of choice and agency that every human being is engaged in – moment to moment. Theory U is a mirror that facilitates that awakening both individually and across systems.