Human-Animal Interaction
Living reference work entry
DOI:
https://doi.org/
10.1007/978-3-319-47829-6_2058-1
Definition
Human-animal interaction captures the mutual and dynamic exchanges between humans and other animals and their psychophysiological effects on humans (Griffin et al. 2011). Types of human-animal interaction include affiliative interactions (e.g., pet ownership), animal-assisted interventions, and service animals.
Introduction
Contact between humans and other animals – human-animal interaction (HAI) – involves the mutual and dynamic exchanges between people and animals and their psychophysiological impact on individuals (Griffin et al.
2011
). Though originally focusing on cardiovascular benefits of companion animals, researchers from a host of scientific fields – ranging from clinical and experimental psychology to public health and veterinary medicine – have demonstrated a wide range of positive effects of HAI on human health and well-being. A taxonomy of HAI categorizes it into the affiliative relationships between humans and animals, animal-assisted interventions, and use of service animals for clinical populations (Fig.
1
).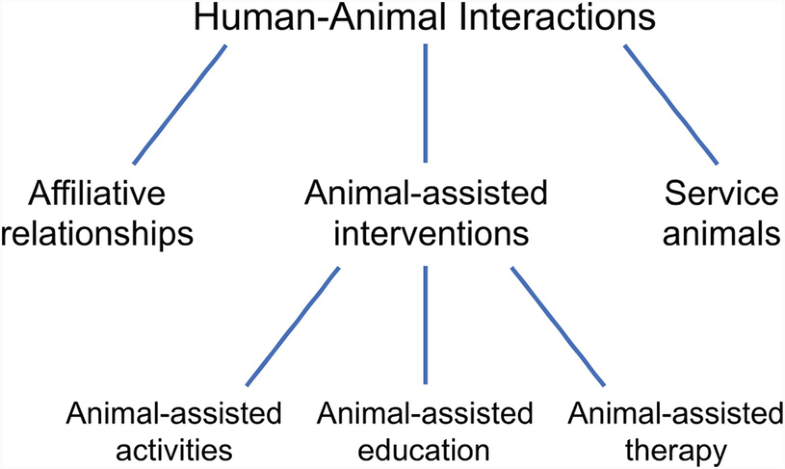 Types of Human-Animal Interactions
The ever-present reciprocal relationships between humans and animals in societies throughout history translate today into both traditional social interactions as well as those catered to the evolving needs of the present day. In ancestral times, humans shared affiliative bonds with animals through cooperative hunting and companionship. Today, we have integrated animals into human society in novel ways, including bringing them into classrooms and therapy rooms. Although the bulk of HAIs involve dogs, these interactions can involve many other species as well. A number of clinical therapies incorporate horses into treatment plans, for example, and interventions catering to elderly populations employ small birds and fish (Beetz et al. 2012). The nature of HAIs, including the goals and degree of structure and training involved, leads to three classifications: affiliative relationships, animal-assisted interventions, and service animal interactions (Fig. 1).
Affiliative Relationships
Affiliative relationships between humans and their companion animals, or Pets, entail a strong emotional attachment that facilitates the exchange of physical and psychological benefits. Pet ownership correlates with a number of health benefits, such as increased physical activity and lower baseline blood pressure (McCune et al. 2014). Because ownership is a choice, however, it is difficult to establish whether affiliative relationships cause health benefits or people likely to benefit choose to own pets.
Animal-Assisted Interventions
Animal-assisted interventions (AAI) involve trained practitioners (e.g., handlers, researchers, teachers, therapists) bringing animals into an environment to interact with people for the purpose of providing psychophysiological benefits. AAIs cover a wide range of interactions, from improving students' reading ability in classrooms to helping stroke victims recover social and functional abilities. As such, the American Veterinary Medical Foundation (AVMA) partitions interventions into animal-assisted activities, education, and therapy (AVMA 2019).
Animal-Assisted Education
Structured and goal-oriented interventions aiming to improve educational outcomes are referred to as animal-assisted education (AAE; AVMA 2019). AAEs in primary schools incorporate dogs and small animals (e.g., guinea pigs, rabbits) in programs tailored to typically developing students as well as those with special needs. Reading programs are the most common, empirically supported interventions for typically developing students (Brelsford et al. 2017), but classrooms also house animals to promote students' general concentration, motivation, and relaxation (Beetz et al. 2012). Interventions for students with emotional or behavioral needs use dogs for the same purposes, as well as to improve social and emotional outcomes in the classroom (Brelsford et al. 2017).
Animal-Assisted Therapy
Animal-assisted therapy (AAT) requires specific goals for enhancing an individual's cognitive, emotional, physical, or social functions (AVMA 2019). AATs are structured, short-term interactions delivered in therapeutic contexts by professionals in the field. Animals have been used in therapies for children with autism, adults with spinal cord dysfunction, older adults with dementia, and prison inmates (Beetz et al. 2012; Muñoz Lasa et al. 2015).
Animal-Assisted Activities
Unlike animal-assisted education and therapy, animal-assisted activities (AAAs) are not exclusive to structured and goal-oriented programs, leading to rich variety in these interactions. AAAs enhance individuals' quality of life and center the animal as a motivational or social tool in an interaction with the aid of a trained volunteer, paraprofessional, or professional (AVMA 2019). For example, AAAs include having animals interact with college students in de-stressing events (Crossman and Kazdin 2015), elderly populations in geriatric facilities (Souter and Miller 2007), and children during doctor's visits (Beetz et al. 2012).
Service Animals
Service animals are individually trained to help disabled persons overcome specific disabilities. They promote a more independent livelihood, facilitating, for example, mobility for the visually impaired, low blood sugar detection for diabetics, or support for veterans with post-traumatic stress disorder (PTSD; McCune et al. 2014; Rodriguez et al. 2018a). In the United States, the Americans with Disabilities Act and other federal legislation regulates service animals as those explicitly trained to perform tasks for individuals with disabilities. Animals that also live with individuals and are prescribed by medical professionals to improve health and well-being, such as emotional support animals and comfort animals, are not recognized as service animals because they have not been trained to perform explicit tasks. The Americans with Disabilities Act limits service animals to Service Dogs and small horses (AVMA 2019).
Effects of Human-Animal Interactions
The variety of possible types of interactions that occur between humans and animals results in an equally rich variety of effects on human health and well-being, including behavioral, educational, physiological, and/or psychological effects.
Conclusion
Humans have interacted with animals for millennia, and these interactions are becoming more common in our daily lives. Because of the rise in the frequency of these interactions, a broad research effort exists to investigate how these interactions improve human and animal health and well-being. More collaborative scientific research is vital to grow and establish a theoretical understanding of the reciprocal relationship between humans and animals observed across the lifespan.
Copyright information
© Springer Nature Switzerland AG 2019
Section editors and affiliations