Detection of Bacteriophages: Sequence-Based Systems
Living reference work entry
Abstract
The invention of sequencing technologies has fundamentally changed molecular biology, including the way we look at bacteriophages. In addition to investigating bacteriophage plaques, electron micrographs, or the phenotypes of different mutants, we are now able to explore the entire genetic potential encoded in their genomes. As of July 2018, over 6,000 complete phage genome sequences were published in public databases, with over 28,000 partial sequences available.
In this chapter, we give an overview of the latest technologies that can be used to determine phage genome sequences, ranging from short-read platforms which generally give multiple gigabases of sequence data to long-read technologies which have the potential to sequence a bacteriophage genome in one single read. We then look at applications of sequencing technologies in detecting bacteriophages, from a single gene, over entire genomes, to the community level.
Introduction
The recent advances in sequencing technologies have profoundly changed our understanding of bacteriophage biology and genomics. Phage genomics, the study of the nucleic acid content or full gene complement of a phage, has demonstrated the remarkable genetic diversity of the phage world. This diversity is so high that phages with similar morphologies can have no nucleotide sequence similarity and very limited amino acid similarities of orthologous proteins (Krupovic et al. 2011). As a result, sequencing of specific phage marker genes or the entire genome is more accurate in detecting the exact variant or isolate of a phage than electron microscopic- or host range-based methods.
Sequencing is becoming increasingly important in phage research. For example, phage taxonomy has started to move away from morphology-based classification based on the presence/absence, type, and length of the tail toward a genome-based strategy more accurately reflecting the full diversity present in the virosphere (Ackermann 2011; Adriaenssens and Brister 2017; Adriaenssens et al. 2018). In phage therapy – the use of phages as therapeutic agents to control bacterial infections – sequencing of the entire genome is encouraged to ensure that the phages in question do not encode potentially damaging genes (e.g., toxins, lysogeny-related genes, antibiotic resistance genes) (Alavidze et al. 2016; Abedon 2017). Sequencing has also provided an extra dimension to viral ecology, offering a greater resolution of their diversity and unearthing viral dark matter, i.e., viral/phage sequence fragments and genes without any database homologs (Filée et al. 2005; Hatfull 2015).
In the first part of this chapter, we give an overview of available sequencing technologies for phage research, made up of short-read platforms and long-read platforms (Table
1
). For these platforms, we review the different methodological steps and discuss some of the advantages and disadvantages of each technology. While the information presented here was up-to-date to the time of writing, these technologies evolve rapidly, and it is highly likely that new platforms or optimized technological approaches will come to the forefront in the next few years. The second part of the chapter deals with the application of sequencing technology in the detection of bacteriophages. We have divided these applications according to level of complexity, from detecting a single gene of a phage, over sequencing the complete genome, to detection of prophages in bacterial genomes, and even to simultaneous detection of entire communities of phages.
Table 1
Overview of technologies used in phage sequencing
Sequencing technology

Read length (bp)

Characteristics

Pros/consa

Sanger

800–1,000 single read

Capillary electrophoresis of labeled chain-terminating dideoxynucleotides

High accuracy and resolution at the nucleotide level

Low throughput

High sequencing cost per base

Illumina MiSeq

150–350 paired-end reads

Sequencing by synthesis, with detection of fluorescently labeled nucleotides

Low amount of starting material (ng) allows the sequencing of bacteriophages from single plaques

PCR-free library preparation reduces the introduction of sequencing errors

Widely used, allowing access in most laboratories at a low cost per read

Nextera-based library preparation will not be able to sequence phage genome ends

Ion Torrent PGM

300–400 paired reads

Detection of protons released during DNA synthesis

Ability to detect more variants compared to Illumina MiSeq, but with more false positives

Short sequencing run time

PacBio

Up to 60,000 single reads

Real-time detection of labeled nucleotide incorporation by a tethered DNA polymerase

Long-read lengths allow repeat region resolution

Additional data on DNA-chemical modifications is generated

Poor accuracy at single read level

High amount of starting material required (μg)

Large hardware cost, large machine

Oxford Nanopore

Up to 1,000,000 single reads

Real-time detection of nucleotide-mediated current changes as nucleic acid molecule passes through a tethered nanopore protein

Long-read lengths allow repeat region resolution

Additional data on DNA-chemical modifications can be generated

Base calling in real time permits instant sequence interrogation (i.e., results are available as they are generated, not only once the machine has finished)

Low hardware cost, portable machine allows for anytime-anywhere sequencing

Only technology that allows direct sequencing of RNA molecules

Poor accuracy at single read level

High amount of starting material required (ug)
Overview of Sequencing Methods
Short-Read Platforms
Historically, bacteriophage sequencing has been performed using Sanger technology. This sequencing technology uses capillary electrophoresis to detect precisely the selective incorporation of labeled chain-terminating dideoxynucleotides during in vitro replication of DNA. However, this approach can be expensive, depends in many cases on cloning the phage DNA, and does not allow separation of contaminating host DNA sequence (Klumpp et al. 2012). High-throughput (or "next-generation") short-read sequencing has become the preferred method for sequencing phages, mostly due to the low cost per base and high output compared to other platforms (Rihtman et al. 2016). Currently, popular platforms for sequencing bacteriophages include Illumina® MiSeq and Ion Torrent Personal Genome Machine (Ion PGMTM). These sequencing platforms differ mostly in their chemistry but are generally based on the same three steps: library preparation, amplification, and sequencing of dsDNA. For RNA phages, cDNA needs to be generated by reverse transcription, either before the library preparation step or by using library preparation kits that are optimized for RNA sequencing and can provide information on whether the genome is made up of dsRNA or ssRNA and the sense of the single-stranded RNA.
During library preparation, the extracted phage DNA is quality checked before fragmentation into random overlapping parts, which can be done by either mechanical (e.g., sonication) or chemical methods (e.g., the nuclease fragmentase (New England Biolabs)). The amount of input DNA for library preparation is a crucial step, especially in the study of phages, where limiting factors are either phage propagation to large numbers of particles or varying genome sizes. Several kits (e.g., Nextera XT (Illumina)) have been designed to significantly decrease the required amount of input DNA (to 1 ng) and reduce hands-on time by using "tagmentation," a process that fragments, size-selects, and tags the input DNA. These new kits increase sequencing efficiency as they produce greater output data in a shorter overall time (Marine et al. 2011). However, the use of Nextera kits comes with the trade-off that the defined ends of linear phage genomes will be missed and is, therefore, not recommended when the aim of sequencing is to generate a high-quality reference genome (Kot et al. 2014).
After fragmentation, the pieces of DNA are size-selected and ligated with adaptors specific for each platform. During the following amplification step, the DNA is copied several times in its specific position, creating reaction centers or clusters that allow the sequencer to distinguish the input DNA from background noise. The amplification step is carried out by annealing to complementary adapters attached either to beads in micelle droplets (emulsion PCR; e.g., 454 pyrosequencing and Ion Torrent), to solid plates (e.g., Illumina sequencing), or by creating nanoballs that are then placed in a flow cell (Complete Genomics (BGI)). The most notable differences between platforms can be observed during the sequencing step, which can be by synthesis or instead by ligation. Platforms based on sequencing by synthesis include Illumina (formerly Solexa) which detects fluorescently labeled nucleotides; Ion Torrent, which detects a change in pH; and 454 pyrosequencing, which senses the amount of light generated due to pyrophosphate release during nucleotide incorporation. Alternatively, SOLiD is a platform based on sequencing by ligation of a labeled probe to the target DNA (Goodwin et al. 2016).
The development of high-throughput sequencing technologies decreased sequencing costs and time compared to construction of clone libraries (Loman et al. 2012). The 454 pyrosequencing platform, the first platform to be optimized for high-throughput phage sequencing, has been recently discontinued (Henn et al. 2010; Marine et al. 2011). Currently, the most widely used platform for phage sequencing is Illumina technology, with its benchtop sequencer, MiSeq, particularly popular for phages, and the high-throughput machine HiSeq used for bacterial, eukaryotic, and metagenomes. These machines can provide large amounts of high-quality sequencing data in a reduced time when compared to other technologies. Due to the small size of phage genomes relative to other organisms, and the large amount of data generated, short-read platforms, especially Illumina, thus far are the preferred method for bacteriophage metagenomics, genome sequencing, and re-sequencing or, most recently, to detect termini and packaging mechanisms (Garneau et al. 2017).
Long-Read Platforms
Long-read sequencing represents the most recent and transformative development in sequencing technology, and these technologies are collectively referred to as third-generation sequencing (TGS). Whereas short-read sequencing platforms may generate sequence reads of up to 1 kb, the capability of long-read sequencing platforms is now approaching read lengths of 1 Mb (which is approximately three times longer than the longest known phage genome). Unlike short-read sequencing, which has become dominated by a single platform, two platforms utilizing very different technologies are used for long-read sequencing.
Pacific Biosciences (PacBio) was the first company to make long-read sequencing technology available to the mass market, with the release of its RS platform in 2011, shortly followed by the widely adopted RS-II platform in 2013. PacBio sequencing technology is comparable to Illumina short-read technology in that it is polymerase-dependent; sequence data result from the detection of base incorporation by a DNA polymerase enzyme onto a growing nucleotide chain. However, whereas Illumina sequencing relies on detection of base incorporation within a clonal population of concomitantly amplified DNA fragments, PacBio sequencers capture incorporation signals from single DNA molecules. This feat is made possible by physical anchoring of polymerase enzymes within narrow wells, which allows video recording of laser excitation of each fluorescently labeled nucleotide in direct contact with the anchored polymerase during DNA synthesis. Although the technology is intrinsically error-prone due to dependence on a polymerase enzyme and signal noise resulting from unincorporated nucleotides, a high degree of accuracy is achieved by using hairpin DNA adapters to create circular templates, which are sequenced continuously until polymerase function declines. Repetitive sequencing of the same DNA fragment allows random errors to be detected downstream and results in the output of high-quality sequence data. The maximum read length of a PacBio sequencer is dependent on the life of individual polymerase enzymes, thought to be between 10 and 60 kb (Rhoads and Au 2015). Sequencing takes place on SMRT Cells, which are chips containing 150,000 anchored polymerase wells. The second PacBio sequencing platform, Sequel, was released in 2015 and increased the capacity of each sequencing run nearly seven times (Sequel SMRT Cells contain one million polymerase wells), generating 5–10 gb of data per run. PacBio sequence library preparation protocols require double-stranded DNA, and therefore this technology is only directly applicable to dsDNA phages. There are currently no reports of PacBio technology to sequence ssDNA or RNA phage genomes. However, RNA may be reverse-transcribed into cDNA for sequencing on a PacBio instrument (Tseng and Underwood 2013), and a second strand DNA synthesis step may facilitate the sequencing of ssDNA phage genomes.
A frequently cited advantage of PacBio technology is the additional generation of chemical modification data along with sequence data (Rhoads and Au 2015). DNA-chemical modifications, such as the addition of methyl groups to cytosine residues (DNA methylation), cause characteristic kinetic changes in nucleotide incorporation rates by the polymerase and can be detected by automated analysis of the kinetic pattern of the DNA synthesis reaction. Identification of DNA modifications can be of particular interest for bacteriophages, as certain phage groups are known to incorporate modified bases into their genomes, potentially involved in escaping host restriction modification systems (Klumpp et al. 2010; Adriaenssens et al. 2012; Lee et al. 2018).
The second long-read sequencing technology in widespread use is being developed by Oxford Nanopore Technologies (ONT), and their prototype platform, MinION, was released in 2014 (Ip et al. 2015). Unlike the majority of DNA sequencing technologies, ONT does not detect nucleotide addition during DNA synthesis but instead directly detects the nucleotide composition of a single-stranded DNA or RNA molecule. The technology employs anchored pore proteins (nanopores), each under an electric current. Nucleic acid molecules are threaded and natively transported through the pore protein through the action of a coupled motor protein, and each nucleotide on the molecule causes characteristic and detectable current disruptions which are translated into sequence. ONT uses nucleic acid adaptors and tethers to facilitate the threading of single-stranded molecules into individual nanopore proteins. Individual reads of ~200,000 bp are reported (Ip et al. 2015), but reads of >1,000,000 bp have been reported anecdotally. On the MinION platform, sequencing takes place on flow cells harboring 512 nanopore channels and capable of generating 10–20 gb of sequence data. ONT has recently released two high-throughput sequencing platforms based on the same technology as the MinION, the GridION and the PromethION, which run multiple flow cells or use flow cells with an increased number of nanopore channels. Though commercial ONT sequencing is one of the purported applications of the larger GridION and PromethION platforms, at the time of writing, ONT is not commercially available at the majority of sequencing facilities, and currently the primary users of ONT are research labs in possession of MinION devices.
The primary advantage of ONT is the portability and usability of the platforms. All platforms can be run on benchtops, using very simple DNA library preparation protocols, and sequence data can be interpreted in real time. Indeed, the portability of ONT sequencing technology was recently demonstrated by the sequencing of the phage lambda genome using a MinION device onboard the International Space Station (Castro-Wallace et al. 2017). Consequently, the obvious application of ONT is circumstances where rapid outputs are required such as in field or diagnostic settings. A major limitation of ONT sequencing is that it requires a high amount of input DNA, which may limit its use in low-biomass environments such as the ocean virome or for phages which are difficult to amplify. On the other hand, there may be an application for ONT technologies in high-biomass environments such as fecal samples. Perhaps ONT sequencing could be used to monitor the real-time abundance and sequence variation of phages and bacteria during phage therapy trials of gastrointestinal pathogens such as Clostridium difficile.
Furthermore, ONT is the only sequencing platform that permits direct sequencing of RNA molecules (as opposed to reverse transcription of RNA into cDNA for sequencing). Like PacBio technology, detection of chemically modified nucleotides is made possible by analysis of signature current changes (Rand et al. 2017). ONT may therefore be highly applicable to the sequencing of RNA phage genomes, and the technology has recently been used to sequence the native RNA genome of an influenza A virus for the first time, identifying chemical modifications that were undetected using cDNA-sequencing strategies (Keller et al. 2018).
A disadvantage of both long-read sequencing technologies is the poor accuracy of single reads. As single reads from both technologies represent the sequencing of single molecules, and therefore single-base calls, random error is frequent. Reads from the ONT MinION platform have been reported to have an error rate of 38.2% (Laver et al. 2015), and the error rate for single PacBio reads has been reported to be 11–15% (Rhoads and Au 2015). Therefore, some caution must be taken when utilizing these technologies for applications where accuracy is crucial, such as de novo genome assembly. Provided the input DNA is sequenced in enough depth, i.e., each nucleotide in the sequence is represented on multiple independent reads, erroneous base calls can be eliminated by consensus calling. This process is termed "read polishing," and increased accuracy can also be achieved by combining the sequencing outputs from long- and short-read sequencing technologies to yield "hybrid" assemblies (Phillippy 2017).
The primary advantage of long-read sequencing technologies such as PacBio and ONT over short-read technology such as Illumina is the ability to generate reads spanning repetitive sequence regions, thereby greatly improving DNA sequence assembly. Though large repetitive regions, such as sequence duplications and transposable elements, are not common features of phage genomes, there are instances where short-read technology alone is insufficient to complete phage genomes. For example, myoviruses infecting bacteria of the genus Bacillus can exhibit heavily chemically modified DNA which impedes routine short-read sequencing strategies (Klumpp et al. 2010). PacBio sequencing has been used to complete several of these myovirus genomes, showing that it can be a useful alternative for difficult-to-sequence phages (Klumpp et al. 2014). Restriction modification systems are known to be important in the interaction between phages and their bacterial hosts (Adams and Burdon 1985), and therefore the secondary use of long-read sequencing technologies to map chemical genome modifications may be an important application of long-read sequencing technology to phage biology in the future.
A Note on Sequence Data and Sharing
The platforms described above generate multiple gigabytes of data that need to be processed for quality, assembled and analyzed, but where possible should also be shared to improve reproducibility and promote open science.
The most appropriate way for data sharing is through the International Nucleotide Sequence Database Collaboration (INSDC) which links the three main international sequence data organizations, DDBJ (DNA Data Bank of Japan), EMBL-EBI (European Molecular Biology Laboratory-European Bioinformatics Institute), and NCBI (National Center for Biotechnology Information) (Karsch-Mizrachi et al. 2012). Submissions only need to be made to a database of one of these organizations to be shared across all. For the DDBJ and NCBI, unassembled sequencing reads should be deposited in the Sequence Read Archive, shortened to DRA (DDBJ) or SRA (NCBI) (Leinonen et al. 2011b). The associated metadata for studies and samples are collected as BioProjects and BioSamples, respectively (Barrett et al. 2012). The assembled and annotated complete phage genomes can be deposited in GenBank (Benson et al. 2013) or DDBJ annotated sequence submissions. For EMBL-EBI, the European Nucleotide Archive (ENA) accepts all types of sequences and associated metadata through the same submission portal (Leinonen et al. 2011a). Any genomes deposited and released through the above-described resources will become a part of publicly available databases that can be searched through the Basic Local Alignment Search Tool (BLAST) (Johnson et al. 2008).
NCBI have in recent years developed virus-specific tools that can be used for phage sequence analysis. The NCBI Viral Genomes Resource groups offer specialized resources for analysis of phage genomes, such as curated reference genome databases, sequence comparison tools, protein clusters, and custom downloads (Brister et al. 2015).
Applications of Sequencing-Based Detection Methods
Sequencing-based detection of bacteriophages is possible at different levels of complexity (Fig.
1
). In this section, we discuss four specific applications of sequencing-based methods, single-gene amplicon sequencing, phage genome sequencing, prophage detection, and metagenomic sequencing of viral communities.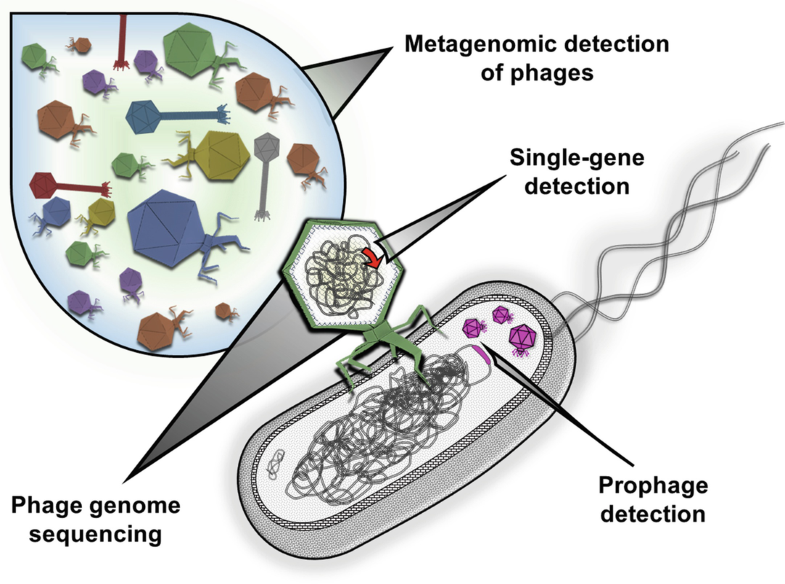 Conclusions
The development of sequencing technology and the subsequent boom in next-generation sequencing platforms (both short- and long-read platforms) has been fundamental in advancing bacteriophage research. These methods have not only contributed to an explosion of genomes in public databases but have also provided an opportunity to exploit sequencing-based methods for bacteriophage detection. At the simplest level of complexity, phages can be detected by the sequencing of a single marker gene. Whole genome sequencing of isolated phages has populated reference databases, while bacterial genome sequencing led to the discovery of a plethora of previously undetected prophage genomes. At the community level, shotgun sequencing methods have made it possible for researchers to investigate all bacteriophages in a sample without previous knowledge of its content. In conclusion, sequencing and next-generation sequencing technology has added a new layer to bacteriophage research, opening new avenues of research, from exploitation of genes for biotechnological applications to population ecology.
Copyright information
© Springer Nature Switzerland AG 2019