Granular Cell Tumor, Genitourinary Tract
Living reference work entry
DOI:
https://doi.org/
10.1007/978-3-319-28845-1_5007-1
Microscopy
At low power, GCT is composed of cohesive groups of large cells arranged in lobules separated by fibrous septa. At higher magnification, cells display polygonal shape, with small, uniform-sized round nuclei with small nucleolus, abundant granular cytoplasm with occasional larger droplets and well-defined cytoplasmic borders (Fig.
1
). Mitotic activity is usually low (1%). Malignant cases show necrosis, spindling, vesicular nuclei with large nucleoli, increased mitotic activity (>2 mitoses/10 high-power fields at 200× magnification), high nuclear to cytoplasmic (N:C) ratio, and pleomorphism (Cheville and Folpe
2016
; Bedir et al.
2017
; Pu et al.
2015
; Richmond et al.
2016
; Gurzu et al.
2015
; Fanburg-Smith et al.
1998
).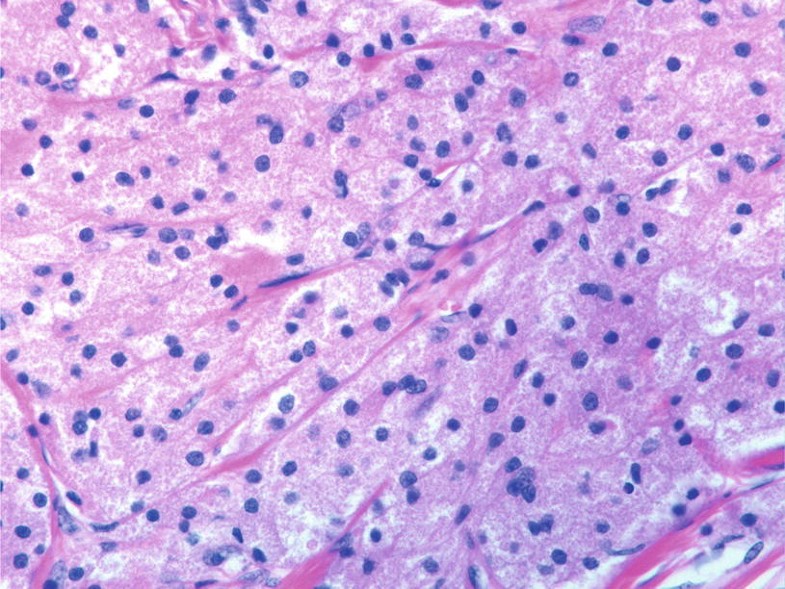 Immunophenotype
The lesion is typically positive for protein S100, NSE, EMA, CD56, and inhibin in most of the cases, while positivity of other markers, such as vimentin, synaptofisin, calretinin, and laminin, is very variable (Gurzu et al. 2015). In the atypical cases, loss of inhibin and CD56 and gain of c-KIT and RET kinase expression are found (Gurzu et al. 2015). Cytokeratins, vascular markers, desmin, SMA, calretinin, maspin, and GFAP are usually negative (Bedir et al. 2017; Pu et al. 2015; Gurzu et al. 2015).
Differential Diagnosis
The differential diagnosis includes other lesions that display granular cytoplasm. Other lesions that have to be differentiated from GCT are malakoplakia, carcinomas, leiomyoma, leiomyosarcoma, dermatofibroma, dermatofibrosarcoma protuberans, malignant schwannoma (MPNST), angiosarcoma, and melanoma (Bedir et al. 2017; Gurzu et al. 2015; Fanburg-Smith et al. 1998).
The malignant counterpart of this entity differs from GCT for many features, including the presence of necrosis, pleomorphism, high mitotic activity, spindle-shaped tumor cells, vesicular nuclei with large nucleoli, and high nuclear to cytoplasmic ratio (Bedir et al. 2017; Gurzu et al. 2015). One study established that if the lesion shows three or more criteria of malignancy, it is classified as histologically malignant, while those that meet one or two criteria are classified as atypical (Fanburg-Smith et al. 1998).
Immunohistochemistry is very useful to distinguish this lesion from carcinomas, as well as from melanoma and sarcomas. A difficult differential diagnosis is between malignant GCT and MPNST. Important features that may differentiate GCT from MPNST are the absence of origin from nerve and diffuse S100 positivity of GCT (Fanburg-Smith et al. 1998).
References and Further Reading
Copyright information
© Springer Nature Switzerland AG 2019