Ethics in Leadership Coaching
Living reference work entry
Latest version View entry history
DOI:
https://doi.org/
10.1007/978-3-319-23514-1_61-2
Definition
Coaching ethics, or the role of ethics in a coaching relationship, speaks to relational and organizational morals and competencies for the coach as well as other parties involved. There's both a need for ethical conduct from the coach and for ethical awareness with regard to ongoing contracting. This is open for interpretation, as the work takes place as an exchange between human beings. Defining ethical coaching or distinguishing it from unethical coaching isn't definite yet requires the coach's consciousness as well as moral compassing. In this reflection, we refer to it as the establishment and clarity of the relational space, keeping in mind a triangulation between coach, client, and at times also the employer or the client's organization.
This writing aligns with definitions from professional coach bodies, for example, the International Coach Federation which articulates its ethical philosophy as "a form of coaching that honors the client as the expert in his/her life.1" The coaching profession asks that a coach isn't a content expert yet facilitates a client's process, allowing the client to discover and take responsibility for their process. It focuses on a future state or learning aspiration, facilitating clients to bring out their potential, as well as searching with them to overcome hindrances.
Description
The term coaching originates in sports, where it addresses the process of supporting increased performance. The term is used in organizations as well since the 1970s (Gallwey 1974; Whitmore 1992). There's a common understanding of what coaching is about, yet it isn't a protected term: everyone could declare themselves a coach. Coaching is mostly described as an ongoing professional relationship that helps people: the dialogical facilitation or guiding of a developmental process, which moves a person from place or stage A to B. This change in place or stage, which might shift during the conversations, is defined by the client and takes place in the context of an organization. Organizational coaching is what this paragraph refers to. On organizational coaching, a relational contract with the client who is being coached, as well as with the organization in which the client works, which may pay for the coaching. The topic for a coaching can be widespread, yet its essence lies in unlocking a person's own potential and in the coach's role, as "helping them to learn rather than teaching them.2"
Coaching contracting happens between parties: the coach, the client, and often also the organization in which the client works. A practical guideline here might be the question: who pays for the sessions? If a client seeks coaching outside of the organization's sphere, for example, as the topic is more about life in general, or when there's a conflict of interest, it might happen that there's no connection to the organization at all. Often however there's a three-way contracting around goal, approach, investment, and length of the commitment. Ethical guidelines in coaching then refer to each aspect of this triangle, as well as to the way in which the coach operates.
1.

Coach conduct, including the coach supervision

 

2.

 

3.

 

4.

Client ⇔ client organization

 
See Fig.
1
for a schematic overview of this contract.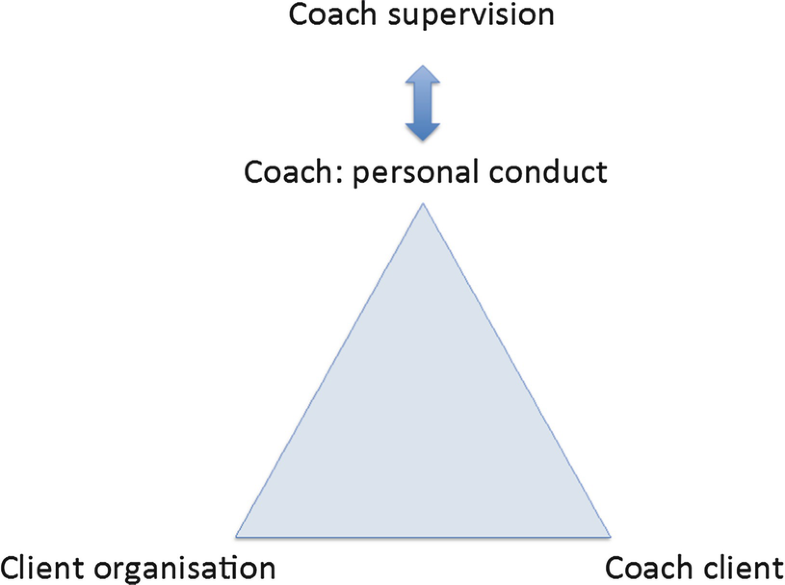 Coach Conduct
Firstly, the role model of the coach in a coaching process is important for an ethical coach process. The way in which the coach conducts him or herself, through character and competence, allows or limits a coaching conversation and thus the learning of the client. Ethical virtues and values may be distinguished in this respect. Donna Ladkin helpfully describes the difference between virtues and values as follows:
ethical virtues are 'rules of personal conduct,' ethical values are more aligned with values forms of behaviours, such as trustworthiness, reliability, reciprocity and as such are variable from culture to culture. (Ladkin 2010, p. 155)
Ethical conduct asks a coach's clarity around values and beliefs, to allow a fair representation of skills, qualifications, and experience, as well as a knowing what type of coaching to offer. As in most people and medical professions, the "do no harm" is a guiding ethical principle and a value set which to the opinion of this writer need to include equality, diversity, respect, and learning. However, as values are personally interpreted, and as the coaching profession today is an open terrain, the way in which this is done is to discretion of the coach. The coach often, some professional bodies request always, seeks its own supervision or a continuous professional learning and exchange. This is usually done on an anonymous basis with regard to names and organizations, yet ethics are that the supervision as such is explicitly named to the client.
Coach ⇔ Client
Secondly, in the coach and client relationship, four aspects are important to describe: contracting, confidentiality, conflict of interest, and power differences.
Contracting: During the initial meeting, there's an exploration of the client expectation, to see if there's a match with the coach's competence and experience. At the same time, there needs to be a sense of "chemistry." When this leads to an initial engagement, it's made explicit in a written or oral contract what the purpose, frequency, and setting are likely going to be.
Confidentiality: As part of the engagement, a coach is bound to confidentiality, and the client determines what to share or what not to share, with third parties, including the employer or client organization. The boundary in this is "as far as the law goes," which may seem far-fetched, yet it isn't a theoretical boundary. In practice it does happen that people open up about fraud, misconduct, or behaviors that at the present time may cause harm. It may compromise a coach's promise of confidentiality when finding out about current misconduct, which causes harm to people or their organization. Only rarely a client sharing may cross this boundary, yet when it happens it violates the coach integrity. Thus it is important that confidentiality is explicated at the start of the conversations, to ensure that not only the client intimacy yet also safety boundaries for the coach are taken into account.
Conflict of interest: When there are multiple parties engaged, for example, when the coach explores a setting through interviews or when multiple people from one organization or context are being coached, conflict of interest may arise. With a potential clash of interest, it's important that the coach addresses this. As part of my coach practice, personally I allow the "first" client, with whom I work the longest, to guide me in taking additional contracts on within their organization. When for them it feels less safe that I'd work with a team or a colleague, I will not do so.
Power difference: In coaching, other than in a therapeutic relationship, the coach-client is seen to be healthy and resourceful. The dialogical setting means that there's a shared power base in the relationship, also referred to as power "with" rather than "over" (Fletcher 2001). Practically, the coach-client determines pace and focus of conversations, and the coach takes shared accountability for quality of process.
How does the above play out in practice? Ethical consideration may, for example, be necessary, when a change of behavior is postponed. This may play out when the coaching is used as a postponement to take stronger actions, for example, to take someone out of their role. This could occur when a client or their organization, intent to work on unwanted behaviors, i.e., a leader might be unpolished, may use bullying language and/or overpower subordinates. In such an instance, when coaching is considered an approach, it seems important to not lose sight of what is yes/no acceptable behavior. As a coach this means that the conversation may become a place of confession instead of learning. When that happens, the initial intention to creating a safe space and to turn undesired behavioral effects into a behavioral change may reach the opposite effect. This may happen through offering a continuous externalization through words of the "arcana" of consciousness (Foucault 2010, p. 84).
The coach could then take on the role of more than a trusted conversation partner, a "priest"-type figure, declaring absolution and praising the honesty of the client. What initially may feel as an open and intimate relationship may create dependency and allow undesirable behavior to continue. One way of addressing those ethical boundaries is the conversation about – the lack of – lasting behavioral changes that occur during the coaching engagement.
Another situation that might occur is that the coach-client is asked to change behavior, while instead they protest to certain organizational norms, as clients speak up against the norm, i.e., when their management or a sector misbehaves. In this case the coach may wish to address that there's a political situation, within which the choicefulness of the client may lead to an outcome, initially undesired by an organization.
Coach ⇔ Client Organization
At the start and end of a coaching process, many organizational coaches ask for a three-way conversation.3 This allows the employer and coach-client both in the conversation at the same time.
The ethical aspect of a three-way conversation is that there's complete transparency to both the coach-client and their organization around the communication. Communication about the coaching may feel vulnerable, which is where ethical clarity helps, as well to the coach, as well as from coach. This allows the coach-client to lead when it comes to the level of disclosure and the employer to bring their observations and expectations into the coaching overtly. Ethics ask of the coach to create this sense of openness and transparency by clarifying those boundaries of the conversation.
At times the coach-client organization contract goes beyond the above scope, for example, when there's multiple conversations without a coach-client being present. As a ground rule, this only happens after explicit request of the coach-client, for example, when being curious for more detailed feedback on one's leadership behavior.
Client ⇔ Client Organization
There are aspects to the relationship between a client and their organization, which can be of major influence to the quality of a coaching engagement, yet that might initially not be overtly part of the conversation, for example, when there's a conflict of interest around the employment or different opinions around one being "fit for the job." At times I've also come across an information request, as there might be assessments taken as part of the coaching, in which an employer shows an interest. Ethics asks of the coach a similar transparency here, as mentioned under (3) in that no information is given to an organization about the coach-client without them knowing so. At the same time, a coaching engagement isn't fit to assess for parties yet meant for the client's growth and development or to make up their mind. A boundary for the coach in situations when there is a conflict of interest is to share opinions with parties without clearly being requested by the coach-client to do so.
Summary
As a growing and maturing profession, coaching needs to be carried out with recognition for generic ethical principles that make the relational interaction between coach and client as valuable as can be. Through asking explicit attention for those ethics, the encyclopedia supports the continuous dialogue around this.
Footnotes
1.

For more background also the ethical statements from professional coach membership bodies. Some are Association for Coaching ("AC"), European Mentoring and Coaching Council ("EMCC"), International Association of Coaching, and International Coach Federation. International Coach Federation, pledge of ethics/code of conduct (Lewis 2014).

2.

Tim Gallwey and John Whitmore, both coming from a background as a sports coach, have each contributed much to define coaching and the role of the coach. They pointed to the coach's recognition that the internal obstacles are often the most daunting ones to allow growth or better performance.

3.

According to research commissioned by The Learning Curve, which was carried out by Adsum, UK, 2014, around half of the organizational coaching starts with a three-way conversation and around 33% ends with a three-way conversation.
Copyright information
© Springer Nature Switzerland AG 2019
Section editors and affiliations