Spatial Data Transfer Standard (SDTS)
Reference work entry
DOI:
https://doi.org/
10.1007/978-3-319-17885-1_1259
Definition
The Spatial Data Transfer Standard (SDTS) is a standard whose purpose is to promote and facilitate the data exchange of digital geo-referenced spatial data, attributes, and metadata between different computer systems and applications.
The SDTS was first ratified in 1992 by the US Department of Commerce National Institute of Standards and Technology (NIST) as Federal Information Processing Standards Publication 173. SDTS was then promoted to become a national standard and it was subsequently ratified by the American National Standards Institute (ANSI) in 1998 as National Committee for Information Technology Standards (NCITS) 320-1998. SDTS is also endorsed by the Federal Geographic Data Committee (FGDC) as one of the core standards to support the National Spatial Data Infrastructure (NSDI).
Historical Background
As with any standard, SDTS was developed to solve a recurring problem. As the computer industry in the 1970s was maturing and developing, computers began to be used for many diverse applications including cartography, spatial data analysis, and image processing. Increasing amounts of digital spatial data were being generated and stored. Computer systems and applications that could generate and use spatial data were incompatible. Spatial data could not be reused or shared or exchanged between different computer systems. The lack of standards inhibited the data exchange of spatial data between data producers and consumers. SDTS was developed to address this issue.
The history of SDTS spans three decades. These can be characterized as the 1980s are the emergence of a standard, 1990s are implementation, and the 2000s are a time of revision.
In the 1980s, the need for a data exchange standard was recognized, so the work began. The spatial data industry was in its infancy, so a common set of terms needed to be developed. The work on defining spatial objects yielded terms like "chain" and "GT-polygon". Feature sets were as varied as the data producers, so common entity names like "watercourse" were proposed. SDTS is the result of the combined efforts of the government, private industry, and the academic community. For a detailed historical account of the early development of SDTS, including the groups, individuals, methods and processes, see The American Cartographer January 1988.
For SDTS, the 1990s were an era of formal standardization, harmonization, profile development, promotion, and implementation. In 1992, SDTS was ratified as a NIST FIPS PUB173. ANSI deals with standards that are of broad interest in the United States, so it was a significant milestone when ANSI ratified SDTS as ANSI NCITS 320-1998. SDTS was also having an impact internationally. Australia and New Zealand adopted SDTS with some modifications in 1994 as Australian/New Zealand Standard (AS/NZS) 4270. As SDTS was proceeding as a standard, other organizations like the military were also developing standards, so various efforts to harmonize the standards were undertaken. The International Organization for Standardization (ISO) Technical Committee 211 (ISO TC 211) for Geographic Information/Geomatics began developing a suite of standards for geospatial data and processes. The United States brought SDTS forward as a contribution to this effort.
The SDTS is a very broad standard with options for all types of vector, raster, and point data. Profiles are subsets of the standard that focus on certain spatial data types and make software implementations more feasible. The first SDTS profile was the Topological Vector Profile which was ratified in 1994. USGS was named as the maintenance authority for SDTS, and as such helped coordinate the development of profiles. USGS was actively promoting SDTS by holding implementation workshops, supporting vendors to develop import and export in their GIS software, developing public domain utilities, authoring training materials and user guides, and coordinating the articles for two special editions of Cartography and Geographic Information Systems in 1992 and 1994. USGS also wanted to lead by example. USGS did a mass conversion of their 1:100k scale Digital Line Graph files for the hydrography and transportation themes to the new Topological Vector Profile and then gave them away free over the Internet. This had two effects – it modernized the data, and it created a demand for software vendors to support SDTS. USGS also converted the 1:24k DLGs and the USGS DEMs to SDTS profiles throughout the last half of the 1990s.
For SDTS, the 2000s are a time of revision to survive. As with any GIS standard, SDTS is intertwined with the evolution of information technology and must change to keep up. The file encoding method used in Part 3 of SDTS (ISO 8211) is antiquated by today's IT standards. Updating SDTS to use a modern encoding such as XML or GML has been studied and is feasible, but has not had resources committed. Many other solutions to the problem of data exchange have developed which have supplanted much of the need for SDTS. However, the problem of archiving data is still largely unresolved, so perhaps that is where SDTS needs to be focused in the future.
SDTS is historically significant as the first consensual GIS standard. It had to break a lot of new ground to create a mindset for the acceptance of future standards. The GIS industry no longer asks why do we need standards, but now asks which ones. SDTS has also left a lasting legacy of a vocabulary for the spatial data industry. A glossary of spatial objects, a definitive set of data quality characteristics, and the concept of self-documenting data files has had a lasting effect on the industry.
Scientific Fundamentals
The Spatial Data Transfer Standard was designed with the fundamental goal of accomplishing a transfer without losing information. A complete spatial data set is much more than a set of spatial coordinates. A complete transfer includes the entity and attributes values, but also an understanding of how to interpret them. Arrays of x,y coordinates alone do not specify the projection or datum or positional accuracy. Knowing that the data set contains hydrographic features is important, but that does not indicate the collection criteria used.
Self-Contained Transfers
To ensure that all of the information needed to correctly interpret a spatial data set is available, SDTS was designed as a self-contained transfer mechanism. The set of files that constitute a transfer include the spatial coordinates, the projection, the attribute values, the attribute definitions, the positional accuracy, the collection method and other such metadata and contextual information. The philosophy of being self-contained was a new concept at the time, and was much more challenging to implement than just a file format standard.
Three Model Levels
SDTS includes three major abstraction levels – conceptual, logical, and format. Figure 
1
illustrates how these three model (or abstraction) levels are used in the standard. The conceptual level includes definitions for such ideas as spatial objects, data quality, entities and attributes, and data dictionary, as described in the following subsections. The logical level is a collection of data structures and information elements called modules, records, fields, and subfields. The format level is the scheme for encoding the data into files and physical records on computer media. At the format level, there are already numerous standards in the information technology industry, so SDTS chose several to reference rather than "reinventing the wheel." The most prominent is ISO 8211 (aka FIPS PUB 123) which is documented in SDTS Part 3 on file encoding.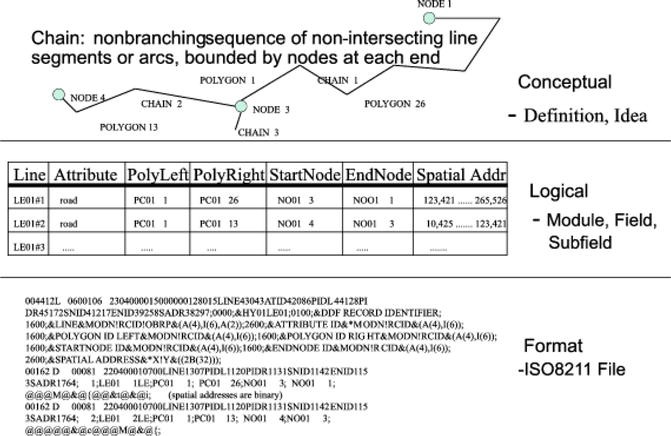 The SDTS document is structured to make a clear distinction between the logical and formal levels. The idea was that the logical level would remain relevant much longer than the format level. Because of the rapid advances in information technology, formats would continue to evolve and change at a faster pace than spatial data concepts or data structures. Currently, the ISO 8211 file encoding is still the only option, but XML and GML are being studied as more relevant encoding options in the future.
Spatial Objects
SDTS includes definitions of spatial objects so there is no ambiguity in the most fundamental portion of a spatial data transfer. The SDTS spatial object definitions are a lasting contribution to the spatial industry, and are widely referenced.
SDTS defines zero-, one-, two-, and some three-dimensional spatial objects. There are two other characteristics that distinguish spatial objects, that being geometry (spatial location) and topology (spatial relationships).
For zero-dimensional spatial objects, there is the geometry type which is named "point" and the topology type named "node". There are similar terms for the other dimensions. Table 
1
contains all of the spatial objects defined in SDTS. Once the elemental spatial objects are defined, these can be used to define aggregate spatial objects. For example, a two-dimensional array of regularly spaced "pixels" is named a "digital image." The most common form of a vector data set is called a "two-dimensional manifold" this being a "planar graph" and its polygons.
Spatial Data Transfer Standard (SDTS), Table 1
SDTS spatial objects
| | | | | |
| --- | --- | --- | --- | --- |
| Dimension | SDTS term and definition | Illustration | Properties |   |
| Zero | Point. A zero-dimensional object that specifies geometric location. One coordinate pair or triplet specifies the location. There are three sub-types: entity point, area point, and label point | Open image in new window | Geometry; point; vector |   |
| Zero | Node. A zero-dimensional object that is a topological junction of two or more links or chains, or an end point of a link or chain | Open image in new window | Topology; vector |   |
| One | Line segment. A direct line between two points | Open image in new window | Geometry |   |
| One | String. A connected nonbranching sequence of line segments specified as the ordered sequence of points between those line segments. Note: A string may intersect itself or other strings | Open image in new window | Geometry; vector |   |
| One | Arc. A locus of points that forms a curve that is defined by a mathematical expression | Open image in new window | Geometry; vector |   |
| One | Link. A topological connection between two nodes. A link may be directed by ordering its nodes | Open image in new window | Geometry; topology; vector |   |
| One | Chain. A directed nonbranching sequence of nonintersecting line segments and (or) arcs bounded by nodes, not necessarily distinct, at each end. There are three subtypes: complete chain, area chain, and network chain | Open image in new window | Geometry; topology; vector |   |
| Two | G-ring. A sequence of nonintersecting strings and (or) arcs, with closure. A ring represents a closed boundary, but not the interior area inside the closed boundary | Open image in new window | Geometry; vector |   |
| Two | GT-ring. A sequence of nonintersecting complete or area chains, with closure. A ring represents a closed boundary, but not the interior area inside the closed boundary | Open image in new window | Geometry; topology; vector |   |
| Two | G-polygon. An area consisting of an interior area, one outer G-ring and zero or more nonintersecting, non-nested inner G-rings. No ring, inner or outer, must be collinear with or intersect any other ring of the same G-polygon | Open image in new window | Geometry; vector |   |
| Two | GT-polygon. An area that is an atomic two-dimensional component of one and only one two-dimensional manifold. The boundary of a GT-polygon may be defined by GT-rings created from its bounding chains. A GT-polygon may also be associated with its chains (either the bounding set, or the complete set) by direct reference to these chains. The complete set of chains associated with a GT-polygon may also be found by examining the polygon references on the chains | Open image in new window | Geometry; topology; vector |   |
| Two | Universe polygon. Defines the part of the universe that is outside the perimeter of the area covered by other GT-polygons ("covered area") and completes the two-dimensional manifold. The boundary of the universe polygon is represented by one or more inner rings and no outer ring | Open image in new window | Topology; vector specifically for 2-d manifold |   |
| Two | Void polygon. Defines a part of the two-dimensional manifold that is bounded by other GT-polygons, but otherwise has the same characteristics as the universe polygon. The geometry and topology of a void polygon are those of a GT-polygon | (See illustration for Universe Polygon) | Topology; geometry; vector specifically for 2-d manifold |   |
| Two | Pixel. A two-dimensional (geospatial) picture element that is the smallest nondivisible element of a digital image | Open image in new window | Geometry; raster |   |
| Two | Grid cell. A two-dimensional (geospatial) object that represents the smallest nondivisible element of a grid | Open image in new window | Geometry; raster |   |
| Two | Digital image. A two-dimensional (geospatial) array of regularly spaced picture elements (pixels) constituting a picture | Open image in new window | Aggregate; geometry; raster |   |
| Two | Grid. A two-dimensional (geospatial) set of grid cells forming a regular tessellation of a surface | Open image in new window | Aggregate; geometry; raster |   |
| Two | Rectangle variant grid. Each row and column of the grid may have an independent thickness or width | Open image in new window | Aggregate; geometry; raster |   |
| Two or three | Layer. An areally distributed set of spatial data representing entity instances within one theme, or having one common attribute or attribute value in an association of spatial objects. In the context of raster data, a layer is specifically a two, three or N-dimensional array of attribute values associated with all or part of a grid, image, voxel space or any other type of raster data | Open image in new window | Aggregate; geometry; topology; raster; vector |   |
| Two or three | Raster. One or more related overlapping layers for the same grid, digital image, voxel space or any other type of raster data. The corresponding cells between layers are registered to the same raster object scan reference system. The layers overlap but need not be of the same spatial extent | Open image in new window | Aggregate; geometry; raster |   |
| Two | Planar graph. A set of topologically interrelated zero-dimensional (node) and one-dimensional (link or chain) spatial objects, with the following rules: each link or chain is bounded by an ordered pair of nodes, not necessarily distinct; a node may bound one or more links or chains; and links or chains may only intersect at nodes. The objects can be represented as though they occur upon a planar surface | Open image in new window | Aggregate; topology; geometry; vector |   |
| Two | Two-dimensional manifold. A planar graph and its associated two dimensional objects. Each chain bounds two and only two, not necessarily distinct, GT-polygons. The GT-polygons are mutually exclusive and completely exhaust the surface | Open image in new window | Aggregate; topology; geometry; vector |   |
| Two | Network. A graph without two dimensional objects. If projected onto a two-dimensional surface, a network can have either more than one node at a point and (or) intersecting links or chains without corresponding nodes | Open image in new window | Aggregate; topology; geometry; vector |   |
| Three | Voxel. A three-dimensional (geospatial) object that represents the smallest nondivisible unit of a voxel space (volume). (The voxel is the three-dimensional conceptual equivalent of the two-dimensional pixel or grid cell.) | Open image in new window | Simple; geometry; raster |   |
| Three | Voxel space. A three-dimensional (geospatial) array of voxels in which the volumetric dataset (the object) resides. The volume represents some measurable properties or independent variables of a real object or phenomenon | Open image in new window | Aggregate; geometry; raster |   |
By defining this set of spatial objects, SDTS is capable of transferring any spatial data model – vector topology, vector geometry, raster image, raster grid, and point.
Data Quality Report
Each component of SDTS was included to address a specific barrier to data transfer. One of the primary objectives of data transfer is to enable re-use beyond the original purpose and context for which the data was collected. In order to re-use data, it needs to be assessed to determine if it is suitable for the application. The information that supports suitability assessment is called the "data quality report." The data quality report contains a lot of text that is intended for human consumption.
SDTS defines five types of data quality information: lineage, positional accuracy, attribute accuracy, logical consistency, and completeness. Lineage describes the source material and derivation process. Positional accuracy refers to the horizontal and vertical accuracy and the measurement method. Attribute accuracy refers to the confidence of the attribute values and the verification method. Logical consistency refers to the correctness of spatial relationships such as valid topological relationships. Completeness refers to the selection criteria used during data collection and the method used to ensure the criteria were always followed.
The data quality concepts constitute a major contribution to the spatial data industry, and are incorporated into the FGDC Content Standard for Digital Geospatial Metadata.
Feature Entities and Attributes
Another major barrier to data transfer is the differences in feature classification and attribution schemes. SDTS Part 2 is a standardized feature and attribute catalog of a limited set hydrographic, transportation, and other features. SDTS Part 2 represents a very unique approach to the problem of translating feature entity and attribute terminology. The SDTS Part 2 feature entity set is very different from any other feature catalog because the classification does not use a hierarchy or a specific world view.
The SDTS entities are defined by root characteristics and are mutually exclusive and are labeled with a standard term. One such standard term is "watercourse" which is defined by the root characteristic of "a way or course through which water may or does flow". The term "watercourse" also includes the terms: river, creek, stream, branch, run, kill, awawa, and canal. These included terms are listed in the standard to assist with relating common terms to the standard terms. SDTS Part 2 also contains a list of standard attributes such as "artificially improved/manmade." Many of the attribute terms are structured as to contain either yes/no values or numbers to simplify translation. The subtle variations in an entity classified as a "watercourse" can be described through the use of the standard attributes. A "river" is distinguished from a "canal" by using the attribute "artificially improved/manmade" with a "no" value for river and a "yes" for canal.
Data Dictionary
The standardized set of feature and attribute terms was one way to solve the translation problem. If that was not feasible, SDTS allowed another option. SDTS permits a transfer to contain the definitions as provided by the data producer in a "data dictionary."
The purpose of the data dictionary component of a spatial data transfer is to convey the meaning of entities and attributes, the relationship between entities and attributes, and the domain of values for each attribute. With all of the textual definitions, a data dictionary can become large. It could be impractical to include this much extra information with every spatial data transfer from the same data producer. Therefore, SDTS permits a data dictionary only transfer.
Development of Profiles
As described under Spatial Objects, SDTS can handle a very diverse set of spatial data models. A specific instance of a spatial data transfer usually only involves a single type of spatial data like vector topology or raster image. SDTS also has many options for spatial coordinates, metadata structure, data quality, file organization, etc. The options in SDTS are overwhelming, and it is not feasible to implement them all for every specific transfer. The authors of SDTS wanted to include all the options, so the solution to controlling the complexities of implementing the standard is "profiles".
The SDTS is implemented through "profiles". Profiles are limited subsets of the standard, designed for a specific type of data. Profiles restrict options to make encoding and decoding choices and software support tools feasible.
Profiles for SDTS are numbered as additional "parts" to the standard document. The base SDTS standard has three parts, so the profiles are numbered as Part 4 and so on. Each profile document parallels the SDTS document but it is not written to stand-alone. The profile can only be correctly interpreted in the context of the base SDTS standard.
The first profile developed was Part 4: Topological Vector Profile (TVP) and it is currently the only profile included in the ANSI NCITS 320-1998 version of SDTS. Additional profiles are approved by the Federal Geographic Data Committee. As the first profile, the TVP paved the way for other profiles. Currently, all SDTS profiles are differentiated by spatial data model, but this is not a requirement.
Profiles are more restrictive than the base standard by limiting choices. In the TVP, the only spatial address encoding allowed is 32-bit signed integers. The spatial data must be vector and topologically structured; no geometry only data and no raster data is allowed.
Profiles deal with implementation issues, so they can also extend a standard. An extension to a standard allows a capability that is not included in the base standard. In this manner, profiles can help discover what options might need to migrate into the base standard during its mandatory review cycle. The second profile developed was for raster data and it had to add an extension. Concurrent with SDTS development in the cartographic and geographic realms, there was much progress made in commercial standardization in the image processing industry. SDTS Part 5 Raster Profile with BIIF Extension allowed the use of other image file encoding formats such as JPEG. The work on Part 5 was in parallel to the effort to gain ANSI approval for SDTS. Subsequently, there are some changes in the ANSI version of SDTS to better support raster image encoding.
Transfer Process
SDTS was created to enable spatial data exchange with no loss of information. Whether the data exchange is successful depends on the transfer process. The general steps in any transfer process are the data producer encodes a source data set plus ancillary information into an SDTS transfer file set. The data consumer then decodes the SDTS transfer file set in the target system. Figure 
2
illustrates the transfer process. The resulting SDTS transfer fileset is what could be subject to conformance testing, by either party. The data consumer may optionally perform a data assessment using the data quality report before doing a complete decode.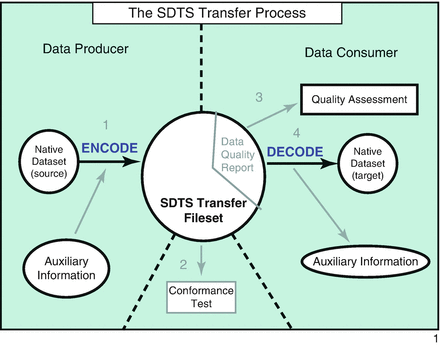 The encoding process is very involved and takes significant effort to specify and implement. The data producer must do model mappings at all three levels of abstraction – conceptual, logical (modules), and format (files). The data producer must find appropriate information to meet all the requirements for the data quality report, the data dictionary, and the other metadata. This ancillary information needs to be structured and managed so it can be included correctly by the software tool used to create the physical SDTS transfer file set. This is much more than a reformatting which is simply presenting the same level of information in a different physical arrangement.
The decoding process can also be more involved for the data consumer. They will need to use a mix of software tools to ensure that they view the full content of the SDTS transfer, in addition to ensuring that the spatial data and attributes are correctly imported into their GIS environment.
Further Reading
An excellent overview of SDTS can be found in the article "An Overview of FIPS 173, The Spatial Data Transfer Standard" published in Cartography and Geographic Information Systems December 1992 edition. The USGS SDTS web site has three user guides aimed at various audiences: The Spatial Data Transfer Standard – Senior Management Overview; The Spatial Data Transfer Standard – Guide for Technical Managers; and, The Spatial Data Transfer Standard – Handbook for Technical Staff. For a data consumer perspective on SDTS, see Chapter  15 Spatial Data Transfer Standards in the 1998 book GIS Data Conversion: Strategies, Techniques, Management. For a scientific comparison of SDTS to all other international spatial data exchange standards see section United States of America Spatial Data Transfer Standard in the book Spatial Database Transfer Standards 2: Characteristics for Assessing Standards and Full Descriptions of the National and International Standards in the World. For details on all of the modules and fields of the logical level, and the ISO 8211 encoding, see the standard document ANSI NCITS 320-1998 Parts 1 and 3.
Key Applications
SDTS is most appropriate to be used for spatial data storage and product series distribution.
Spatial Data Storage
When SDTS was originally designed in the 1980s, it was for data exchange from a data producer to a data consumer when computers were mainframes and the media of choice was magnetic tape reels. Today, there are many formats for data exchange and even for distributed geoprocessing. The value of SDTS is in its completeness and preservation of not only data but the context and meaning of the spatial data, attributes, and it data quality. SDTS remain relevant today as a spatial data storage standard.
Spatial Data Archive
The US National Archives and Records Administration (NARA) accepts SDTS as a long term storage standard for GIS data records.
Spatial Data Distribution
The federal government has a requirement to distribute any spatial data they produce in non-proprietary formats, at a minimum. Most federal agencies that produce spatial data for distribution have an entire product series. The effort to implement any SDTS-based transfer process is spread over the many hundreds or thousands of file transfer sets, so it is feasible.
Topological Vector Profile (TVP)
The USGS did a mass conversion of its Digital Line Graph level 3 (DLG-3) to the SDTS-TVP and offers these free of charge. This was primarily done to jumpstart implementation of SDTS, because a large quantity of data, especially free, will cause the creation of software tools. Another reason was to improve on the encoding of the data and to make it easier to process, as the DLG format originated in the 1970s. When the DLG data was translated in SDTS-TVP the major-minor attribute scheme was converted into relational tables, thus modernizing the data.
The USGS National Atlas of the United States offers SDTS as a download option, in addition to proprietary options, to meet a wide variety of customer requirements.
Raster Profile with BIIF Extensions (RPBE)
The USGS did a mass conversion of its Digital Elevation Model (DEM) to the SDTS-RPBE as a way to modernize its data holdings. The USGS DEM format stored raster cells (posts) in the order they were originally collected during manual stereographic profiling which was column-major order with each column potentially having a different number of posts, and the origin was bottom left. In DEM SDTS, the grid data is a regular array with data ordered in row-major order with the origin at the top left.
Point Profile
The NOAA National Geodetic Survey distributes control points in SDTS Point Profile as an option. The original intent was to offer a GIS alternative (prior to the arrival of ESRI shapefiles) to the textual data sheet report.
Software Tools
As with any technology standard, there are a variety of commercial and free tools available for end users and developers.
Geographic Information Systems Software
In the 1990s, the SDTS was supported to some extent in every major GIS software, including ESRI ArcInfo, Erdas Imagine, Intergraph, Manifold, and GRASS.
Spatial Data Conversion & Viewing
The ever increasing variety of spatial data formats created a market need for data translators. There is software that specializes in translating, converting, and viewing spatial data in almost any format. For example, the Safe Software Feature Manipulation Engine software is one such tool that supports encoding and decoding a wide variety of spatial standards and file types, including SDTS. Global Mapper Software supports viewing and some data manipulation of a wide variety of formats, including SDTS.
Public Domain Code Libraries & Tools
As the maintenance authority for SDTS, USGS sought to ensure that public domain source code libraries were available to help support SDTS software development. There is a C++ source code library called SDTS++ that is available, and there is an ISO 8211 C library available called FIPS123, in addition to some utilities.
Future Directions
With all of the advances in technology over the last 30 years, SDTS still has a place but not for its original intent of operational data exchange. The future of SDTS is as an official archive format. As an ANSI standard, SDTS must be revisited every 5 years. In the next review, it will be decided if any of the additional profiles will be picked up as Parts. In 2003, a study determined that it would be possible to use XML or GML as a file level encoding for an SDTS transfer. FGDC, ANSI NCITS, and NARA will continue to promote the further development of SDTS as the basis for GIS archive format for government records.
Copyright information
© Springer International Publishing AG 2017