Chemical Structure and When it was Licensed
Chemical name: 5-ethyldihydro-5-phenyl-4,6 (1H, 5H) pyrimidinedione.
The effectiveness of primidone in epilepsy was first demonstrated in 1949 (Whitty 1953). It was introduced a year later by the Imperial Chemical Industry (ICI) (now known as AstraZeneca) in the UK and Germany. In 1952, its effectiveness in the treatment of patients with idiopathic generalized epilepsy was demonstrated, and it was introduced in 1954 (as Mysoline®) by Wyeth in the USA (Williams 1956).
Mode of Action
Primidone has an anticonvulsant activity, as do its two main metabolites:
Phenobarbital and Other Barbiturates
and phenylethylmalonamide (PEMA) (El-Masri and Portier
1998
) (
Figs
.
279-1
and
279-2
). Primidone acts through interactions with voltage-gated sodium channels that inhibit high-frequency repetitive firing of action potentials (MacDonald and Kelly
1995
).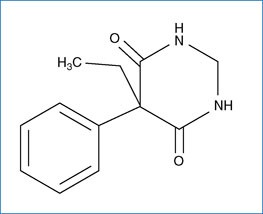 Keywords
Megaloblastic Anemia 
Juvenile Myoclonic Epilepsy 
Idiopathic Generalize Epilepsy 
Oral Contraceptive Steroid 
Anticonvulsant Hypersensitivity Syndrome 
These keywords were added by machine and not by the authors. This process is experimental and the keywords may be updated as the learning algorithm improves.
Copyright information
© Springer-Verlag London Limited 2010