Case-Based Reasoning
Reference work entry
DOI:
https://doi.org/
10.1007/978-1-4899-7687-1_34
Abstract
Case-based reasoning (CBR) solves problems by retrieving similar, previously solved problems and reusing their solutions. The case base contains a set of cases, and each case holds knowledge about a problem or situation, together with its corresponding solution or action. The case base acts as a memory, remembering is achieved using similarity-based retrieval, and the retrieved solutions are reused. Newly solved problems may be retained in the case base and so the memory is able to grow as problem-solving occurs.
CBR reuses remembered experiences, where the experience need not record how the solution was reached, simply that the solution was used for the problem. The reliance on stored experiences means that CBR is particularly relevant in domains which are ill defined, not well understood, or where no underlying theory is available. CBR systems are a useful way to capture corporate memory of human expertise.
The fundamental assumption of CBR is that similar problems have similar solutions: a patient with similar symptoms will have the same diagnosis, the price of a house with similar accommodation and location will be similar, the design for a kitchen with a similar shape and size can be reused, and a journey plan is similar to an earlier trip. A related assumption is that the world is a regular place, and what holds true today will probably be true tomorrow. A further assumption relevant to memory is that situations repeat, because if they do not, there is no point remembering them!
Theory/Solution
Case-based reasoning (CBR) is inspired by memory-based human problem-solving in which instances of earlier problem-solving are remembered and applied to solve new problems. For example, in case law, the decisions in trials are based on legal precedents from previous trials. In this way, specific experiences are memorized, and remembered and reused when appropriate. This contrasts with rule-based or theory-based problem-solving in which knowledge of how to solve a problem is applied. A doctor diagnosing a patient's symptoms may apply knowledge about how diseases manifest themselves, or she may remember a previous patient who demonstrated similar symptoms and thus apply a case-based approach.
CBR is an example of  lazy learning because there is no learned model to apply to solve new problems. Instead, the generalization needed to solve unseen problems happens when a new problem is presented and the similarity-based retrieval identifies relevant previous experiences.
Figure 
1
shows the CBR problem-solving cycle proposed by Aamodt and Plaza (
1994
). A case base of Previous Cases is the primary knowledge source in a CBR system, with additional knowledge being used to identify similar cases in the Retrieve stage, and to Reuse and Revise the retrieved case. A CBR system learns as it solves new problems when a Learned Case is created from the New Case and its Confirmed Solution, and Retained as a new case in the case base.
Aamodt and Plaza's four-stage CBR cycle for problem-solving and learning is commonly referred to as the "Four REs" or "R
4
" cycle to recognize the following stages in Fig.
1
:
Retrieve: The cases that are most similar to the New Case defined by the description of the new problem are identified and retrieved from the case base. The Retrieve stage uses the similarity knowledge container in addition to the case base.

Reuse: The solutions in the Retrieved (most similar) Cases are reused to build a Suggested Solution to create the Solved Case from the New Case. The Reuse stage may use the adaptation knowledge container to refine the retrieved solutions.

Revise: The Suggested Solution in the Solved Case is evaluated for correctness and is repaired if necessary to provide the Confirmed Solution in the Tested/Repaired Case. The Revise stage may be achieved manually or may use adaptation knowledge, but it should be noted that a revision to a Suggested Solution is likely to be a less demanding task than solving the problem from scratch.

Retain: The Repaired Case may be retained in the case base as a newly Learned Case if it is likely to be useful for future problem-solving. Thus the primary knowledge source for CBR may be added to during problem-solving and is an evolving, self-adaptive collection of problem-solving experiences.
This "Four REs" cycle simply Retained the Tested/Repaired Case as a new Learned Case. More recently, the Retain stage has been replaced with a Recycle-Retain-Refine loop of a "Six REs" cycle proposed by Gokër and Roth-Berghofer (
1999
) and shown in Fig.
2
. Learned Cases are Recycled as potential new cases, the Retain step validates their correctness, before the Refine stage decides if the case should be integrated and how this should be done. The new case may be added, used to replace redundant cases, or merged with existing cases, and other case base maintenance may be required to maintain the integrity of the CBR system. The maintenance cycle is often executed separately from the problem-solving Application Cycle.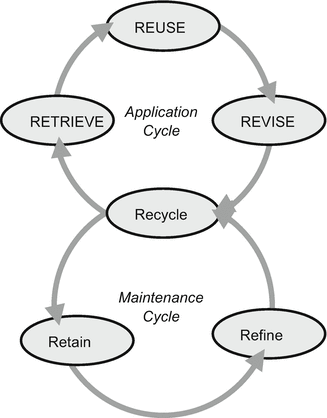 Future Directions
The drivers for ubiquitous computing – wireless communication and small devices – also affect future developments in CBR. The local, independent knowledge of case bases makes mobile devices ideal to collect experiences and to deliver experience-based knowledge for reuse.
Textual CBR systems are becoming increasingly important for extracting and representing knowledge captured in textual documents. This is particularly influenced by the availability of electronic documents in the Web and social media as sources of data for the extraction of representation knowledge. They also provide background knowledge from which to learn knowledge for similarity and adaptation containers.
Copyright information
© Springer Science+Business Media New York 2017