Impact Melt Flow
Living reference work entry
DOI:
https://doi.org/
10.1007/978-1-4614-9213-9_503-1
Definition
An impact melt flow is a solidified accumulation of impact-generated melt that, while molten, coalesces and flows downslope, creating a landform with lobate distal margins.
Description
Impact melt flows are characterized by their lobate margins and, often, a centralized, leveed channel (Fig.
1
; Howard and Wilshire
1975
; Hawke and Head
1977
; Bray et al.
2010
; Denevi et al.
2012
). Melt flows exhibit an array of morphologies, ranging from broad and veneer-like to narrow and fingerlike (Bray et al.
2010
; Denevi et al.
2012
; Neish et al.
2014
). Flows interact with fragmental impact debris, and while generally free of fragmental materials, unmelted blocks are not uncommon (Fig.
2
). In addition to impact melt flows associated with the ejecta blanket, small localized flows form on interior crater walls. Flows of melt inside a crater are often associated with erosive channels (Fig.
3
; Bray et al.
2010
).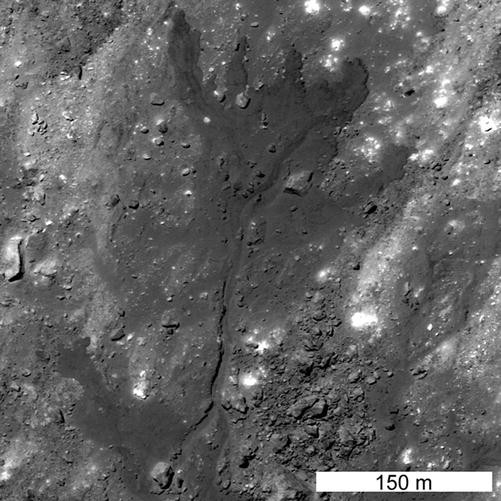 Keywords
Lava Flow 
Flow Morphology 
Crater Wall 
Crater Diameter 
Crater Cavity 
These keywords were added by machine and not by the authors. This process is experimental and the keywords may be updated as the learning algorithm improves.
Copyright information
© Springer Science+Business Media New York 2014