Dating Abuse: Prevalence, Consequences, and Predictors
Overview
The first adolescent dating abuse study was published in 1983 (Henton et al.
1983
), and, since then, research on adolescent dating abuse has soared. As shown in Fig.
1
, the number of papers on adolescent dating abuse published in peer-reviewed journals has grown every year to a peak of 45 articles published in 2008. However, although the interest in conducting research to better understand this social and public health problem is encouraging, still far less research is being conducted in this area than on other adolescent health risk behaviors. For example in 2008, 450 peer-reviewed articles were published on adolescent alcohol use and 500 were published on adolescent tobacco use. Clearly, there is still much work to be done to understand even the most basic aspects of adolescent dating abuse.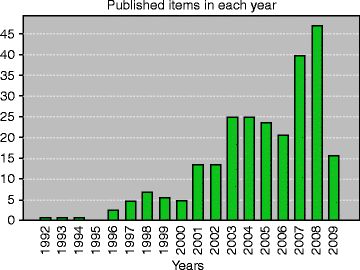 Copyright information
© Springer Science+Business Media, LLC 2011