Anagrus Fairyflies (Hymenoptera: Mymaridae)
Reference work entry
DOI:
https://doi.org/
10.1007/978-1-4020-6359-6_10201
Anagrus species (Mymaridae), among the smallest insects known, are endoparasitoids of eggs of Odonata and Hemiptera. The genus is worldwide and about 60 species is now recognized.
Taxonomy and Adult Morphology
The metasoma of
Anagrus
is not constricted basally, so it appears broadly sessile, the hypochaeta in front of the marginal vein is basal to the first macrochaeta, the tarsi are 4-segmented, the posterior scutellum is longitudinally divided, and the foretibia has a comb-like spur. Adult males and females are similar, differing mainly in their antennae, with nine segments and clubbed in females (Fig.
46
) and 13 segments and filiform in males. Body color is often darker in males. The genitalia, both in males (the aedeagus) and in females (the ovipositor), have features of taxonomic importance.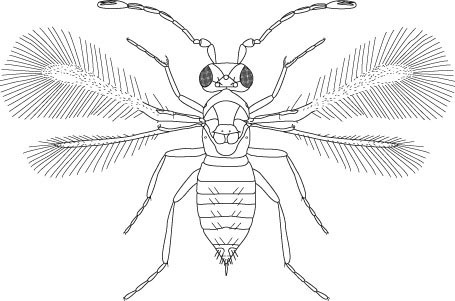 Copyright information
© Springer Science+Business Media B.V. 2008