Cache-Oblivious Model
1999; Frigo, Leiserson, Prokop, Ramachandran
Reference work entry
DOI:
https://doi.org/
10.1007/978-0-387-30162-4_62
Model Definition
The memory system of contemporary computers consists of a hierarchy of memory levels, with each level acting as a cache for the next; a typical hierarchy may consist of registers, level 1 cache, level 2 cache, level 3 cache, main memory, and disk (Fig. 1). One characteristic of the hierarchy is that the memory levels get larger and slower the further they get from the processor, with the access time increasing most dramatically between RAM memory and disk. Another characteristic is that data is moved between levels in blocks.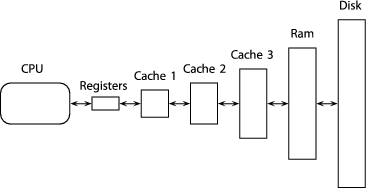 Keywords
Memory Access 
Memory Hierarchy 
Cache Replacement 
Memory Transfer 
Page Table 
These keywords were added by machine and not by the authors. This process is experimental and the keywords may be updated as the learning algorithm improves.