Bergschrund
Reference work entry
DOI:
https://doi.org/
10.1007/3-540-31060-6_33
The Bergschrund (German, for mountain, plus cleft;
rimaye
, in French) or "Schrund Line" (of
Gilbert, 1904
) is a term used in geomorphology and glaciology for the crevasse which develops at the head of mountain or corrie glaciers immediately adjacent to the rock wall of the mountain itself. As the glacier ice gradually moves down and away from the wall, a massive plucking or sapping operation takes place, whereby the rock of the mountain is progressively torn away from the mountain wall and eventually transported by ice movement or melt-water to the moraine area. Lewis (
1938
,
1954
) has stressed both the roles of meltwater and pressure release in the bergschrund.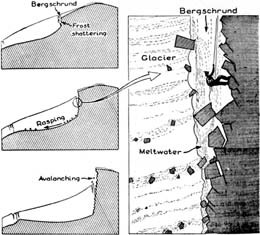 Copyright information
© Reinhold Book Corporation 1968