Introduction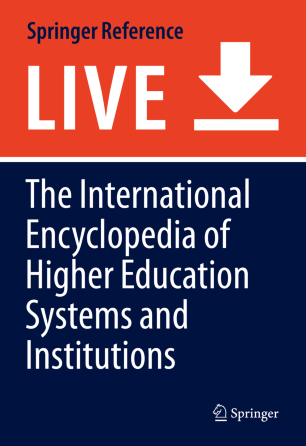 This authoritative reference source covers all higher education themes in a comprehensive, accessible and comparative way. It maps the field for the twenty first century reflecting the massive changes that have occurred and the challenges ahead for future research. It provides a rich diversity of scholarly perspectives and covers the entire spectrum of higher education from a geographical, a topical and disciplinary perspective. It is unrivaled in its capacity to go beyond national boundaries and provides indispensible comparative analyses.
The major reference works available about higher education have been published more than two decades ago and since then higher education has undergone major changes that have resulted in a much larger, diverse, global, and multidimensional reality. One of the main trends has been relentless expansion on a worldwide scale. This has led to mass higher education becoming a reality across continents, substantial growth in the number of countries with universal access to higher education, and great diversification of the student body. The tremendous increase in the international links in higher education, through issues such as training, students' mobility, staff mobility, research activities, is another major change. The consequence is a global dimension that is strongly associated with the intensification of international networks in which institutions and researchers explore, create and share knowledge. As a result of the changes and trends, higher education has increasingly become part of debates that highlight its complexity as an institution that combines relevant political, social, economic, and cultural purposes and dimensions. Asked to play important and varied economic and social roles, higher education has had to reshape its priorities, and organizational and decision-making structures. The growth and increased complexity of the field have both led to more attention being paid to all aspects of higher education and to the expansion of research.
Section Editors:
Alberto Amaral, University of Porto, Porto, Portugal
Elizabeth Balbachevsky, University of São Paulo, São Paulo, Brazil
Andres Bernasconi, Pontifical Catholic University of Chile, Santiago, Chile
Edward Choi, Boston College, Chestnut Hill, U.S.A.
Hans De Wit, Boston College, Chestnut Hill, USA
Gaële Goastellec, University of Lausanne, OSPS, LACCUS, Lausanne, Switzerland
Fiona Hunter, Università Cattolica del Sacro Cuore, Milano, Italy
Barbara M. Kehm, University of Glasgow, Glasgow, United Kingdom
Manja Klemenčič, Harvard University, Cambridge, USA
Patricio Langa, University of the Western Cape, Bellville, Republic of South Africa
António Magalhães, University of Porto, Porto, Portugal
Goolam Mohamedbhai, University of Mauritius, Moka, Mauritius
Terhi Nokkala, University of Jyväskylä, Finland
Laura Rumbley, Boston College, Chestnut Hill, USA
Bjørn Stensaker, University of Oslo, Oslo, Norway
Lisa Unangst, Boston College, Chestnut Hill, U.S.A.
Jussi Välimaa, University ofJyväskylä, Jyväskylä, Finland
Rui Yang, Hong Kong University, Pokfulam, Hong Kong
Bibliographic information
DOI

https://doi.org/10.1007/978-94-017-9553-1

Publisher Name

Springer, Dordrecht

eBook Packages

Springer Reference Education

Reference Module Humanities and Social Sciences

Number Of Entries

482