Handbook of Organic Light-Emitting Diodes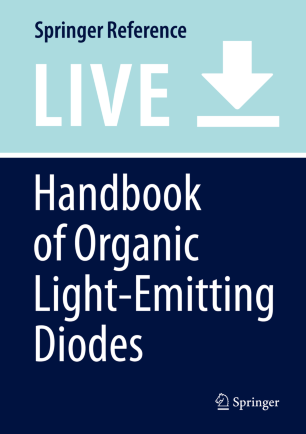 About this book
Introduction
This handbook presents a wide range of information regarding the technology of organic light-emitting diodes (OLEDs), from the basic physics of light-emitting devices to the applications for organic-light-emitting technologies, such as OLED displays for mobile phones and large-screen televisions and OLED lighting.
The remarkable advances in the performance of OLEDs reported these days are mainly due to the improvement of organic material design and the enhancement of light extraction. In the first two chapters of this handbook, device and material design strategies aimed at high-performance OLEDs suitable for low power consumption and highly durable applications are addressed. The latest advancements in molecular design are also discussed, including state-of-the-art "thermally-activated delayed fluorescence" technology, which employs a novel concept to move "forbidden" triplet exciton energy back to a singlet state so that 100% internal quantum efficiency can be achieved.
For optimized electrical properties and light emission, OLEDs are normally composed of several layers, each of which plays a different part, such as a hole-injection layer, hole-transport layer, emission layer and electron-transport layer. The design requirements of organic molecules suitable for each layer are discussed.
To manufacture OLEDs, several key technologies are being pursued. The most popular method is vacuum evaporation, which is used in nearly all of the OLED products currently on the market. Several technologies that could improve manufacturing yield and lower processing costs, such as inkjet and roll-to-roll printing, have been proposed and are being actively developed. These device fabrication methodologies are discussed and weighed in terms of their advantages and disadvantages.
The main applications for OLEDs are displays and lighting. Display designs for active-matrix driving and passive-matrix driving, as well as in-pixel and out-pixel compensation, which eliminates luminous non-uniformity, are discussed, along with an analysis of TFT backplane technologies.
The lighting chapter focuses on the principles and advances made in tandem OLEDs comprised of multiple devices in a single stack, which can significantly extend device lifetime. Also, light extraction technology that has boosted OLED efficiency to nearly that of inorganic LEDs is discussed. The subsequent chapter addresses the hot topic of flexible OLED displays and lighting. As the devices are very sensitive to atmospheric moisture, the high-performance barrier films necessary for implementing practical flexible devices are covered.
Organic devices were originally thought to be limited by device lifetimes shorter than those of their inorganic counterparts. However, a white OLED device with a lifetime of tens of thousands of hours has already been reported, which is very close to the lifetime of inorganic LEDs. In closing, the latest degradation mechanism studies on OLEDs are presented, revealing both our current understanding of degradation and the challenges that remain for further improving device lifetimes.
Bibliographic information
DOI

https://doi.org/10.1007/978-4-431-55761-6

Copyright Information

Springer Japan KK, part of Springer Nature 2020

Publisher Name

Springer, Tokyo

eBook Packages

Physics and Astronomy

Reference Module Physical and Materials Science

Online ISBN

978-4-431-55761-6