© 2006
Springer Handbook of Materials Measurement Methods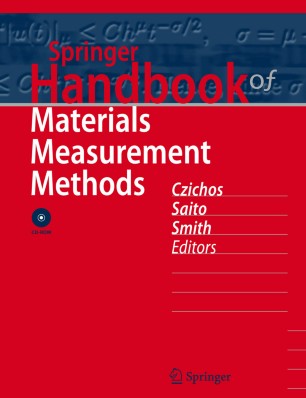 Table of contents
About this book
Introduction
There is no science without measurements, no quality without testing, and no global markets without standards.
(Commission of the European Union)
This Springer Handbook of Materials Measurement Methods compiles advanced methods for materials measurement and characterization from the macroscopic to the nanometer scale. Materials science and its industrial applications require the highest level of accuracy and reliability in the measurement of the properties of materials and the assessment of their safety and reliability. Major technological nations fund large laboratories for testing and measurements that set standards, assess the safety and reliability of materials, and oversee the use of dangerous materials. Behind and beyond the data themselves are the underlying methods whose sophistication and proper use are absolutely necessary to achieve the accuracy, reliability, and safety required by modern technologies. Additionally, the acceleration of the design and creation of new materials via techniques such as molecular modeling and simulation, especially on the nanometer scale, makes the measurement of new materials properties and their characterization ever more critical.
Materials professionals will find clear guidelines and standards for how to measure the full spectrum of materials characteristics of new materials and systems. Since materials science forms a bridge between the more traditional fields of physics, engineering, and chemistry, unifying the varying perspectives and covering the full gamut of properties also serves a useful purpose. This Springer Handbook is the first dedicated to these practical and important considerations.

Key Topics
Measurement Principles and Structures

Measurement Strategy and Quality

Measurement Methods for Composition and Structure: Chemical Composition, Nanoscopic Architecture and Microstructure, Surface and Interface Characterization

Measurement Methods for Materials Properties: Mechanical, Thermal, Electrical, Magnetic, Optical

Measurement Methods for Materials Performance: Corrosion, Friction and Wear, Biogenic Impact, Materials–Environment Interactions, Performance Control and Condition Monitoring

Modeling and Simulation Methods

International Standards


Features
Develops and explains clear guidelines and standards for the measurement
of materials and systems characteristics
Incorporates over 50 pages with latest international standards referenced in chapters (AATCC, ANSI, AS, ASTM, AWPA, BSI, DIN, EN, IEC, ISO, JIS, NF. OIML, SEP, SN, VDI)
Guarantees quick access to data through parts and chapters with summaries, detailed index, and fully searchable CD-ROM
Contains over 500 two-color illustrations and over 50 comprehensive tables
Delivers a wealth of up-to-date references
Keywords
Bibliographic information
Reviews
"This is one of some truly immense volumes of information, and this particular volume has 1200 pages of text and contributions by 105 different experts. … It does contain a lot of useful information, and it is beautifully presented and illustrated. There is no doubt that it will be heavily used and deservedly so." (P.J. Dobson, Contemporary Physics, Vol. 49 (01), January-February, 2008)

"This is an impressive Handbook. It is well referenced and should be an excellent overall general reference for metrology in measurements. The CD ROM is most impressive and makes the Handbook that much more useful. I also like the first several chapters that discuss metrology concepts and ideas and I hope that the Springer Handbook of Materials Measurement Methods is used by scientists and engineers around the world."
Dr. Richard B. Pettit Managing Editor, NCSLI MEASURE, The Journal of Measurement Science
"The book very successfully develops and explains clearly the guidelines and standards for material measurements and the respective characterization of technical systems. More than 50 pages are incorporated which cover the latest standards … . Quick access to the data in the various parts of the book is guaranteed by a detailed index and a fully searchable CD-ROM. … it can only be emphasized that the book represents a must on the desk of every scientist, expert and student involved in materials measurements." (Materialprüfung, Vol. 49 (3), 2007)
"The Springer Handbook of Materials Measurement Methods provides on 1208 pages a concise compilation from more than 100 leading experts in the fields of physics and engineering from all over the world. … is of high value for all pharmaceutical scientists involved in the characterization of drugs, excipients, drug products, devices and packaging materials. … I recommend the Handbook of Materials Measurement Methods as a reference book of high value." (Peter Kleinebudde, European Journal of Pharmaceutics and Biopharmaceutics, Vol. 66, 2007)
"…an overview of the wide variety of materials measurement procedures is essential for all natural and engineering scientists and – the recently published Springer Handbook of Materials Measurement Methods really closes the gap. …professionals need not only handbooks of materials data but clear guidelines and standards for how to measure the full spectrum of materials characteristics of new materials and systems… Such high requirements could only be matched by the international experience and expertise of the three editors… the book very successfully develops and explains the guidelines and standards… it can only be emphasized that the book represents a must on the desk of every scientist, expert, and student involved in materials measurement.' Materials Testing (June 2007)
"This is a review article … summarizes all of the important aspects of materials characterization covered in the 'Springer Handbook of Materials Measurement Methods,' edited by Horst and his co-editors Tetsuya Saito and Leslie Smith. … The Handbook is supplied with a CD-ROM that makes it … more useful. … If you appreciate the importance of this review article, I am sure that you will be motivated to purchase the complete Springer Handbook 'Materials Measurement Methods.'" (NCSL International Measure, Vol. 4 (4), December, 2009)