Introduction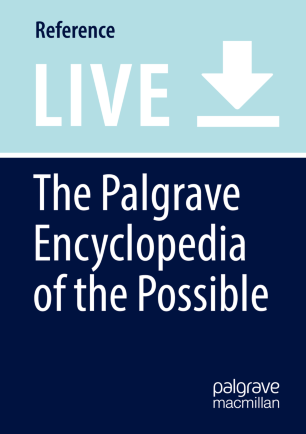 The Palgrave Encyclopedia of the Possible represents a comprehensive resource for researchers and practitioners interested in an emerging multidisciplinary area within psychology and the social sciences: the study of how we engage with and cultivate the possible within self, society and culture.
Far from being opposed either to the actual or the real, the possible engages with concrete facts and experiences, with the result of transforming them. This encyclopedia examines the notion of the possible and the concepts and themes associated with it from standpoints within psychology, philosophy, sociology, neuroscience and logic, as well as multidisciplinary fields of research including anticipation studies, future studies, complexity theory and creativity research.
Presenting multiple perspectives on the possible, the authors consider the distinct social, cultural and psychological processes - e.g., imagination, counterfactual thinking, wonder, play, inspiration, and many others - that define our engagement with new possibilities in domains as diverse as the arts, architecture, design, education and business.
Advisory Board:

Alessandro Antonietti, Catholic University of the Sacred Heart in Milan, Italy
Arjun Appadurai, New York University, USA
Baptiste Barbot, Pace University, USA
Ronald A. Beghetto, University of Connecticut, USA
Kerry Chappell, University of Exeter, UK
Edward Clapp, Harvard University, USAGiovanni Corazza, Bologna University, Italy
Andrea Gaggioli, Catholic University of the Sacred Heart in Milan, Italy
Alex Gillespie, London School of Economics, UKMichael Hanchett Hanson, Columbia University, USA
Pernille Hviid, Copenhagen University, Denmark
Sandra Jovchelovitch, London School of Economics, UK
Maciej Karwowski, University of Wrocław, Poland
James C. Kaufman, University of Connecticut, USA
Todd Lubart, Paris Descartes University, France
Paul March, Oxford University, UK
Luis de Miranda, Uppsala University, Sweden
Alfonso Montuori, California Institute of Integral Studies, USA
Takeshi Okada, University of Tokyo, Japan
Jonathan Plucker, Johns Hopkins University, USA
Roberto Poli, University of Trento, Italy
Roni Reiter-Palmon, University of Nebraska Omaha, USA
Mark Runco, University of Georgia, USA
Joel Schmidt, University of Applied Management, Germany
Zayda Sierra, University of Antioquia, Colombia
Dean Keith Simonton, University of California, Davis, USA
Robert Sternberg, Cornell University, USA
Marie Taillard, ESCP Europe, UK
Min Tang, University of Applied Management, Germany
Frederic Vallee Tourangeau, Kingston University, UK
Jaan Valsiner, Aalborg University, Denmark
Jakob Waag Villadsen, University of Copenhagen
Brady Wagoner, Aalborg University, DenmarkChristian Werner, Privatuniversität Schloss Seeburg, Austria
Tania Zittoun, University of Neuchatel, Switzerland

Senior Editors:
Sergio Agnoli, University of Bologna, Italy
Ross C. Anderson, University of Oregon, USA
Samira Bourgeois-Bougrine, Paris Descartes University, France
Martina Cabra, University of Neuchâtel, Switzerland
Alice Chirico, Università Cattolica del Sacro Cuore, Italy
Gabriel Fortes Cavalcanti de Macêdo, Faculdade de Tecnologia de Alagoas, Brazil
Hana Hawlina, University of Neuchatel, Switzerland
Izabela Lebuda, University of Wroclaw, Poland
Serena Mastria, University of Bologna, Italy
Ingunn Johanne Ness, University of Bergen, Norway
Cathy Nicholson, London School of Economics and Political Science, UK
Richard Randell, Webster University Geneva, Switzerland
Wendy Ross, Kingston University, UK
Ramiro Tau, University of Geneva, Switzerland
Bibliographic information
DOI

https://doi.org/10.1007/978-3-319-98390-5

Publisher Name

Palgrave Macmillan, Cham

eBook Packages

Behavioral Science and Psychology

Reference Module Humanities and Social Sciences

Number Of Entries

108