Introduction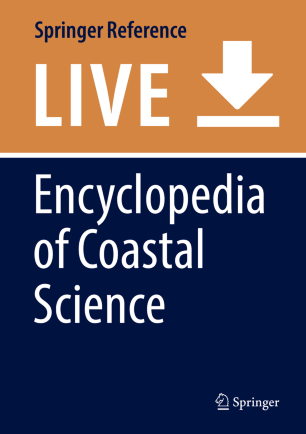 This volume is the thoroughly revised and expanded new edition of Maurice Schwartz's, much acclaimed Encyclopedia of Coastal Sciences (Springer 2005) that presented an interdisciplinary approach that includes geomorphology, ecology, engineering, technology, oceanography, and human activities as they relate to coasts. Within its covers the Encyclopedia of Coastal Science includes many aspects of the coastal sciences that are only to be found scattered among scientific literature.
Being broadly interdisciplinary in its treatment of coasts, the Encyclopedia of Coastal Science features contributions by almost 270 well-known international specialists in their respective fields and is abundantly illustrated with line-drawings and photographs. Not only does this volume offer an extensive number of entries, it also includes various appendices, an illustrated glossary of coastal geomorphology and extensive bibliographic listings.
This Encyclopedia thus provides a comprehensive reference work for students, professionals as well as informed lay readers.
Reviews from the first edition:
Honorable Mention, Award for Excellence in Scholarly and Professional Publishin
"The contents and approach are interdisciplinary and, under a single cover, one finds subjects normally scattered throughout scientific literature."
"The topics cover a broad spectrum, so does the geographic range of the contributors. … besides geomorphologists, biologists, ecologists, engineers, geographers, geologists, oceanographers and technologists will find information related to their respective fields … . Inclusion of appendices … is very useful. The illustrated glossary of geomorphology will prove very useful for many of us … ."
Roger H. Charlier, Journal of Coastal Research, Volume 21, Number 4, Page 866, West Palm Beach, Florida, July 2005.

"It is an excellent work that should be included in any carefully selected list of best science reference books of the year."...."The editor has made a considerable effort to improve on Beaches. In both editions, the contributors' list is notable for having authors from all over the world, and the entries are about the same length, from a long paragraph to several pages."...."Summing Up: Highly recommended. For reference collections in university libraries and for other libraries located in coastal areas."
M.L. Larsgaard, Choice, Volume 43, Issue 6, Page 989, Middletown, February 2006.
"This volume is a comprehensive collection of articles covering all aspects of the subject: social and economic, engineering, coastal processes, habitats, erosion, geological features, research and observation." ... "As with similar works reviewed, I chose to read articles on familiar topics to see if they covered the expected, and some on unfamiliar
topics to see if they could be readily understood. The book passed both tests, but the style is denser and more fact-filled than most of the encyclopedias I have reviewed."
John Goodier, Reference Reviews, Volume 20, Number 2, 2006, pages 35-36.
Bibliographic information
DOI

https://doi.org/10.1007/978-3-319-48657-4

Copyright Information

Springer Nature Switzerland AG 2020

Publisher Name

Springer, Cham

Online ISBN

978-3-319-48657-4

Series Print ISSN

1388-4360

Series Online ISSN

1871-756X

eBook Packages

Earth and Environmental Science

Reference Module Physical and Materials Science

Number Of Entries

327