Space, Place, and Environment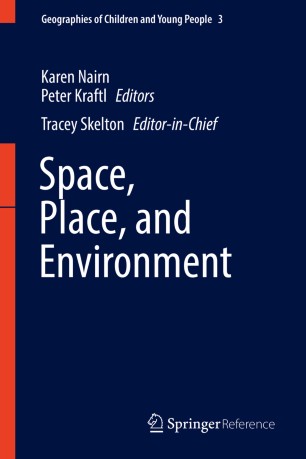 Table of contents
About this book
Introduction
This volume demonstrates the multiple ways that space, place and environment interact with children and young people's lives. The contributors offer a suite of cutting-edge tools and lively examples for theorising how space, place and environment are (con)figured in children and young people's lives. They demonstrate how the social borders between childhood and adulthood, and spatial borders between rural and urban, countries, neighbourhoods, and institutions, are relationally produced.
The volume is organised into five sections: Indigenous Youth: Space and Place; Children, Nature and Environmental Education; Urban Spaces; Home/less Spaces; and Border Spaces. These themes signal the major issues in cutting-edge children's geographies scholarship. Diverse geographical contexts are covered in this volume – including Australia, Brazil, Canada, Cyprus, Ecuador, India, Indonesia, Kazakhstan, Mexico, Morocco, New Zealand, Peru, Slovenia, Spain, the United Kingdom and the United States.

All of the contributors advocate greater recognition of children and young people's spatial rights, whether in the home, outdoors, at school, crossing borders, in public and digital spaces, or simply looking for a safe place to sleep. Children and young people's perspectives on space, place and the environment, and their desire for places to call their own, tie the volume together. The volume is a testament to the politics of the spaces and places of childhood, highlighting how many children and young people face obstacles to living well and to living where they desire.
Keywords
Cultural geography
Development geography
Emotional and affective geography
Feminist geography
Formation of geographies of children and young peoples
Bibliographic information