Clinical Toxinology in Australia, Europe, and Americas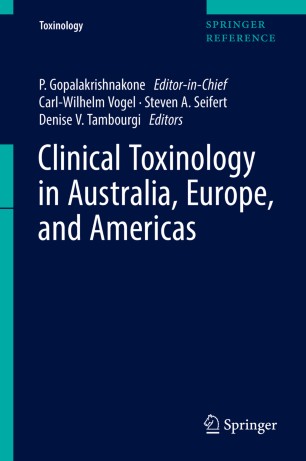 Table of contents
Clinical Toxinology in Australia, Europe, and Americas: Envenomation in the Americas

Clinical Toxinology in Australia, Europe, and Americas: Envenomation in Australia

Clinical Toxinology in Australia, Europe, and Americas: Envenomation in Europe

Clinical Toxinology in Australia, Europe, and Americas: Global Envenomation

Clinical Toxinology in Australia, Europe, and Americas: Exotic Envenomation

Clinical Toxinology in Australia, Europe, and Americas: Veterinary Envenomation

Clinical Toxinology in Australia, Europe, and Americas: Special Topics
About this book
Introduction
This handbook addresses various topics on clinical toxinology such as the epidemiology and management of snake and insect bites in Australia and different countries in Europe and the Americas. Chapters will be written by experts currently working in the subspecialty, many of whom have first-hand experience in the relevant research fields. In virtually all the topics, appropriate illustrations are provided to simplify comprehension including tables, figures and pictures.
Clinical toxinologic conditions are becoming increasingly frequent, more so than is generally recognized. The conditions comprise of clinical aspects such as the diagnosis, management, and prevention of snakebite envenoming, scorpion sting, mushroom toxins, plant toxins, and other natural toxins. Clinical toxinology also deals with the ecology, epidemiology, regional differences, and varieties of fauna accounting for different envenoming manifestations.
This reference work, part of the Toxinology handbook series, is designed to keep readers abreast with new knowledge and experience in toxinology regionally and globally. Toxinologists, researchers, scientists, and experts in this field from various working areas considered it necessary to collect all the aspects of clinical toxinology in a single, handy handbook. This can be used by medical students, postgraduate students, general practitioners, specialists in internal medicine, critical care physicians, emergency physicians, and anesthetists worldwide.
Keywords
Drug Development
Drug Discovery
Toxin
Toxinology
Venom
Bibliographic information
DOI

https://doi.org/10.1007/978-94-017-7438-3

Copyright Information

Springer Science+Business Media B.V., part of Springer Nature 2018

Publisher Name

Springer, Dordrecht

Print ISBN

978-94-017-7436-9

Online ISBN

978-94-017-7438-3

Series Print ISSN

2542-761X

Series Online ISSN

2542-7644