Introduction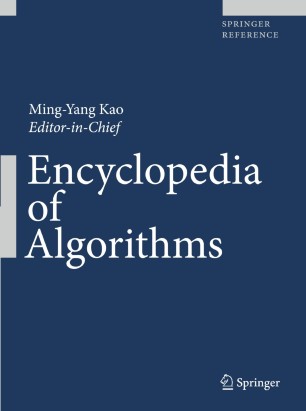 The Encyclopedia of Algorithms provides a comprehensive set of solutions to important algorithmic problems for students and researchers, including high-impact solutions from the most recent decade.
A must-have for computer scientists, this encyclopedic reference has been edited by Ming Yang Kao, Editor-in-Chief of the top journal in the field, Algorithmica.
All of the entries have been written and peer-reviewed by experts in the field. Nearly 400 entries are organized alphabetically by problem, with subentries for distinct solutions.
Extensive cross-references support efficient, user-friendly searches for immediate access to useful information.
This defining reference is published both in print and online. The print publication includes an index of subjects and authors as well as a chronology for locating recent solutions. The online edition supplements this index with hyperlinks as well as including internal hyperlinks to related entries in the text, CrossRef citations, and links to additional significant research.
Open problems, links to downloadable code, experimental results, data sets, and illustrations are included.
Bibliographic information
Copyright Information

Springer-Verlag US 2008

Publisher Name

Springer, Boston, MA

Print ISBN

978-0-387-30770-1

Online ISBN

978-0-387-30162-4

eBook Packages

Computer Science

Number Of Entries

485