Abstract
Heat-shock proteins (HSPs), highly conserved across species, are generally considered as intracellular proteins that have protective functions in situations of cellular stress. A wide variety of stressful stimuli like heat shock, ultraviolet radiation, and viral or bacterial infections induce a substantial increase in intracellular HSP synthesis (1). The main functions ascribed to HSPs (not only restricted to situations of cellular stress) are to act as chaperones of nascent or aberrantly folded proteins. From the immunological point of view, HSPs have obtained significant interest because it could be shown that HSPs like Hsp70 and gp96 purified from tumor and virus-infected cells are capable of eliciting a protective CTL-mediated immunity (2,3). This immunogenicity is based on antigenic peptides that are associated with Hsp70 and gp96 molecules, and peptide-deprived HSP complexes lose their immunization capacity (4).
Keywords
Column Volume

Cellular Assay

PD10 Column

Murine Tissue

Professional APCs
These keywords were added by machine and not by the authors. This process is experimental and the keywords may be updated as the learning algorithm improves.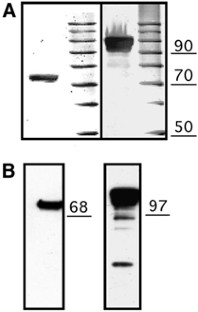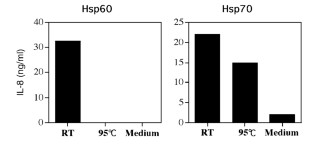 References
Hartl, F. U. (1996) Molecular chaperones in cellular protein folding. Nature 381, 571–580.

Blachere, N. E., Udono, H., Janetzki, S., Li, Z., Heike, M., and Srivastava, P. K.(1993) Heat shock protein vaccines against cancer. J. Immunother. 14, 352–356.

Udono, H. and Srivastava, P. K. (1994) Comparison of tumor-specific immunogenicities of stress-induced proteins gp96, hsp90, and hsp70. J. Immunol. 152, 5398–5403.

Srivastava, P. K., Menoret, A., Basu, S., Binder, R. J., and McQuade, K. L. (1998) Heat shock proteins come of age: primitive functions acquire new roles in an adaptive world. Immunity 8, 657–665.

Breloer, M., Fleischer, B., and von Bonin, A. (1999) In vivo and in vitro activation of T cells after administration of Ag-negative heat shock proteins. J. Immunol. 162, 3141–3147.

Asea, A., Kraeft, S. K., Kurt-Jones, E. A., Stevenson, M. A., Chen, L. B., Finberg, R. W., et al. (2000) HSP70 stimulates cytokine production through a CD14-dependant pathway, demonstrating its dual role as a chaperone and cytokine. Nat.Med. 6, 435–442.

Singh-Jasuja, H., Scherer, H. U., Hilf, N., Arnold-Schild, D., Rammensee, H. G., Toes, R. E., et al. (2000) The heat shock protein gp96 induces maturation of dendritic cells and down-regulation of its receptor. Eur. J. Immunol. 30, 2211–2215.

Udono, H., Levey, D. L., and Srivastava, P. K. (1994) Cellular requirements fo rtumor-specific immunity elicited by heat shock proteins: tumor rejection antigen gp96 primes CD8+T cells in vivo. Proc. Natl. Acad. Sci. USA 91, 3077–3081.

Peng, P., Menoret, A., and Srivastava, P. K. (1997) Purification of immunogenic heat shock protein 70-peptide complexes by ADP-affinity chromatography. J. Immunol. Methods 204, 13–21.

Walden, P. R. and Eisen, H. N. (1990) Cognate peptides induce self-destruction of CD8+cytolytic T lymphocytes. Proc. Natl. Acad. Sci. USA 87, 9015–9019.

Singh-Jasuja, H., Toes, R. E., Spee, P., Munz, C., Hilf, N., Schoenberger, S. P., et al. (2000) Cross-presentation of glycoprotein 96-associated antigens on major histocompatibility complex class I molecules requires receptor-mediated endocytosis. J. Exp. Med. 191, 1965–1974.

Lutz, M. B., Kukutsch, N. A., Menges, M., Rossner, S., and Schuler, G. (2000) Culture of bone marrow cells in GM-CSF plus high doses of lipopolysaccharide generates exclusively immature dendritic cells which induce alloantigen-specific CD4 T cell anergy in vitro. Eur. J. Immunol. 30, 1048–1052.
About this protocol
Cite this protocol
Bonin, A.v., Moré, S.H., Breloer, M. (2003). Purification of the Eucaryotic Heat-Shock Proteins Hsp70 and gp96. In: Körholz, D., Kiess, W. (eds) Cytokines and Colony Stimulating Factors. Methods in Molecular Biology, vol 215. Humana, Totowa, NJ. https://doi.org/10.1385/1-59259-345-3:193
DOI: https://doi.org/10.1385/1-59259-345-3:193

Publisher Name: Humana, Totowa, NJ

Print ISBN: 978-1-58829-035-9

Online ISBN: 978-1-59259-345-3

eBook Packages: Springer Protocols