Abstract

The classic paper by Schmitz and Galas (1) established the usefulness of footprinting analysis for identifying protein-bound sites on DNA. The basis of the footprinting technique is that DNA-bound proteins protect the phosphodiester backbone of DNA from modification or cleavage by external agents, such as deoxyribonuclease. The technique is used most commonly to identify protected DNA sequences that are binding sites for transcription factors or other proteins involved in transcription initiation. When used in combination with other methods that confirm high-affinity protein-DNA interactions, such as electrophoretic mobility shift assay or chromatin immunoprecipitation, footprinting adds important evidence that delineates the residues critical for protein binding.
Keywords
Electrophoretic Mobility Shift Assay

Agarose Bead

Dimethyl Sulfate

Bromphenol Blue

Rabbit Reticulocyte Lysate
These keywords were added by machine and not by the authors. This process is experimental and the keywords may be updated as the learning algorithm improves.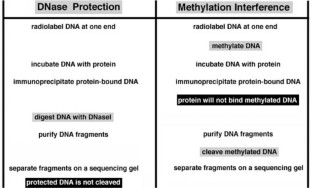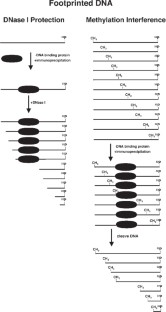 References
Schmitz, A. and Galas, D. J. (1978) The interaction of RNA polymerase and lac repressor with the lac control region. Nucleic Acids Res. 6, 111–137.

Mitchell, K. O., Ricci, M. S., Miyashita, T., et al. (2000) Bax is a transcriptional target and mediator of c-myc-induced apoptosis. Cancer Res. 60, 6318–6325.

El-Deiry, W. S., Kern, S. E., Pietenpol, J. A., Kinzler, K. W., and Vogelstein, B. (1992) Definition of a consensus binding site for p53. Nat. Genet. 1, 45–49.

Chory, J. and Pollard, J. D. (1999) Resolution and recovery of small DNA fragments, in Current Protocols in Molecular Biology (Moore, D., ed.) Wiley, New York, vol. 1, pp. 2.7.1–2.7.8.

Slatko, B. E. and Albright, L. M. (1992) Denaturing gel electrophoresis for sequencing, in Current Protocols in Molecular Biology (Ausubel, F. M. and Albright, L. M., eds.) Wiley, New York, vol. 1, pp. 7.6.1–7.6.13.

Garrity, P. and Wold, B. (1992) Effects of different DNA polymerases in ligation-mediated PCR: enhanced genomic sequencing and in vivo footprinting. Proc. Natl. Acad. Sci. USA 89, 1021–1025.

Mueller, P. R., Wold, B., and Garrity, P. A. (1992) Ligation-mediated PCR for genomic sequencing and footprinting, in Current Protocols in Molecular Biology (Coen, D. M., ed.) Wiley, New York, vol. 2, pp. 15.15.11–15.15.26.
About this protocol
Cite this protocol
Ricci, M.S., El-Deiry, W.S. (2003). DNA Footprinting. In: El-Deiry, W.S. (eds) Tumor Suppressor Genes. Methods in Molecular Biology™, vol 223. Humana Press. https://doi.org/10.1385/1-59259-329-1:117
DOI: https://doi.org/10.1385/1-59259-329-1:117

Publisher Name: Humana Press

Print ISBN: 978-0-89603-987-2

Online ISBN: 978-1-59259-329-3

eBook Packages: Springer Protocols