Analyzing the Contributions of Chromatin Structure in Nuclear Hormone Receptor Activated Transcription In Vivo
Part of the Methods in Molecular Biology™ book series (MIMB, volume 176)
Abstract
The mouse mammary tumor virus (MMTV) promoter has been used extensively as a model system to examine the role of chromatin structure on transcriptional regulation from a steroid responsive gene (
Fig. 1
). Early studies demonstrated that the chromatin structure of the MMTV promoter was altered upon glucocorticoid treatment, such that a discrete region became hypersensitive to DNaseI (
1
). This hypersensitive region corresponded to the portion of the MMTV promoter that was shown to function as a hormonal enhancer in vivo (
1
). Examination of the MMTV promoter stably maintained in mouse mammary cell lines revealed that the MMTV long terminal repeat (LTR) organized into a phased array of six precisely positioned nucleosomes (
A-F
) (
2
-
4
). The proximal promoter, containing the hormone response elements (HREs), and binding sites for nuclear factor 1 (NF1), TATA binding protein (TBP), and octamer transcription factors (OTFs) is encompassed by nucleosomes A and B (
2
,
5
). Analysis of glucocorticoid activation of the MMTV promoter demonstrated that the glucocorticoid receptor (GR) initiated a cascade of events that led to chromatin disruption upon GR binding to the HREs. Prior to hormonal stimulation the MMTV promoter chromatin structure excluded NF1, TBP, and OTFs from their binding sites (
6
-
8
). Treatment with glucocorticoids resulted in activation of the GR, recruitment of coactivators (CoAs) and chromatin remodeling complexes (CRCs), as well as disruption of nucleosome B, subsequent binding of NF1 and OTF, and assembly of a preinitiation complex (
9
,
10
).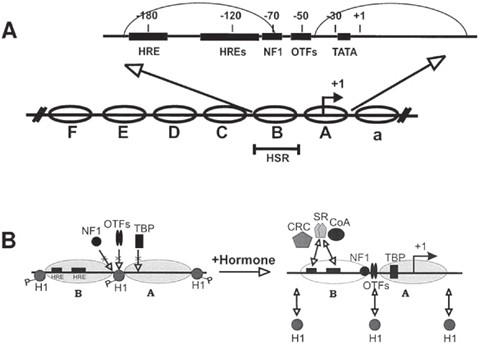 Keywords
Glucocorticoid Receptor 
Chromatin Structure 
Long Terminal Repeat 
TATA Binding Protein 
Micrococcal Nuclease 
These keywords were added by machine and not by the authors. This process is experimental and the keywords may be updated as the learning algorithm improves.