Abstract
The use of substituted cyclopropanes as conformationally constrained peptidomimetics has received considerable attention recently (
1
,
2
,
3
,
4
,
5
,
6
). The efforts from our laboratory in this area have focused on the use 1,2,3-trisubstituted cyclopropanes as novel isosteric replacements in several biological systems (
7
,
8
,
9
,
10
). A common theme of this program has been the use of
trans
-substituted cyclopropanes to enforce extended or "β-strand" secondary structure while orienting the amino acid side chain in a predictable conformation (
11
). In an effort to explore further the utility of this novel isostere, modeling and calculations suggested that a
cis
-substituted cyclopropane dipeptide subunit could stabilize a turn structure. The focus of this chapter is to describe the preparation of a novel cyclopropane-containing
cis
-substituted (-Glyψ[CHOH-cp-CONH]-) subunit, which replaces Gly
2
-Gly
3
subunit of the Leu-enkephalin (Tyr-Gly-Gly-Phe-Leu) framework shown in
Fig. 1
.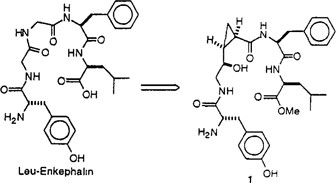 Keywords
Organic Layer 
Magnesium Sulfate 
Flash Chromatography 
Ethylcarbodiimide Hydrochloride 
Saturated Aqueous NaHCO3 
These keywords were added by machine and not by the authors. This process is experimental and the keywords may be updated as the learning algorithm improves.
Copyright information
© Humana Press Inc., Totowa, NJ 1999