Abstract
The concept of topographic design of peptide neurotransmitters and hormones was pioneered by Hruby (
1
,
2
). When the design involved primarily constraint of the side chains of a peptide that has a well-defined backbone conformation, the term "topographic design on a stable template" was proposed (
3
). The side chain χ
1
of aromatic amino acids, such as Phe, Trp, Tyr, and His, can be constrained in either the gauche (−) or gauche (+) conformation by linking the nitrogen atom to the aromatic ring through a methylene bridge (
Fig. 1
).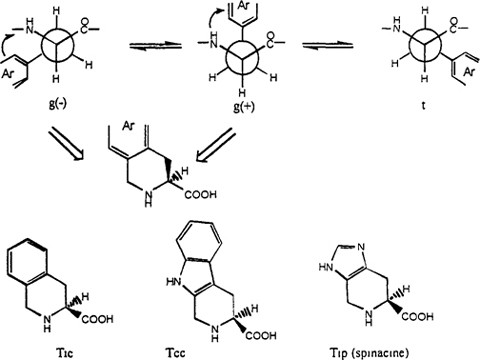 Keywords
Aromatic Amino Acid 
Mandelic Acid 
Benzoyl Chloride 
Zwitterionic Form 
Benzyl Ester 
These keywords were added by machine and not by the authors. This process is experimental and the keywords may be updated as the learning algorithm improves.
Copyright information
© Humana Press Inc., Totowa, NJ 1999