Antisense Therapy of Hepatitis B Virus Infection
In Vivo Analyses in the Duck Hepatitis B Virus Model
Part of the Methods in Molecular Medicine book series (MIMM, volume 1)
Abstract
Infectious diseases in general and viral infections in particular can be viewed as acquired genetic diseases (
1
,
2
). At the molecular level, clinical signs and symptoms of viral infections are frequently caused by the expression or overexpression of the acquired genes. Based on this basic concept, such acquired genetic diseases should be amenable to treatment by a specific block of gene expression. Gene expression can be blocked at different levels by the following strategtes: sense strategy, antigene strategy, ribozymes, antisense strategy, and interfering peptrdes or proteins (
Fig. 1
).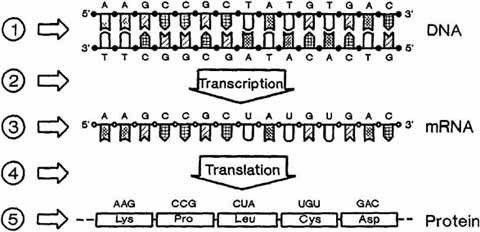 Keywords
Antisense Oligodeoxynucleotides 
Pekin Duck 
Duck Hepatitis 
Antisense Strategy 
Bovine Papilloma Virus 
These keywords were added by machine and not by the authors. This process is experimental and the keywords may be updated as the learning algorithm improves.
Copyright information
© Humana Press Inc., Totowa, NJ 1996