Abstract
Phosphoinositide hydrolysis by phospholipase C (PLC) is a widespread transduction mechanism by which activation of many neurotransmitter and hormone receptors triggers the formation of the second messengers inositol 1,4,5-trisphosphate [Ins(1,4,5)P
3
] and 1,2-diacyl-glycerol (
1
,
2
,
3
). Coupling between the receptor and PLC is often regulated by a guanine nucleotide binding regulatory protein from the G
q
family (
4
), similar to those involved in the regulation of adenylyl cyclase. In this chapter, we describe experimental protocols that allow the study of PLC activation by agonists of the Ml/M3-muscarinic and 5HT
2
-sero-tonergic receptors in washed membrane preparations from brain. These assays differ basically from the more extended experimental designs involving [3
H
]inositol-labeled brain slices in the following aspects:
1.

Besides the receptor/G, mechanism, PLC is readily stimulated by increases in the cytosolic concentration of calcium (5). Accordingly, a plethora of stimuli resulting in calcium entry (direct receptor gating, depolarization, and so forth) are expected to stimulate PLC in brain slices or other preparations, like synaptosomes or synaptoneurosomes. However, in membrane assays, there is no asymmetry in the calcium concentrations across the membrane, which are buffered down to resting intracellular levels. This features a clear difference between mechanisms of PLC activation involving the direct coupling receptor/G,-,/PLC (as muscarinic or serotonergic stimulation), on the one hand, and those involving calcium activation of the enzyme (such as a,-adrenergic, ionomycin, or KC1 stimulation), on the other hand, which will not result in PLC stimulation (Fig. 1).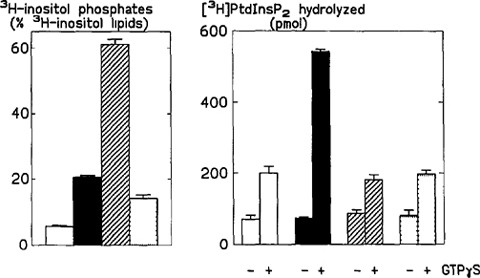 Keywords
Sodium Deoxycholate 
Agonist Effect 
Free Calcium Concentration 
Resuspension Buffer 
Phosphoinositide Hydrolysis 
These keywords were added by machine and not by the authors. This process is experimental and the keywords may be updated as the learning algorithm improves.
Copyright information
© Humana Press Inc , Totowa, NJ 1995