Abstract
Most nonviral gene transfection vectors deliver transfecting DNA into cells through the endocytic pathway (
1
,
2
). Poor escape from endocytic vesicles in many cases constitutes a major barrier for delivery of a functional gene, since the endocytosed transfecting DNA is unable to reach the cytosol and be further transported to the nucleus, but rather is trapped in endocytic vesicles and finally degraded in lysosomes (
3
). Therefore, the development of endosome-disruptive strategies is of great importance for the further progress of gene transfection. We have developed a new technology, termed photochemical internalization (PCI), to achieve light-inducible permeabilization of endocytic vesicles (
4
,
5
,
6
,
7
,
8
). The technology is based on photochemical reactions initiated by photosensitizers localized in endocytic vesicles and inducing rupture of these vesicles upon light exposure (
4
). This leads to the release of endocytosed macromolecules such as transfecting DNA from endocytic vesicles into the cytosol (
Fig. 1
). As a light-dependent treatment, PCI-mediated transfection (photochemical transfection) allows the possibility of directing the gene delivery to a desired site, e.g., achieving tumor-specific expression of a therapeutic gene in gene therapy in vivo.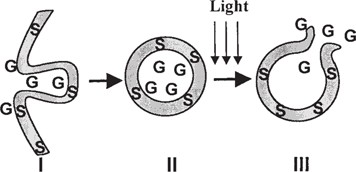 Keywords
Charge Ratio 
Therapeutic Gene 
Light Dose 
Endocytic Vesicle 
Tetraphenyl Porphines 
These keywords were added by machine and not by the authors. This process is experimental and the keywords may be updated as the learning algorithm improves.