Abstract
Immunohistochemistry is a technique in which the specific interaction between an immunoglobulin and its homologous antigen is visualized on histological sections by a microscopically detectable label. Generally, the label consists of an enzyme, such as peroxidase, alkaline phosphatase, or glucose oxidase that reacts with an appropriate substrate-chromogen solution to produce a specific color at the site of reaction. Several immunohistochemical techniques have been developed and the most important are schematically represented in
Fig. 1.
In the direct method, the primary antibody is directly labeled with the enzyme. In the indirect method, an enzyme-labeled secondary antibody is directed against the immunoglobulin type of the animal species in which the primary antibody has been raised. Both methods have a relatively low sensitivity and are therefore not frequently used.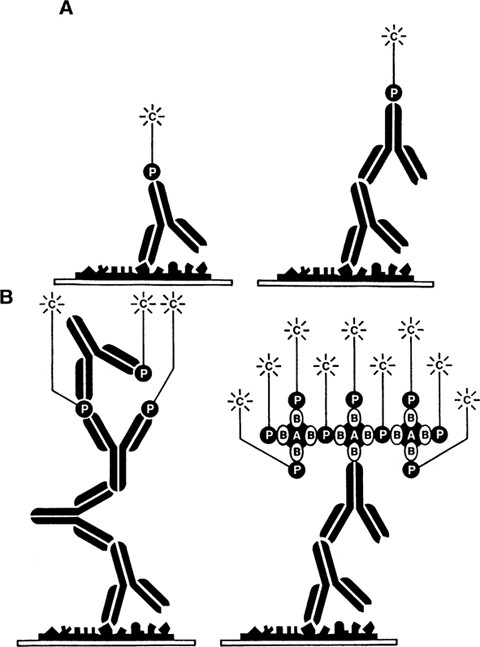 Keywords
Immunohistochemical Technique 
Veterinary Pathology 
Mycoplasma Gallisepticum 
Aluminum Potassium Sulfate 
Mycoplasma Hyorhinis 
These keywords were added by machine and not by the authors. This process is experimental and the keywords may be updated as the learning algorithm improves.
Copyright information
© Humana Press Inc., Totowa, NJ 1998