Abstract

Plant primary metabolites are organic compounds that are common to all or most plant species and are essential for plant growth, development, and reproduction. They are intermediates and products of metabolism involved in photosynthesis and other biosynthetic processes. Primary metabolites belong to different compound families, mainly carbohydrates, organic acids, amino acids, nucleotides, fatty acids, steroids, or lipids. Until recently, unlike the Human Metabolome Database (http://www.hmdb.ca) dedicated to human metabolism, there was no centralized database or repository dedicated exclusively to the plant kingdom that contained information on metabolites and their concentrations in a detailed experimental context. MeRy-B is the first platform for plant 1H-NMR metabolomic profiles (MeRy-B, http://bit.ly/meryb), designed to provide a knowledge base of curated plant profiles and metabolites obtained by NMR, together with the corresponding experimental and analytical metadata. MeRy-B contains lists of plant metabolites, mostly primary metabolites and unknown compounds, with information about experimental conditions, the factors studied, and metabolite concentrations for 19 different plant species (Arabidopsis, broccoli, daphne, grape, maize, barrel clover, melon, Ostreococcus tauri, palm date, palm tree, peach, pine tree, eucalyptus, plantain rice, strawberry, sugar beet, tomato, vanilla), compiled from more than 2,300 annotated NMR profiles for various organs or tissues deposited by 30 different private or public contributors in September 2013. Currently, about half of the data deposited in MeRy-B is publicly available. In this chapter, readers will be shown how to (1) navigate through and retrieve data of publicly available projects on MeRy-B website; (2) visualize lists of experimentally identified metabolites and their concentrations in all plant species present in MeRy-B; (3) get primary metabolite list for a particular plant species in MeRy-B; and for a particular tissue (4) find information on a primary metabolite regardless of the species.
Key words
Primary metabolism

Metabolite

Database

Concentration

Tissue

NMR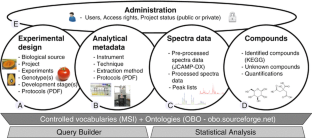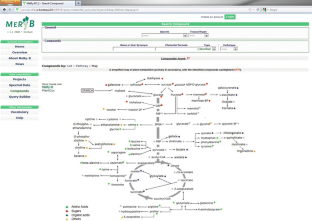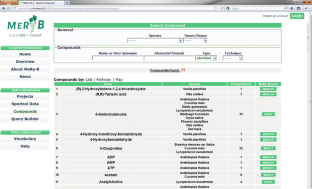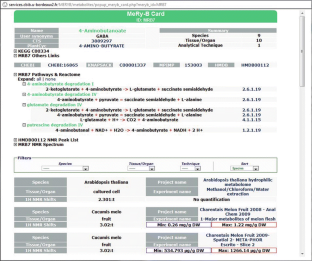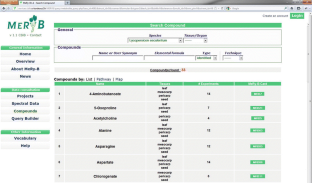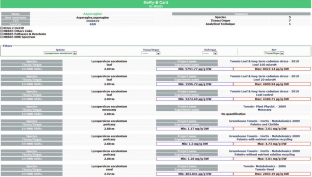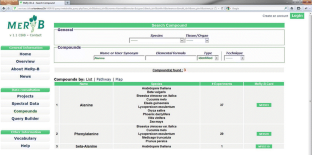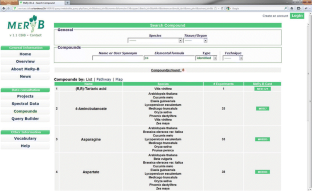 References
Pichersky E, Lewinsohn E (2011) Convergent evolution in plant specialized metabolism. Annu Rev Plant Biol 62:549–566

de Oliveira Dal'Molin CG, Quek L-E, Palfreyman RW et al (2010) AraGEM, a genome-scale reconstruction of the primary metabolic network in Arabidopsis. Plant Physiol 152:579–589. doi:10.1104/pp. 109.148817

Kaplan F, Kopka J, Haskell DW et al (2004) Exploring the temperature stress metabolome of Arabidopsis. Plant Physiol 136:4159–4168

Gromova M, Roby C (2010) Toward Arabidopsis thaliana hydrophilic metabolome: assessment of extraction methods and quantitative 1H NMR. Physiol Plant 140:111–127

Allwood JW, de Vos RC, Moing A et al (2011) Plant metabolomics and its potential for systems biology research background concepts, technology, and methodology. Methods Enzymol 500:299–336

Forsythe IJ, Wishart DS (2009) Exploring human metabolites using the human metabolome database. Curr Protoc Bioinformatics 14(8):1–45. doi:10.1002/0471250953.bi1408s25

Ferry-Dumazet H, Gil L, Deborde C et al (2011) MeRy-B: a web knowledgebase for the storage, visualization, analysis and annotation of plant NMR metabolomic profiles. BMC Plant Biol 11:104. doi:10.1186/1471-2229-11-104

Plant Metabolic Network (PMN) http://www.plantcyc.org. 28 Feb 2008

Wohlgemuth G, Haldiya P, Willighagen E et al (2010) The chemical translation service—a web-based tool to improve standardization of metabolomic reports. Bioinformatics 26:2647–2648

Kanehisa M, Goto S, Hattori M et al (2006) From genomics to chemical genomics: new developments in KEGG. Nucleic Acids Res 34:D354–D357

Wishart DS, Knox C, Guo AC et al (2009) HMDB: a knowledgebase for the human metabolome. Nucleic Acids Res 37((Database issue)):D603–D610

Degtyarenko K, de Matos P, Ennis M et al (2007) ChEBI: a database and ontology for chemical entities of biological interest. Nucleic Acids Res 36(Database issue):D344–D350

Shinbo Y, Nakamura Y, Altaf-Ul-Amin M et al (2006) KNApSAcK: a comprehensive species-metabolite relationship database. In: Saito K, Dixon RA, Willmitzer L (eds) Biotechnology in agriculture and forestry, vol 57, Plant metabolomics. Springer, Berlin, pp 165–181

Mochamad Afendi F, Okada T, Yamazaki M et al (2012) KNApSAcK family databases: integrated metabolite-plant species databases for multifaceted plant research. Plant Cell Physiol. doi:10.1093/pcp/pcr165

Kopka J, Schauer N, Krueger S et al (2005) GMD@CSB.DB: the Golm metabolome database. Bioinformatics 21:1635–1638

Sumner L, Amberg A, Barrett D et al (2007) Proposed minimum reporting standards for chemical analysis. Chemical Analysis Working Group (CAWG) Metabolomics Standards Initiative (MSI). Metabolomics 3:211–221
Acknowledgements

The authors thank all the contributors who deposit their data in MeRy-B and especially the Metabolome Facility members of Bordeaux Functional Genomics Center and their collaborators, the META-PHOR EU consortium (FOOD-CT-2006-036220), the Genoplante GEN036 consortium, and the FRIM EU ERASysBio+ project. The authors wish to thank INRA and IBiSA for financial support in the development and maintenance of the MeRy-B database and knowledge base and CBiB for housing the database.

The authors thank Dr A. Moing for critical reading.
Copyright information

© 2014 Springer Science+Business Media, New York
About this protocol
Cite this protocol
Deborde, C., Jacob, D. (2014). MeRy-B, a Metabolomic Database and Knowledge Base for Exploring Plant Primary Metabolism. In: Sriram, G. (eds) Plant Metabolism. Methods in Molecular Biology, vol 1083. Humana Press, Totowa, NJ. https://doi.org/10.1007/978-1-62703-661-0_1
DOI: https://doi.org/10.1007/978-1-62703-661-0_1

Published:

Publisher Name: Humana Press, Totowa, NJ

Print ISBN: 978-1-62703-660-3

Online ISBN: 978-1-62703-661-0

eBook Packages: Springer Protocols