Abstract

With the aim of studying a wide cohort of erythrocyte samples in a clinical setting, this chapter details a novel approach that allows the analysis of both human cytosolic and membrane sub-proteomes. Despite their simple structure, the high content of hemoglobin present in the red blood cells (RBCs) makes their proteome analysis enormously difficult. Careful investigation of different strategies for isolation of the membrane and cytosolic fractions from erythrocytes and their influence on proteome profiling by 2-DE was carried out, paying particular attention to hemoglobin removal. As result, a simple, quick, and satisfactory approach for hemoglobin depletion of erythrocyte cells based on HemogloBind™ reagent is shown here to satisfactorily analyze the cytosolic sub-proteome by 2-DE without major interference. For membrane proteome, a novel combined strategy based on hypotonic lysis isolation and further purification on minicolumns is described, allowing detection of high-molecular-weight proteins (i.e., spectrin, ankyrin) and well-resolved 2-DE patterns. The analysis of the membrane fraction by nano-LC coupled to an LTQ-Orbitrap mass spectrometer results in the identification of a total of 188 unique proteins.
Key words
Erythrocytes

Hemoglobind

Membrane proteins

Cytosolic proteins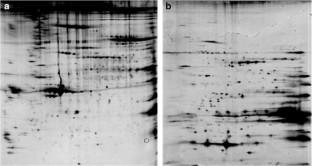 References
Goodman SR, Kurdia A, Ammann L, Kakhniashvili D, Daescu O (2007) The human red blood cell proteome and interactome. Exp Biol Med 232:1391–1408

Kakhniashvili DG, Bulla LA Jr, Goodman SR (2004) The human erythrocyte proteome: analysis by ion trap mass spectrometry. Mol Cell Proteomics 3:501–509

Pasini EM, Kirkegaard M, Mortensen P, Lutz HU et al (2006) In-depth analysis of the membrane and cytosolic proteome of red blood cells. Blood 108:791–801

Zhang Q, Tang N, Schepmoes AA, Phillips LS et al (2008) Proteomic profiling of no enzymatically glycated proteins in human plasma erythrocyte membranes. J Proteome Res 7:2025–2032

Santoni V, Mohillo M, Rabilloud T (2000) Membrane proteins and proteomics: un amour impossible? Electrophoresis 21:1054–1070

Prabakaran S, Wengenroth M, Lockstone HE, Lilley K et al (2007) 2-D DIGE analysis of liver and red blood cells provides further evidence for oxidative stress in schizophrenia. J Proteome Res 6:141–149

Jiang M, Jia L, Jiang W, Hu X et al (2003) Protein disregulation in red blood cell membranes of type 2 diabetic patients. Biochem Biophys Res Commun 309:196–200

Kakhniashvili DG, Griko NB, Bulla LA Jr, Goodman SR (2005) The proteomics of sickle cell disease: profiling of erythrocyte membrane proteins by 2D-DIGE and tandem mass spectrometry. Exp Biol Med 230:787–792

Luche S, Santoni V, Rabilloud T (2003) Evaluation of nonionic zwitterionic detergents as membrane protein solubilizers in two-dimensional electrophoresis. Proteomics 3:249–253

Bruschi M, Seppi C, Arena S, Musante L et al (2005) Proteomic analysis of erythrocyte membranes by soft Immobiline gels combined with differential protein extraction. J Proteome Res 4:1304–1309

Alvarez-Llamas G, de la Cuesta F, Barderas MG, Darde VM, Zubiri I, Caramelo C, Vivanco F (2009) A novel methodology for the analysis of membrane and cytosolic sub-proteomes of erythrocytes by 2-DE. Electrophoresis 23:4095–4108
Acknowledgments

This work was supported by Instituto de Salud Carlos III (grant numbers FIS PI070537, FIS PI080970, FISPI080920, RD07/0064/0023, FI06/00583, CP09/00229, PI11/02239, PI11/001401), Mutua Madrileña Automovilista (grant number 20174/004), Fundacion Conchita Rabago, Redes temáticas de Investigación Cooperativa en Salud (RD06/0014/1015), and grants from Fundación para la Investigación Sanitaria de Castilla-La Mancha (FISCAM PI2008-08, PI2008-28, PI2008-52).
Copyright information

© 2013 Springer Science+Business Media New York
About this protocol
Cite this protocol
Alvarez-Llamas, G., de la Cuesta, F., Barderas, M.G., Zubiri, I., Posada-Ayala, M., Vivanco, F. (2013). Characterization of Membrane and Cytosolic Proteins of Erythrocytes. In: Vivanco, F. (eds) Vascular Proteomics. Methods in Molecular Biology, vol 1000. Humana Press, Totowa, NJ. https://doi.org/10.1007/978-1-62703-405-0_6
DOI: https://doi.org/10.1007/978-1-62703-405-0_6

Published:

Publisher Name: Humana Press, Totowa, NJ

Print ISBN: 978-1-62703-404-3

Online ISBN: 978-1-62703-405-0

eBook Packages: Springer Protocols