Abstract

Interindividual variability in xenobiotic metabolism and drug response is extensive and genetic factors play an important role in this variation. A majority of clinically used drugs are substrates for the cytochrome P450 (CYP) enzyme system and interindividual variability in expression and function of these enzymes is a major factor for explaining individual susceptibility for adverse drug reactions and drug response. Because of the existence of many polymorphic CYP genes, for many of which the number of allelic variants is continually increasing, a universal and official nomenclature system is important. Since 1999, all functionally relevant polymorphic CYP alleles are named and published on the Human Cytochrome P450 Allele (CYP-allele) Nomenclature Web site (http://www.cypalleles.ki.se). Currently, the database covers nomenclature of more than 660 alleles in a total of 30 genes that includes 29 CYPs as well as the cytochrome P450 oxidoreductase (POR) gene. On the CYP-allele Web site, each gene has its own Webpage, which lists the alleles with their nucleotide changes, their functional consequences, and links to publications identifying or characterizing the alleles. CYP2D6, CYP2C9, CYP2C19, and CYP3A4 are the most important CYPs in terms of drug metabolism, which is also reflected in their corresponding highest number of Webpage hits at the CYP-allele Web site.

The main advantage of the CYP-allele database is that it offers a rapid online publication of CYP-alleles and their effects and provides an overview of peer-reviewed data to the scientific community. Here, we provide an update of the CYP-allele database and the associated nomenclature.
Key words
Cytochrome P450

Pharmacogenetics

Adverse drug reactions

Drug response

NADPH cytochrome P450 reductase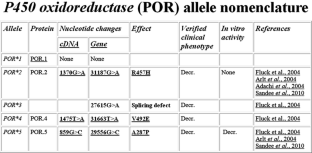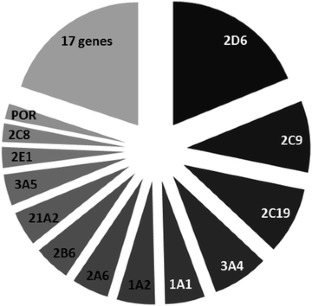 References
Sim SC, Ingelman-Sundberg M (2011) Pharmacogenomic biomarkers: new tools in current and future drug therapy. Trends Pharmacol Sci 32:72–81

Paugh SW, Stocco G, McCorkle JR, Diouf B, Crews KR, Evans WE (2011) Cancer pharmacogenomics. Clin Pharmacol Ther 90:461–466

Ma Q, Lu AY (2011) Pharmacogenetics, pharmacogenomics, and individualized medicine. Pharmacol Rev 63:437–459

Wang L, McLeod HL, Weinshilboum RM (2011) Genomics and drug response. N Engl J Med 364:1144–1153

Ingelman-Sundberg M, Sim SC, Gomez A, Rodriguez-Antona C (2007) Influence of cytochrome P450 polymorphisms on drug therapies: pharmacogenetic, pharmacoepigenetic and clinical aspects. Pharmacol Ther 116:496–526

Rodriguez-Antona C, Gomez A, Karlgren M, Sim SC, Ingelman-Sundberg M (2010) Molecular genetics and epigenetics of the cytochrome P450 gene family and its relevance for cancer risk and treatment. Hum Genet 127:1–17

Sim SC, Risinger C, Dahl ML, Aklillu E, Christensen M, Bertilsson L, Ingelman-Sundberg M (2006) A common novel CYP2C19 gene variant causes ultrarapid drug metabolism relevant for the drug response to proton pump inhibitors and antidepressants. Clin Pharmacol Ther 79:103–113

Bertz RJ, Granneman GR (1997) Use of in vitro and in vivo data to estimate the likelihood of metabolic pharmacokinetic interactions. Clin Pharmacokinet 32:210–258

Evans WE, Relling MV (1999) Pharmacogenomics: translating functional genomics into rational therapeutics. Science 286:487–491

Sim SC, Altman RB, Ingelman-Sundberg M (2011) Databases in the area of pharmacogenetics. Hum Mutat 32:526–531

Ingelman-Sundberg M, Daly AK, Oscarson M, Nebert DW (2000) Human cytochrome P450 (CYP) genes: recommendations for the nomenclature of alleles. Pharmacogenetics 10:91–93

Sim SC, Ingelman-Sundberg M (2010) The Human Cytochrome P450 (CYP) Allele Nomenclature website: a peer-reviewed database of CYP variants and their associated effects. Hum Genomics 4:278–281

Oscarson M, Ingelman-Sundberg M (2002) CYPalleles: a web page for nomenclature of human cytochrome P450 alleles. Drug Metab Pharmacokinet 17:491–495

Sim SC, Miller WL, Zhong XB, Arlt W, Ogata T, Ding X, Wolf CR, Fluck CE, Pandey AV, Henderson CJ, Porter TD, Daly AK, Nebert DW, Ingelman-Sundberg M (2009) Nomenclature for alleles of the cytochrome P450 oxidoreductase gene. Pharmacogenet Genomics 19:565–566
Acknowledgement

The Human Cytochrome P450 Allele (CYP-allele) Nomenclature Database is financed by the Section of Pharmacogenetics, Karolinska Institutet.
Copyright information

© 2013 Springer Science+Business Media New York
About this protocol
Cite this protocol
Sim, S.C., Ingelman-Sundberg, M. (2013). Update on Allele Nomenclature for Human Cytochromes P450 and the Human Cytochrome P450 Allele (CYP-Allele) Nomenclature Database. In: Phillips, I., Shephard, E., Ortiz de Montellano, P. (eds) Cytochrome P450 Protocols. Methods in Molecular Biology, vol 987. Humana Press, Totowa, NJ. https://doi.org/10.1007/978-1-62703-321-3_21
DOI: https://doi.org/10.1007/978-1-62703-321-3_21

Published:

Publisher Name: Humana Press, Totowa, NJ

Print ISBN: 978-1-62703-320-6

Online ISBN: 978-1-62703-321-3

eBook Packages: Springer Protocols