Abstract

The herpesviruses Epstein-Barr virus (EBV) and human herpesvirus 8 and the retrovirus human T-cell leukemia virus type 1 are directly implicated in the pathogenesis of lymphoma and leukemia in man. EBV is associated with an expanding spectrum of lymphomas and it would appear likely that additional, possibly novel, viruses will be implicated in lymphoma pathogenesis in the future. This chapter describes techniques that may be useful in the analysis of viruses and lymphoma including a standard EBV EBER in situ hybridization assay and a degenerate PCR assay for detection of novel herpesviruses. Lastly, a method for analysis of next-generation sequences in the quest for novel viruses is described.
Key words
Virus

Herpes virus

Epstein-Barr virus

EBER

PCR

Virus discovery

Degenerate PCR

Next-generation sequencing

Digital transcriptome subtraction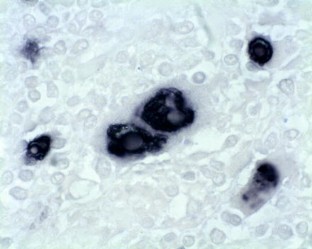 References
Epstein MA, Achong BG, Barr YM (1964) Virus particles in cultured lymphoblasts from Burkitt's lymphoma. Lancet 1:702–703

Dojcinov SD, Venkataraman G, Pittaluga S et al (2011) Age-related EBV-associated lymphoproliferative disorders in the Western population: a spectrum of reactive lymphoid hyperplasia and lymphoma. Blood 117:4726–4735

Jarrett RF (2006) Viruses and lymphoma/leukaemia. J Pathol 208:176–186

Poiesz BJ, Ruscetti FW, Gazdar AF, Bunn PA, Minna JD, Gallo RC (1980) Detection and isolation of type C retrovirus particles from fresh and cultured lymphocytes of a patient with cutaneous T-cell lymphoma. Proc Natl Acad Sci USA 77:7415–7419

Kalyanaraman VS, Sarngadharan MG, Robert-Guroff M, Miyoshi I, Golde D, Gallo RC (1982) A new subtype of human T-cell leukemia virus (HTLV-II) associated with a T-cell variant of hairy cell leukemia. Science 218:571–573

Chang Y, Cesarman E, Pessin MS et al (1994) Identification of herpesvirus-like DNA sequences in AIDS-associated Kaposi's sarcoma. Science 266:1865–1869

Rickinson AB, Kieff E (2007) In: Knipe DM, Howley PM (eds.), Epstein-Barr virus. Fields virology. Lippincott Williams & Wilkins: Philadelphia, pp. 2655–2700

Allander T, Andreasson K, Gupta S et al (2007) Identification of a third human polyomavirus. J Virol 81:4130–4136

Gaynor AM, Nissen MD, Whiley DM et al (2007) Identification of a novel polyomavirus from patients with acute respiratory tract infections. PLoS Pathog 3:e64

Palacios G, Druce J, Du L et al (2008) A new arenavirus in a cluster of fatal transplant-associated diseases. N Engl J Med 358:991–998

Wilson KS, Gallagher A, Freeland JM, Shield LA, Jarrett RF (2006) Viruses and Hodgkin lymphoma: No evidence of polyomavirus genomes in tumor biopsies. Leuk Lymphoma 47:1315–1321

Feng H, Shuda M, Chang Y, Moore PS (2008) Clonal integration of a polyomavirus in human Merkel cell carcinoma. Science 319:1096–1100

Reyes GR, Kim JP (1991) Sequence-independent, single-primer amplification (SISPA) of complex DNA populations. Mol Cell Probes 5:473–481

Allander T, Emerson SU, Engle RE, Purcell RH, Bukh J (2001) A virus discovery method incorporating DNase treatment and its application to the identification of two bovine parvovirus species. Proc Natl Acad Sci USA 98:11609–11614

Jarrett RF, Johnson D, Wilson KS, Gallagher A (2006) Molecular methods for virus discovery. Dev Biol (Basel) 123:77–88

Milne I, Bayer M, Cardle L et al (2010) Tablet–next generation sequence assembly visualization. Bioinformatics 26:401–402

Eddy SR (1998) Profile hidden Markov models. Bioinformatics 14:755–763

Punta M, Coggill PC, Eberhardt RY et al (2012) The Pfam protein families database. Nucleic Acids Res 40:D290–D301

Rice P, Longden I, Bleasby A (2000) EMBOSS: the European Molecular Biology Open Software Suite. Trends Genet 16:276–277

Armstrong AA, Weiss LM, Gallagher A et al (1992) Criteria for the definition of Epstein-Barr virus association in Hodgkin's disease. Leukemia 6:869–874

Gallagher A, Perry J, Shield L, Freeland J, MacKenzie J, Jarrett RF (2002) Viruses and Hodgkin disease: no evidence of novel herpesviruses in non-EBV-associated lesions. Int J Cancer 101:259–264

Oyola SO, Otto TD, Gu Y et al (2012) Optimizing Illumina Next-Generation Sequencing library preparation for extremely AT-biased genomes. BMC Genomics 13:1

Kent WJ, Sugnet CW, Furey TS et al (2002) The human genome browser at UCSC. Genome Res 12:996–1006

Altschul SF, Gish W, Miller W, Myers EW, Lipman DJ (1990) Basic local alignment search tool. J Mol Biol 215:403–410

Gulley ML (2001) Molecular diagnosis of Epstein-Barr virus-related diseases. J Mol Diagn 3:1–10
Acknowledgments

Work in our laboratory is supported by Leukaemia Lymphoma Research, the Kay Kendall Leukaemia Fund, and the Medical Research Council. I am grateful to Arjan Diepstra for helpful discussion.
Copyright information

© 2013 Springer Science+Business Media, LLC
About this protocol
Cite this protocol
Jarrett, R.F., Gallagher, A., Gatherer, D. (2013). Molecular Methods of Virus Detection in Lymphoma. In: Küppers, R. (eds) Lymphoma. Methods in Molecular Biology, vol 971. Humana Press, Totowa, NJ. https://doi.org/10.1007/978-1-62703-269-8_16
DOI: https://doi.org/10.1007/978-1-62703-269-8_16

Published:

Publisher Name: Humana Press, Totowa, NJ

Print ISBN: 978-1-62703-268-1

Online ISBN: 978-1-62703-269-8

eBook Packages: Springer Protocols